CLUBS AND ASSOCIATIONS


Clubs and Associations
Institutions
Neighborhood News
Local Contractors and Professional Services


Tuxedo Performing Arts Group
The Wee Wah Beach Club
Tuxedo Park Garden Club
Tuxedo Farmers' Market
Village Boat Club
The Tuxedo Park Tree Advisory Board
Tuxedo Historical Society

The Tuxedo Park Tree Advisory Board

The Art of Environmental Stewardship Events April 8 and 29
Posted: 3-28-17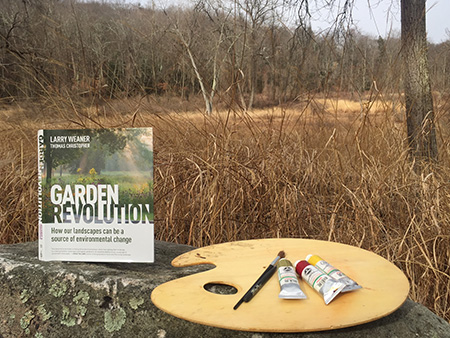 Saturday April 29, 2017 Arbor Day Celebrations
2 pm Tuxedo Park Race Track Nature Preserve
Unveiling of the Founding Stewards Plaque, guided tours and 2017 Arbor Day Award Presentation Ceremony
5 – 7 pm Cheymore Gallery, Tuxedo Square
Friends of the Race Track Nature Preserve invite you to a drinks reception to launch the limited-edition woodblock print, "Native Meadow" by resident artist Mae Shore. To RSVP or to reserve a print email tptreeboard@gmail.com
Latest News about the Race Track Nature Preserve
On March 7-9, in a dramatic, and expected cost-effective step to address the dense Japanese barberry bush, porcelain berry vine, multiflora rose and miscanthus grass infestation in the flat basin area of the Race Track Nature Preserve, Larry Weaner Landscape Associates (LWLA, the natural landscape expert the Village hired through an open-bid process to restore the Race Track into a nature preserve) brought in a forestry mulching machine to grind up in a growth prohibitive manner invasive woody bushes and grasses.
Elimination of invasive plants has been of the highest priority of the TAB in a multi-year process to preserve and promote the native habitats and uncommon plants identified by naturalists John Yrizarry and Spider Barbour. Over the last year, the TAB has begun the removal of particularly virulent invasives such as Japanese knotweed, goutweed, Japanese angelica (Hercules club), mile-a-minute and phragmites. Once the invasives are under control, native plants are expected to germinate and replanting of native flowers, grasses, bushes and trees will begin.
Mindful of erosion control and storm water management along the slopes of Tuxedo Road and Clubhouse Road, LWLA did not mulch the hilly embankment areas.
Despite the disturbances and neglect of years past, the Race Track has been a surprising home for an exceptional number of unique and special native plants. The removal of the Japanese barberry has been shown increasingly in research studies to reduce the potential for ticks, and it will also allow native herbaceous plants to again flourish in the spring in areas previously dominated by the invasive plants.
The machine did not rake the soil in order not to cause soil disturbance and release dormant weed seeds which would then germinate and replace the weeds just removed.
On the advice of LWLA, the dead and chopped up vegetation debris was also left in place to preserve the natural cycling of nutrients back into the environment.
On April 8th, LWLA will present the vision and methodology for the preservation and restoration of the habitats and native flora and fauna of the Race Track Nature Preserve. They will describe a "managed succession" – a carefully planned program of continued invasive removal and monitoring, and preservation and planting of native vegetation throughout the Race Track. Active management is expected to last for about three years. Thereafter, the Preserve will move into a sustainable phase. A healthy native habitat maintains itself, with some – but not intense – help.
The vision for the Race Track Nature Preserve is a meadow of native flowers and grasses that provides interests in all seasons, surrounded by a healthy forest of native trees and a robust understory. We are dedicated to a revitalized – and sustainable – Preserve providing a superlative sanctuary for native trees and plants, locally breeding and migrating birds, mammals, butterflies and amphibians. We envision a community site for the quiet enjoyment of nature, for fostering an appreciation of all natural resources – not only at the Race Track but throughout Tuxedo Park, and for the continued positive and lasting contribution to the quality of our air, water and ecosystem.
If you are interested in finding out more about the Racetrack Preserve contact
racetrackfriends@gmail.com or visit www.tptreeboard.org

Update From the Tree Advisory Board
Posted: 3-6-17
March 7—9: restoration work starts at the Race Track Nature Preserve! Larry Weaner Landscape Associates, the award-winning native-meadow specialist we have chosen from an open bid process to guide the restoration, will bring in men and machines to cut and mulch the invasive barberry bushes and porcelain berry vines that occupy a vast area of the basin.
All Tuxedo Park residents are welcome to the following Tree Advisory Board events:
1) April 8: 11 am-12:00 noon, Village Office, Larry Weaner will make a presentation to the Board of Trustees on the Race Track Nature Preserve restoration masterplan.
2) April 29: 2:00 pm, Race Track Nature Preserve, we will announce the winner of the 2017 Arbor Day Reward and unveil the bronze plaque commemorating the Founding Stewards' generous donations to the Preserve. This ceremony will be followed by guided tours of the Preserve.
Friends of the Race Track Nature Preserve invite all Tuxedo Park residents to the following event:
April 29: 5:00-7:00 pm, Cheymore Gallery, Tuxedo Square, drinks reception to launch a limited edition (150) woodblock print, "Native Meadow" created by local artist Mae Shore, with proceeds benefiting the Race Track Nature Preserve.
The Race Track Nature Preserve restoration project is funded entirely by donations and grants.
For more detailed information, please visit www.tptreeboard.org

Save the Date Saturday April 29th Drinks Reception & Limited Edition Print Launch Benefiting The Race Track Nature Preserve
Posted 2-16-17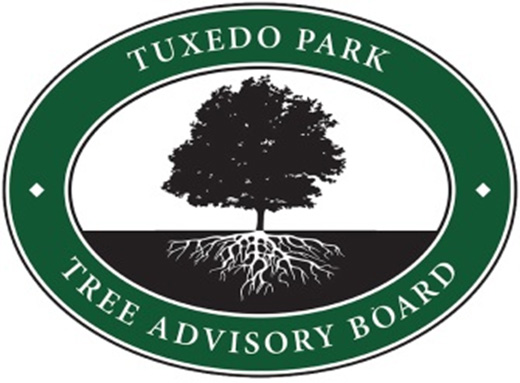 Saturday April 29th 2017 Arbor Day Celebrations
2 pm Tuxedo Park Race Track Nature Preserve
Unveiling of the Founding Stewards Plaque and
2017 Arbor Day Award Presentation Ceremony
Followed by theme-based tours of the Nature Preserve: each tour focuses on
Birds, Trees, Native plants, Invasive species, Geology and Mastodons, Nature for Kids and History of the Race Track
5 – 7 pm Cheymore Gallery, Tuxedo Park (Tuxedo Square)
Drinks reception to launch the limited-edition Tuxedo Park Nature woodblock print by resident artist Mae Shore. Framed (optional), signed and numbered prints will be available for purchase (cost is in part tax deductible). Thanks to the artist and Elizabeth Cotnoir, all proceeds will benefit the ongoing restoration of our Nature Preserve.
Breaking news!
The Friends of the Race Track Nature Preserve are delighted to announce that Merrill Mahan is now leading the fundraising efforts for the Preserve. If you wish to support this important environmental cause Merrill can be reached at racetrackfriends@gmail.com
Just published: Winter guide to the Nature Preserve that details the flora and fauna to look out for as you walk around the Preserve.
Geological Evolution of the Race Track by Professor James D. Hays. Download attachments
For more information on the Nature Preserve email the Tree Advisory Board tptreeboard@gmail.com or log onto our website
www.tptreeboard.org

Geographical Evolution of the Race Track
Posted: 2-16-17
Click Here to View.

Winter at the Race Track
Posted: 2-16-17
Click Here to View.

SENATOR BONACIC VISITS TUXEDO PARK NATURE PRESERVE
Posted 10-26-16
(Middletown, NY)- State Senator John J. Bonacic (R/C/I) visited the Tuxedo Park Nature Preserve yesterday, where he received a tour and update on the progress being made. Restoration of nature preserve was a multi-year project funded entirely by private donations and government grants. When fully complete, the preserve will be an expansive meadow of colorful native flowers and grasses, surrounded by a healthy forest and featuring meandering footpaths that will offer all-season enjoyment and educational opportunities, and will be greatly beneficial to the ecological health of the Village.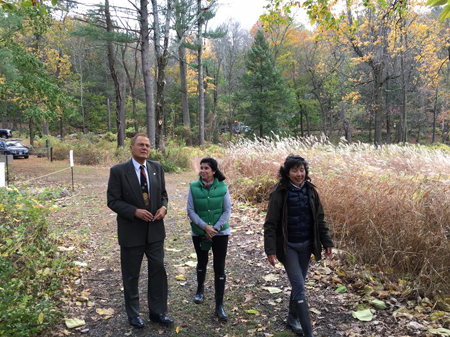 Senator Bonacic tours the Tuxedo Park Nature Preserve with (L-R), Tuxedo Park Mayor Mary Jo Guinchard, and Tuxedo Park resident Chiu-Yin Hempel.

Race Track Nature Preserve Dedication Ceremony October 23, 2016
Posted 10-24-16
Sunday's Race Track Nature Preserve dedication ceremony was a lovely event, enjoyed by all who attended. Thank you to the Tree Advisory Board, the Deviners, the Tuxedo Park Garden Club, and the DPW for all of your hard work!
To learn more about this exciting, multi-year project, be sure to visit the Tree Advisory Board's website: http://www.tptreeboard.org/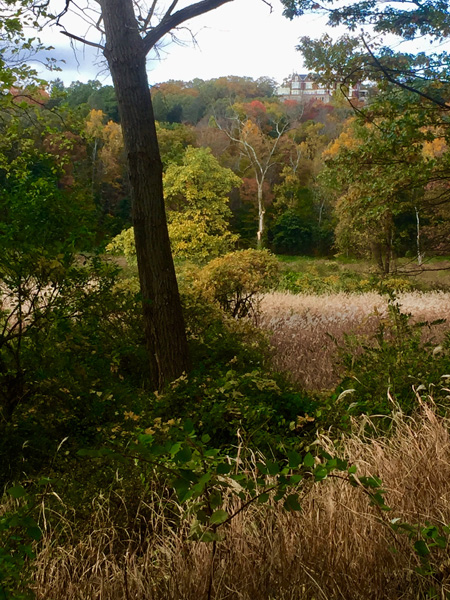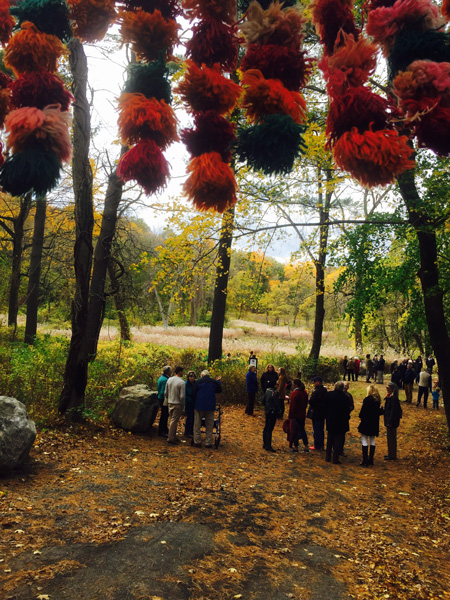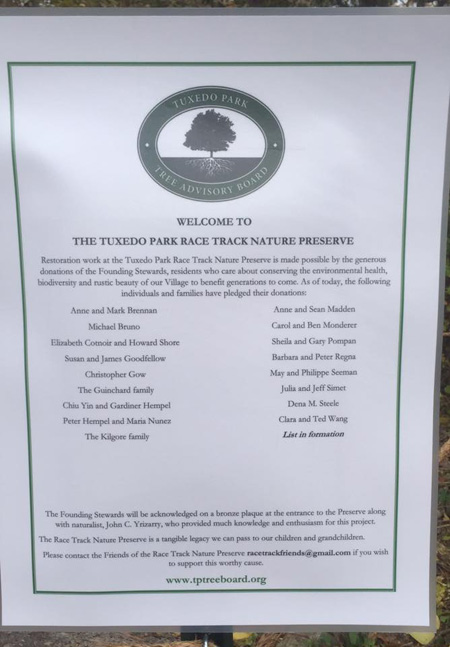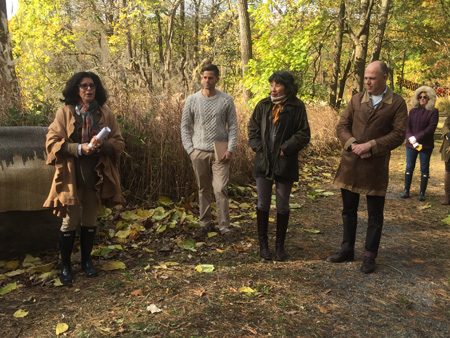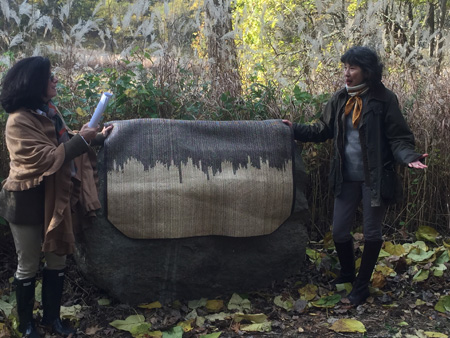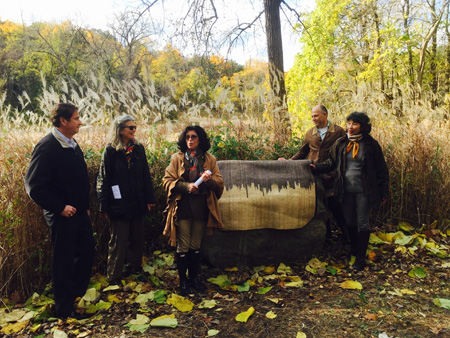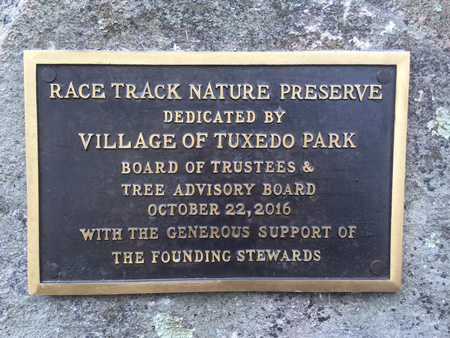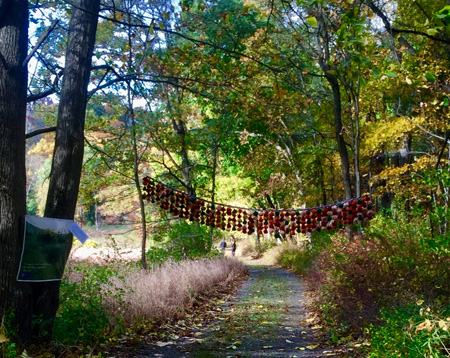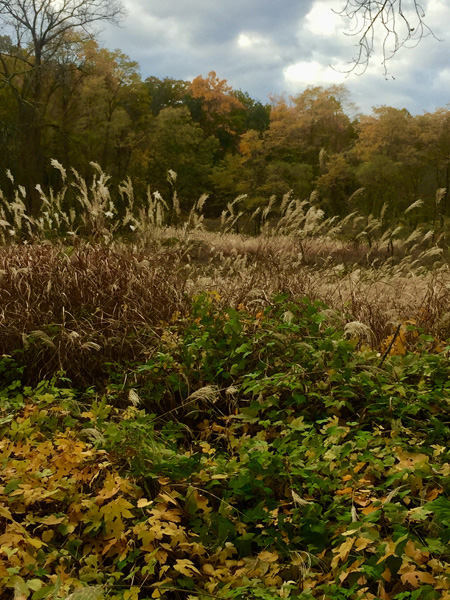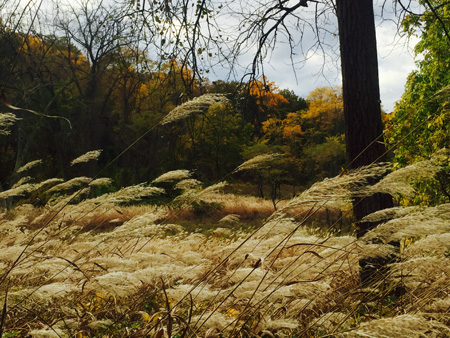 Thank You To The Tuxedo Park Garden Club
Posted 10/11/16
THANK YOU to the Tuxedo Park Garden Club for all of your efforts in making the community look beautiful this fall!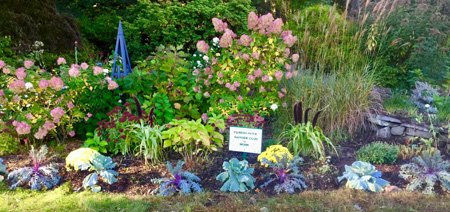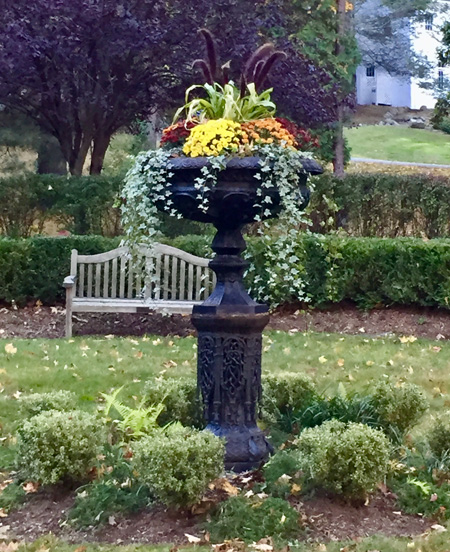 Tuxedo Park Race Track Nature Dedication Ceremony - Saturday October 22
Posted: 10/18/16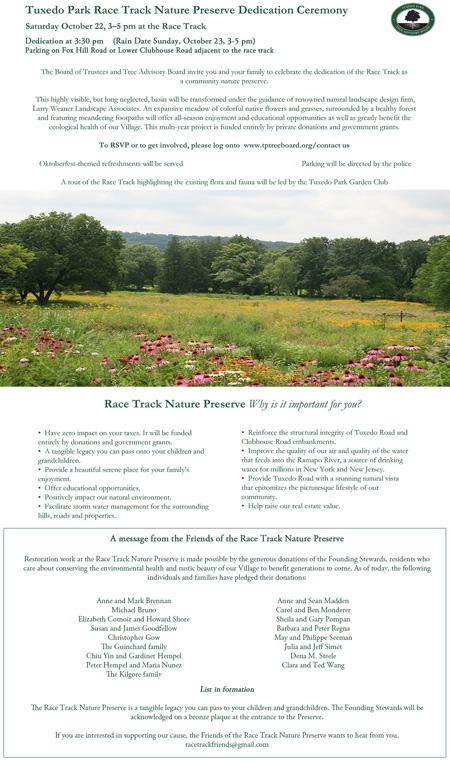 Tuxedo Park Tree Advisory Board - Tree Diseases/Invasive Species Seminar - This Friday (9/23) -9am
Posted: 9/19/16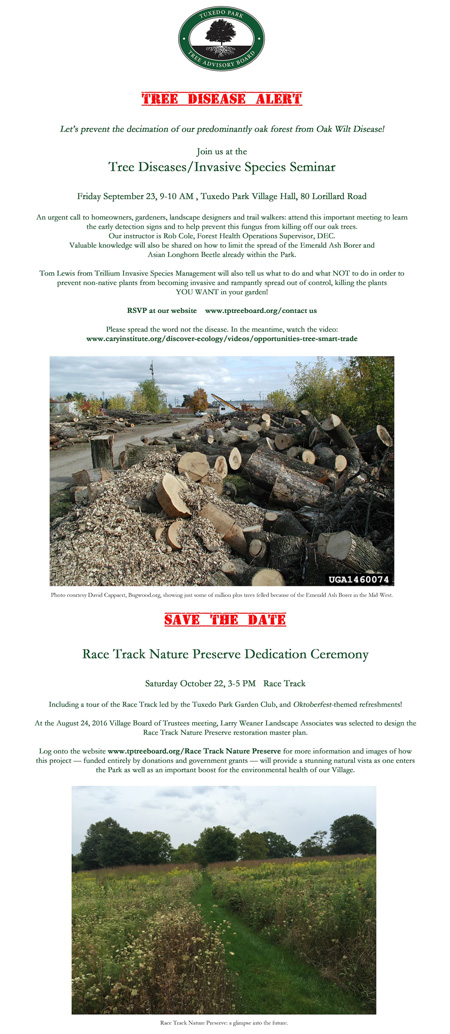 TP Tree Advisory Board Launches Website
Posted: 4/20/16
The Tuxedo Park Tree Advisory Board has launched their website! Check it out:

The TPTAB was established by law in January 2016 by the Village of Tuxedo Park Board of Trustees under the Charter of Tree City USA.
Trees are vital to the environmental and economic prosperity of Tuxedo Park.
To protect and enhance this invaluable asset, their mission is to promote the benefits of a healthy forest with a sustainable tree population by advocating responsible policies and by implementing tree conservation, education and planting programs.
The TPTAB assumes a leadership role but our work relies on community collaboration: each resident of Tuxedo Park is a partner in the wise oversight of our forest infrastructure. They understand the need to balance aesthetics with environmental requirements, but also recognize what individual residents do with trees on their private properties impacts the well-being of the entire community. We are all guardians of this critical resource for the benefit of current and future generations.