VILLAGE SERVICES


Neighborhood News
Village Police Department
Department of Public Works
Tuxedo Park Fire Department
Tuxedo Volunteer Ambulance Corps

Chief - Alex Melchiorre - chief@tuxedopark-ny.gov - (845) 351-4741
Sergeant - Michael Taback - mtaback@tuxedopark-ny.gov - (845) 351-4741

Melchiorre Steps Down as Tuxedo Park's Top Cop

Chief Melchiorre Resigns
Posted 6/1/19
Dear Neighbors,

Yesterday the Board of Trustees accepted the resignation of Chief Alex Melchiorre on or about July 31, 2019. Alex has served as our Chief since July 1, 2016. We thank Alex for his years of hard work and dedication to the Village and wish him the best of luck in all of his future endeavors.

A Search Committee has been formed to find Alex's replacement. Within 60-90 days our Committee hopes to present several qualified candidates to the full Board for review and comment.


Thanks,

Mayor Mac

Double Duty?
At their meeting on January 15, the Village of Monroe Board of Trustees voted unanimously in favor of hiring current Village of Tuxedo Park Police Chief, Alex Melchiore, as their full-time interim Chief of Police.
(Meeting minutes can be found here)
Additionally, the Village of Monroe Police Department website is now listing Alex Melchiore as their Chief.
When asked for comment, Mayor McFadden stated via email "We are aware that the Chief is working for the Village of Monroe. The Board recognizes the potential issues of working two full-time positions and is closely monitoring and reviewing the situation."

Village of Tuxedo Park Police Department Packet

Tuxedo Park Public Safety Day
Village of Tuxedo Park Community Members,

We look forward to welcoming our residents and visitors of all ages to honor the Village of Tuxedo Park Police Department, along with the Tuxedo Park Fire Department, and the Tuxedo Volunteer Ambulance Corps. There will be police as well as fire and EMS rescue vehicles and equipment plus staff and volunteers on-hand.

The event will take place Saturday, May 26, 2018 from 11:00 AM to 2:00 PM at the St. Mary's-In-Tuxedo Episcopal Church parking lot.

The Village of Tuxedo Park Police Department has proudly served the residents of Tuxedo Park since 1886, as have the Tuxedo Park Fire Department since 1901, and the Ambulance Corps for more than 50 years. All these organizations strive to provide emergency services in partnership with the community to contribute to a safe environment with the highest quality of life for all of us. There will be limited beverages and light fare.

Mayor David McFadden

For questions pertaining to Public Safety Day please contact David McFadden at trusteedavid10987@gmail.com or (917) 576-2484.

Weather permitting.

Thank You To The American Red Cross
March, 2017
For their assistance in supplying the Village of Tuxedo Park Police Department with a trailer containing cots, blankets, food prep, cook set up, First Aid Kit, etc. so we can better prepare our community for an emergency situation.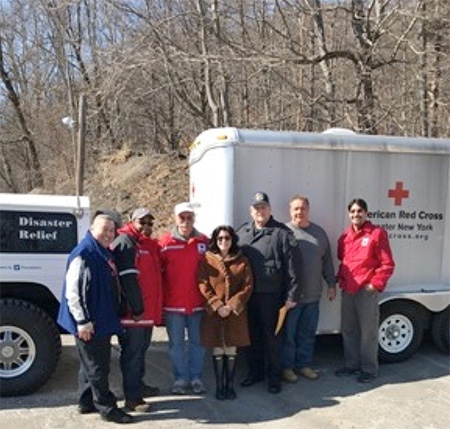 Village Chief of Police Retires
February, 2016
Congratulations to Chief Ken Sanford on his retirement! We thank you for your years of hard work and dedication to the Village and wish you the best of luck in all future endeavors.