Pedestrian and Vehicle Safety in Tuxedo Park (Posted 5/2/22)
Dear Tuxedo Park Residents, the long winter is finally over. More residents enjoy the beautiful outdoors that Tuxedo Park offers with the warmer weather. As a result, we see an increase in pedestrian activity and vehicular traffic.
Our goal is to reduce accidents for motorists and pedestrians throughout Tuxedo Park through enforcement and education. All drivers know or should know the significant contributors to motor vehicle/pedestrian accidents. The National Highway Traffic Safety Administration reports that the number one cause of accidents is speeding, distracted driving, and driving while intoxicated.
The speed limit throughout the Village of Tuxedo Park is 30 Miles Per Hour. Most of the roads are narrow and winding and, in many areas, provide limited sight visibility, especially at dusk. Navigating these roads is challenging, even at 30 miles per hour. We recommend that everyone drives slower than 30 Miles per hour at a more reasonable and prudent speed to operate their vehicle safely.
To encourage safer driving, we plan to increase enforcement of speeding and other safety violations by issuing more tickets and giving fewer warnings. From September 21st until now, we have issued 87 warnings and 33 tickets to provide perspective. Seven of those tickets were for speeding. We will take a zero-tolerance approach to gain compliance and ensure the safety of our residents. And remember, you pedestrians play a role, too - Flow against traffic, don't drown out vehicle noise with your headphones, form a single file when vehicles approach, and wear bright clothing.
I will be sharing this safety information with our landscape contractors, vendors, and delivery companies.
Thank you for your cooperation and understanding.
Sincerely,
Chief Dave Conklin and The Village of Tuxedo Park Police Department.
back to top

Village of Tuxedo Park Police Department Annual Report for 2021 (Posted 1/21/22)
Click here to read the report
back to top

The Chief Talks Automatic Gate (Posted 11/18/21)
Dear Residents,
Our new Automated License Plate Reader (ALPR) system is fully approved and will be in place sometime in December / January.

Last month the board approved the vendor SafePassage and yesterday evening, they allocated the charges. I have jotted down some thoughts that touch on some of the questions I have received. First, I would like to thank the board and community for their support. In return, you will be more secure and enjoy a smoother, more efficient entry into Tuxedo Park. The ALPR system will replace the car tags. The Mayor said yesterday that he suggested plans to offer a commemorative TP Tag for those who get nostalgic over the Tag.
To date, one thousand two hundred residents and two hundred forty-one Non-resident Tags have been issued. Yet many more vehicles than that drive through the gates daily. Only 41% of non-resident Tuxedo Club Members and 28% Tuxedo Park School employees and members have tags plus the daily contractors.
The new system will not add additional traffic; it will provide for more controlled access.
Some problems with the Tag system:
Stickers are switched to different vehicles. Some former residents who have moved from the village and former employees or members of the Tuxedo Club and parents of TPS Students have discontinued their memberships or employment but retained the stickers.
The new system will allow the Police Department to deactivate entry once someone's business in Tuxedo Park ends.
How does the new system work?
No more stickers or passes. The vehicle's license plate number will be entered into a Tuxedo Park computer database by the Tuxedo Park Police Department. This information is not shared with anyone, and no one else would have access to the database.
Residents will NOT be able to enter any license plates into the database; it must go through the police department.
When we enter the license plate into the database, we can set custom parameters: Main Gate or South Gate Access, time of day that access will be permitted, days of the week access is enabled, and a date range that entry will be allowed. Residents will have non-restricted access where for example, a TPS Parent would only have access Monday-Friday between 7:00 am - 4:00 pm from September to June.
When a vehicle approaches the gate, a camera will read the license plate. If there is a match of the license plate, day of the week, and times set up in the database, the gate will open, and a permanent record of the date and time of entry is recorded, which will provide valuable historical data.
Benefits of the new system:
Security enhanced
Non-residents and contractors will have to provide us with information to include their driver's license. We will know much more information about the person than we do now.
We will be able to pre-vet all non-residents and know who they are.
If the gate does not open, then our officers know that the person is not in the system, and they can spend more time with stricter vetting as to their reason for entering Tuxedo Park.
Entry will be more efficient for those that are in the system.
The new system will remove the human error that sometimes occurs at the booth.
We can enter data such as the days of the week, dates, and times permitted access will enhance security.
Let me address some of your common questions:
Q. Who will be eligible to register for the ALPR?
A. Residents, non-resident property owners, renters, domestics (guests if the host chooses to sign them up ), TPS parents, teachers and employees, Tuxedo Club members and employees, St. Mary's church members and employees, landscapers, contractors, and seasonal guests including Hamlet members of the Wee Wah Fishing and Boating Club and Hamlet members of the Wee Wah Park and Swimming Club.

Q. Can I stop at the police booth and talk with the police officer on duty after the new system is operational?
A. Yes. There is no change in behavior required under the new system.

Q. What happens if a non-resident violates the law by speeding or another driving infraction? Will the pass be taken away?
A. No change to the way it is done now. If a non-resident violates any traffic laws observed by a police officer, they are stopped and issued a traffic ticket or warning (Officer's discretion). Their driving privileges in Tuxedo Park are not revoked and cannot by law be revoked as long as they have legitimate business within Tuxedo Park.

Q. What if a resident gives a worker a pass and then dismisses that worker? Will the pass be taken away?
A. ?Residents will not have access to give anyone a "pass," and all entries will go through the police department. One of the benefits of this system is that we can activate and deactivate as needed, something we cannot do now.

Q. Can these passes be moved from car to car? What if a worker takes the pass from their work vehicle and transfers it to their vehicle? How will we know?
A. There are no passes. It works by the license plate number. One of the past and current issues with Gate Security is that the TP Stickers have been switched from vehicle to vehicle, and we had no way of knowing. Also, most Tuxedo Club and Tuxedo School employees and members who have purchased Stickers do not return them when their business is done in the Park. Some people had given us a hard time when we attempted to get the stickers back because they said they had purchased the sticker and the metal plate, so it is theirs. This is a legal battle that has not been pursued. The new system will allow us to deactivate entry.

Q. There was great concern about too much traffic last year when Wee Wah was discussed. Is there no concern here?
A. ?Traffic safety is one of mine and the Mayor's top priorities. The Wee Wah Beach and Fishing Club members will be driving in Tuxedo Park no matter what system we have in place. The new system will allow us to set time and duration parameters on each license plate we enter. A Beach Club member will be permitted to use the main gate only and only during the days and times that the Beach Club is in operation.

Q. Can we be sure that opening this up to non-residents will legally not be held against the village? Can the gated community status be lost?
A. ?There will be nothing different than it is currently. Non-Residents drive in Tuxedo Park daily, and an individual's vehicle operation is their responsibility, not the Villages'. The village cannot be held responsible for the actions of a motorist, whether they are a resident or not. We will not lose the gated community status. It will just be more secure.

Q. If a non-resident becomes a club member and leaves membership, will the pass be taken away?
A. ?Currently, if a non-resident, non-tagged vehicle approaches the gate, the officer asks where the person is going. If they say they are going to the Tuxedo Club, they are let in. This new system will require all Tuxedo Club members to enroll annually, and their access will be controlled through the database. We will know who they are and that they are approved to enter. If their membership ends, we will deactivate them.

Q. Are residents able to give a pass to a worker who is only working for a short period, like one month? What happens to the pass after the month?
A. ?Residents will not be given any passes. In the case of a short-term worker, the police department will enter their license plate into the system, and after confirming with the resident on the length of time entry is approved, we will activate them and set parameters that they can only enter Monday-Friday between 8:00 am - 4:00 pm (Village Code on work in the Park). The range of dates will be entered. So, if you have a worker that will be there for three weeks starting tomorrow through December 10, we would enter those dates in the system, and from December 10 at 4:00 pm, the gate will no longer open for them, which would cause the need for vetting and verifying with you.

?Q. When a school year ends, will the village collect the passes, or do those people get to continue to have pass entry?
A. There are no passes. TPS employees and parents will be entered into the system annually, with entry permitted Monday-Friday during school hours and the dates that school is in session. Once school is closed for the summer, access will not be allowed.

Q. Can a parent have a substitute pick up their child from school at a moment's notice?
A. Yes, if the School is notified and the parent asks the police to enter the person's license plate into the system. The system will be set for that pickup date only.

Q. Do you support this system?
A. Yes, Wholeheartedly. I have been on the team investigating these new systems from the beginning. I have been fully immersed in the purchasing decision, including talking to community managers who are current customers. This new system is robust and allows access for specific dates and times and entry through Main Gate, South Gate, or either gate. We will have much more control of entry and will know and pre-vet all non-residents. This will provide more robust security in the village. This system will not put any additional vehicles on the streets in Tuxedo Park. It will be the same amount, just more controlled.

Please get in touch with me directly if you still have questions or would like me to clarify anything on my memo.

To register your vehicles, contact Denise at 845-351-4741.
back to top

Village PD Installs Prescription Drug Disposal Box (Posted 6/9/21)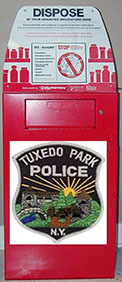 The Tuxedo Park Police Department has installed a prescription drug disposal box where residents can dispose of their leftover, expired or unwanted medication, no questions asked.
The disposal box, which is about the size of a USPS mailbox and designed to securely prevent theft, was provided to our department free of charge by the CVS Health Program through a grant aimed at reducing abuse of prescription drugs.
More often than not, teens and adults who abuse prescription drugs get them from friends and family, sometimes taking them from an unattended medicine cabinet. Keeping an eye on your medication and disposing of it as soon as you no longer need it goes a long way to preventing abuse.
In addition to preventing abuse, disposing of leftover medication in a local drop box prevents accidental poisonings of young children and pets who may go through trash bins, which is one of the most common Poison Control calls. Improper disposal of medications such as disposing in garbage or flushing down the toilet can result in the drugs getting in the wrong hands or going into the water supply.
We are happy to provide this service to our residents and we strongly encourage our residents to use it. Residents can access our Kiosk 24x7 or for residents who are not mobile, we can send an officer to your house to take your unwanted medications and we will dispose of them in the Kiosk.
back to top

Tuxedo Park Police Partner with Hope not Handcuffs (Posted 5/26/21)
The Tuxedo Park Police Department has joined several other police departments in Orange and Rockland Counties to aid those with addiction problems by partnering with the Hope Not Handcuffs initiative. The program is designed to help people with drug or alcohol abuse problems.

This is another resource we are providing to the Tuxedo Park Community. We are going to help them while treating them with respect and compassion when they walk through our door seeking help. Addiction is a chronic disease that is compulsive and very difficult to control.

While Tuxedo Park has very little to no crime and no identified drug problem, any community can have residents who have an addiction regardless of their social or economic status.

In addition, with the Hope Not Handcuffs program and the Criminal Diversion Program through the Orange County District Attorney's Office, we will be using criminal diversion for low-level, non-violent crimes. If a person who commits a low-level crime has a substance abuse addiction and agrees to enter the program, they will be placed in a Treatment and Recovery program in lieu of being arrested and possibly incarcerated.
back to top

Who Are The People in Your Neighborhood? Get To Know The Village Police / Part Time Officers (Part 3 - Posted 5/25/21)
Police Officer Jim Ascione
Officer Ascione has been a police officer since 1985. He retired as a full-time officer from this department and immediately began working as a part time officer here. In addition, he is a full-time realtor with Keller Williams Realty and is their top agent and member if the Keller Williams Agent Leadership Council.
Officer Ascione became a police officer because he was seeking a rewarding and satisfying career. He likes to focus on public relations and community policing.
Police Officer Joe Panzica
Officer Panzica served 8 years in the United States Navy Reserves. He obtained an Associate's Degree in Applied Science and was a police officer in the Town of Woodbury for 20 years where he retired. After retirement Officer Panzica missed putting on his uniform and being part of a team and came to work part-time in Tuxedo Park. He enjoys community policing and is very approachable and likes to talk to residents.
Police Officer Johnny Motz
Officer Motz served as a Deputy Sheriff with the Orange County Sheriff's Office and as a Police Officer with the Village of Harriman Police Department where he retired from after 24 years of service. Officer Motz was a Field Training Officer, Tactical Response Team Member and he assisted with the NYS Accreditation program. After retirement, Officer Motz wanted to continue to serve and was hired by the Tuxedo Park Police Department as a part time officer.
Officer Motz grew up with his father being a Police Sergeant. He thought it was the greatest to see his father in uniform and come home with the police car during his meal breaks. Officer Motz was often at the police station with his father, had tours of the police station and even went to the firing range with his father. That is what inspired Officer Motz to be a police officer. Officer Motz stated that being a police officer is both challenging and rewarding and each day you go to work expecting the unexpected.
What Officer Motz enjoys about Tuxedo Park is that it is a small community setting.
Officer Motz is married with four children so during his off time he spends it with them.
Police Officer Thomas Bonkowski
Officer Benjamin graduated from the Rockland Police Academy in 2019 and started his career working part time in Tuxedo Park. He is also a volunteer fireman in his hometown.
Officer Benjamin enjoys being a police officer because he likes to help people in their time of need. What he likes about Tuxedo Park is the small uniqueness of a small village with a connection with the residents.
When off duty, Officer Benjamin enjoys working on different types of cars and trucks.
Police Officer Giana Capone
Officer Capone was hired in Tuxedo Park in late February 2021. She is a recent graduate from the Rockland Police Academy and is just starting her career. Officer Capone has several family members in law enforcement and she wants to be able to help people.
What drew her to Tuxedo Park is the community policing policy and being able to interact with residents.
When off duty, Officer Capone enjoys going to the gym and making memories with friends and family.
Police Officer Ken Sanford
Officer Sanford is known by many residents as he served with the Tuxedo Park Police Department from 2002-2016 as a full-time officer and served as Chief of Police from 2008-2016. What drew Officer Sanford to tuxedo Park was, he was born and raised in the Town of Tuxedo and wanted to serve his community. When off duty Ken enjoys spending time with his children.
back to top

Who Are The People in Your Neighborhood? Get To Know The Village Police / Part Time Officers (Part 2 - Posted 5/6/21)
As part of an on-going effort to help Village Residents get to know the officers who serve them, below find bios for four of the Departments' part-time officers.
PART-TIME OFFICERS
Police Officer Cliff Ader
Officer Ader obtained a Masters of Science Degree and a Bachelors of Science Degree. He joined the NYPD in 1988 and retired there as a Homicide Detective. Officer Ader enjoys working in Tuxedo Park because it is a small and safe community and he has met some interesting people.
When off duty Officer Ader enjoys bike riding, gardening and spending time with his family.
Officer Ader would like people to know that he is very friendly and approachable and enjoys talking with others.
Police Officer Timothy Lowry
Officer Lowry retired from the Town of Warwick Police Department where he was a police officer for more than 20 years. He became a police officer because he truly likes to help people.
Officer Lowry likes working in Tuxedo Park because it is a beautiful area with a lot of history and he enjoys talking to the residents.
When off duty, Officer Lowry enjoys fishing and riding his motorcycle.
What Officer Lowry would like people to know about him is that he is always willing and available to help the community.
Police Officer Eric Johnson
After graduating Cum Laude from St Thomas Aquinas College with a bachelor's degree in Criminal Justice, Officer Johnson attended the Orange County Police Academy. He served twenty years as a Police Officer and Investigator for the Town of Woodbury Police Department before retiring in 2016.
His favorite thing about working in Tuxedo Park is that he loves the architecture of the old houses.
When off duty Officer Johnson enjoys renovating houses and completing DIY projects.
back to top

Goshen. DA Announces Funding For Body-Worn Cameras for Tuxedo Park Police
back to top

Who Are The People in Your Neighborhood? Get To Know The Village Police / Part Time Officers (Part 1 - Posted 4/5/21)
As part of an on-going effort to help Village Residents get to know the officers who serve them, below find bios for four of the Departments' part-time officers.
PART-TIME OFFICERS
Officer Stark obtained a Bachelors degree from the University of Buffalo. He graduated the Rockland Police Academy in 2020 and became a police officer with the Village of Tuxedo Park.
Officer Stark became a police officer for the sense of teamwork and brotherhood.
Officer Stark enjoys working for Tuxedo Park because it is a small, tightknit community with the opportunity for community policing and building relationships with residents.
When off duty Officer Stark enjoys Golf, hunting and coaching ice hockey.
What Officer Stark would like people to know about him is that he loves playing hockey and is currently on the Rockland County PBA Hockey Team as well as the NYPD Hockey Team.
Officer Smith graduated from the Rockland County Police Academy in 2016. He was awarded the Val Swartwout Memorial Award for Excellence in Emergency Medical Care. Officer Smith was appointed as a part time Police Officer with Tuxedo Park Police Department in February of 2017.
Officer Smith said that he became a police officer because he wanted a career that constantly changes on a daily basis. I wanted a rewarding job that can make a lasting impact on the community I serve.
One of the best things about working in Tuxedo Park is that he is intrigued by the history of the Park and enjoys the small community where he can get to know the majority of residents.
When off duty Officer Smith enjoys being outside, specifically fishing and rafting.

Officer Levy works 3 jobs which includes owning his own business. He has been in law enforcement for 7 years and EMS for 16 years. In 23 years, he has worked in EMS, Humane Law Enforcement and as a Police Officer.
His career started in EMS as he always had an interest in helping people. He was in EMS for a total of 16 years. During this time, he interacted with many different public safety agencies which caught his eye on law enforcement as it was another way to help people and this is why today he is a police officer.
What drew Officer Levy to Tuxedo Park was the uniqueness of this village of being the only gated village in Orange County. His favorite thing about working here is the community in how close the police department works with the residents and how the residents work closely with the police department.
When off duty Officer Levy likes to relax and watch movies.

Officer Krinke began his police career with the New York City Police Department in 1986 and he retired in 2006. Shortly after retirement he began working as a part time police officer for the Tuxedo Park Police Department. He enjoys working for a smaller department because it allows for more community-based policing.
Officer Krinke chose Policing as is profession because he was interested in law and wanted to serve the community.
When off duty Officer Krinke enjoys camping and woodworking.

Get to Know the Village Police (Posted 3/16/21)
When the traffic booth at the Front Gate of the Village went down back in 2017, Village residents lost an important component of community policing in Tuxedo Park in the form of consistent fact-to-face interaction with their police officers. At the same time, the Village chose to eliminate their traffic guards and hire more part-time police officers, resulting in a somewhat dramatic increase in the number of officers serving the Village. The Department now employs a total of 23 officers including it's Chief. Although they have continued to operate very successfully and with the upmost efficiency from the Keep, the associated loss of direct interaction has created a void of sorts, whereby many of the residents don't know the officers and many of the officers don't know the residents.
It is important for the police to not only be visible in the community but also to know their residents. Strong relationships of mutual trust between police and the community are critical to maintaining public safety and effective policing. With the new Traffic Booth nearing completion, it won't be long before the officers are once again more visible to residents as they enter the Village and this, combined with several other initiatives laid out in the recent Reform and Reinvention Plan, should go a long way in helping to strengthen community engagement and build these important relationships.
In the meantime, in an effort to help the community get to know a little bit more about the Officers who serve them, TPFYI will be posting Bios for each officer here on our website. Please check back regularly as we will add new officer info every couple of weeks.
We will begin with our 3 full-time officers.
Full Time Police Officers
Chief Dave Conklin
I retired from the Monroe Police Department in 2018 after serving 28 years in law enforcement. I started my career with the Orange County Sheriff's Office and then transferred to the Town of Tuxedo Police Department where I became the Youth Officer and K-9 Officer. I subsequently left Tuxedo and transferred to the Monroe Police Department where I worked my way through the ranks from Police Officer, Detective, Sergeant, Administrative Sergeant, Lieutenant and ultimately to Chief of Police. I had a very rewarding and satisfying career as I reached all of the goals I had set out for myself.
When the Chief's position in Tuxedo Park became vacant, I pursued this opportunity as I have history and roots in the Tuxedo area. My Father was born and raised in Tuxedo and I still have family who reside in Tuxedo. In addition, My Great Uncle, Dwight Conklin was Chief of Police with the Village of Tuxedo Park Police Department in the 1950's-1970's and my cousin Robert Morrow was a police officer here as well in the 1970's-1980's. My brother Jason, was a police officer here in 1997 and died after a tragic accident while on duty. More recently my son Jake was a gate guard in the police booth and was on duty the night that it was crashed into. I feel blessed and honored to be able to carry on my family tradition of serving the fine residents of Tuxedo Park. When off duty I enjoy spending time outdoors with my grandchildren.
Police Officer Daniel Sutherland
Officer Sutherland obtained an Associates Degree in Criminal Justice and a Bachelors degree in Management. He started his police career in 2000 with the Sullivan County Sheriff's Office on the Road Patrol. He then transferred to the Woodridge Police Department for 3 years and left to become a police officer with the Town of Tuxedo Police Department for 4 years and subsequently transferred to the Tuxedo Park Police Department where he have been for almost 9 years now.
"What drew me to Tuxedo Park was that I enjoy the "small town" feel and Community Policing interests me, I enjoy the public relations part of the job most of all".
Police Officer Max Sirrine
Officer Sirrine was an Infantryman in the United States Army from 2008-2017. Upon completion of his military service, Officer Sirrine became a Police Officer with the Tuxedo Park Police Department in July 2017.

Village Seeks Community Input on Police Reform Plan (Updated 3/2/21)
On June 12, 2020, Governor Cuomo signed Executive Order 203 entitled New York State Police Reform and Reinvention Collaborative. Established shortly after the death of George Floyd and the resulting nation-wide protests, the order requires every local government that maintains a police department in the State of New York to conduct a comprehensive review of that department's use of force, strategies, policies, procedures and practices and to develop a plan that reinvents and modernizes these things based on community input. The purpose of the plan is to foster trust, fairness, and legitimacy, through community engagement as well as to address any racial bias and disproportionate policing of communities of color where it may exist. The plan must be adopted by the governing board no later than April 1, 2021 and order authorizes the Director of the Division of the Budget to condition State aid on the adoption of such a plan.
The Governor issued formal guidelines for the process in August.
Many local towns and villages have responded to the order by putting together advisory committees inclusive of government officials, the police, the clergy and various representatives of the community considered to have a stake in policing. Several municipalities have also distributed surveys to their residents in an effort to gauge how they feel about their interactions with the police and where improvements might be needed. In January, the Village of Tuxedo Park chose to do both. The committee reviewing police practices consisted of Police Chief David Conklin; Mayor David McFadden; Trustee Chris Kasker; Serena Mueller, Associate Head Tuxedo Park School; Rev. Rick Robyn, St. Mary's-in-Tuxedo Church; Joshua Scherer from the Tuxedo Club, attorney Stewart Rosenwasser and TPFYI Reporter/life-long Village resident, Meg Vaught.
The executive order required that certain topics be reviewed and discussed and that a number of evidence-based policing strategies such as use of force policies, implicit bias awareness training, community-based outreach and conflict resolution, de-escalation training and practices, problem-oriented policing and ttudies addressing systemic racial bias or racial justice in policing be considered. The Village committee touched on all of these and more also taking the time to consider the desired roll of police in the community and various methods of improving community engagement, how the department is staffed and a variety of methods for employing smart and effective policing standards and strategies moving forward.
These discussions were aided by the distribution of a community survey, which was completed by 80 some-odd residents.
The final result of this work is a solid Reform and Reinvention Plan, which was posted to the Village website on February 17.. The Village is asking residents to review the plan and come forward with comments and suggestions prior to the March 17 Board of Trustees meeting. After careful consideration of any and all public comments, the Board will move to adopt the plan at that meeting.

The Town of Tuxedo has approached the process in a slightly different way, forming a larger committee, which is open to any and all interested residents. At a recent meeting on Wednesday, February 24, the group formed a number of subcommittees each of which will spend the next several weeks focusing on key ares such as Responding to Injustice Issues & Inequities, Community, Department Policies, Practices, Staffing, Recruitment & Training and Menral Health Interactions with Youth and Schools. The next joint meeting (all subcomittees) is scheduled to take place on Wednesday, March 24 from 6:30-8:30pm via WebEx and is open to the general prublic. At that time the committees are expected to present their findings and recommendations. No information has been provided to date as to who will be drafting the final report for the State or when a copy will be made available to the general public for comment.

Village Police Reform Planning (Posted 1/12/21)
Dear Neighbors,

Established by Governor's Executive Order in June; Localities Must Adopt a Plan by April 1, 2021, to Be Eligible for Future State Funding.

The recent guidance from the NYSPRRC builds on the Governor's actions following the death of George Floyd. Earlier this year, Governor Cuomo signed into law a series of reform policy items - called the "Say Their Name" agenda - including allowing for transparency of prior disciplinary records of law enforcement officers by reforming 50-a of the civil rights law; banning chokeholds by law enforcement officers; prohibiting false race-based 911 reports and making them a crime; and designating the Attorney General as an independent prosecutor for matters relating to the deaths of unarmed civilians caused by law enforcement.

With more than 500 law enforcement agencies in our large and diverse state, there is no "one size fits all" solution. To rebuild the police-community relationship, each local government must convene stakeholders for a fact-based and honest dialogue about their community's public safety needs. Each district must envision for itself the appropriate role of the police. Policies must be developed to allow the police to do their jobs to protect the public, and these policies must meet with the local communities' acceptance.

Village of Tuxedo Park Police Reform Plan – The Chief and I have put together a committee of community stakeholders (the Police Reform Committee) to develop the plan. The plan will focus on community policing. The committee members are Village Police Chief Dave Conklin, Village Mayor David McFadden, US ARMY Ret Col & Village Trustee Chris Kasker, Serena Mueller, Associate Head of School at Tuxedo Park School, Joshua Scherer, Governor of the Tuxedo Club, and Richard "Father Rick" James Robÿn, St. Mary's-in-Tuxedo Episcopal Church. Our collaborative process will:
Review the needs of the community served by its police agency, and evaluate the department's current policies and practices;
Establish policies that allow police to effectively and safely perform their duties;
Involve the entire community in the discussion;
Develop policy recommendations resulting from this review;
Offer a plan for public comment;
Present the plan to the local legislative body to ratify or adopt it, and;
Certify adoption of the plan to the State Budget Director on or before April 1, 2021.
If you have constructive suggestions you would like to share with the Committee, please send an email to VTPpoliceReform@tuxedopark-ny.gov.

Stay safe.

Thank you,
Mayor Mac

Tuxedo Park Police Department Annual Report (Posted 1/9/2021)
Click here to view the report

FALL DRIVING TIPS (Posted 10/13/2020)