LOCAL PRESS

Tuxedo Varsity Volleyball Rakes in the Wins

\Sad To See it Go.' Portion of Iconic Red Apple Rest torn Down In Town of Tuxedo


Elementary School Students Celebrate International Day of Peace


Elementary School Students Celebrate International Day of Peace

Friends of Sterling Forest Announce Two Guided Hikes

Marc Citrin Beats Incumbent To Become Tuxedo Park Mayor

Watch Recordings of All Tuxedo Park Board Meetings

Legal Challenges Delay Tuxedo Park Mayor Decision Until October

Stop Gaslighting, Stop the Lawsuits, and Let The Election Proceed

Tuxedo Park Residents are Entitled to Know Who Their Nexy Mayor Will Be

Guazzoni Continues to Pollute Our Community with Lies

Lawsuits Pile Up As Tuxedo Park Awaits Election Decision

One person in Critical Condition After One-Car Crash on Route 17 in Tuxedo

A Variety of Events Coming to Sterling Forest in July

Tuxedo Woman Celebrates 100th Birthday

Local School STEM projects Win Grants


Together, Through Our Voices, We Have Made Tuxedo Park Even Better

Tuxedo Park Vote Count Stopped by Court Order

School Board Votes to Terminate Two Principals

'We Didn't Do Anything Wrong' Beloved Tuxedo Principals Officially Fired By BOE The Day Before Graduation

Tuxedo Highway Department Awarded Work Zone Equipment From State

Tuxedo Students Stage Walk-Out After Beloved Principals Seemingly Fired Without Notice

'Unexplainable Sadness and Confusion' Tuxedo Students Petition After Sudden Removal of Principals


Meet The Candidates for Tuxedo Park Mayor

Marc D. Citrin - Election - Marc D. Citrin is Challenging the Incumbent Tuxedo Park Mayor

David McFadden - Election - David McFadden Has Served as Tuxedo Park Mayor for 9 Years

It's Been a Busy Two Years in Tuxedo Park

A True Expansion Team Takes The Field

Letter to the Editor: Tuxedo Memorial Day Parade

Tuxedo - Hike the Townshend Trail

Town Board to Host Review of Improvements to the Tuxedo Hamlet May 18

Tuxedo Park - Reggie Bar Celebrates First Anniversary

Tuxedo Police Officers Commended for Life Saving Actions

Letter to The Editor: Re-elect Rickard for School Board

Tuxedo Film Festival Featurs Works From Area Students

Tuxedo - Earth Day Clean-Up Event in Sterling Forest

Tuxedo Park - Service Learning Seminar for Students

Chef Grassi Turns School Lunch Room into Tuxedo Cafe

Friends of Sterling Forest Announce March Lecture Series

Town of Tuxedo Approves Special Permit for Tuxedo Farms Project

One Hundred and Twenty Years in The Making

Neuhaus Presents Sue Heywood with February Citizen of The Month Award

Tuxedo Town Seeks Community Choice Aggregation, Announces Informational Sessions

Tuxedo Town Board Applauds New Police Officer and Plans Path to Community Choice Aggregation

Tuxedo Park Fall Planting with Help of Council Grant

1,600-Home Tuxedo Project Set For Vote on Tuesday After Review of Plan Changes

Poinsettia and Wreath Sale Coming to Tuxedo!

Tuxedo Park Trustees Special Meeting Outcomes

Approval nears for 1,6000-Home Project in Tuxedo with Last Minute Conflict Over School Site

Meet the Artists Reception to Arrive at Tuxedo Train Station

Chase Bank Building Donated to Tuxedo Historical Society


Goose Culling Shot Down, Options Hatch at Tuxedo Park Hearing

Could The Red Apple Rest Be Reborn as a Borscht Belt Deli


Plein Air Fest In Fall for Tuxedo

Geese Culling Conversation Rescheduled for August 17 Meeting

Culliing Geese Considered In Tuxedo Park

Aquatic invasion by Eurasion Watermilfoil Plant is being Rebuffed

Tuxedo park Sewer and Water Rates Presentation Essential Info, Says Mayor

Discover Tuxedo Day Launches June 11

Tuxedo Residents Collaborate to Collect Medical Supplies for Ukraine

Tuxedo Memorial Day Parade Invtie

Peacock Series 'Poker Face' Filming at Tuxedo Motel

The Best Breakfast In Every State

1 Killed in 2-Vehicle Crash in Tuxedo

Juvenile Charged With Making Terroristic Threat Against Tuxedo High School

Juvenile Faces Felony Charges After Threatening HV School: NYSP

Juvenile Charged After Threat Causes Lockdown at School District in Area

Empty Bowls Event Brings Together Bowls Made by TPS Kids and Soup by Dotty Audrey's Bakery Kitchen to Help End World Hunger

Tuxedo Developer revises 1,600 Home Project to Include More Townhouses, Apartments

ice Skating and Ice Fishing are Now Tuxedo Park Possibilities

Former Reserot for Black Families From NYC Bolsters Sterling Forest State Park

Two TPS Friends Find Bounty for Food Pantries in Saving Bags

back to top

Tuxedo: Lights, Action and Holiday Spirits on Display in Eagle Valley
back to top

Tuxedo Park School to Host First In-Person Open House Since the Covid-19 Pandemic Began on January 11
back to top

Tuxedo George F. Baker Seniors Paint Parking Spots
back to top

Peter F. Marcus, World Renowned Steel Analyst
back to top

Tuxedo Housing Developer Scales Back Proposal to Increase Total Home Count to 2000
back to top

Tuxedo, Donations Welcome in Toy Drive Through December 4

Tuxedo Filmmaker Tells a Story About Dyslexic Learners

California Hotelier to Buy Large Swath of Sisters Servants Land for Wellness Destination for 11 Million

The Race for Tuxedo Supervisor

There is No One Better Than Dan Castricone for tuxedo When it Comes to Understanding and Acting on the Issues That Our Region Faces

Photos: Beautiful Fall Foliage Around The World

Tuxedo School Board Weighs Misconduct Complaint Against Member

Ken English has Righted Many Wrongs

Tuxedo Park: Like a Fine Wine, Things Improve With Time

The Voters in Tuxedo Park Will Play a Decisive Roll in This Year's Town Election

Zoom. Tuxedo Park Library Authors' Circle Presents Patrick Radden Keefe, Author od 'Empire of Pain, The Secret History of he Sackler Dynasy' on October 12

Stalled for Years, Tuxedo Developer Wants to Increase Home Total to 2000 from 1,200

Tuxedo Park School Reopens September 9 to In-Person Learning

An Original Tuxedo Park House is All Dressed Up for a New Century

Meet The New head of School at TPS

Tuxedo. Voters to Decide in November is Town Opts Out of Marijuana Consumption

back to top

With Route 17 Road Work Completed, Sloatsburg Village Takes on New Challenge
back to top

Tuxedo Farms Appears Poised to Start Building After First Proposal 30 Years Ago
back to top

Tuxedo Park. Mayor Provides an Update on the Installation of the Booth at the Park's Front Gate
back to top

back to top

Town of Tuxedo Citizens Committee Releases Draft Police Reform Plan
back to top

back to top

Tuxedo School District hires Jeffrey T. White as School Superintendent
back to top

Former New Rochelle Business Official Hired as Superintedent of Tuxedo Schools
back to top

Tuxedo Residents Donate 120 Pairs of Glasses to Lions Club
back to top

Developer Plans to Resume 1,200-Home Tuxedo Farms Project After Four Years on Hold
back to top

David McMillen Announces His Bid to be Running for Tuxedo Town Supervisor as a Republican
back to top

Tuxedo Arts and Music to Host 2021 Plein Air Event June 16-20
back to top

Josh Scherer Announces his Candidacy for Tuxedo Park Village Board
back to top

Tuxedo and Sterling Forest State Park to Restore Polliator Meadow in Tuxedo
back to top

Paul Brooke Outlines Why He is Running for Tuxedo Park Village Board
back to top

Tuxedo Residents Working to Restore Pollinator Meadow
back to top

Michael R. Coleman: 'The Straight edge outsider candidate' the Tuxedo Park Village Election
back to top

Tuxedo Park: Village Seeks Candidates to Fill Seats on Planning, Zoning and Architeture Review Boards
back to top

Goshen. DA Announces Funding For Body-Worn Cameras for Tuxedo Park Police
back to top

Tuxedo: Advisory Committee to Interview Seven Candidates for Tuxedo School Superintendent
back to top

Tuxedo Park School Plans Virtual Open House
back to top

Castricone Announces Run for Tuxedo Town Supervisor
back to top

Town of Tuxedo Issues Survey to Gauge People's Attitudes Towards its Police Department
back to top

Stuart Johnson Appointed the 13th Head of School at Tuxedo Park School
back to top

Harriman and Tuxedo Park Seek Public Comment on Their Draft Reports for the State Mandated 'Reinvention' of Their Police Department
back to top

The Tuxedo Park Library Authors' Circle Presents Samuel G White Author of 'Stanford White in Detail' on March 7
back to top

Tuxedo Students Welcomed Back To 'Positive Minds, Vibes, Life'
back to top

6 Mid-Hudson Schools Opt For Remote Learning Monday
back to top

'Like A Princess Floating Across The Ice'
back to top

Let Us Pray Feverently for Peace in our time, for Unity and Brotherhood
back to top

People 'want Police Officers to be part of the Community'
back to top

Municipalities Holding Public Forums on Police Reforms
back to top

back to top

School Superintendent in Hudson Valley Resigns Amid Porn Scandal
back to top

Tuxedo School Superintendent Resigns Due to Pornography Scandal
back to top

Tuxedo School District Investigating 'an unfortunate situation' involving one of district's social media accounts
back to top

Tuxedo Schools Investigate Superintendent's Social Media Post
back to top

Hudson Valley Superintendent at Center of Porn Scandal
back to top

Tuxedo School Board Invesitgating Pornography Accusations Against Superintendent
back to top

back to top

Mayor Mac: 'Debbie Matthews Is Now Part of The Long and Rich History of Tuxedo Park'
back to top

back to top

Tuxedo Park School 7th and 8th Graders Making Mask Strings for a Cause
back to top

Tuxedo Park Police Sergeant Accused In Off-Duty Bar Shooting Suspended With Pay
back to top

Off Duty Police Officer Charged with Assault in Shooting of Man at Newburgh Bar
back to top

Suspect In Shooting Outside Town of Newburgh Bar Identified As Tuxedo Park Police Sergeant On Leave
back to top

Congressman Maolney Ignores Veteran's Concern
back to top

Mouse-Trap Powered Cars Debut at Tuxedo Park School
back to top

Metzger Announces Funding for LIbrary Rennovations
back to top

Celebrating the Spirit, Bravery and Adventure of Christopher Columbus
back to top

Tuxedo Park Library to Host Virtual Author Discussion
back to top

Timeless and Steadfast
back to top

back to top

Tuxedo School District Hasn't Decided When To Start In-School Classes For Its 220 Students

Village Elections: September 15

Kyrias Joel and Monroe: Turf War

Following the Money: How Locals Are Donating to the 2020 Presidential Campaigns

Christopher Kasker Announces His Bid For Tuxedo Park Village Board


Kitchen Garden Tour Winners Announced

Tuxedo. All the George F. Baker Class of 2020

An Alternative View of Sign Symbolism

Every Year on 9/11 We Promise to Remember and Never Forget

Tuxedo. St Mary's in Tuxedo Donates Pre-K Furniture to Tuxedo School District

Tuxedo. Emma Maynard and Jared Spivak Earn OCCIA Scholar Athlete Awards

Tuxedo's Renaissance Faire Cancelled for 2020 Season

Tuxedo Park Administrators Board 'The Happy Bus'

Town of Tuxedo to Host a Town Development Summit on Saturday, June 20

Police: High Speed Chase in stolen Vehicle Ends with Three Arrests

Residents of Tuxedo Park Take A Knee For George Floyd


Let's Remember and Give Thanks

Tuxedo Park Mayor: Let;s Elect Chris Kasker' Village Trustee in September

Tuxedo Teacher's Association: "Telander is the Clear Choice. We Wholeheartedly Endorse Her For The Tuxedo School Board"

Orange County - Planning Economic Reopening in The Region


Local Student Named National Geographic GeoBee New York State Comeptition Semifinalist


Tuxedo Alerts Visitors to State Parks

Orange County DPW Completes Grove Drive Bridge in Tuxedo

The 1stdibs Founder Thinks This Idea Can Help Save Upstate New York's Small Businesses


Tuxedo. Thank You Tuxedo Community

Tuxedo and Tuxedo Park Residents Join To Honor Good Sam Hereos

McFadden Brings Attention To Potential Police Shortage

Tuxedo Group Rasises $16,000+ To Feed Good Sam Staff

Part-Time Tuxedo Co Leaves Force After Facebook Joke About Bombing Kiryas Joel

Town of Tuxedo Limits Access to Town Hall and Other Town Properties


Injured Hiker Rescued From Sterling Forest Trail

Tuxedo Park School Students Competed in the Montessori Model UN in NYC

Tuxedo Teachers' Union Blasts Schools Chief

Brush Fire Next to Thruway 'Contained'

Tuxedo. Mary Poppins Brings Her Magic and Music to George F. Baker High School

Michael Bruno's Sloatsburg Complex Has Two New Dining Options; Spa Coming

Tuxedo Park. TPS Students Win High Honors at Math Comeptition

Tuxedo Park Getting Electrical Overhaul

Tuxedo Voters Reject $4.2M School Referendum

Tuxedo Park Library Author's Circle Presents Author Lili Anolik

Wariness Over Tuxedo Referundum on $3M Bond

Tuxedo George Grant Mason Students Celebrate Dental Health Month

Municipal Police Department Consollidations a Tough Call

Tuxedo School District Voters To Decide on Proposed $4.2 Capital Bond Project on February 25

Tuxedo Park School Student Wins Silver Key in Regional Art Competition

2020 Orange County Women of Achievement to be Honored

Power Outage in Tuxedo Effects 600

State AG has 'Grave Concerns' Over Indian Point

Tuxedo Town Board Fills Open Seat With Reichgott


Tuxedo Park Welcomes Dave Conklin as Police Chief

The Author's Circle Presents Caitlin Zaloom


The Coziest Coffee Shop in Every State

Cuomo Unveils Propoal to Add 4000 Acres to Mid-Hudson Parks in 2020

Tuxedo Residents to Vote on 3M School Bond

Jersey City Victims Remembered at Menorah Lighting

Greenwood Lake and Sterling Forest in the Revolution Author Talk

Tuxedo's Incoming Supervisor Has Big Plans

Tuxedo Students Paint The Town for The Holidays

County Awards Town of Tuxedo with $4,999 to Promote Tourism

Tuxedo Honor Societies Collecting Hats and Gloves for The Needy

Tuxedo Park School Student Wins High Honors at State School Music Winter Conference

Tuxedo Recruiting to Appoint Member to Town Board

Tuxedo's Runway to Costa Rica is December 14

Tuxedo Park School Host Tours Beginning December 10

'Corridor Communities' in Rockland, Orange Expand Dining Options

Ho Ho Ho! Tuxedo's Annual Tree Lighting Set For Friday

Ten Locals on List of Nation's Top STEM High Schools

Tuxedo Park Maintains Felxible Hours For Next Top Cop

Tuxedo Welcomes a New Principal to the George Grant Mason Lower School

Thank You Republican Party For Helping Elect Ken, Michele and Maria

Tuxedo Park School Hosts Local Veterans at Veteran's Day Tribute

Tuxedo Park School Wears Pink for Breast Cancer Awareness

A Thank You Letter to Tuxedo Voters From Ken English

Tuxedo Park Library Authors' Circle Presents Author Benjamin Dreyer

Tuxedo Regains Division IV Volleyball Championship

Ken English: Tuxedo Voters You Have a Choice

Tuxedo Democratic and Independence Candidates are Committed a welcoming Town Board

English Lindsay and May 'Are Beholden to No Group and Deserve our Support'

These are the 27 Best Coffee Houses in Upstate New York, Ranked

Maria May for Town Councilwoman

Maria May for Town Councilwoman

Proposed Tuxedo Budget Includes Spending Increase

Tuxedo Looks to Bring Sewer Plant Online

It Takes more than A referendum to Create a Village

Dan Castricone Named Orange County's Risk Management Officer

Jehovah's Witnesses to Build Enormous Media Production Center

NYPD Officer Killed in Line of Duty Had Local Ties

George Grant Mason Students Give Peace A Chance Once Again

Tuxedo Town Supervisor Receiving Treatment for Addiction Problem

Authorities Called to Tuxedo Supervisor's Home for Second Time in 2 weeks After DWi Arrest

New York Renaissance Faire Draws Crowds to Tuxedo

Tuxedo Supervisor Processed on DWI Charge

Tuxedo Supervisor Still Hospitalized Following Accident and Arrest

Documentaty Film ' Languages Lost and Found - Speaking and Whistling the Mama Tongue'

Tuxedo Supervisor Charged with DWI After Crash

Local Town Supervisor Arrested After Hitting Telephone Pole Along Route 17

Ken English, Michele K. Lindsay and Maria May Announce Their Run for Tuxedo Town Board

Tuxedo Park Library Awarded $84,281 in State Funding

Tuxedo Park School Receives $100,000 Donation For Tuition Assistance


Tuxedo Voters Overwhelmingly Support New Village

Tuxedo Residents Vote to Form Village

Teen Injured In Swimming Accident in Tuxedo

Tuxedo Residents Seek to Create New Village


Vote Set on Town of Tuxedo's New Village Plan

Timothy Bohlke Named Superintendent of Schools in Tuxedo


Tuxedo Names New Schools Superintendent

Tuxedo has a Hamilton Connection

Tuxedo Business Man Takes a Low-Key Approach

Obsicale-Course Race In Tuxedo Draws a Hardy Crowd

George F. Baker High School Clinches Division Title - Again

Melchiorre Steps Down as Tuxedo Park's Top Cop

Sundae delight: Family-owned ice cream truck finds fans in Rockland, Orange Counties



George F. Baker High School Makes U.S. News & World Report List of Best High Schools

Dottie Audrey's Makes it Into the Top 10 on YELP's Top 30 Bakeries in the US List

State Senator Jen Metzger & Staff Participate in I Love My Park Day at Sterling Forest State Park
TUXEDO PARK, N.Y. – On Saturday, State Senator Jen Metzger and members of her staff volunteered their morning at Sterling Forest State Park in Orange County for I Love My Park Day, a statewide day of service that draws thousands of volunteers to parks and public lands across New York for site improvement projects, including planting trees and flowers and restoring trails and wildlife habitats.

"Our state parks are a treasure, and I Love My Park Day is a wonderful way to give back and show our appreciation," said Senator Metzger. "My staff and I had a great time planting maple trees and flower beds with forest rangers and staff at Sterling Forest State Park. The park's extraordinary 21,935-acre forest habitat is situated in the Ramapo Mountains in Orange County and important for the survival of many species, including hawks, songbirds, and plant life, while also providing opportunities for the public to enjoy hunting, fishing, hiking, and snowshoeing."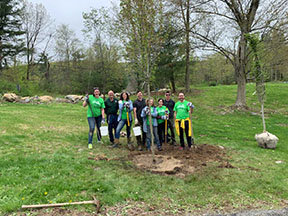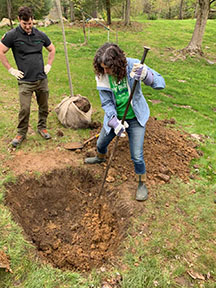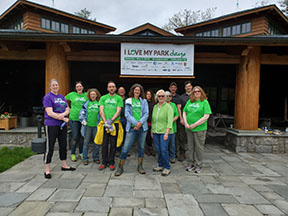 Tuxedo Volleyball Club Begins Inaugural Season


The Future of Volleyball is Bright in Tuxedo

Tuxedo Park OKs Police Chief's Second Job - As Monroe Interim Top Cop

Critics: Police Chief's Double Duty in 2 Towns Creates Safety, Ethical Concerns

Tuxedo Schools Grow in 2019 with Six New Enrollments

Dottie Audrey's Named "The Best Brunch Spot In New York State" by eatthis.com

Tuxedo Democratic Committee Seeks Town Board Candidates


Moody's Upgrades Tuxedo Credit Rating

This Little Tuxedo High School is Packed Full of Memories, Alumna Says

Cornwall Man Survives Crash Into Telephone Poll

Municipalities and School Districts Say They're Ready for 2019!

Sterling Forest State Park Hosts First Day Hike

Tuxedo Varsity Volleyball Team - Scholar Athletes!

Dottie Audrey's Named #1 Bakery In Upstate New York!

Tuxedo Park Law Resembles Woodbury Proposal on Eruvs

Virtual-Reality Company Proposes Fantasy Adenvture Park for Tuxedo Farms site

Tuxedo Tree Lighting Set for November 30

Tuxedo Board Votes to Keep High School Open

Audit Finds Same Person Handled Tuxedo Park's Clerk, Treasurer Tasks

Tuxedo Board Votes to Keep Baker HIgh School Open


Consequences: Wear Pink-Ribbon Socks, Promote Breast Cancer Awareness, Win Hockey Tournament

Tuxedo School Board To Vote On Fate of George F. Baker HS

Tuxedo Students Coordinate Veterans's Day Card Campaign

Giving Tuxedo Students Better Options

Supporting the Notion to 'Tuition Out' George F. Baker High School Students

Orange County High School Closure could Send Students To Rockland Districrt

Close, Consolidate or Wait: Schools Grapple WIth Shrinking Enrollment

Parents, Taxpayers Debate Fate of Tuxedo High School

Tuxedo School Faces Closure Due To High Costs and Low Enrollment


Tuxedo Officials Eagerly await Developer's New Projects

Tuxedo School Board to Vote on Future of High School November 15

Tuxedo Powerhouse Concert Series Opens October 6 With Commander Cody and Lost Planet Airmen

Tuxedo Park School Jump-Starts Weekend Backpack Meal Program

Best Places to grab Breakfast according to Al Roker and PEOPLE

Tuxedo School Board sets vote on Baker High's Fate

Tuxedo Collects Signatures to Form, Consolidate Village

Dottie Audrey's Ranked #1 Bakery in Upsate New York by Newyorkupstate.com

Sterling Forest Tower Is Open To VIsItors Through Labor Day

Steling Forest State Park Hosts Two Ranger Adventures This Month

Tuxedo Park Author Gurino Writes New Epic Fantasy

Renaissance Faire Draws Time-Travelers to Tuxedo

Hudson Valley Shakespeare Festival Features Play By Tuxedo Author William Lemanski

Iron-Forged Donnelly Rune 20th-Straight Triathalon

Interactive Fantasy Adventure Park Proposed for Orange County

Tuxedo Lowers Tuition to Non-District Students

Cheers to the George F. Baker Class of 2018

Tuxedo Park Library Hosts Wildlife Illustrator John Cameron Yrizarry June on 16

These Are The Top Three Public School Districts in Each Hudson Valley County

Tuxedo Park Man Killed When Tire Flies Off Truck, Crashes into SUV in Ft. Lauderdale

Tuxedo Receives $50,000 State Grant For Town Hall Rennovations

Tuxedo's Castellanos Fans 17 Class D Final
back to top

May 15 is School Budget Vote and School Board Candidate Election in Monroe -Woodbury and Tuxedo
back to top

Meet The Tuxedo School Board Candidates
back to top

Orange-Ulster Boces Honors Regional Arts and Humanities Achievements
back to top

Letter: Tuxedo dist. Situation Does Disservice to Its Students
back to top

Tuxedo's Proposed School Budget To Have a 5.46% Tax Levy Reduction
back to top

Wee Wah FIshIng Club Seeks New Members
back to top

Tourists Infected With Measels Visited Tuxedo Park
back to top

Tuxedo School Board Adopts $13.18M Budget
back to top

My View: Great Things Happening In Tuxedo School District
back to top

Tuxedo School District Awarded $6,000 for STEM-based Scholarships



Tuxedo STEM Program Awarded $6,000 Grant

Tuxedo Considers HIring Consultant To Help Decide School's Fate

Cuomo Cites New 'Education Transparency'









Where Christmas Trees go up in flames … Tuxedo hosts its annual Bonfire Blaze Saturday

Where will our community be without a District?

Documentary Explores Tuxedo Park Radar Innovator Who Helped Change Course of WW II

Tuxedo board floats idea of forming village



Tuxedo Students Join Forces To Jump Start Annual Toy Drive


Tuxedo church youth group hosts Christmas Market on Dec. 9

Tuxedo Historical Society hosts open houses for Bert Morgan photo exhibit - 11/14/17

Tuxedo celebrates berth to state volleyball semis - 11/6/17

Developer to downsize plans for Tuxedo project - 11/6/17

Ken English: A conciliatory voice and a clear vision for Tuxedo - 11/3/17

Tuxedo Walkathon raises $4,500 for hurricane relief - 10/27/17

John Doe burial search comes up empty - 10/27/17

Heather Yakin: New leads might help solve cold murder cases - 10/25/17

State police seek public help in 1968 murder case - 10/25/17


Tuxedo Coach Michelle Hines wins 100th volleyball game - 10/17/17

Developer: High school status stalls Tuxedo housing project - 10/2/17

Tuxedo students seize opportunity to learn the importance of awareness - 9/29/17

Woman dies in a multi-vehicle crash in Tuxedo Park - 9/25/17

845 Life: Indian Hill's mysterious stone walls - 9/18/17

Small plane makes emergency landing in Tuxedo field - 9/18/17

Students from Tuxedo and Warwick are among 16,000 National Merit Scholarship semifinalists - 9/15/17

What happens when you get lost in the woods? - 9/13/17

Valley Rock Inn grand opening event this weekend - 9/8/17

Ken English announcing run for Tuxedo Town Board - 9/1/17

Man dies of injuries suffered in bike crash in Tuxedo - 8/23/17

Better State Test Scores For Local Districts - 8/23/17

Tuxedo Garden Wins Big at Kitchen Garden Tour - 8/18/17


Tuxedo Park woman killed in crash - 7/10/17

McFadden wins Tuxedo Park mayoral race - 7/7/17

Fireworks ignite in SUV on Thruway; 5 hurt - 7/5/17

Fireworks suspected in Tuxedo car fire - 7/5/17

Report of motorcycle crash in Tuxedo - 7/5/17

Rev. Richard Robyn Is New St. Mary's Rector - 7/5/17

NYU's School of Medicine reviewing offers for Sterling Forest site - 7/5/17

The George F. Baker High School Class of 2017 completes its journey - 6/30/17

Tuxedo Park mayoral race comes down to 24 absentee ballots - 6/28/17

Tuxedo Fire Commissioners Honor Chalice Jones On Hi 50 Years Of Service - 6/26/17


Friends of Sterling Forest Announce Programs For July - 6/21/17

Book Talk With Bill Lemanski Features Presidential HistorianLouis Picone This Saturday June 24 - 6/21/17

Tuxedo's George Grant Mason students rock the Rockland Boulder's reading challenge - 6/16/17

Orange County Land Trust raises close to $125,000 at annual benefit reception - 6/13/17

Wappingers school studies Tuxedo STEM program - 6/13/17


Wappingers school officials visit Tuxedo to learn about implementing K-12 STEM program - 6/9/17

Fans of puzzles will die for this murder mystery - 5/19/17

Trial date set for Tuxedo sergeant charged with nine felonies - 5/15/17

Jehovah's Witnesses host open houses at new world headquarters - 5/5/17

Tuxedo Park woman dies of injuries suffered in Saturday car crash - 4/27/17

26,189 pages read in four weeks - 4/25/17

Local school districts earn national honors for music programs - 4/18/17

Tuxedo and Chester school districts to merge for select sports - 4/17/17

Tuxedo STEM Academy students visit pharmaceutical company - 4/17/17

Bruno's Buildings Take Shape In Sloatsburg, Anchoring Area Revitalization - 4/11/17

Tuxedo Park, N.Y.: A Time Warp Beyond the Stone Gates - 4/6/17

'What about the road between Tuxedo and Monroe?' - 3/30/17

The Tuxedo Park Library Authors' Circle presents David Bianculli - 3/28/17

Tuxedo police sergeant indicted on 22 charges, nine felonies - 3/10/17

Tuxedo Historical Society Presents Voices From The Past - 3/9/17

Tuxedo police sergeant charged with 9 felonies - 3/9/17

Tuxedo STEM Academy visits Anka Precision in Congers - 3/1/17

Icy roads end in fatal T-bone crash with a bus - 2/17/17

Fatal car-bus accident closes Route 17 in Tuxedo - 2/10/17

Officials: 1 killed when bus collides with car in Tuxedo - 2/10/17

Tuxedo Christmas Tree Bon Fire Set for February 4 - 1/30/16

Editorial: Cheers for saving land, lungs and lives - 12/27/16

845 LIFE: Jean Palmieri-Donnelly - If one sport seems tough, try doing three at once. Triathlons have been keeping Tuxedo Park's Jean Palmieri-Donnelly, 56, motivated for 20 - 12/27/16

Tuxedo Sloatsburg Corridor project making progress - 12/23/16

Michael Bruno's Tuxedo Hudson Co. wins Mid-Hudson Economic Development grant for Sloatsburg/Tuxedo revitalization effort - 12/22/16

St. Mary's Church in Tuxedo to host Twelfth Night celebration on Jan. 8 - 12/21/16

961 Acres of Undeveloped Land in Tuxedo Protected - 12/20/16

961 acres donated to Tuxedo for public recreation - 12/20/16


Tuxedo participates in the West Point Women's Black Knights Reading program - 12/14/16

Tuxedo Toy Drive Under Way - 12/12/16

Tuxedo's National Honor Society students assist food pantries - 12/2/16

Tuxedo students to take part in Hour of Code - 12/2/16

Tuxedo Meeting on Pilgrim Pipelines - 11/29/16

Tuxedo Park School students make community service a key theme of holiday season - 11/29/16

George Grant Mason School participates in Computer Science Week - 11/29/16

George F. Baker National Honor Society assists local pantries - 11/28/16

Tuxedo bands together for run to volleyball's final four - 11/18/16

Tuxedo Kindergarten pays tribute to Veterans - 11/18/16

Orange County IDA accepts tax break application from Tuxedo developer - 11/18/16

Tuxedo girls volleyball team soars to state Class D final four - 11/14/16

Tuxedo moves on to regional Class D final - 11/9/16

Tuxedo heeds coach's message in volleyball section final - 11/7/16

Things get fresh at Tuxedo Park School -11/2/16

Tuxedo STEM Academy unveils HAAS Mini Mill - 10/28/16

Tuxedo STEM Academy unveils HAAS Mini Mill - 10/26/16

St. Mary's preschool fireghters - 10/20/16

Dr. Elizabeth Poynor to discuss optimizing women's health Oct. 16 at Tuxedo Park Library - 10/12/16

St. Mary's yard sale to benefit local families and South African orphans - 10/7/16

Tuxedo students attend presidential debate at Hofstra - 10/4/16

State says Port Jervis, Town of Tuxedo lack sufficient revenue to cover expenses - 10/4/16

Port Jervis, Tuxedo under 'significant' fiscal stress - 9/28/16

Baker students participate in the Presidential Debate at Hofstra - 9/28/16

Tuxedo Park Library offers program on hiking - 9/28/16

Safety boosts planned for Tuxedo, Sloatsburg rail crossings - 9/27/16

Tuxedo Park Library hosts program on "Hiking in Bear Country' - 9/27/16

Letter: More negative effects of pipeline project - 9/22/16

Tuxedo man dies after being hit by car - 9/19/16

Pedestrian hurt in accident on Rte. 17 in Town of Tuxedo - 9/19/16

Tuxedo students' math test scores incorrectly recorded - 9/19/16

Tuxedo NY Is Getting Dressed Up - 9/12/16

Price tag nearly doubles for region's public education in past decade - 9/6/16

Tuxedo Club's Cline tied for seventh at Met Open - 8/23/16

Mogul Sees Organic Farm As First Step To Reviving Lost Towns - 8/22/16

Blue Barn Farm Stand opens weekends with organic produce - 8/9/16

Volunteers create rosaries for the military - 8/7/16

Police: Thruway driver faces felony DWI after Tuxedo stop - 8/5/16

Call 911 to report emergencies in the Town of Tuxedo - 8/1/16

Audit: Tuxedo inflated anticipated revenues, cash balances - 6/28/16

Spartan Race Puts Participants To The Test - 6/28/16

Tuxedo Club's Cline In Second After 1st Round of Ike Championship - 6/28/16

'This school has really prepared me for life' - 6/23/16

Tuxedo Minors wins first-ever Little League championship - 6/21/16

Tuxedo's Top 10 Prepapre For Future - 6/6/16

Madeline Doyle and Matthew Willins earn OCIAA scholar athlete recognition - 5/25/16

Tuxedo-Harriman Shuttle Kicks Off Season Saturday with Pop-Up Party - 5/19/16

TPS freshman competes in Gold Rush Track Invitational - 5/18/16

Tuxedo School Vote, Tuesday May 17 - 5/16/16

Letter: Urging a 'No' vote on Tuxedo school budget - 5/16/16

Our Children Deserve a 'Yes Vote' - 5/13/16

Tuxedo School Board Candidate Statements - 5/13/16

Please Vote on May 17 - 5/13/16

Tuxedo BOE Candidate Joe Rickard: 'Our town is facing a threat that affects its viability as a place to…..live in - 5/10/16

Driver extricated from wreck in Tuxedo - 5/9/16


Please Do Not Put Our Community At Risk - 5/5/16

Former Tuxedo Student Killed In Car Crash - 5/4/16

Tuxedo/Sloatsburg Boy Scout Troop 2146 Honors its Four New Eagle Scouts - 5/4/16

Land Trust Announces New Appointments To Board of Directors - 5/3/16

Casting A Wider Net For Tuxedo - 4/27/16

Tuxedo School Board Adopts A $13.49 Million Budget - 4/25/16

Proposed Tuxedo budget exceeds tax cap - 4/25/16

Baker students take environmental field trips - 4/20/16

George F. Baker Ninth-Grade Students' Family Crests Blend Art & History - 4/12/16


Editorial: Tuxedo experiment has promise, lessons - 4/8/16

Residents critical of Tuxedo's tentative budget - 4/8/16

The Tuxedo Park Library Presents An Afternoon of Jazz on April 10 - 4/7/16

State grant to pay for Tuxedo dump trucks - 4/7/16

VIDEO: Transforming Tuxedo into 'gateway to the Hudson' - 4/4/16

The Bruno Chronicles tell a tale of good things to come - 4/4/16

Tuxedo school's fate may be stalling local housing project - 4/4/16

One man's vision: Transforming Tuxedo into 'gateway to the Hudson' - 4/4/16

Tuxedo Park School Students Visit China - 3/31/16

Six school districts face negative tax cap - 3/11/16

March 9 'An Evening of Readings, Music and Prayer' at St. Mary's in Tuxedo to benefit food pantry - 3/3/16

Good stuff is going fast at BackHome Antiques in Tuxedo - 2/29/16

$50K grant will help in Wee Wah Dam repairs - 2/23/16

Tuxedo school district reappoints Teed as interim superintendent - 2/22/16

George Grant Mason School's 'Hearts for Heroes' cards thank Tuxedo first responders - 2/11/16

Tuxedo Hudson Company Kicks Off Corridor Campaign - 2/5/16

'Ashes To Go' at the Tuxedo Train Station on Ash Wednesday - 2/5/16

Tuxedo high school hosting 'Tornado for a Day - 2/3/16

Michael Bruno Unveils Bold "Rural Americana" Vision For Tuxedo - 1/28/16

This fat cat is creating his own Hudson Valley kingdom - 1/28/16

Mahwah Museum Hosts Author of 'The Story Of The Red Apple Rest - 1/19/16

Orange county school looks to Rockland for students - 1/18/16

Judge Backs Eviction of Tuxedo Mulch Plant - 1/13/16

My View: Tuxedo Offers Innovative STEM Education - 1/6/16

Tuxedo STEM Academy To Hold Open House for Non-District Students on January 20 - 1/6/16

Santa's Candy Run in Tuxedo - 12/23/15

Tuxedo drops plans for charter school - 12/16/15

Tuxedo School District students participate in 'The Hour of Code' - 12/15/15

New Novel by local resident William E. Lemanski is set in Tuxedo Park - 12/14/15

Tuxedo Police Chief Retiring; had been placed on administrative leave - 12/11/15

Tuxedo Park School athletes honored for both effort and success - 12/8/15

Emma Meore named to the 2015 Fifth Team All-State Volleyball Team - 12/8/15


Castricone to announce candidacy for Congress - 12/4/15

George F. Baker High School chorus and band to perform at Tuxedo's tree lighting Dec. 4 - 12/1/15

Tuxedo police looking at drastic job cuts - 11/30/15

Tuxedo Supervisor Mike Rost Delivers Sobering Fiscal News - 11/24/15

Tuxedo's George Grant Mason School honors local veterans - 11/20/15

A Landscape Picture Book of Conservation in Tuxedo Park - 11/20/15

From Access Road to Retail Complex, Tuxedo Farms Raises the Stakes in Sloatsburg - 11/17/15

Tuxedo Park School opens Maker Space lab - 11/17/15

Planned Sloatsburg shopping center upsets some Tuxedo residents - 11/13/15

New Tuxedo Farms Shopping Center Proposed - 11/13/15

Sloatsburg Property Developer Pitches Shopping Center - 11/13/15

Tuxedo Farms Shopping Center - 11/13/15


Tuxedo Park Home Market Unsettled - 11/12/15


Tuxedo Farms developer pitches Sloatsburg shopping center - 11/10/15

Scatch Made Food Just for You at Dottie Audrey's - 11/10/15

Discussion On Tuxedo Park Book - 11/6/15

Town of Tuxedo Police Chief Put on Administrative Leave - 11/2/15

RELATED COs UNVEILS PLANS FOR TUXEDO FARMS - 10/29/15

Tuxedo Volley Ball Team On Cusp Of New Heights - 10/20/15

Tuxedo Farms Taking Shape - 10/12/15

Layoffs part of Tuxedo plan to close $1M gap - 10/12/15

In Tuxedo,N.Y.,Breaking Ground On A Decades-Long Project - 10/12/15

Tuxedo to get land from housing developer - 10/12/15

Smaller classes suit Tuxedo students - 9/30/15

Tuxedo's pinwheels commemorate International Day of Peace - 9/23/15

State approves Tuxedo's request for a K-12 principal - 9/23/15

Are there treasures hiding in your house? - 9/22/15

Tuxedo Park seeks security solution after drunken driver destroys gated community's guard booth - 9/22/15

Tuxedo Ridge Ski Center won't open next season - 9/15/15

ELECTION 2015: LOCAL PRIMARY RESULTS - 9/11/15


Woman Killed in Car Wreck - 9/11/15

Day-long musical event to benefit MyHarriman - 9/11/15

Work begins - finally - on Tuxedo Farms - 9/2/15

Audit of Tuxedo Finances Finds Issues - 9/1/15

Tuxedo high school's principal resigns - 8/27/15

Tuxedo High School Principal Quits - 8/27/15

Tuxedo students get Chromebooks and iPads for school year - 8/20/15

4 out-of-district students apply for scholarships to Baker High School in Tuxedo - 8/17/15

Tuxedo Park passes resolution opposing Pilgrim Pipeline - 8/14/15

Pilgrim Pipeline revised petroleum route runs through Tuxedo, skirts Sloatsburg - 8/10/15

Tuxedo-Harriman Shuttle Needs Weekend Volunteers - 7/24/15

Tuxedo Park Couple Met Through Racing - 7/10/15

Tuxedo School District wraps up enrollment drive for Baker High - 7/8/15

Scholarship program announced for non-resident Tuxedo students wanting to attend Baker STEM Academy - 7/3/15

Bus service aims to boost traffic to Tuxedo's park - 7/1/15

All Aboard: Yellow Harriman Bus Starts Service Around Park - 6/30/15

Tuxedo To Offer Scholarships To Baker Applicant - 6/29/15

Tuxedo confers diplomas in Thursday night ceremony - 6/25/15

Tuxedo names Teed as interim school superintendent - 6/22/15

Letter: We can't Just Pay For Kiryas Joel Growth - 6/22/15

Tuxedo Park elects new mayor - 6/22/15

Base Camp Tuxedo at Tuxedo Train Station attracts a crowd - 6/22/15

Tuxedo Park elects new mayor with strong support - 6/18/15

High School Seniors Leave School Halls For Last Time - 6/17/15

Tuxedo Park Mayor Seeks Second Term - 6/12/15


BackHome Antiques Hosts Tuxedo Chamber Spotlight - 6/10/15

George F. Baker High School art students exhibit work at library - 5/26/15

Tuxedo school board election results underscore effort to save Baker High - 5/26/15

Tuxedo Budget Passes - 5/22/15

Voters Approve $14.1 Million Tuxedo Budget - 5/20/15

Tuxedo Names Schrammel Principal For George Grant Mason School - 5/18/15

Tuxedo Candidates Care About Our Future - 5/14/15

St. Mary's-In-Tuxedo will host an organ and violin concert on May 16 - 5/13/15

Tuxedo Farms project process moving forward - 5/11/15

Debate over Tuxedo school's future draws 8 candidates for 3 board seats - 5/7/15

Tuxedo Base Camp Park Party - 5/7/15

Please vote yes for the Tuxedo School Budget - 5/5/15

Follow The Flow – Western Ramapo Sewers Entice Development - 5/1/15

Tuxedo BOE approves budget with a 1.69 percent tax levy - 5/1/15

Tuxedo Will Resubmit State Application For Charter School - 4/27/15

2 injured in head-on crash on Tuxedo Mountain - 4/24/15

Tuxedo School Board OKs 14.1M Budget With Lower Tax Rate Increase - 4/24/15

Sunday Fire Leaves Two Tuxedo Families Homeless - 4/21/15

FAMILIES AFFECTED BY A HOUSE FIRE IN TUXEDO NEED YOUR HELP - 4/20/15

A look at the proposed 2015/2016 Instructional Program (Grades K-12) for the Tuxedo Union Free School District - 4/20/15

Tuxedo Schools Propose Ten Percent Tax Increase - 4/17/15

Tuxedo school district could cut 20 jobs - 4/13/15

Tuxedo Board Keeps High School Open - 4/1/15

The Future Of Our High School - 4/1/15

Vote To Determine Fate of George F Baker High School in Tuxedo - 4/1/15

Tuxedo lays out plans for Baker High School discussion - 3/24/15

Students, parents fight to keep Baker High School open - 3/20/15

Time has run out for Tuxedo - 3/20/15

Crowd turns out in support of Baker High - 3/20/15

Tuxedo school at risk of closing after this school year - 3/18/15

Tuxedo devastated by charter school rejection - 3/18/15

State board denies Tuxedo charter school bid - 3/16/15

TUXEDO SUPERINTENDENT LAYS OUT OPTIONS - 3/13/15

Meeting to address future of Tuxedo high school - 3/10/15

Watchtower's growth strains town budgets in mid-Hudson - 3/9/15

Tuxedo resident Lemanski publishes memoir - 3/9/15

Tuxedo Gets Local And Turns Its Attention To Tuxedo Farms - 3/5/15

Author of a new book recalls the Red Apple Rest, an iconic roadside eatery - 3/5/15

Kindergarten Post Office sells stamps for schools - 3/4/15

Tuxedo board member resigns - 3/3/15

Tuxedo evicts mulch operator - 3/2/15

Far from the beaten path Tuxedo resident William Lemanski publishes memoir, 'Adventures in Distant and Remote Places - 2/25/15

'Seussical' comes to Tuxedo - 2/25/15

Districts campaign against Tuxedo charter school - 2/25/15

The Bane Of Bucolic Bedroom Communities - 2/24/15

Debt, discord cause hard times for Tuxedo - 2/24/15

Tuxedo Builds a Bonfire - 2/12/15

George Grant Mason School trip leads to wolf adoption - 2/11/15

Bestselling Author Kathryn Harrison Comes To Tuxedo Park Library - 2/3/15

'Joan of Arc' author coming to Tuxedo Park library - 1/28/15

State blasts Tuxedo's poor bookkeeping - 1/22/15

Tuxedo charter application on hold again - 1/15/15

Charting a new charter course - 1/15/15

A Bit Of History In The Tuxedo Hamlet Commercial District - 1/14/15

Tuxedo awaits word on charter school application - 1/12/15

Town OKs LDC for Tuxedo Farms project - 1/9/15

Girl escapes crash into lake - 1/9/15

Tuxedo's Post Casino Dreams - 1/7/15

8th Annual EpiscoBuild Concert set for Jan. 11 - 1/5/15

Parents' quest for justice moves toward trial - 12/29/14

Town creates special district for massive Tuxedo Farms - 12/29/14

A Message From The Tuxedo Chamber - 12/23/14

Tuxedo Gets Back To Real Life After Casinos Pass Over Orange County - 12/19/14

Tuxedo woman critical after Sunday crash - 12/16/14

Parents suspect son's fatal overdose in Atlantic City was murder - 12/16/14

Genting Proposes New Thruway Exit - 12/15/14

St. Mary's Concert To Benefit The Food Pantry - 12/11/14

Group claims deed restriction will end Genting's casino bid - 12/8/14

All The Casino Dreams Won't Last Much Longer - 12/8/14

Harsh words for Tuxedo casino environmental-impact report - 12/5/14

Tuxedo Celebrates The Holidays - 12/5/14

Study predicts less traffic, revenue for Tuxedo casino - 12/4/14

Church hosts concert to benefit food pantry - 12/2/14

Tuxedo residents' lawsuit dismissed - 11/25/14

Judge dismisses Tuxedo group's casino lawsuit - 11/25/14

Pataki opposes casino at Sterling Forest that he helped preserve - 11/24/14

Decision on Tuxedo charter school delayed - 11/18/14

Thanks for the memories - The daughter of the Red Apple Rest founder will launch her new book at the Tuxedo Historical Society on Dec. 6 - 11/18/14

Bats Could Stop Tuxedo Casino - 11/17/14

Sterling Forest Resort DEIS Shows Casino Impact - 11/17/14

George Grant Mason fifth-graders give thanks - 11/17/14

Casino decision at least 10 days away - 11/11/14

Tuxedo Town Board says Genting's environmental impact statement is complete - 11/11/14

Genting submits impact statement for casino - 11/10/14

Students anxious for decision on Tuxedo school - 11/7/14

Tuxedo churchgoers confused about meaning of merger - 11/4/14

Casino foe challenges appointee for Tuxedo board seat - 10/22/14

Kristy Apostolides 'represents a fresh start for Tuxedo' - 10/22/14

Sterling Forest Resort - 10/21/14

A Disputed Casino Plan for a New York Forest - 10/21/14

The stories behind 'Little Black Jacket' - 10/16/14

Barbara Bedell: Little hands can help a lot - 10/15/14

Boards Take Up Development And Construction Business - 10/15/14

Fire prevention lessons at St. Mary's Community Preschool - 10/15/14

Learn about 'The Fabulous Women of Tuxedo Park' - 10/14/14

Support for Genting's casino proposal in Sterling Forest - 10/13/14

Don't Gamble Away Sterling Forest - 10/8/14


Tuxedo tells state it needs casino cash - 10/2/14

Conservationists, Genting agree to scrap award ceremony - 9/30/14

Editorial: Feuding schools need to start over - 9/30/14

Greenwood Lake concerned over Tuxedo charter school tuition costs - 9/29/14

Celebrate With BackHome Sunday - 9/26/14

Conservation group to honor Genting Americas - 9/26/14

Recruiters used to boost Genting crowd - 9/25/14

Casino question: Are you being paid to speak? - 9/24/14

Casino hearing: Crowd puts its chips on the line - 9/24/14

12-hour casinos session looms - 9/22/14

Coming up: Sterling Forest Resort casino plan - 9/21/14

Editorial: Time for casino foes to make the best case - 9/21/14

Genting Americas denied road access - 9/17/14

New Adult (NA) generation Fiction - 9/15/14

Tuxedo continues path to high school conversion charter school - 9/15/14

Tuxedo board approves $100k for more consulting work - 9/15/14

Environmentalists to fight casino in Tuxedo - 9/15/14

Genting says its Tuxedo resort casino would be an international destination - 9/10/14

Genting says it would pay $380 million premium for a license in southern Orange County - 9/10/14

Genting says its Montgomery casino is the 'best regional option' - but it would rather build in Tuxedo - 9/10/14

A Rich Plan in New York's Casino Race Is No Sure Thing for Cuomo - 9/9/14

GENTING DETAILS POSSIBLE TAX BILL - 9/8/14

Opening day at Tuxedo schools - 9/5/14

Tuxedo school board approves plan for STEM Academy - 9/5/14

United Monroe endorses Dan Castricone for the Assembly - 9/4/14

Tuxedo's school conversion at issue - 9/3/14

Christian Capella win Earth Day poster contest - 9/3/14

Tuxedo hosts e-recycling program - 9/3/14

Parents on quest for justice after son found drugged, dead - 9/2/14

Questions surround Greenwood Lake mayor's affiliation with Tuxedo casino project - 8/21/14

The Appalachian Trail Conservancy Voices Strong Opposition to Proposed Sterling Forest Resort in Tuxedo, New York - 8/21/14

Genting VP: Sharing makes sense - 8/21/14

New York State Gaming Process Rolls Along, Even As Industry Growth Fades - 8/19/14

Housing developer pitches recreation facility for Tuxedo - 8/18/14

Tuxedo to hold meeting on Sterling Forest casino plan - 8/18/14

Tuxedo hires consulting firm to help manage finances - 8/14/14

St. Mary's book sale to benefit Carryou orphans in South Africa and needy families - 8/14/14

A gathering of Faire Ladies and Gents - 8/14/14

Balloon test will show Tuxedo casino's height - 8/11/14

Sterling Forest environmental advocates object to casino location - 8/5/14

How a casino proposal came to Tuxedo - 8/1/14

Tuxedo Documents Environmental Study For Sterling Forest Resort - 8/1/14


Tuxedo Farms Slowly Imagines Itself Into Real Life - 7/29/14

Officials fear proposed New York casino could taint New Jersey water - 7/29/14

Genting Americas' Tuxedo projection is 6.9 million visitors annually - 7/24/14

ROBOT CRAFT AT THE THE TUXEDO PARK LIBRARY - 7/23/14


Plan to turn Baker High School into charter school progressing - 7/16/14

Article 78 Roadblock Thrown In Tuxedo Casino's Way - 7/16/14

Tuxedo Residents Sue Town Regarding Casino Gaming Zone at Sterling Forest - 7/15/14


Genting promises $10M to Tuxedo Park if casino gets OK - 7/9/14

Tuxedo Reserve: What It Means For Rockland County - 7/3/14

Tuxedo, Genting Americas casino OK benefits pact - 7/2/14

Tuxedo Park trustees back casino - 6/27/14

Tuxedo Votes 4-1 To OK Genting's Plan - 6/26/14

Ed Day Pitches Public Hearing To Connect Tuxedo Farms To Rockland Sewers - 6/25/14

Tuxedo board ignores foes, OKs plan for gaming resort - 6/25/14

Tuxedo Moves To Meet NY Gaming Commission June Deadline - 6/24/14

Tuxedo Farmers' Market opens - 6/19/14

Tuxedo Works On Host Agreement For Genting Resort Plan - 6/19/14

Jehovah Witness World HQ project moving forward - 6/18/14

Tuxedo voters OK $15.9M school budget on 2nd try - 6/18/14

2 running unopposed elected to Tuxedo Board - 6/18/14

Casino developer Genting advised on building Thruway exit - 6/18/14

Tuxedo Park voters will elect 2 village board members - 6/17/14

Tuxedo school district holds revote on $15.9M budget - 6/17/14

Tuxedo officials racing to meet deadline regarding Genting Americas' casino bid - 6/17/14

Tuxedo School District receives $340,000 gift - 6/6/14

St. Mary's In Tuxedo Celebrates Strings And Song - 6/4/14


Memorial Day services in Tuxedo - 5/30/14

Casino donation aids Tuxedo School District - 5/29/14

Tuxedo Park resident recognized for commitment to people with Parkinson's - 5/27/14

SCHOOL VOTE AFTERMATH: TUXEDO REGROUPS AFTER BUDGET LOSS - 5/22/14

'The Doomed are being led by the Dumb in Tuxedo' - 5/15/14

Viewing the casino from the other side of the mountain - 5/15/14

'The dire consequences' of a casino - 5/15/14

Say no to Tuxedo Ridge Casino and Resort - 5/15/14

Joanne Vernon will be reelected to Tuxedo BOE - 5/15/14

Tuxedo Board says yes to casino plan - 5/13/14

How Do You Do Development In The Woody Ramapos? - 5/13/14

Town of Tuxedo votes in favor to build 238-acre casino near Sterling Forest - 5/13/14

Hudson Valley town approves company's casino plan - 5/13/14

Residents Speak Out On Tuxedo Casino Proposal - 5/9/14

Tuxedo debates casino plan - 5/8/14

Tuxedo proposes $15.93 million school budget - 5/8/14

George F. Baker High School artwork on display - 5/8/14

Proposed Tuxedo casino will endanger a natural treasure - 5/7/14

See what your school district is proposing for 2014-15 budget season - 5/5/14

Tuxedo crowd changes tune about casino - 5/1/14

Where will the roulette wheel stop? - 5/1/14

Casino in Tuxedo pitched - 4/30/14

Casino company outlines plans for resort in Tuxedo - 4/30/14

Genting Unveils Resort Casino Proposal In Tuxedo - 4/30/14

Genting wants a casino near pricey upstate enclave - 4/30/14

Latest casino plan would be 41 miles from Manhattan - 4/30/14

Details of proposed Orange County, N.Y., resort released - 4/30/14

Casino operators place their bets - 4/30/14

Proposed downstate casino bid includes 2 hotels, skiing - 4/30/14

Introducing Sterling Forest Resort in Tuxedo - 4/29/14

Latest casino entrant proposes glitz in Tuxedo - 4/28/14

Genting Group Says It Is Vying for a Casino License - 4/24/14

Library to host author Hillary Jordan on May 4 - 4/21/14

Artists sought for Tuxedo Community Art Show - 4/21/14

Tuxedo land plan spurs downgrade of its bond rating - 4/21/14

Moody's places the Town of Tuxedo, NY's GO rating on review for downgrade - 4/16/14

2 brush fires extinguished in Tuxedo - 4/15/14

Tuxedo S.D. stops student walkout - 4/14/14

SOS Fuel Storage Site Constructed Along Ramapo River - 4/2/14

TUXEDO EYES NEW CHARTER SCHOOL - 3/31/14

Daylight Shines On Ed Day's Tuxedo Sewer Meetings - 3/28/14

Watchtower Presents Global View At Tuxedo Town Hall - 3/25/14

Group to introduce conversion charter school - 3/24/14

Tuxedo was home to the first marked nature trails - 3/11/14

Police report road rage incident on Thruway - 3/10/14

Substitute teacher praised for quick actions in ceiling collapse at George F. Baker High School in Tuxedo - 3/10/14

George F. Baker High School reopens after Friday ceiling collapse - 3/10/14

Tuxedo schools evacuated after classroom ceiling collapses - 3/10/14

Ceiling Collapses At High School In Tuxedo - 3/10/14

Tuxedo Park: Inside The Gates - 3/10/14

Local Scouts Race at Pinewood Derby - 2/12/14

Sister Power Keeps Tuxedo Rolling - 2/11/14

Tuxedo Park Library hosts author Cristina Alger - 2/3/14

'Hypocrisy and falsehoods' - 1/30/14

The temperature of Tuxedo politics - 1/30/14

Tuxedo among 87 school districts reviewed by state - 1/22/14

Tuxedo Chamber Welcomes Members And More - 1/16/14

Castricone tosses hat in the ring for Assembly seat - 1/10/14

Groups bid farewell to outgoing supervisor - 12/26/13

Advent Family Day rescheduled at St. Mary's - 12/19/13

Village Resident Greg Romero Appointed to Board of Directors of the Parkinson's Disease Foundation - 12/18/13

Jersey fraudster, in Tuxedo Park con, sentenced - 12/17/13

'Canstruction' at Tuxedo Park School - 12/17/13

Valerie Reardon is named to MGA Foundation directors board - 11/25/13

Animal Spirits Abound in Tuxedo Park - 11/24/13

Tuxedo Park Library to host Medal of Honor recipient, Col. Jack H. Jacobs, on Nov. 17 - 11/6/13

Tuxedo Park School wears pink for a cure - 10/31/13

Tuxedo library celebrates Native American Heritage - 10/31/13

Woman accused in $130,000 theft from ATM in Tuxedo - 10/11/13

Bank employee from Sloatsburg accused of stealing $130G from ATM - 10/10/13

Blessing Of The Animals - 10/3/13

Howard Shore's Music Magic - 10/1/13

Do You Have Any Grey Poupon? Rolls-Royce and Bentley Owners Cruise Tuxedo Park - 9/26/13

Tuxedo police chief files complaint against 'part-time' town justice - 9/19/13

Police: Tuxedo Chase bank fraud totaling $165K looks like an inside job - 9/19/13

Dump Truck Overturns In Tuxedo - 9/17/13

Dolan wins, but still 3-way supervisor race in Tuxedo - 9/12/13

Tuxedo Mulch Site Today - 8/20/13

From me to you - TPS third-graders see how their 'Coins for Change' project helped their South African counterpart - 6/11/13

Tuxedo plans new academy at high school - 5/30/13

Tuxedo school budget: $16.76 million - 5/17/13

Seeking non-resident students - 5/9/13

Tuxedo school weighs appeal of dorm ruling - 4/17/13

The tradition continues - 4/17/13

Tuxedo's STEM Academy plans taking shape - 4/16/13

Baker Sophomores Trained To Become Life Savers - 3/14/13

Emily Post in 20th Century' presentation Saturday - 3/13/13

University Center wants dormitories - 3/13/13

STEM Academy is coming to Tuxedo - 3/1/13

Scouts Clean Up Ambulance Corp - 2/27/13

Mysterious 'Brigadoon' appears in Tuxedo - 2/27/13

Tuxedo Mourns Loss of Longtime Scorekeeper - 2/25/13

Recycled Christmas trees fuel bonfire - 2/6/13

Tuxedo Is The Top Choice For Greenwood Lake Freshman - 1/29/13

Choices are finalized - 1/25/13

Enrichment Classes Offered at Tuxedo Park School - 1/18/13

THREAT RESOLVED AT BAKER HIGH SCHOOL - 1/14/13

WHAT WILL BAKER HIGH SCHOOL BECOME? - 1/14/13

Which High School Do You Go To? - 1/10/13

GWL high school choice deadline extended - 1/3/13

The Future Of Baker High School - 12/19/12

Tuxedo to build $63,000 bus shelter - 12/17/12

Tuxedo Chamber Celebrates The Holidays - 12/13/12

Tuxedo Rallies to Help Victims of Sandy - 12/13/12

Mulch Business Still Operating - 12/13/12

Tuxedo Historical Society to raffle Steiff Titanic bear, book - 12/5/12

Who Pays For Tuxedo's Mulch Pile? - 11/28/12

Just A Little Pollution Will Still Be Too Much - 11/28/12

Tuxedo will shrink controversial mulch pile - 11/27/12

Fill This Bus With Supplies - 11/27/12

Tuxedo Employees Support Local Food Pantry - 11/20/12

It's Official – Tuxedo Fish Kill Caused By Mulch Pile - 11/19/12

Tuxedo raffle celebrates Titanic - 11/19/12

ST. MARY'S 125TH ANNIVERSARY CELEBRATION - 11/13/12


Fire Engines and Kids - 10/23/12

GWL OKs Tuxedo Option - 10/18/12


Baker Welcomes 17 Honor Society members - 10/11/12

GWL Board OKs Tuxedo Talks - 10/10/12

Tuxedo might be school option for GWL students - 10/9/12

McMillan: Tuxedo's Wirth glad he got back in the game - 10/8/12



Blessing of the animals - 10/2/12

Tuxedo police say drunken dad drove 3 girls to Renaissance Faire - 9/27/12


Mulch, fish kill might have link, supervisor says - 9/24/12


Greenwood Lake Parents Back Tuxedo Option - 9/21/12

What the GWL petition asks - 9/21/12

Tuxedo freshmen take Adirondack trip - 9/20/12

GREENWOOD LAKE PARENTS PROTEST TUXEDO SCHOOL RESTRICTION: NEWS CHANNEL 12 COVERAGE - 9/20/12

Resident's lawsuit blames Tuxedo for Irene flood - 9/19/12

Greenwood Lake parents protest school restructuring - 9/18/12

Contagious excitement - New George Grant Mason School principal settles into new role at K-8 school - 9/13/12

George Grant Mason named a 'Reward School' - 9/13/12

Just Go To The Tuxedo Farmers' Market - 9/7/12

A smooth opening day for Tuxedo schools - 9/7/12

Greenwood Lake will stop sending high school students to Tuxedo - 8/31/12

The choice is Warwick and Chester - 8/31/12

One year after the storms: Washout, dam repairs in Tuxedo - 8/26/12

Contentious lease in Tuxedo tied to housing development - 8/19/12

2 ask state court to oust supervisor - 8/18/12


Message from the Tuxedo superintendent - 8/10/12

Greenwood Lake BOE hosts special meeting August 15 - 8/10/12

Owners, dogs love Tuxedo park - 7/31/12

New Directions At Tuxedo Park Library - 7/30/12

Sewer rates rising in Tuxedo, Warwick - 7/26/12

Barbara Bedell: Church stained glass windows spotlighted - 7/18/12

GWL BOE mulls 'parental choice - 7/3/12

New Directions At Tuxedo Park Library - 6/22/12

George F. Baker Class of 2012 - Next steps in life are 'overwhelming' and 'huge change - 6/20/12

Baker is the best choice for GWL students' - 6/12/12

Tuxedo Park trustee charged - 6/11/12

State audit spurs Tuxedo to change purchase policy - 6/8/12

Driver intends to sue Tuxedo in Taser case - 6/8/12

GGM holds annual spelling bee - 6/5/12

'Tuxedo Five' recognized during services - 6/1/12

Tuxedo Chamber Is Sweet - 5/31/12

Battle over mulch plant grows hotter in Tuxedo - 5/29/12

Timeline of Tuxedo Mulch-Pile Battle - 5/29/12

GWL Starts Over on School Choice - 5/25/12

Tuxedo Will Mark Memorial Day - 5/23/12

Tuxedo Board says mulch pile must shrink - 5/16/12

Tuxedo to demand changes in mulch plant - 5/14/12

George F. Baker High School/Tuxedo New York/Best High Schools/US News - 5/9/12

Money, Mulch and Mystery - 5/8/12



Greenwood Lake voting on high school in June - 4/26/12

Review: Organ Concert in Tuxedo - 4/25/12

DEC Cites Tuxedo In Fish Kill - 4/20/12

DEC Lowers Boom On Tuxedo Mulch Site - 4/20/12

Tuxedo's 'Mulch Mountain Cited in Sterling Forest Fish Kill - 4/20/12

Tuxedo program to commemorate Titanic sinking - 4/6/12

Polar: From Titanic to Tuxedo Park - 3/30/12

Tuxedo proposes $16,519,011 school budget - 3/30/12

Tuxedo mulch mountain raises ire - 3/26/12

Massive Fish Kill at Pond in Orange County

Community service at Tuxedo High School

Tuxedo Park Library host garden designer

Fish Kill At Four Corners Pond In Tuxedo


Judge dumps suit against Tuxedo Reserve plan

Lawsuit challenging Tuxedo Reserve dismissed
Tuxedo Land Trust plans to appeal

Celebrating Academic Excellence

Reasons for kids to smile in Tuxedo

Greenwood Lake high school kids' fate up in air

Tuxedo Park program culls 100 deer from herd

Bullying prevention program begins at the George Grant Mason School in Tuxedo

Tuxedo students collect 1,000 items

George Mason geography students know where they stand

Monroe-Woodbury bows out of effort to attract Greenwood Lake students to attend its high school in Central Valley


SOS Fuels returns to its original location

Tuxedo Park's mayor joins race for Hayworth seat

Tuxedo Resident Frank Peverly Becomes VP at O R

Students spread the Christmas spirit to 37 families in Tuxedo


Review - New Chorale In Tuxedo


Tuxedo Webelos host food drive

Carol Lomascolo is now officially Tuxedo schools chief

Tuxedo's Dolan re-elected; Orange incumbents poll well

Tuxedo Reserve big election issue

Metro North to Resume Full Port Jervis Line Service November 28, 2011

That little black jacket has a big birthday


Exhibit honors Tuxedo Park's namesake jacket

Historical Society displays formalwear and more

Construction on Watchtower's headquarters could begin in spring

Hard-hit Tuxedo residents want answers about collapse of dam

Metro-North: Train service to return to Port Jervis Line by December; costs may exceed $50M

Tuxedo supervisor questions DEC's classification of Echo Lake Dam' as a 'low hazard'

A Tuxedo School Program Celebrates Peace


Tuxedo company creates Sept. 11 monument for Long Island community


Hayworth vows aid won't be tied to cuts

Flood waters kill New Jersey man in Tuxedo

A Ramapo River Spill is Being Addressed

Hurricane Causes New Jersey Heating Oil Spill

Dead Fish And Fuel Found In River, Mahwah Wells Shut Down

East Village area of Tuxedo hit hard

Region Left Awash by Hurricane Irene

Leaked Fuel in Ramapo River Sets Off Concerns

Hurricane Irene Causes Severe Flooding and an Oil Spill in Town of Tuxedo

Orange County man, 77, killed in Montebello crash

Tuxedo Park Voters Elect Wilson Mayor

Tuxedo Park Voters Elect Thomas Wilson As Mayor


Tuxedo Park Mayoral Race Matches Trustee and Mom

Green pleads guilty to manslaughter in father's death

Son pleads guilty to killing father in Tuxedo Park

Son guilty in father's killing


Taverna joins chamber and PTO to fight hunger


Judge bars Jesse Green from phoning mother from jail


Goodbye to the Tuxedo superintendency

Judge Oks Informant's Tape at Trial

Tuxedo councilors get 'incentivized

Tuxedo already takes back one day due to snow; M-W safe…for now

Suit against Tuxedo Park gates tossed

Tuxedo Board OKs Changes To Reserve

Diana Petrosky Erns Mid-Hudson School Study Council Honors

Dolan says Tuxedo Reserve concessions benefit town

Napolitano's Friends Take Action

Judge rules no jailhouse visits for murder suspect Jesse Green

Tuxedo Historical Society introduces it's Legacy Mural

Tuxedo Park Slaying Suspect Faces New Charges

Harriman estate back on the block

Tuxedo turning trash heap into recreational treasure


Road Rally in Tuxedo Running Out of Time

Ex-Tuxedo chief's benefits cause flap

Tuxedo Suspect in Father's Homicide Will Get A New Lawyer

Murder suspect's new lawyer presses for lifting of lockdown order in Orange County Jail

Tuxedo woman broke into boyfriend's Nyack home, police say

Lockdown for Tuxedo Park Murder Suspect

Bail set for son charged in father's murder

Firefighters contain blaze on Tuxedo Reserve site

Green Water Could Soon Be Gone In Tuxedo

Tuxedo church members supply water on Appalachian Trail

Grand Jury expected to indict son in father's death


Tuxedo Park rampage leaves 1 dead

Claims by Tuxedo Park murder suspect were doubted

Tuxedo Park man arrested on murder charges

Man arrested in Ramapo charged with murdering father in Tuxedo Park

Police: Son beat father to death in upstate NY

Tuxedo Park Man Charged With Killing Father

Tuxedo Town Board Meeting Devolves Into Shouting Match


The Story Behind The Anti-Abortion Picketing In Town

Reality road-racing television comes to Tuxedo next Friday and Saturday

Tuxedo's George F. Baker High School named again to Newsweek's best high schools nationwide

Tuxedo Supervisor Attempting To Force Dem Senate Primary

Garden Works Club gives Tuxedo students opportunities to grow


15-Year-Old Tuxedo Girl Killed By New Jersey Transit Train In Nanuet

McFadden loses GOP endorsement to Hayworth

Supervisor in Tuxedo Seeks Morahan Seat

Hickey voted off Tuxedo School Board

Tuxedo voters approve $16.6 million school budget

Supporting a mission and reinforcing lessons

Tuxedo to present its 2010-11 school budget with a 1.89 percent increase


Contested School Board elections in M-W and Tuxedo

Tuxedo Park Resident Katherine Roseman Writes Memoir


Funds flow in for 19th District race

Tuxedo continues to grapple with school budget challenges

Tuxedo Park Celebrated History
Village of Tuxedo Park residents and government officials celebrated the 30th anniversary of the village's listing on the National Register of Historic Places.
Nearly 100 people gathered last Saturday in the gated community inside Chastelleux, the home of Gary Parr, an investment banker and chairman of the New York Philharmonic.
Organizers recognized those most responsible for the village's listing, as well state, county, village and town officials for their past and current work.
Alyssa Sunkin

Tuxedo Developer Must Build New Sewer Plant

Money Does Grow On Fallen Trees

Flood-Prone Tuxedo Neighborhood Questions Officials response

5 GOP contenders jostling for Hall's congressional seat

Soggy Sunday Brings Floods To Tuxedo

Tuxedo mall owner banking on economy

2nd Challenger Vies For 19th Congressional Seat

The best-kept secret in New York

Tuxedo promotes sergeant to be new chief of police

State won't let Greenwood Lake build, open its own high school

Former Tuxedo Park Mayor David McFadden to enter Congressional race against John Hall

Village Resident David McFadden Joins Congressional Race

County Legislator Dan Castricone sworn in

A new year and revitalized focuses in local governments

Tuxedo Reserve offers rule book

Developer proposes 'smart code'

Tuxedo school board picks Moon to fill vacancy

Winter storm cans holiday plans

Tuxedo Park woman leads effort to raise $30,000 to complete construction of a South African center to feed orphans

Citizens group raising funds to fight Tuxedo Reserve

Tuxedo Park home featured in Elle Decor's November issue

Green water angers Tuxedo neighbors

Tuxedo Reserve expansion draws critics in community

Rivertown Films' Wednesday Night At The Movies comes to Suffern
Click here for a larger version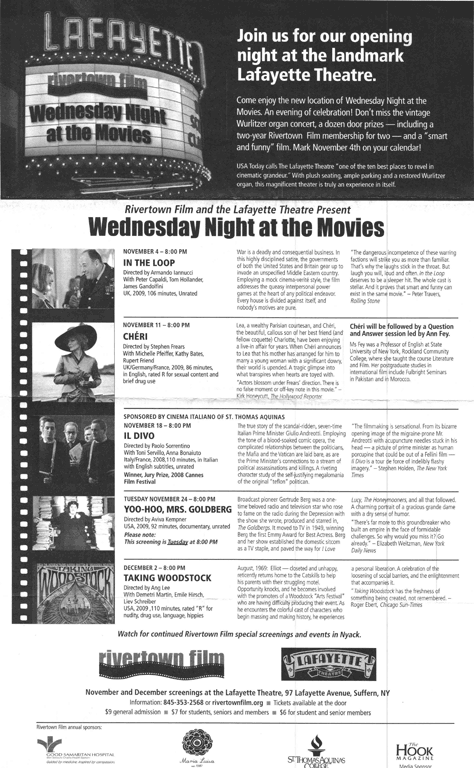 Jehovah's Witnesses moving to Warwick

Scores pack hearing to question Tuxedo Reserve report

Town sets hearing for Monday on Tuxedo Reserve
back to top

Tuxedo Park teacher 'digs' dinosaurs
back to top

Unclaimed Tuxedo Ambulance Corps' bonanza worth $10K
back to top

Tuxedo School District staff raise $700 for Breast Cancer Awareness at Denim Day
back to top

Reserve development hearing scheduled
back to top

City of Silver Author to Appear at the Tuxedo Park Library
back to top

Tuxedo Hosts National Honor Society Inductions

Tuxedo Park School Going Green

Authorities seize Tuxedo Park cop's weapons

Village to weigh Good Samaritan's future

Trucker Dies in Plunge from Thruway into Ramapo River
BY JENNA CARLESSO • JCARLESSO@LOHUD.COM • JULY 8, 2009

RAMAPO - A 44-year-old garbage truck driver died yesterday after his 18-wheeler veered off a New York State Thruway exit overpass, hit the highway below and plunged into the Ramapo River on the border of Suffern and Hillburn.
Santos Ortiz, whose address was unavailable, was pronounced dead at the scene after his truck dropped 200 feet, landing on the west side of the river, authorities said. It fell from the Exit 15 overpass after leaving the northbound Thruway, and came to rest partly in the water.
The 250-gallon fuel tank burst on impact, spewing as much as 100 gallons of diesel fuel into the river. The truck was filled with garbage, which also spilled into the water, police said.
"It was an environmental mess," said Ray Florida, executive director of Rockland Paramedic Services. "There was a ton of garbage."
All wells in Suffern and Mahwah, N.J., were immediately shut down. Last night, Suffern drew on a reserve tank in the village that holds millions of gallons of water for emergencies, Police Chief Clarke Osborn said.
He was unsure if the wells would be reopened by today.
"This hopefully should not be a long-term problem," he said. "If we do run low, we can open up valves and receive water from United Water services in an emergency."
A STAT Flight helicopter was dispatched shortly before 3 p.m. It was canceled en route because the driver was pronounced dead, Florida said. Additional paramedics were also called off.
Dive teams from the Stony Point and Thiells fire departments were searching for additional bodies, though authorities said there likely weren't any.
Large amounts of waste were found floating in the river near the truck.
At least one lane of the Thruway was blocked for a short time as police and fire crews arrived. Traffic was flowing smoothly an hour after the crash.
State police were investigating what caused Ortiz to swerve off the overpass. He suffered massive head injuries, Florida said.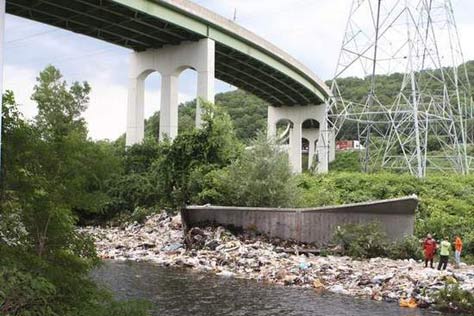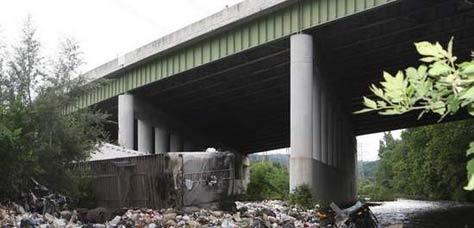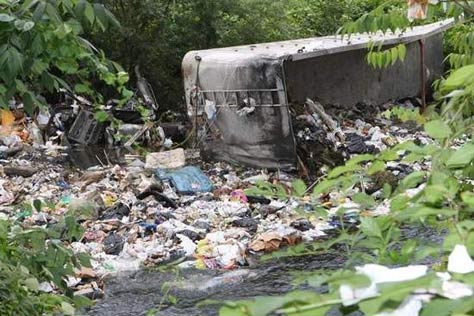 Tuxedo Reserve Developers Must Do More Studies

Baker High School Makes Newsweek's List of Top 1,500 High Schools

Tuxedo Park Voters Re-elect Mayor, Trustees

Tuxedo Park Mayor Stebbins Re-Elected, Wins Second 2-Year Term

Wall Street Dealmaker Parr to Chair NY Philharmonic

New York Philharmonic Names Gary Parr Chairman

Your Father's Campaign Video
If you want to get to know Tuxedo Park trustee candidate Gary Pompan, check out his campaign video. But not on YouTube.
"It's not appropriate," Pompan said of the Web site he said he never visits.
So the video is posted only at www.tpfyi.com, a local site that's become a popular way for the village residents to keep up on community news.
The video, which lasts about 3 minutes, has simple production values. Pompan stands in front of a leafy yard and talks about making the village an easier place to live by bringing clarity to a multitude of regulations governing building, development and renovations.
In a place where people obsess over property values more than most, Pompan said, clarity of law will foster better neighborly relations. "It makes it much easier for people to go through different processes," he said. "When you're in a tiny community ... you're adjudicating each other ... . It's difficult when you have neighbors in that situation."
Pompan is retiring soon as a partner with Ernst & Young, the auditing firm. He's one of three candidates for two seats, but will win because one of the candidates, Trustee Tinka Shaw, has dropped out of the race. The election is Tuesday.
Matt King

Snake in pan worth 2 in the grass
The timber rattlesnake is a threatened species in the state, and none more so than the slitherer alleged to have been captured, killed and cooked by a man working on an ecology study on the Tuxedo Reserve property.
The story is a man working on a study of salamanders in the property's vernal pools came upon the snake, killed it, ate it and walked around with the rattle in his pocket.
It was included in an early draft of the project ecologist's report, but removed after developers learned they had no legal obligation to report it to the state Department of Environmental Conservation.
The story came out Tuesday evening in a meeting to discuss further environmental analysis, called a supplemental EIS, of the project, which has undergone substantial changes in the last year.
It piqued Councilman Dan Castricone, who's running for the Orange County Legislature and said he was "ticked off" that the Related Cos. didn't tell the town about the incident when it happened in late summer 2008.
"Especially when you have consultant after consultant talk for 15 minutes and say 'and that's why we don't need an EIS,'" he said.
Matt King

Banning sewer connections to prevent a housing development

Town applauds restoration of Tuxedo station

Developers getting antsy about Tuxedo Reserve delays

Press Release on Tuxedo Reserve
FOR IMMEDIATE RELEASE
TO: Members of the Press
FROM: Monroe Highlands Conservancy
New Jersey Sierra Club
New York/New Jersey Trail Conference
Ramapo Highlands Coalition
Sierra Club of Rockland County
Torne Valley Preservation Association
DATE: May 10, 2009
RE: Conserving the Ramapo Mountains and the Ramapo River Watershed
Regarding Tuxedo Reserve connecting to the western Ramapo Advanced
Waste Water Treatment Plant (AWWTP):
We believe the conservation value of the site for the Related
Companies' proposed development, Tuxedo Reserve, is so great that its
highest and best use would be to remain wilderness.
The site drains into the Ramapo River Aquifer, an EPA-designated sole
source aquifer serving millions of people in New York and New
Jersey—an aquifer which is already seriously challenged. Construction
would create new sources of pollution in this currently pristine area.
Deforestation and soil removal would give surface water access to
cracks in the bedrock, allowing pollutants to flow directly into the
ground water. Increased impervious surfaces would speed surface water
run off, adding to flooding - already a serious issue downstream in
Suffern and Wayne.
Proximity to open space is an issue. The site is surrounded by
Harriman State Park, Sterling Forest State Park (a $78 million
investment), the Wanaque Wildlife Management Area, Passaic County Park
Tranquility Ridge, Ringwood State Park, Ramapo Mountain State Forest,
and Ramapo Valley County Reservation. The development would build
houses on land that is dedicated parkland in Sterling Forest State
Park.
In terms of biodiversity, the site is in the heart of the US
Geological Survey quadrant with highest value for reptiles and
amphibians in New York State, supporting unfragmented Chestnut Oak
forest. Studies of surrounding land indicate habitat for timber
rattlesnakes, designated threatened in New York State. The National
Audubon Society recognizes Harriman State Park, Sterling Forest State
Park and the private lands in between to constitute an Important Bird
Area.
Due to the conservation value of the site, we recommend that this land
be incorporated into Sterling Forest State Park. If indeed the
applicant does succeed in gaining all the permits needed for the
development, we recommend that Orange County and the Town of Tuxedo
require the applicant to build an advanced wastewater treatment plant
in Tuxedo that will provide recharge to the aquifer upstream, a
preferable scenario above and beyond either piping it downstream to
Rockland County Sewer District Number 1's western Ramapo treatment
plant for treatment and discharge, or piping wastewater downstream for
treatment and then pumping it back upstream for discharge.
that that Rockland County Sewer District Number 1 should maintain
their restriction limiting service to Rockland County. Rockland
County and the Sewer District should decline the Related Companies'
request for access to the new Advanced Waste Water Treatment Plant in
Hillburn for Tuxedo Reserve. Such a connection would betray the public
interest.
Prepared by Patsy Wooters
Chair of the Torne Valley Preservation Association
Cell: 845.304.9688
Email: patsy.wooters@gmail.com

Tuxedo Reserve facing changes, delays

Signs might light up Tuxedo - legally

Tuxedo Reserve won't be allowed to use Rockland sewer plant,
St. Lawrence says

Tuxedo Reserve planners search for sewage solution

Jehovah's Witnesses ring Ramapo's bell

Mile-a-minute vine taking root in Region

Planned Road Raises Alarm in Tuxedo Park
It would run close to village and 9th hole of golf course

By Matt King
Times Herald-Record
Posted: March 11, 2009 - 2:00 AM
TUXEDO — It will be at least several more years before anyone lives in Tuxedo Reserve but the huge development is stoking yet another brush fire in town.
The latest controersy is over a plan to open a short stretch of road to all traffic rather than just public safety vehicles.
The road doesn't exist yet, but the Tuxedo Reserve plan calls for it to be very close to Tuxedo Park, the Tuxedo Country Club Golf Course and some town neighborhoods where people live happily in isolation.
So while officials see a new road to connect far-flung corners of town, others see rural roads choked with traffic. Officials say they're willing to give the plan a second look.
"If the residents don't want the road open, then we won't open the road," Supervisor Peter Dolan said. "It's my job to listen to the residents."
The Reserve property is bordered by Tuxedo Park to the north, Sloatsburg to the south, Route 17 on the east and County Route 72 on the west. If it ever gets built, Tuxedo Reserve, with 1,195 housing units and 30,000 square feet of retail space, would be the largest project in county history.
Right now, there's no way to get from Route 17 to Route 72 without going through Sloatsburg. But a new road on the western edge of the Reserve could change that, making it easier for future residents of the Reserve to get out of the development and linking the neighborhoods of Eagle Valley, Maplebrook and Hamilton Estates with the town's commercial district.
Town officials say the road would build a sense of community in town and help local businesses because residents would no longer have to drive past a deli in Sloatsburg to get to the deli in Tuxedo.
But Tuxedo Park residents complain that it would lead to a lot more traffic along South Gate Road - one of two entrances into the Park. The road also runs beside the 9th hole of the golf course.
People from the village and the club have been complaining about the town's plan for months, citing a deal between the club and Tuxedo Reserve to limit the road to emergency vehicles.
But Dolan said he doesn't care about that deal.
"Should it be the town's responsibility to make the decisions," he asked, "or should it be the country club's?"
A meeting dedicated to the issue will be held at the Eagle Valley Firehouse March 23.
mking@th-record.com

Rockland might treat Tuxedo Reserve sewage

Suit wants gates torn down
Tuxedo Park not an island, lawyer says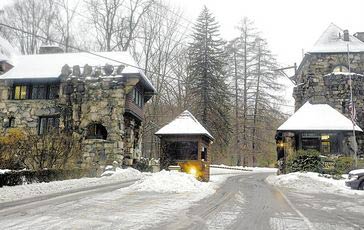 Nonresidents who wish to enter Tuxedo Park must get permission and state their reason for entering.
Times Herald-Record/TOM BUSHEY

By Matt King
Times Herald-Record
January 29, 2009
TUXEDO PARK — A resident whose building project has been stymied has filed a federal lawsuit demanding that the village remove its gates and stop monitoring who uses its public roads.
"No community can gate out the Constitution," said Dennis Lynch, the Nyack lawyer who filed the suit. "The Village of Tuxedo Park is still part of America the last time I looked. They're required to allow people in and out."
The plaintiffs in the suit are Donald Hanson, a resident, and Tony O'Neill, a contractor. The suit alleges that Tuxedo Park officials have prevented construction on Hanson's property by, among other things, ordering guards to stop O'Neill from entering the village.
Links
PDF: Copy of the suit
Tuxedo Park was incorporated in 1952, but retained security gates at its two entrances. Anyone who is not a resident must state a reason for entering the village and cannot enter without permission.
The village also has a law proscribing photography of any sort from its public roads, contrary to a right that's been well established by courts and lawmakers.
"No village is an island and no village can deny people's civil rights to enter and exit," Lynch said. "It's not just Tony O'Neill, it's anyone coming in. Civil rights don't depend if you're to the manor born."
The suit asks for $25 million for the plaintiffs and a declaration that the village's laws are unconstitutional.
Tuxedo Mayor Houston Stebbins did not return a call seeking comment, but the village might be trying to pre-empt any possibility of its laws coming under judicial scrutiny. It has called a special meeting Thursday to discuss Hanson's construction project.
Something similar happened the last time Lynch sued the village over its entry requirements.
In 2005, Lynch filed suit on behalf of Stephanie and Brian Costello, one of a handful of homeowners to live inside the gates but not within village boundaries.
The Costellos challenged the village entry policy as part of their suit over sewer and water service. The suit was settled out of court.
Lynch said the latest suit will go forward even if the village decides to allow O'Neill to finish work on Hanson's property.
"The civil right to property is distinct from the civil right to travel," he said.

Tuxedo Housing Developers Want More Approval

Tuxedo Little League under pressure - 11/25/08

Tuxedo Reserve in money fix
Lehman Bros., troubled broker, withholds cash
Andrew Dance, right, representing Tuxedo Reserve, outlines plans for
the development Thursday before the Tuxedo Planning Board. Architect
Marc Wouters is at left.
JEFF GOULDING/Times Herald-Record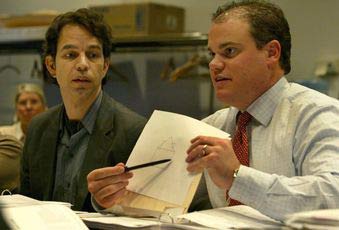 By Matt King
Times Herald-Record
November 14, 2008
TUXEDO — The developers of the largest residential project in Orange
County history have asked a U.S. Bankruptcy Court to release them
from a failed loan agreement.
Without immediate relief, they say, the Tuxedo Reserve project will
be dead.
Related Cos., which has been trying to build Tuxedo Reserve since
1989, says it lost a critical financing stream because Lehman
Brothers Holdings Inc. has not made good on a loan and withheld tens
of millions in capital.
In papers filed earlier this month, Related asked the court to compel
Lehman to either make good on the loan, sell the loan or give Related
the freedom to seek alternative financing.
"The project will not survive ... if a long-term solution is not
implemented immediately," the filing says.
Lehman Brothers, which sought bankruptcy protection in September, has
a lien on the nearly 2,300 acres between Tuxedo Park and the Rockland
County line that would be home to 1,195 houses, a school, 30,000 feet
of retail space and several hundred acres of protected open space.
With its line of credit shut off, Related has been paying for
engineering and legal fees from its own coffers, which it says it
cannot do indefinitely.
A construction date of 2010 for the first 103-home subdivision now
seems all but out of the question.
Lehman's default "will seriously impede the project's ability to
proceed on any foreseeable schedule and may result in the loss of
jobs for (Related's) staff, consultants and contractors," the filing
says.
In Tuxedo Thursday to discuss changes to the proposal with the town
Planning Board, Related officials say they still believe in the
project, but have to get money from Lehman or be released from the
lien to find other financing.
No brokerage will put up money against land that's been claimed by
another company.
"There needs to be relief from the bankruptcy court," lawyer Steven
Barshov said, "so Related can either get its funds or obtain funds
from another source."

Funding for Tuxedo Reserve in Question

Tuxedo voters approve 3.2% increase in library budget

Cops estimate Wal-Mart theft ring's take could approach $1M

Police identify Texas man killed in auto crash

Former employee sues Town of Tuxedo

2 cops charged in Wal-Mart scam

Montgomery Police Officer Arrested
By Oliver Mackson
Times Herald-Record
November 05, 2008
Town of Newburgh – Police officers from the Town of Montgomery and the Village of Tuxedo Park were among four people arrested Tuesday and Wednesday, after an investigation by the Orange County District Attorney's office, Wal-Mart security and the State Dept. of Taxation and Finance uncovered an alleged theft scam at two local Wal-Marts.
Clifford M. Barber III, 41, of Walden, and Kevin Burchell, 26, of Montgomery were both arrested Tuesday, along with a Wal-mart employee, Bryan Dunn, 36, of Maybrook. Those arrests followed the execution of seven search warrants, with state and local police fanning out across the towns of Montgomery, Newburgh and New Windsor, as well as locations in Ulster County.
Barber is a part-time Town of Montgomery police officer. Burchell is a Tuxedo Park police officer. A fourth suspect, Laquionus "Q" Pressley, 29 of Newburgh, surrendered to police Wednesday morning.
All four are accused of participating in the thefts of hundreds of thousands of dollars in merchandise from the Wal-Mart on Union Avenue in the Town of Newburgh and Route 211E in the Town of Wallkill between April 2006 and April 2008. Some of the alleged thefts were captured on Wal-Mart's internal store cameras, according to a complaint against Barber.
Barber was arraigned Tuesday night before Newburgh Town Justice Richard Clarino and released on his own recognizance pending an appearance in Town Court on Nov. 17. He's charged with third-degree grand larceny, first degree offering a false instrument for filing, and filing a false personal income tax return, all felonies. He was also suspended from the Town of Montgomery police dept, where he has worked since 2003, said Police Chief Arnold Amthor.
Dunn and Burchell, also were released on their own recognizance. Pressley arraignment is pending Wednesday morning.
Amthor said town police assisted in the investigation, and that the department was "both disturbed and saddened" by the allegations against Barber.
"We are confident in the investigation that was conducted, and confident, as well, that justice will be served in this case," Amthor said in a prepared statement.
Burchell has worked full-time in Tuxedo Park since May of this year.
More details will appear in tomorrow's edition of the Times Herald-Record.

Greenwood Lake-Tuxedo school pact vote finally set

Our Recommendations for Sloatsburg
From LoHud.com:
Our recommendations for Sloatsburg
• OCTOBER 23, 2008
In Sloatsburg, small has been good. But with large-scale residential developments looming all around and the western Ramapo sewer project approaching, political leaders will have to hold tight to keep the burg rural.
Sloatsburg Mayor Carl Wright, a Democrat who also won the Republican line during a primary, is challenged by political newcomer Marino Fontana on the Open Government Party of Sloatsburg line. Laurie Smyla, an environmental activist and former village recycling coordinator, is vying in a three-way race for the trustee seats being defended by incumbent Republican Barbara Berntsen and Democrat J. Mark Reimer. Berntsen is also on the Democratic line and Reimer on the Republican; Smyla holds the Open Government Party of Sloatsburg line. All terms are four years. Trustees are paid $4,500 a year; the mayor earns $12,000.
For mayor, we endorse the return of Wright, whose breadth of experience gives him a clear understanding of issues faced by the village, especially in the current economic climate. For the two trustee posts we recommend Reimer and Smyla. Voting takes place Nov. 4. Echoing all candidates' hopes to keep the burg as rural as possible as development crops up around them, Wright told the Editorial Board, "Our community is one of family, friends and neighbors."
There's little room for development within the village. A 12-acre space downtown is now being considered for a grocery store, some small businesses and housing above. Fontana, 51, said he wasn't "100 percent in support of a large development there," citing traffic on Route 17. A grocery store within the village is needed, others said.
The village's Master Plan of Development must be followed and kept fresh, especially as a sewer system makes development easier and more attractive, the candidates agreed. The village sits atop an aquifer that supplies 20 percent of Rockland's water, so the concern over failing septic systems is great. Reimer exhibited intricate understanding of these circumstances - he pointed out that a lot can be learned from Hillburn's experience with installing sewers, a difficult and invasive process. One lesson learned: Reimer noted that the village board has ensured Rockland Sewer District No. 1 will repave whole roads, "shoulder to shoulder," instead of patches, after laying sewer pipe, a boon to the village.
But it is the development outside the village that is of greatest concern.
Just over the border in Orange County, the 1,100-unit Tuxedo Reserve condominium project threatens to clog Route 17. Sloatsburg had no voice in permitting the development, but Reimer pointed out that the village board nonetheless won payments over 10 years from builders of Tuxedo Reserve to go toward emergency services, the library and commuter parking. Just south of Sloatsburg, in unincorporated Ramapo, the 263-unit Ramapo Hills condo project is proposed. Reimer said the village will push for town funds to add a fire truck.
Smyla noted that no one from western Ramapo sits on the town's Planning Board, yet developments like Ramapo Hills impact villagers. "We need a dialogue with the municipalities around us." We believe Smyla's environmental background and wider view of the village will serve residents well. The 59-year-old Berntsen's focus on the commercial downtown seems too limited during this transitional period.
The village must also face the economic fallout that will hit every layer of government. Wright noted that expenses are already up, including the purchase of salt and sand for winter. "Energy costs have skyrocketed." He wants to examine all utility and transportation uses, even minimizing the Department of Public Works' trips to Village Hall. "A little nickel here, a little nickel there."
A Journal News editorial

Tuxedo and Greenwood Lake school districts reach agreement
From The Photo News:
Tuxedo and Greenwood Lake school districts reach agreement
Deal will keep Greenwood Lake students at George F. Baker High School in Tuxedo
By Nancy Kriz
TUXEDO - An agreement has been reached between the Tuxedo and Greenwood Lake school districts, putting the first of what officials hope is an eventual five-year pact in place to send Greenwood Lake students to George F. Baker High School in Tuxedo. Officials approved a one-year agreement, retroactive to July 1 of this year, which officially allows Greenwood Lake to send its high students to the Tuxedo school, as has been the case for years.
But state law requires Greenwood Lake residents to give their approval for the second through fifth years of the proposed contact. The vote will take place Wednesday, Dec. 10, from 11 a.m. to 9 p.m. at the Greenwood Lake Elementary School." We're delighted to be able to have accomplished this," said Harvey Hillburgh, Greenwood Lake School District interim superintendent. "We're hoping the voters support the five-year agreement. It's time to move forward and concentrate on the education of our students. I think Baker is an excellent high school." Joseph Zanetti, Tuxedo School District superintendent, said negotiations allowed people to determine "what's important and what they can live with while giving each other a clearer understanding" of what each district's needs.
"It came down to facing the kids and what their needs are and the need to get some stability (in both districts) and redirect our efforts to the education side," Zanetti added. "The discussions were nothing but positive."Under the contract for the 2008-2009 year, Greenwood Lake would pay $12,800 per student for "general education;" $25,600 per special education student; $6,400 per CTEC student; and $12,800 per vocational special education student. Future changes in tuition, both superintendents said, would be based on the actual average percentage of increase or decrease of expenditures for both districts from one year to the next. "I believe those will be very modest increases," said Hillburgh. "We're all working to keep our expenditures down."Hillburgh also stressed that as part of the agreement, Tuxedo would give back to Greenwood Lake $250 per student, part of the state aid it receives, offsetting the tuition amount and making the net increase per student only $50.
"That's helpful," Hillburgh added. "Looking at everything, both boards felt it was fair. We are looking forward to a productive future together." Like Hillburgh, Zanetti was equally hopeful Greenwood Lake voters would approve the four-year component to the contract. "I'm quite optimistic based on both boards' unanimous approval of the memorandum of agreement," he said. "It should signal to the community that the agreement is something both boards feel is fair." The agreement doesn't address the longstanding concerns of if Greenwood Lake students should go to Tuxedo or elsewhere - including building a new high school within Greenwood Lake - for their high school education. That decision, while still years away, could eliminate 80 percent of students at Baker High School and has been the subject of touchy conversation over the years.
Early last summer, the state Education Department agreed to entertain the district's request for a high school program if it can prove that creating one will be financially beneficial to the taxpayers. Greenwood Lake sends 320 ninth through 12th graders to Tuxedo. A letter from Charles Szuberla, executive director of school operations and management services for the New York state Education Department, said the district must continue to look for another partner district if Tuxedo is too expensive. Last year, voters in the Warwick Valley School District overwhelmingly voted no on a plan that would have brought the 320 students to Warwick. In 2005, the Chester School District turned down a proposal to take the Greenwood Lake high school students into Chester Academy when the public outcry put an end to the consideration even before any study was done. The Monroe-Woodbury School District also declined to take the students. But the first step in figuring out that process could possibly be underway if the long-term contract is put in place.
Zanetti has repeatedly acknowledged he understood why Greenwood Lake wants its own school, but has also noted new problems would created if Tuxedo were to lose almost 80 percent of its high school population. The district would be in the position of looking at how it could possibly go forward with a radically reduced student body or seeking a district to accept Tuxedo students. "My hope is that going forward we look at this from the two districts' perspective," said Zanetti, who felt a 10-year time frame to develop and implement a plan was more realistic. Greenwood Lake will continue to see what realistic alternatives it has for educating its students. "As the interim superintendent, my goal is to have this (contract) set so that both districts can move forward together," Hillburgh said. "We're moving ahead and looking at options beyond five years. But anything I will do would be preliminary. It's up to the board and the community and the permanent supervisor to decide the long range goals for Greenwood Lake."

Salary, school district size disconnected when it comes to superintendents' pay

Deepening economic crisis delays Tuxedo housing

Some Tuxedo Park residents want gate-access review

Land Buy Prevents More Route 17 Traffic Near Tuxedo


Public invited to weigh in on town plan


Tuxedo Reserve attorney says money proves sincerity

Residents say plans might swamp them

Tuxedo's Super's Salary Mis-reported

Greenwood Lake closer to getting its own high school


Newcomer Hays leads all village candidates with 245 votes

Ramapo to buy historic Liberty Rock

Letter describes litigation against former mayor's firm
By Matt King
Times Herald-Record
June 14, 2008

TUXEDO PARK — Days before the village election, an influential resident has moved to block former Mayor David McFadden's bid to win a trustee seat.
In a letter sent to village residents, Peter Regna outlined the results of a background check conducted by a former FBI agent on McFadden's architectural staffing firm.
The letter lists two dozen liens and judgments against Consulting for Architects, the firm McFadden started in 1984.

"Anyone who has a small company that has that much embroiling litigation is not fit for public office," Regna said in an interview. "If a guy can't run his business better than that I worry about how he would run the village."

McFadden is one of four candidates vying for two seats in Tuesday's election. The others are appointed incumbent Charlotte Worthy, Jim Hays and Robert Silvay. Regna said he performed cursory Internet searches on the other candidates but McFadden was the only one who merited further investigation.

"Things did come up," he said of the others, "but nothing that would influence an election."

McFadden accuses Regna of trying to strong-arm him out of the race.

"The issue is we're a very small community and this type of behavior is very polarizing," he said. "It is not neighborly. The fact he's investigating people who are running for trustee is a scary thing."

The animosity between Regna, a Planning Board member, and McFadden dates back at least to 2005, when McFadden made Planning Board reform a major plank of his administration, including a law setting term limits, though Regna was grandfathered and kept his seat.

In 2006, Regna and village resident Jake Lindsay filed a defamation lawsuit against McFadden for comments he made suggesting Lindsay was getting preferential treatment from the Planning Board. The suit was settled when McFadden apologized.
Regna's letter goes after McFadden's claims about his business acumen. It lists 24 items from 2003 to 2006, including tax liens, with one greater than $100,000; and multiple court judgments won by creditors.

McFadden said the liens and judgments stem from the economic downturn after 9/11, when he had to close his offices in Boston and Chicago, and said he's "worked out every single one of the liens" and "paid back all my creditors in full."

Friday, he produced a letter from his attorney that rebuts each point in Regna's letter and says McFadden "was able to successfully resolve and satisfy each dispute and disagreement" through "effective leadership and a strong business sense."
mking@th-record.com

Illegal Tuxedo dump shows signs of past

Tuxedo Park viewshed law draws anger

Matt King Claims that Active Citizens of Tuxedo Park Make Him a Better Reporter
The following piece by Matt King was posted to his Problem Solved Blog on May 22, 2008:
This Week's Stupid Things, or Let's Stop Doing Them.

I'm not looking for a new job, but i get journalism job postings delivered to my Google Reader and I scan them just about every day because, one, that's what one does in my business, and two, I got laid off last summer and if I hadn't had something else on the skillet already, that could've been very bad for me.

I just came across this post, which resembles listings I've seen about 500 times in the last few months and to me, exemplifies many things wrong with papers today, especially small and mid-sized papers, including mine, the Fightin' Times Herald-Record.

So, the ad:
If variety is the spice of life, then we have an opportunity for you. Kansas Media One is searching for a full-time reporter who can produce quality stories for a daily community newspaper that serves Leavenworth County. For the daily Leavenworth Times newspaper, the reporter will focus primarily on Leavenworth County, but will also report on news events around the city of Leavenworth. There also will be opportunities to produce feature packages. Applicants should have reporting experience and a background in journalism, English or other related fields. Knowledge or experience with pagination layout is considered an attribute, but is not necessary.

In other words, come do everything and never be any more than mediocre at any of it!
The bias against specialization in media companies is self-defeating and then some. It's fostered newsrooms full of haggard reporters who aren't nearly the stars they could be because they're spread so thin.

And it's a huge factor in newspapers' dwindling readership and influence because reporters are not given the chance to become experts in the communities they cover, or experts in education policy, or experts in government finance, or really great writers or videographers or whatever. What a fellow journalists calls F.U. skills. He's talking in the context of the job market, but F.U. skills attract readers.

Overwork and unreasonable expectations = stenography. Stenography of some sorts (the sentencing of the principal child molester, the city council vote, etc.) is very important, but we need to stop doing so much of it. It's important but it's also about the easiest thing a reporter does, and there are people willing to do it for us for free.
Papers aren't so bad on figuring out what new stuff to do. They're awful at figuring out what to cut. So here's my three-step cure to ease workloads and mental anguish while encouraging innovation and the use of important new skills like video, blogging, multimedia-ing in general.

1. It's past time to understand 99 percent of car accidents, fires and arrests are the mundane details of life and people really don't care, despite what page views say. In almost every instance these stories are cupcakes, eaten because they're there, but wouldn't be missed if they were not. Ever hear anyone crave a cupcake? This applies especially in non-competitive markets. Don't confuse this point with me saying get rid fo cop reporters. Our cop reporter, Oliver Mackson, is one of our best reporters, and he doesn't do the kind of stories I'm talking about. The rest of us do them endlessly.

2. In most cases, kill the early a.m. cops and traffic update shifts that've popped up like mushrooms in the last couple of years. These shifts are poison mushrooms and do nothing but eat a reporter's time. There is no more useless exercise in all of reporting than an early morning round of cold calls to cop shops asking "anything goin' on?"
We all know cops love talking to the media when they have a big bust to report. If there's been a murder, we're gonna know already. As for traffic tie-ups, who better to report these than people caught in them? It's worked for radio stations for decades. Why does anyone think a reporter sitting at a desk will do a better job of reporting them? My paper already has a place for readers to upload bad potholes, so why not let them send traffic advisories, too?

There will be times actual reporters are needed on these issues, but not nearly often enough to have a dedicated shift five days a week. It's tantamount to flushing 10 hours of reporter time that could be spent talking to sources in cafes, or editing a cool video project, or writing a really strong narrative piece, or, in my case, playing with a spreadsheet.

3. We need to spend a lot less time at meetings. I spent seven hours at a meeting in Tuxedo Park last night. Got home at 2 a.m. had to be at work at 7. Got three hours of sleep. You can imagine how productive I was today (quite, surprisingly, but my bounce-back ability doesn't disprove the point).

I went because there were important items on the agenda and the officials in the village go out of their way to not talk to me, so sometimes I need to show up just to hear what they have to say on a particular topic. But last night I did something I've done way too much of in my young career - I stayed at a meeting just because I thought I was supposed to (and also out of pride, especially when 1:30 arrived and i was the only one there).

But I didn't have to, for two important reasons.

A.) Almost every public meeting is a show trial. Real decisions get made in back rooms through back channels, no matter how much integrity sits on a particular board, council, whatever. Show me an official who says he didn't know how he would vote when he got to a meeting and I'll show you a liar. That's like me saying I don't have opinions on the stories I cover.

It's worth going to some meetings to meet the other people who go, to get a sense of the dynamics of the governing body, to build good will, to learn, etc. But in many way there the least important place to have loafers on the ground.

So, last night, I spent seven hours being a stenographer instead of four hours reporting and three hours sleeping. And it was even more stupid because Tuxedo Park is the perfect example of letting regular folk do our grunt work.

Which leads to
B.)The world is full of citizen journalists.
The people who write for those sites are hugely important to other people in Tuxedo Park and me. I barely bother with the official Web site because these sites have much more of what I want to know. I get reports of every municipal meeting, architectural review board included, updates on community events, births and deaths and some really helpful political commentary.

In other words, I know a lot about Tuxedo Park without ever leaving my desk. I've gotten to know the people on the sites and lot of other people in the village, so I know many of their biases and where they're coming from on various issues. And because I have put in my time at some of the same meetings, I know I can trust the reporting.
And when the time comes, I can step in with coverage in the paper, not as the all knowing sage, but as the disinterested party who's made the effort to study the issues from many sides, learn the back story and provide the context of what's really going on. The market term is adding value.

Now that I've gone on for some time, the point is simple and hardly original, but at my own paper and based on what I see in want ads, it's not happening:
There are lots of smart people in the world who are interested in citizen journalism and just as capable as reporters of covering a meeting or a traffic jam. Building relationships with these people is the solution to free up reporters to do the substantive work of real value to the people who don't have time and/or expertise to do it.

Newsweek Ranks George F. Baker High School in the Top 5%

Village and developer settle suit over water

Tuxedo Park betes noires
Written by Matt King (from the Times Herald Record April 17, 2008)
Tuxedo Park betes noires

Mayor Houston Stebbins narrowly unseated former Mayor David McFadden a year ago, but those guys are still at it, as are their supporters.

The latest point of contention is how seriously village residents should take McFadden's report that his home was recently ransacked and burglarized.

On April 1, McFadden sent an e-mail to his neighbors warning them of "several home burglaries ... ranging in the thousands of dollars in value."

Not true, Stebbins countered a day later in a letter sent to residents.

Based on the available evidence, he wrote, there were only two "alleged" burglaries in six months and they don't appear to be connected.

The mayor then touted the hard work of the police department and the recent authorization to hire two more full-time officers.

Guess who opposed that move? McFadden, who now says the mayor is using the burglary to secure support for that decision.

"The Mayor should not use my hardship to score himself political points — in this case to hire extra police," McFadden wrote on his Web site, especially when Stebbins contends there's no threat to village residents.

Meanwhile, the people at another village site that's generally supportive of Stebbins, are with him on this issue.
"First and most importantly, we are sorry for David and Robin's loss," says a post on the site. "However it is still not appropriate to spread misleading information from an unofficial source that causes undue panic among residents."
Matt King

F Me? F You?, or Greenwood Lake and Tuxedo at the Bargaining Table
Written by Matt King and posted to his Problem Solved Blog on April 4, 2008

Town of Tuxedo's sign law flickering

Yes I do; No I don't
Written by Matt King (from the Times Herald Record March 1, 2008)
The moon was full and obscured by the Earth's shadow last Wednesday night, which may explain the snowy and cloudy logic that Tuxedo Park Trustee Chris Hansen used to avoid admitting a mistake.
First, a little history. In January, the trustees held unofficial votes on several parts of a new license for the Wee Wah Beach Club, one of which had to do with changing the way the club's board members are elected by Park residents and people who live in the part of Tuxedo known as the Hamlet.
Hansen voted for the change, but in the one official vote of the night, he vetoed the license agreement because he wanted it to last for one year, not two.
But last week, when a Tuxedo Park resident objected to the plan because she feels the new arrangement — supported also by Trustees Tinka Shaw and Larry Darby — disenfranchises Park residents, Hansen claimed he didn't support it because he voted against the entire package. He further claimed that Mayor Houston Stebbins and Trustee Charlotte Worthy, who voted against the new voting method, support it because they ultimately voted to approve the new license agreement.
After insisting that his position on the license agreement be corrected "for the record," Hansen repeatedly urged his colleagues to just "move on."
But the mayor didn't want to move on because if Hansen really was opposed to the new voting arrangement — as he claimed several times — it meant the new arrangement wouldn't have to be part of the new license agreement.
As the meeting dragged deep into the night, Hansen never acknowledged that the record he was trying to correct was actually right to begin with, but he did help draft new voting rules he claimed to be against.
And then the board unanimously approved the license agreement.
Matt King

Ethics board proposal leads to brouhaha

Design guidelines cause controversy in Tuxedo Park

Town will decide fate of Tuxedo Reserve in March

Tuxedo Reserve close to groundbreaking


Contract length poses stumbling block for districts




Tuxedo Park Viewshed: Tears Will Be Shed
Written by Matt King and posted to his Problem Solved Blog on February 1, 2008
By the time it's over, everyone involved in working out a viewshed ordinance in Tuxedo park will wish they had never heard of it.
Earlier this week the village held the first of what will be, I'm guessing, 183 public meetings on a proposal to restrict the size, type and location of new homes and additions that can be built in the Park, all with the intent of preserving the views of the hillsides and ridge lines from the Park's lakes and roads.
But a viewshed is both easy and impossible to define, an eye of the beholder kind of concept that fires up environmentalists almost as much as property owners (While there are relatively few viewshed ordinances in the world, it's an old idea, and long since surpassed by commuteshed as the term tossed around by those seeking planning wonk street cred.).
More than any other type of zoning proposal, a viewshed ordinance brings out the "I got mine" mentality among homeowners, who, comfortable with their lake view, are now prepared to make sure no one else can build the same type of house. Or as Gary Glynn, the man in charge of producing a viewshed proposal, put it the other night, "everyone wants to build the last house in Tuxedo Park."
Tuxedo Park already has some of the toughest building standards around, but Glynn said they are not effective enough and he sees a day when the beauty of the Park, the sweeping views of the hillsides around Tuxedo lake, will be blotted out one shine McMansion at a time.
here is where I must confess to a tenuous grasp of the details of the proposal. As this goes forward, I'll post a lot more on that, including an electronic map of the viewshed districts, which i submitted a Freedom of Information request for today.
For now, here's a quick rundown of the objections:
Restricting colors and types of building equates to legislating out what makes Tuxedo Park great, said Trustee Chris Hansen.
The language is vague and arbitrary," said former Mayor David McFadden.
This will depress property values, said Realtor Kathy Norris.
What makes a viewshed ordinance so difficult to achieve is that it requires an entire community to agree on how to balance their economic interests with their desire to preserve the character of the community. To do that, they must first agree on what they believe the character should be. Then they have to decide how much it's worth to them. The debates will get as specific as the number of trees to be planted in front of a house built on a hillside.
Whatever there outcome, there will be some zero-sum winner and losers. If an ordinance is adopted, the homeowner with the vacant lot on the hillside has a less-valuable property, while the lakeside house with upward looking view is worth more.
And, potentially, vice-versa with no ordinance.
So, good luck. A lot more to come on this.
Tuxedo tells developer $1 Million payment is due
Click here to read the Times Herald-Record