CLUBS AND ASSOCIATIONS



Tuxedo Performing Arts Group
The Wee Wah Beach Club
Tuxedo Park Garden Club
Tuxedo Farmers' Market
Village Boat Club
Tuxedo Historical Society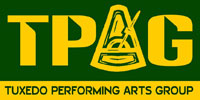 UP NEXT FROM TPAG: Zauberkreis on Friday, July 22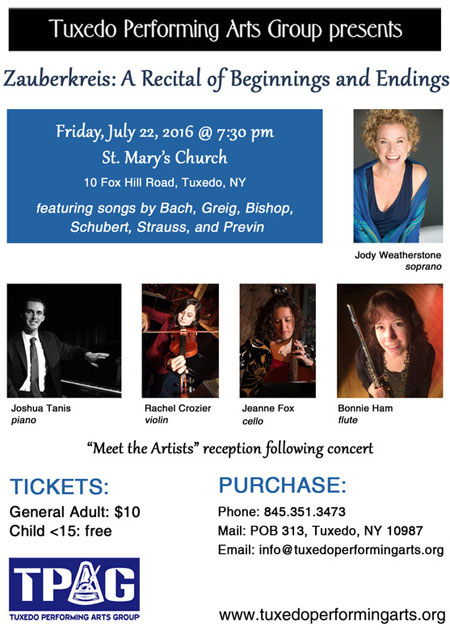 The word Zauberkreis means "magic circle" and is part of the Rellstab text of Richard Strauss' song Beim Schlafengehn.
This recital, created by, and featuring, soprano, Jody Weatherstone, consists of an eclectic selection of songs spanning three centuries of time. Yet, they tell the story of one lifetime. Beginnings and endings, morning and night, love and loss, waking and dreaming. A magic circle!
The recital opens with JS Bach's sprightly ode to caffeine with two chamber ensemble pieces from his Coffee Cantata.
The Schubert set consists of some more familiar songs, such as "Du Bist Die Ruh", as well as some less familiar ones from his "Schwannegessang" or Swan song.
"Lo Hear the Gentle Lark" is a virtuoso duet for flute and soprano, with an amusing text by William Shakespeare, and Edvard Grieg's "Ein Schwan", with text by Ibsen, showcasing two contrasting bird songs, metaphors for music, lust, and passion.
The second half of the program moves into the 20th century. Two songs from Strauss' "Vier Letze Lieder", and Andre Previn's devastating Vocalise for voice, cello and piano, as well as two arias from Streetcar Named Desire, depicting lost love and a desire for beauty and magic! The Ricky Ian Gordon song "Will There Really Be a Morning," with text by Emily Dickinson, includes a gorgeous flute solo.
The pianist, Joshua Tanis, is joined by Jeanne Fox on cello, Rachel Crozier on violin and Bonnie Ham on flute. They are woven throughout the program as both a chamber ensemble and featured soloists.
This is sure to be a moving and unique evening of gorgeous music, performed by some of the finest musicians in the Hudson Valley.