CLUBS AND ASSOCIATIONS



Tuxedo Performing Arts Group
The Wee Wah Beach Club
Tuxedo Park Garden Club
Tuxedo Farmers' Market
Village Boat Club
Tuxedo Historical Society

The Wee Wah Beach Club

Fall Yoga at The Wee Wah Beach Club (Posted 10/7/2020)
We are excited to announce Fall Yoga on Sundays starting October 11th with Kendra Saari-Poznanski! Get your workout on crisp autumn mornings with the friends you've made this summer at the beach club. Classes will be at 10:00am and are $10 per session, payable on the day.




We're still very much following COVID-19 protocols, so please remember to bring your mask as well as your yoga mat and a bottle of water. Social distancing will continue to be enforced. Should any classes be cancelled, please check your email for cancellation notices by 8:30am on Sundays.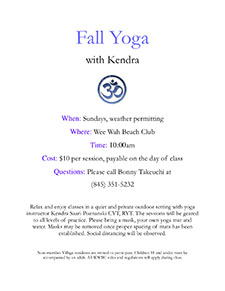 Click here to view larger

POSTED 9/14/20


Ice Cream Social - Sunday, August 30
Click here to view larger

Hours Week of August 24
Due to lifeguard availability, swimming has been restricted to certain hours on Wednesday, Thursday, and Friday. We hope you can make your plans accordingly. Our hours for this week are as follows:
Monday, August 24th
1:00pm-7:00pm
Tuesday, August 25th
1:00pm-7:00pm
Wednesday, August 26th
1:00pm-7:30pm with swimming from 2:30pm-7pm
Thursday, August 27th
1:00pm-7:00pm with swimming from 1:30pm-3:30pm only
Friday, August 28th
1:00pm-7:30pm with swimming from 2:30pm-7pm
The hours for this weekend August 29th and 30th are 1:00pm-7:00pm.
Please remember that on Saturdays and Sundays, non-Village residents should use the north gate located off Warwick Brook Road via Quarry Field.

** Although we have made some adjustments to our hours and swimming availability, we will be open through Labor Day, September 7th! **

Beach Yoga @ The Wee Wah Sundays through September 6!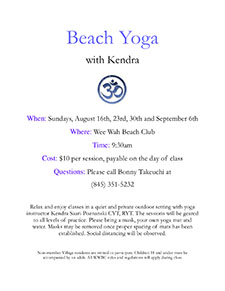 Click here to view larger

August Hours at the Beach Club!
Dear Wee Wah Beach Club Members and Friends,





Say goodbye to July and hello to August! Beginning Monday, August 3, our hours will be 1:00pm-7:00pm.




We want to thank everyone for following our COVID-19 protocols. However, we must continue being good community members, which means...




Checkers need your information - Please give the checkers the first and last names of everyone entering the Wee Wah Beach Club. Family Pass guests will also need to provide their address (city and state is fine). Be patient, writing this information down quickly still takes time.




Use Family Passes correctly - Relationships eligible under Family Passes are the Primary Member's parents, grandparents, children, and grandchildren. Not included are siblings, cousins, nieces, nephews, etc. Family Pass guests must be signed in by you and cannot enter the beach club without you.




Wear your masks - Unless you are in your demarcated area or swimming, masks are to be worn. Walking around different areas of the beach club requires wearing your masks, including but not limited to going to and from the restroom or while in the playground area with your children. Also, masks are properly worn covering both your nose and mouth.
Lifeguards have authority - There are some rules when in the water and the immediate area surrounding it. If you haven't done so already, please familiarize yourself with some of the rules in the newsletter you received prior to joining the beach club. Listen to the Lifeguards; they will be enforcing the rules.




Keep our park clean - A few years back, we found that a carry in/carry out policy worked well for keeping the bears, as lovely as they are, from enjoying the beach club themselves. Checkers have extra bags for trash available in case you've left the house without one.




We hope you've all enjoyed this summer with us so far.




See you at the Wee Wah!





Wee Wah Beach Club

Wee Wah Beach Club To Open Sunday, July 5
Dear Members and Friends,




We are pleased to announce that the Wee Wah Beach Club will be opening for the season on Sunday July 5th! Our hours will be from 1:00pm-8:00pm. It has taken a great deal of work and preparation to get to this point, but we are looking forward to a safe and relaxing summer. Additional good news is that the health department has told us that our picnic tables and grills may now be used. As we mentioned in our annual letter, we have instituted several protocols which are part of the New York State COVID-19 plan for reopening and others which are designed to mitigate traffic on the roads in the Village of Tuxedo Park. Please note the following:




When you sign in at the checker station there will be a temperature and mask check. Our COVID-19 monitor will be there to assist you and to help you demarcate your family's space. Masks must be worn and social distancing must be practiced whenever you are away from your family space. It is probably a good idea to pack a "beach bag" with masks that you keep in the car so you are always prepared.
The suggested speed limit in the Village this summer is 20 mph. Remember that there are many more residents on the roads jogging, cycling and walking. We need to do all we can to make this a safe summer for all.
On weekends, non-Village members and their guests must use the north gate to come to and leave the Beach. The north gate is located by driving through the Quarry Field parking lot off of Warwick Brook Road.




Former members who have not had the opportunity to sign up for the season yet can always drop off their completed forms and payment with the checker. If you need copies of the forms, they are also available from the checker and can be completed when you arrive. If you want the annual letter and forms mailed to you, please call Bonny Takeuchi at (845) 351-5232.

Wee Wah Beach Club To Open Summer 2020!
Dear Members and Friends,
Thank you for your patience! We know that you have all been waiting for news about the beach club opening for this season and we are very happy to report that, despite many obstacles presented by the coronavirus pandemic, the club will be opening. The date will depend on scheduling our preseason inspection with the health department next week and as soon as that is complete we will send out the exact opening date and hours information. As with everything else in our lives since March, COVID-19 will affect beach operations and behaviors. However, the WWBC Executive Board decided that the extra effort and expense associated with complying to the mandatory state guidelines were outweighed by the need for our members to have a place to swim, relax and safely enjoy their summer. Protocols have been put in place which will be strictly enforced to protect both our members and employees, but we are confident that we can count on your cooperation for the good of all!
Click here for rules, regulations and membership forms.