CLUBS AND ASSOCIATIONS



Climate Smart Task Force
Wee Wah Park
Tuxedo Park Garden Club
Tuxedo Farmers' Market
Village Boat Club
Tuxedo Historical Society

Wee Wah Park & Beach Club

Wee Wah Beach Club Reopens to Swimmers! (Posted 8/8/22)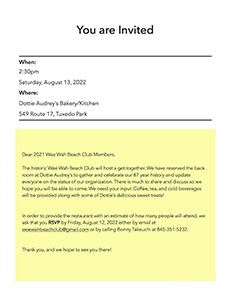 Click here to view larger

Wee Wah Beach Club Reopens to Swimmers! (Posted 8/8/22)

The Wee Wah will reopen tomorrow for swimmers. No toxic green/blue algae blooms were identified visually or through testing.
I thank our consulting lake professionals, A.J. Reyes of NEAR and Bob Schindler of Solitude Lakes Management, for their guidance and quick response to our safety concerns for the WWP&BC and Town Summer Camp members and the users of Pond No.3 and Tuxedo Lake. I also thank the Orange County Department of Health for their field visit today and for clearing the Village to reopen our lakes for recreation.

Mayor Mac

Suspicious Algae Bloom in All Three Lakes (Posted 8/6/22)

UPDATED AUGUST 6, 2022, AT 3:00
On the advice of our Lakes Manager, the Wee Wah and Pond No. 3 are closed to swimmers until further notice. Boating and fishing may continue if hands are washed after coming into contact with water. Thank you for your understanding and cooperation.


Posted August 5, 2022
The lack of rain and heat may be behind the early algae bloom we see in the lakes.

Earlier in the week, I contacted our Lakes Manager, A.J. Reyes of NEAR, and Bob Schindler of Solitude about the growing algae bloom. Jeff Voss, the Water plant DPW Supervisor, Independently sent photos of the algae bloom to A.J.

We don't know if the algae bloom is toxic. Solitude lakes Management will be here Monday for testing. If it's toxic, water activities at the Wee Wah and Pond No. 3 will be prohibited for an unknown period. I'm asking for advice from A.J. and the Village Attorney if we should stop water activities out of caution until we have lab results taken Monday. You may have noticed that Lake Welsch in Harriman State park has been closed for weeks due to a toxic algae bloom.

We have a standing permit for treating Tuxedo Lake and Pond No. 3 for algae blooms but not for the Wee Wah. I have a call into the DEC regarding an emergency permit for the Wee Wah if the algae bloom tests toxic.


Mayor Mac

Articles:

Harmful Algal Bloom Closes Stony Point, NY's Lake Welch

4th of July Weekend at the Wee Wah Park & Beach Club

Dear Members,




We are looking forward to the July 4th weekend!




Daily Schedule
Friday - Sunday: Members have no changes to the daily schedule.





I understand that past July 4th weekends, the Park & Beach Club opened on July 4th (this Monday) at 9:00 AM for seniors and disabled and 9:30 AM for everyone else, allowing the seniors and handicapped to claim a table for the day. In addition, the park will be open Monday the 4th from 9:00 AM to 8:00 PM with swimming from 1:00 PM to 8:00 PM as usual.




Parking
No Change: Parking is not allowed inside the gate, except for seniors (70+) and the disabled. Others may use the parking area for loading and unloading only. There is also no parking along Wee Wah Road. Instead, please use the spillover parking lot, which is your first right after the main parking area. There is a footpath from the spillover parking lot directly to the WWP near the lavatory and storage building. There will be a Police Officer on duty to help with the parking.




Check-in/Manager
We still need a checker for $18.50/hour or a checker/manager for $25.50/hour to check-in members and guests this Saturday, Sunday, and Monday. Please respond to this email if you are interested.




Fitness & Yoga Classes at The Wee Wah Park & Beach Club (Posted June 21)
There are two classes available this weekend at Wee Wah Park for Village Residents taking place at Wee Wah Park for WWP&BC Members and non-members.
Total Body Fitness - All levels - Friday from 11:00 am to 12:00 pm.
Vinyasa Flow Yoga - All levels - Sunday from 10:00 am to 11:00 am.
Also, check out other fitness offerings at Wee Wah Park here.

Wee Wah Park & Beach Club News and Announcements (Posted June 9)
New For the Weekend
Two additional paddleboards will be available this weekend. This is a total of four Paddleboards. Please let us know if you are willing to donate a kayak.

We purchased life preservers of all sizes, which are mandatory when taking out water toys.

We purchased a couple plastic swans as an experiment in keeping the geese at bay.
Our new flagpole has been installed!
Coming Soon
We are installing a 3-station outdoor shower so that you may rinse off the sand.
Dear Wee Wah Park & Beach Club Members:
We are having difficulty collecting the appropriate paperwork from members. Non-Village residents (a.k.a. "Hamlet") have the following responsibilities:
1. Register your vehicles online at https://www.tuxedopark-ny.gov/vehicle-registration and pay the $9.95 fee for the automatic gate opener/license plate reader. You can pay online or check at the main gate entrance booth by check only.
2. Please make a copy of your driver's license so that we have a picture ID available to verify your membership status. This rule applies to everyone in your family with a driver's license.
3. Please fill out the Member Waiver & Release Form and hand-deliver it to the lifeguards.
4. Beginning Next weekend (6/10/2022), members who have not complied with our paperwork, vehicle registration, and payment will be denied entry until you meet the obligations.
Village residents are responsible for:
1. Please fill out the Member Waiver & Release Form attached to this email and hand-deliver it to
the lifeguards.
More on Dogs
Sadly, some dog owners are not cleaning up after their dogs. If this continues, we will have to ban dogs in the Park.
The Rules for Dogs:
Dogs are allowed this season but must always be on a leash.
If your dog becomes unmanageable, the lifeguards will ask you to remove the dog. Dogs are NOT allowed on the sand at any time.
Of course, you must always clean up after your dog.
Wee Wah Road
Tuxedo Park, NY wwp@tuxedopark-ny.gov

Wee Wah Park & Beach Club News and Announcements (Posted June 3)
June 3, 2022
Good Afternoon Club Members: Food Truck
We are pleased to announce that this Saturday and Sunday, from noon to 5:00 pm, we have an exceptional food truck, "Casa Birria" (Instagram @casabirrianyc, and the truck's sister restaurant "Chela & Garnacha" @chelagarnacha). The food is excellent, and the Owner/Chef will be opening a new restaurant in Sloatsburg soon! Get a sneak preview and support our local businesses. Please pay by credit card, cash, or Venmo.
Sports
We purchased (so far) two paddleboards for use by members for a small fee that are available this weekend. We also have mandatory lifejackets. If you bring your own water sports equipment, please clean it with detergent at home, so we do not spread the invasive Milfoil plant. You, too, will be required to wear a lifejacket.
Fitness
We are offering multiple classes, and you can learn the details in the attached document.
A FOCUS ON THE RULES
Parking
Our goal is safety. You may park inside the Park on the gravel area; however, we prefer that you drive in, unload, and park outside in the lot. We have a spillover parking lot just past our parking lot inside the DPW area. A walking path connects the spillover parking lot directly to the Park.
Dogs
Dogs are allowed this season but must always be on a leash. If your dog becomes unmanageable, management will ask you to remove the dog. Dogs are NOT allowed on the sand at any time. Of course, you must always clean up after your dog. We are planning a dog run on the property in the future.
Wee Wah Road
Tuxedo Park, NY wwp@tuxedopark-ny.gov

Fitness at the Beach Club (Posted 6/3/22)
Click here for more information

Wee Wah Park Kick-Off Event a Success (Posted 5/17/22)
The Wee Wah Park Kick-off event yesterday was well attended by over 120 individuals and families and was a great success.
I want to thank the Wee Wah Beach Club (WWBC) Executive Committee, President Bonnie Takeuchi, and her team for their past stewardship of the park and beach. The Board appreciates and recognizes their hard work and dedication. Hamlet and Village residents have a long tradition of sharing the beauty of the park and lake, which will continue.
Ushering in a new era, the Village Wee Wah Park Committee prepared yesterday's event, and I want to acknowledge their generosity in addition to their time.
-Committee Chair Denise Tavani, Committee Members Chrissy Crawford, Agnes Turner, Matthew Tinari, and Michael Bruno for donating the beer, wine, food truck, chef, and delicious tacos.
I also want to thank:
-Tinka Shaw and Walter L. Deane of Tuxedo Park Fine Homes, for providing the entertainment, Cole Quest and The City Pickers.
-Eliza and Zoe Vaught, and Caio Rodolfo, who assisted us during the event
-Jeff Voss, Dan Haglund, and Dan Squillini of the DPW for the terrific grounds work and setup.
The Wee Wah Park Committee looks forward to a fun 2022 summer season.
See and download Jill Swirbul Photography's event photos here.

Wee Wah Park Kick-Off Event - Sunday, May 15 (Posted May 10)
Please save the date - May 15th, 2022, from 2:00 PM.

Join your neighbors in celebration of the Wee Wah Park.

Enjoy food and drinks and music by the Cole Quest and The City Pickers seen at the Sloatsburg Bluegrass Festival.

Bring blankets and beach chairs.
All village residents are invited to attend.
"Grandfathered" Hamlet Members may attend if they have renewed their membership before May 15th.
Acquire your membership online or in-person at the Village Office (Elizabeth) or Police Station (Denise).
The Wee Wah Park Beach Club opens on Memorial Day, Saturday the 28th, at 1:00 pm.
Apologies. No guests will be permitted due to limited food and beverages.
RSVP to wwp@tuxedopark-ny.gov required.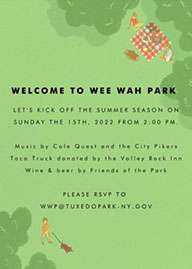 Message From The Wee Wah Park Committee (Posted 4/18/22)
Dear Neighbors, The summer season is almost upon us! Many thanks to many of you who have already committed to the Wee Wah Beach Club for the summer.
We want to encourage those who have not yet done so to join for the 2022 season. The first improvements are in progress, and we are just short of being able to hire a second lifeguard.
We also wanted to invite you to our Summer Fundraiser on Sunday, May 15th, at 2 pm. It will be an opportunity to welcome new members and kick off the season and raise much-needed funds for the continued improvement of our only shared park. Join us for food, festivities, and the chance to say hello to our neighbors—more details to come.
Memberships are purchased easily online at https://www.tuxedopark-ny.gov/wee-wah-beach-club-summer-2022-membership or at the Village Office. Our goal is for membership fees to cover operational expenses, maintenance, insurance, and Wee Wah Beach Club staffing. This year we have hired an aquatic management services company to oversee the operations of the beach season and manage its staff. The Wee Wah's operations depend on early memberships - more memberships enable our management company to employ additional staff during busy times and maintain the safety and cleanliness of the park.
Please consider donating to help us improve the park before the summer season. Our landscape architect hopes to present a schematic design plan for our fundraising goals before the May 14th event to share an overview of the project. Membership only covers operational costs, and we must rely on your generosity to enhance the park. You can donate already now at https://www.tuxedopark-ny.gov/donations
Thank you for your consideration and generosity.
The Wee Wah Park Committee,
Committee Chair- Denise Tavani
Committee Members- Agnes Turner, Chrissy Corredor, Matthew Tinari, Michael Bruno

Summer Lifeguards - Will Train and Certify (Posted 4/14/22)
Before advertising in the public domain, the Village of Tuxedo Park would like to offer several lifeguards positions to the village and town residents.
The openings are for the Wee Wah Park summer season. Candidates require lake certification, and our aquatic management company managing the beach this summer season will teach and certify you for the position. All interested parties may email Steve Rosati at stever@nyspools.com.

Ice Skating at Wee Wah Park (posted 1/27/22)
As part of the ongoing effort to raise awareness that Wee Wah Park is a four-season recreational facility, the Board of Trustees approved an area eligible for skaters at last evening's meeting.

Please use the area directly off the Wee Wah Park beach. Skating is open to all village taxpayers.
The Chief of Police, Dave Conklin, is in charge of approving when the lake is safe for skating and will do so in conjunction with the DPW Supervisor Jeff Voss. For safety purposes, approval is based on the thickness of the ice and other conditions. Presently, skating is not permitted on the Wee Wah - Please give us a few days to organize signage and other means of communicating when the lake is safe for skating. Unfortunately, the lavatories do not function during the winter.
Last week the village approved the WWFC to ice fish - the ice was 8" thick.
Thank you and enjoy
Village Code re Skating on the Wee Wah.

Beach Club Membership Fees (posted 12/29/21)
The Wee Wah Park Committee is pleased to announce that we are on the way to reaching our summer swimming season, membership goals.
Our goal is $33K in membership fees to cover expenses against $5,990 in sold memberships to date. We have also received $1,500 in private donations to hire a landscape architect and upgrade the facility. Thank you!
Go ahead and purchase your membership here.