VILLAGE SERVICES


Neighborhood News
Village Police Department
Department of Public Works
Tuxedo Park Fire Department
Tuxedo Volunteer Ambulance Corps

DPW Superintendent - Jeff Voss - jvoss@tuxedopark-ny.gov - 845.351.4743

Water Main Flushing to Begin July 19 (Posted 7/18/21)
IMPORTANT NOTICE

Dear Water Customer:

As part of our plan to upgrade and maintain our water infrastructure to provide you with the cleanest water possible, we will be flushing the system in July. Flushing the water mains improves water quality by removing sediment that slowly builds up at the bottom of the water main over time. The sediment comes from an internal corrosion of the water mains over many years. It also allows for the inspection and repair, and maintenance of fire hydrants.

Water Notice
On Monday, July 19th through July 30th, the Water Department will initiate a two-week program to flush the water mains. Flushing the water mains from unwanted sediment is part of our water lines' regular long-term maintenance program. Weather permitting.

Weekly Schedule
From July 19th to July 23rd – Flushing the Village of Tuxedo Park water lines.
From July 26th to July 30th – Flushing the Town of Tuxedo water lines.

There will be no flushing on Saturdays and Sundays.

Daily Schedule
Flushing will begin at 7:30 A.M. and end at 2:30 P.M. each day.

What about my Street?
Each day we will post a message on our answering machine (845-351-2777) to advise you where the program will begin on the following day.

Rental Properties
Owners of rental properties should inform their tenants of the flushing program.

What can you expect?
All customers will experience discolored water during the flushing periods.
Customers living at higher elevations will have no water or low pressure during flushing hours on certain days.
Homes in the higher elevations may be without water past 2:30 P.M.
What can you do to lessen the impact?
If you have a household auxiliary booster pump installed in your home, we strongly advise you to shut it off manually during flushing hours. Otherwise, motor damaged may occur because it runs continuously to draw water that is not available.
Use very little to no water during the flushing hours. Less water use will decrease the amount of sediment introduced into your household system.
Do not use hot water during flushing hours. Sediment may enter your hot water system.
We apologize for any inconvenience this will cause. Thank you for your patience and understanding.

Sincerely,

Denise Spalthoff,
Deputy Village & Utility Clerk
845-351-4745, Ext 4


Road Striping - October 2019
Road Striping in the Village will begin on Tuesday 10/15/19. Please drive carefully and check the sign at the Front Gate for updates

Road Closure
The Wee Wah/Pond #3 dam crossing is closed to traffic for repairs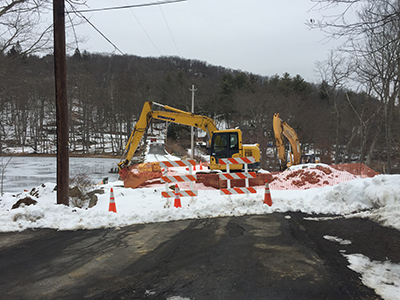 Important Drinking Water Notice December 27,2017
Posted 12-27-17
BOIL YOUR WATER BEFORE USING
Bring tap water to a rolling boil, boil for one minute, and cool before using. Or use bottled water certified for sale by the New York State Department of Health. Boiled or bottled water should be used for drinking, making ice, washing dishes, brushing teeth, and preparing food until further notice.
This Boil Water Notice applies to Town of Tuxedo (Hamlet) North to Hickory Hollow Nursery
What Happened?
At about 10:00-PM on Wednesday, December 27, 2017 work will begin to replace a water valve in the system. This work may cause disruption in water service and/or a loss of water pressure. When water mains lose pressure it increases the chance that untreated water and harm l microbes can enter your water.
Harmful microbes in drinking water can cause diarrhea, cramps, nausea, headaches, or other symptoms and may pose a special health risk for infants, some elderly, and people with severely compromised immune systems. But these symptoms are not just caused by microbes in drinking water. you experience any of these symptoms and they persist, you should seek medical advice.
What is being done?
Replacement of the valve is necessary maintenance we must per on the system. We will work to replace the valve as quickly as possible. Beginning on 12/27/17 at 10:00 PM you must boil the water until further notice.
It is likely that you will need to boil water for the next few days until the problem is fixed and confirmation samples are collected to con the absence of bacteria. You will be informed when tests show that you no longer need to boil your water.
For more information, please contact:
Tuxedo Park Water Department at 845-351-2777 or the Orange County Department of Health at 845-291-2331.


Please share this information with other people who drink this water, especially anyone who may not get this notice directly or example, people in apartments, nursing homes, schools, and businesses.

IMPORTANT INFO ATION ABOUT BOUT YOUR DRINKING WATER.
The Village of Tuxedo Park Did Not Meet Treatment Requirements
Our water system recently violated a drinking water requirement. Although this situation is not an emergency, and does not require that you take immediate action, as our customers, you have a right to know what happened, what you should do, and what we are doing to correct this situation.
As part of our Disinfection By-Products Rule, we routinely monitor for removal of Total Organic Carbon (TOC) in our filters. The running annual average of test results ending in the month of September 2017 showed removal levels of TOC at .97 (a removal of 1.0 is required).
What does this mean?
This is not an emergency. If it had been an emergency, you would have been notified immediately. Total Organic Carbon OC) has no health effects. However TOC provides a medium for the formation of
disinfection byproducts. ese byproducts include Total Trihalomethanes (TTHMs) and Haloacetic acids ( 5s). Drin ng water containing these byproducts in excess of the Maximum Contaminant Level (MCL) m lead to adverse health effects, liver or kidney problems or nervous system effects, or m lead to an increased risk of getting cancer
Our water system also monitors for TTHMs and HAA5s. Our testing for TTHMs and HAA5s did not show the presence TTHMs and HAA5s that approached the standards for maximum Contaminant Levels.
What should I do?
There is nothing you need to do. You do not need to boil your water or take other corrective actions.
However, if you have specific health concerns, consult your doctor. .
If you have a severely compromised immune system, have an infant, are pregnant, or are elderly, you may be at increased risk and should seek advice om your health care providers.
What happened? What was done?
Compliance is based on a Running Annual Average. Although the average is below what is allowed, history has shown adequate TOC removal. We are reviewing our sampling procedures and evaluating our Filtration system for efficiency. We are continuing to monitor TTHMss and HAA5s.
For more information, please contact the Village of Tuxedo Park at 845-351-4745 or by mail at PO Box31, 80 Lorillard Road,,Tuxedo Park, NY 10987.

Please share this information with other people who drink this water, especially anyone who may not get this notice directly or example, people in apartments, nursing homes, schools, and businesses.

Water Conservation Tipst

Water Main Flushing Notice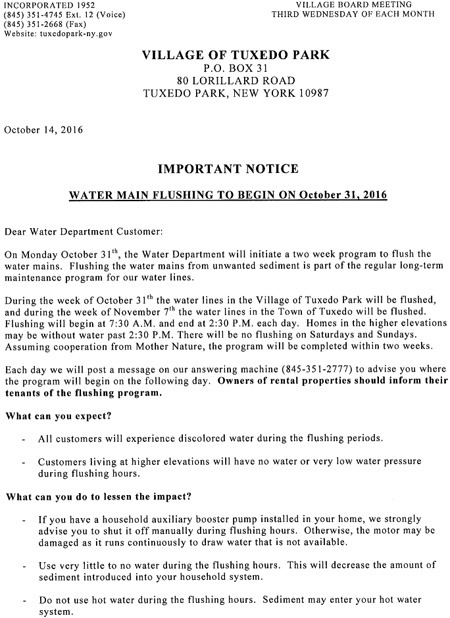 Click here for archived DPW news.