VILLAGE SERVICES


Neighborhood News
Village Police Department
Department of Public Works
Tuxedo Park Fire Department
Tuxedo Volunteer Ambulance Corps

R.I.P. Charles G. Jones (Posted 5/24/2021)
It is with great sadeness, that the Tuxedo Park Fire Department Co. #1 announces the passing of 50+ year member Charlie G. Jones. Charlie was a past Fire Chief and current Fire Commissioner. Firematic services will be held on Thursday, May 27th, 7pm at Smith, Seaman and Quakenbush in Monroe, NY with funeral services on Friday, May 28 11am at Sacred Heart Church, 26 Still Rd., Monroe with internet @ St. Anastasia Cemetary, Harriman, NY.
Charlie will be greatly missed by all who knew him. Rest in peace brother, we got it from here.

Open Houses At Tuxedo Fire Houses This Weekend
38th annual Trick or Treat at the Tuxedo Park Fire House - 6pm 10/31/19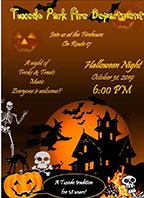 Open Houses At Tuxedo Fire Houses This Weekend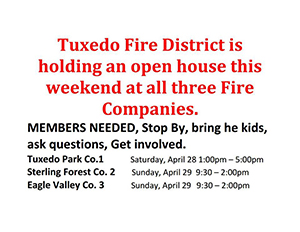 Tuxedo Village Fire Department Report
Report by the TVFD:
The topics will likely include the following:
- identifiable numbering signage on residences in the Park,
- access from the North Gate,
- water sources,
- turnarounds at the east and west sides of the dam during the repair period,
- volunteers, and
- clearance under trees on roadways.
Liaison is Allen Barnett
A meeting will be held next week TBD
Submitted to the Mayor for the Record By Gardiner Hempel

Tuxedo Fire Commissioners Honor Chalice Jones On Hi 50 Years Of Service - 6/26/17

Tuxedo Fire Department & Ambulance Corps Volunteer Recruitment Events This Weekend!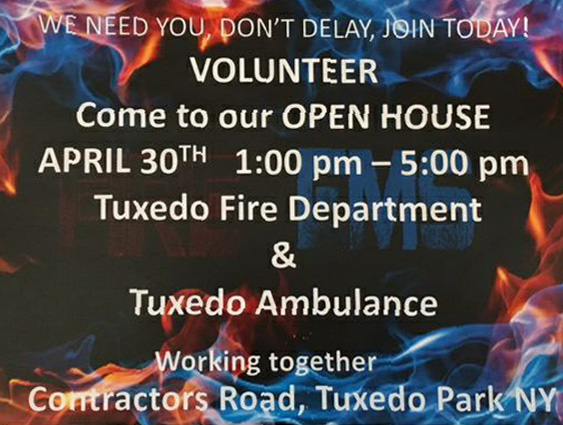 Tuxedo Park Ambulance Corps and Fire Department Host Joint Open House on April 30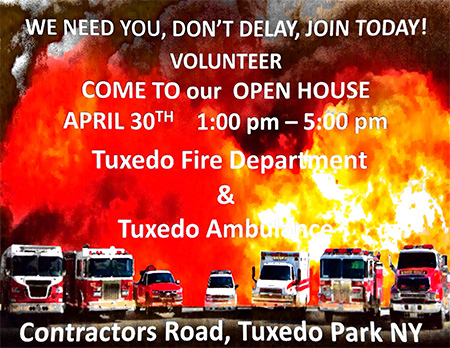 Tuxedo Park Fire Department Open House April 30
Tuxedo Park Fire Department: Open House
Sunday April 30, 1:00 -5:00 p.m.
2 Contractors Road
Tuxedo, NY
The Tuxedo Park Fire Department is hosting an open house as part of RecruitNY-2017.
This is a state-wide program to encourage volunteers to join their local volunteer fire departments. Please visit our firehouse to see our facilities including fire trucks and equipment and our historical collection, meet your neighbors who already volunteer, learnhow rewarding it is to serve as a volunteer firefighter plus find out how you can help.
There will be food, beverages and photo opportunities for adults and children.

Village Resident Donates Pet Oxygen Masks to Tuxedo Park Fire Department - 3/5/15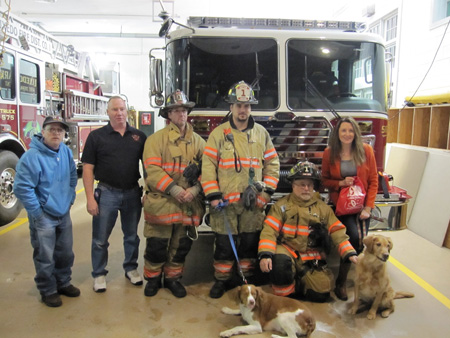 Tuxedo Park resident, Whitney deBordenave, recently donated pet oxygen masks to the Tuxedo Fire Department. Ms. deBordenave learned about the masks through Bergen County non-profit, Companion Animal Advocates, at one of her Park Ridge Rotary meetings. Although Companion Animal Advocates serves primarily Bergen County, they were happy to coordinate the donation in Tuxedo. One of the organization's goals is to promote human education and equip local emergency personnel with pet oxygen masks.
For more information about this group or how you can donate, visit http://www.companionanimaladvocates.org.