INSTITUTIONS





This Week At St. Mary's May 24, 2018
Click here to read St. Mary's weekly newsletter

This Week At St. Mary's May 18, 2018
Click here to read St. Mary's weekly newsletter

This Week At St. Mary's May 10, 2018
Click here to read St. Mary's weekly newsletter

This Week At St. Mary's May 3, 2018
Click here to read St. Mary's weekly newsletter

This Week At St. Mary's April 27, 2018
Click here to read St. Mary's weekly newsletter

This Week At St. Mary's April 20, 2018
Click here to read St. Mary's weekly newsletter
back to top

This Week At St. Mary's April 13, 2018
Click here to read St. Mary's weekly newsletter

This Week At St. Mary's
Click here to read St. Mary's weekly newsletter

This Week At St. Mary's - March 29, 2018
Click here to read St. Mary's weekly newsletter

This Week At St. Mary's - March 22, 2018
Click here to read St. Mary's weekly newsletter

This Week At St. Mary's - March 17, 2018
Click here to read St. Mary's weekly newsletter

This Week At St. Mary's - March 10, 2018
Click here to read St. Mary's weekly newsletter

This Week At St. Mary's - March 3, 2018
Click here to read St. Mary's weekly newsletter

This Week At St. Mary's - February 24, 2018
Click here to read St. Mary's weekly newsletter

This Week At St. Mary's - February 16, 2018
Click here to read St. Mary's weekly newsletter

\Rector's Annual Report January, 2018 - St. Mary's in Tuxedo
Rector's Annual Report to the Parish - St. Mary's-in-Tuxedo - January 28, 2018
A New Beginning
On June 10 of last year, at 1:04 pm, I missed a call. I shortly noticed that I had a message, and when I saw who it was from, my stomach sank and my heart began to race. It was from the Senior Warden of St. Mary's. I gathered my strength and composure and returned the call. He picked up, and after a courteous greeting, he informed me that the vestry had unanimously elected me as 12th rector of St. Mary's. He then asked if I would accept. Yes! Thus began a transition process that was bittersweet and beautiful. I said goodbye to people whose priest I had been, and hello to those whose priest I would soon become. On our first night in the rectory, we arrived frazzled and stressed after the long drive, only to find a poster welcoming our cats (and us) to St. Mary's. We were also grateful to one parish family who had the rectory floors refinished. These were just two of the many touching acts of kindness and hospitality that have defined this transition. The first weeks and months were spent mostly in just figuring out mundane things such as where the light switches are located, and where to get groceries. We met new friends, and were welcomed with grace and open hearts. Soon the time came for my official institution as rector, and with two bishops, a canon, numerous priests, deacons, friends, family, and community members present, we did it with sincerity and style. I will never forget kneeling before the altar and saying the rector's prayer, and seeing the smiles on people's faces as we processed out singing "Hail, Holy Queen." The luncheon afterward at the Tuxedo Club is something I will never forget, and something for which I will always be grateful.
Last March, Pete and I planned to come up here together, ostensibly to see where he was working in Sloatsburg, but really to snoop around Tuxedo. We drove up and down Route 17, and daringly drove up to the gates, which were open, so we figured it was ok to drive through. As we pulled ahead, a stern voice on the speaker barked, "Where are you going?" "To the church???" we replied. "Ok. Go ahead." Whew! We felt like we had just gotten away with something. We drove into the church parking lot, then up Fox Hill Road trying to get a look at the rectory, and really only made the loop to Tuxedo Road and back out. What a surprise when we returned a few months later! On my first tour of the Park, I was stunned by the beauty of the lakes and historic architecture. It was all rather Brigadoon-ish, and I was not sure what to make of the place. Since moving here however, I have had the opportunity to get to know the town, as well as the surrounding areas, such as Harriman State Park and the idyllic St. John's in Arden. Even though remote, the area is much bigger and more diverse than I had imagined. Overall, I think the transition has been as smooth for everyone as it could be. We are enjoying settling into the rectory with all its quirks, and have even welcomed a new little puppy into our lives, whom we named in honor of Emily Post. The biggest challenge remains the sale of our house in Pennsylvania, and we ask for your continued prayers for that.
This transition is a new beginning for all of us and a chance to reimagine what it means to be Church in this place. Before making any major changes, however, I want to spend the first year getting to know everyone, deliberately listening and learning the rhythms of this place. While this process will continue until the summer and I am eager to hear everyone's perspective, I am starting to form a vision of what we could accomplish together and it roughly falls into three priority areas for the future.
Rediscover our Faith and Traditions
People come to church to celebrate the most profound moments of their lives. Even on a regular Sunday, we believe that Christ is truly, sacramentally present with us in the bread and the wine of the Holy Eucharist, and in his holy word. Therefore, it should be a sacred experience. It's not a performance, it's not a show -- and it's not about adopting the latest fad -- you will not find gimmicks here. Worship is about giving back to God that which he has so freely and perfectly given us, in a way that is of the most excellent quality, and authentic to our particular faith tradition. Anglicanism is abundantly blessed with a strong tradition of beautiful liturgy and music, handed down over many centuries.
An article I recently read entitled, "Why Millenials Long for Liturgy," by Gracy Olmstead, touches on the rediscovery of the great deposit of faith by younger people--people on whom many had given up as being merely "spiritual, but not religious." In it one of the interviewees suggests, "If you ask me why kids are going high church [by which he means liturgical church], I'd say it's because the single greatest threat to our generation and to young people nowadays is the deprivation of meaning in our lives," he says. "In the liturgical space, everything becomes meaningful. In the offering up of the bread and wine, we see the offering up of the wheat and grain and fruits of the earth, and God gives them back in a sanctified form. …We're so thirsty for meaning that goes deeper, that can speak to our entire lives, hearts, and wallets, that we're really thirsty to be attached to the earth and to each other and to God. The liturgy is a historical way in which that happens."
We are sitting upon a gold mine here. We have a magnificent historic space, and are heirs of a liturgical and musical tradition that is truly transcendent and transformative, if only we are brave enough to explore it together. I have no illusion of becoming a "mega-church," and I do not think that is something any of us is interested in. However I do believe that with steadfast faith and fidelity to our tradition, we can and will become a beacon to those who seek a place that offers something more than "Precious Moments" theology, pallid liturgy, and unsatisfactory music that is all too common these days. We can be one of those churches that comes to people's minds when they think of sound preaching, robust liturgy, inspiring music, and an authentic living out of Christ's great commission.
It is important that we start with the youngest among us -- our preschool, Sunday School, Vacation Bible School, and Episcopal Youth Fellowship are critical to formation.In this time of transition, we are also at a crossroads in our Sunday school program. We are very much in need of new leadership for this vital ministry, and I ask you to consider whether God is calling you in this way. Formation of children and youth is key, but it doesn't end there. During Advent, we had a brief series on the scriptures and Handel's "Messiah," and I have started educating the congregation at the Saturday evening service about the history and theology of the prayer book in place of a traditional sermon. I would like to expand that effort to include the whole parish by offering learning opportunities during Lent, followed perhaps in May by a trip to the Metropolitan Museum to see their upcoming exhibits on how vestments and liturgy influence art and fashion to this day. Musically, I would like to see us delve deeper into the traditions of our church by exploring things like Anglican chant, sung propers, and perhaps even a choral mass setting or two for special occasions. I also believe that it is imperative that we foster and develop a children's choir, not only to attract families, but also as a component in forming young disciples.
2. Restore our Historic Buildings and Grounds
Churches, like people, are often better at taking care of others than they are at caring for themselves. We engage in a highly impactful program of outreach to the Tuxedo community, our country, and the world. While I feel passionately that our outreach efforts should be continued, I have nonetheless observed a degree of self-neglect here at St. Mary's. We occupy an unusual and magnificent church which seems to have grown right out of the living rock upon which it stands. It is filled with treasures from across the centuries and around the world. It is a gift given to God by past generations, and it is our job not only to maintain it, but to make it shine by highlighting the best elements of the past, and making it accessible to present needs. We have done a great job in caring for our outstanding collection of American art glass, but we can't stop there. For example, the lighting and sound systems in the church are in dire need of attention.
God created the universe in order and beauty; his house on earth should reflect that. In order to have a clear picture and guide in this endeavor, I propose that we have a thorough conditions report compiled by an engineering firm for all of the church buildings, including the rectory, which is sorely in need of repair and updating. Naturally all of these things will take money. We are blessed to have been given financial gifts by previous generations which, in conjunction with regular offerings, help us carry out our day-to-day operations. However, refreshing our buildings and grounds for God's glory as well as modern comfort and functionality will require additional funds. Therefore I propose embarking on a capital campaign after we assess and prioritize our needs, in order to address them in the best and most fiscally responsible way. I also intend to invite a representative from the Episcopal Church Foundation to come and speak with us regarding planned giving for the future.
3. Re-engage our Community
One concern I have heard is that "under this rector we had we had more park people, but under that rector we had more town people." While certain personalities and charisms may be more attractive to one group than another, I am reminded of the words of St. Paul in his letter to the Galatians (3:28) "There is no longer Jew or Greek, there is no longer slave or free, there is no longer male and female; for all of you are one in Christ Jesus." We must focus on attracting our entire community to God's altar in this place. Indeed, it was placed on this spot for that very reason. I look forward to meeting more people who may have once attended and now do not, as well as those who may never have given us a try.
While we must do everything we can to encourage church attendance, we also must be realistic about the fact that Tuxedo is its own special animal. In addition to year-round residents who come to church regularly, we have people who spend much of the year in other locations at different times of year (NYC, Florida, Arizona, Vermont, Colorado, Europe, etc.) but still consider St. Mary's their home parish. During our recent visit to Palm Beach, we ran into a parishioner at Bethesda-by-the-Sea. She very proudly introduced me to everyone as her rector from Tuxedo Park. There is something about this place that gets under the skin and remains, even if we travel often to other locales.
Because of the "Tuxedo diaspora," our communications are of vital importance. We are in need of a refreshed web presence, as well as more engagement on social media. In two weeks, the communications committee will meet to discuss this in depth. In the short run, we have made the weekly newsletter more mobile friendly, and update our Facebook page regularly with photos, videos, and notices. We are in the process of migrating our office over to Google for Nonprofits, which has numerous benefits, including the fact that it is completely free and will save us hundreds of dollars monthly over our current web hosting provider.
Unlike in urban settings, where there is a church on practically every corner, we are one of only a few houses of worship in our town. Because of our history, physical location, and engagement of our members, we are by far the most engaged in the community, which is something to celebrate. St. Mary's is truly the beating heart of Tuxedo. I am proud that many people who are not themselves Christians consider St. Mary's to be home, even if they do not worship here. They see the value we bring, they see the welcome, they see the good, which transcends all human barriers. Let us work together to open our hearts and doors ever wider.
Moving Forward Together
Thank you to everyone who has faithfully served in the transition process, my dedicated staff, and for those who continue to take volunteer leadership roles in this church in many different ways.
As brothers and sisters in Christ, let us be kind and care for each other, let us also be honest and forthright. In this report, I have shared with you my first impressions and vision for this church. However, I want you to know that while I take my role as a leader seriously, I also welcome your input. I invite you to share your hopes and dreams for St. Mary's with me. I am available for you. Please feel free to call or text me at (917) 658-6314, or email me at rjrobyn@gmail.com.
Finally, be joyful. It is good news after all that we have to share. Let us work together to rediscover our faith and traditions, restore our historic buildings and grounds, and re-engage our community. In his sermon at my service of institution, Bishop Clifton Daniel likened the church to a lifeboat. As we navigate this lifeboat of faith in the troubled waters of our world, may our patron, St. Mary, star of the sea, be our guiding light to our ultimate destination, her son, Jesus Christ. Amen.
back to top

The Rev. Dr. Edwin H. Cromey Induceted as Rector Emeritus at St. Mary's in Tuxedo
On Sunday, January 7th, St Mary's held a special service which combined the regular Eucharist with a formal induction of The Rev. Dr. Edwin H. Cromey as Rector Emeritus of St Mary's-in-Tuxedo. This wonderful celebratory service was an opportunity for the Parish and many friends to welcome and congratulate Ed and Pam on this auspicious occasion.
The Rector Emeritus position acknowledges his years of service to St Mary's, to the Episcopal Church and to the community.
In conferring the honor of Rector Emeritus on Father Cromey, our current Rector, Father Rick Robyn gave a short bio of him:
"Father Edwin Cromey was born in Brooklyn, NY, and received his seminary training at the General Theological Seminary, graduating in 1962. That same year, he was ordained deacon, and then priest by Bishop James Pernette de Wolfe. In 1972, he and Pam were married, and in 1981 they answered the call to come to St. Mary's. For more than 25 years, Fr. Ed served this community as rector of this church until his retirement in 2006. Since then, he has continued his service to the Church, and he and Pam have remained beloved members of our community. And now, in honor of his years of service, and in celebration of his 55th anniversary of ordination, it is my privilege to confer upon my friend and fellow presbyter the title of Rector Emeritus.
As Father Cromey becomes Rector Emeritus, we acknowledge an ongoing relationship of affection as we pledge to hold him in prayer for his health and happiness. Moreover, we dedicate ourselves as a parish to faithfulness to his legacy in the characteristics of his ministry, joy and zest in following Jesus, faithful preaching of the Gospel, delight in solid liturgy, and a heart for all God's children."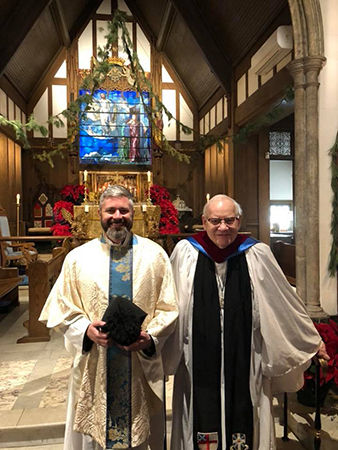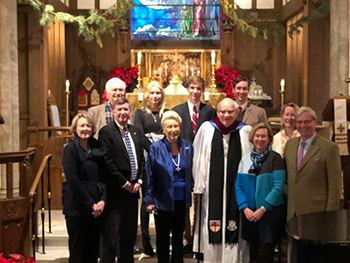 Pictured above are Father Cromey with Father Rick both during and after the service as well as Father cromey with his wife, Pam and their family.

Tuxedo church youth group hosts Christmas Market on Dec. 9

Christmas Market December 9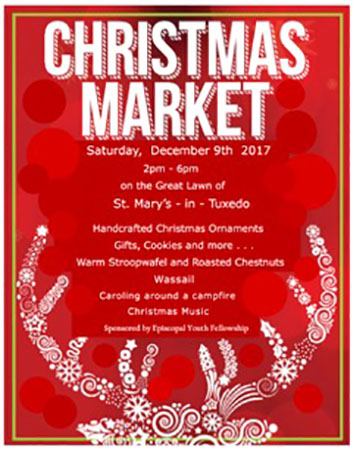 Tuxedo Christmas Concert December 9 at 6PM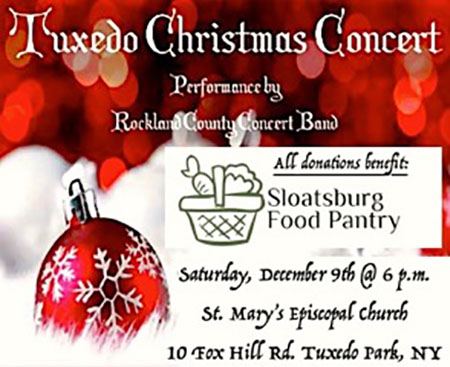 </p>

This Week At St. Mary's - November 8th, 2017


St. Mary's Youth Group Can Drive in November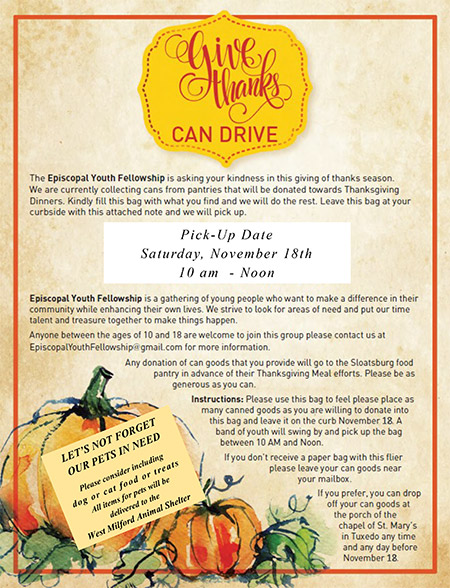 This Week At St. Mary's - November 2nd, 2017


This Week At St. Mary's - October 25th, 2017


This Week At St. Mary's - October 18th, 2017


This Week At St. Mary's - October 4th, 2017


St. Mary's Youth Group Car Wash Friday September 29 4-6pm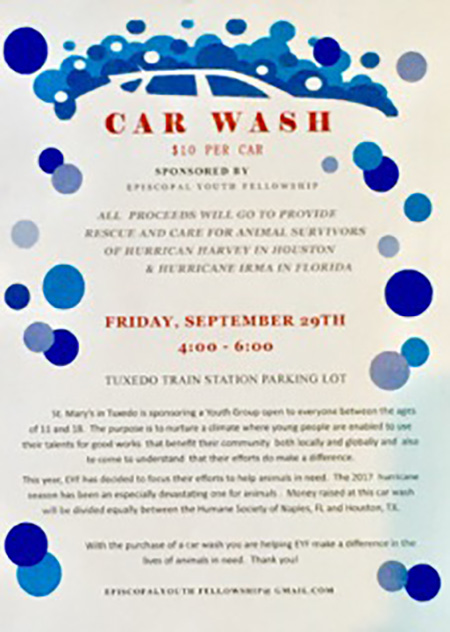 This Week At St. Mary's - September 20th, 2017


This Week At St. Mary's - September 13th, 2017


This Week At St. Mary's - September 6th, 2017


This Week At St. Mary's - August 16th, 2017
Click Below to View Entire Newsletter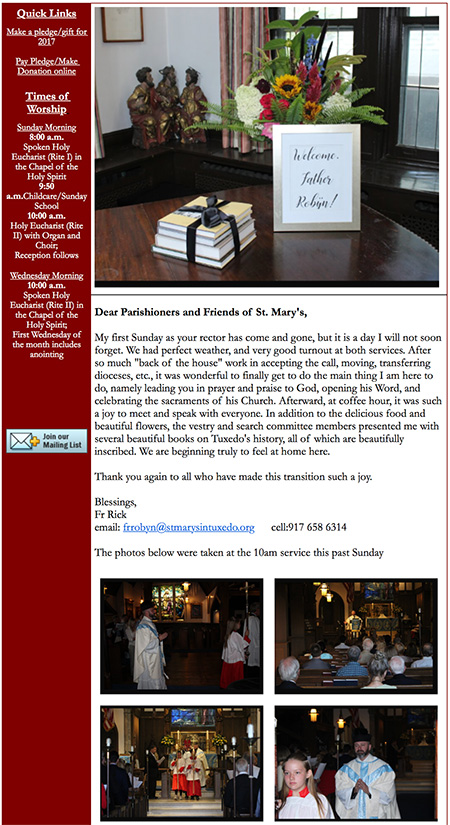 This Week At St. Mary's - August 9th, 2017
Click Below to View Entire Newsletter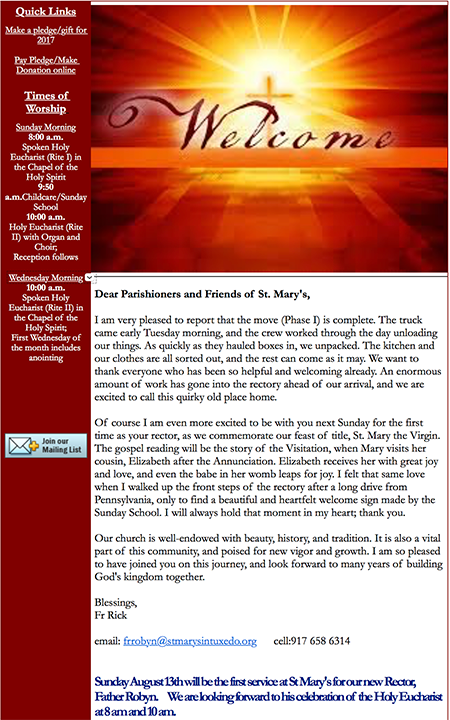 This Week At St. Mary's - August 2nd, 2017
Click Below to View Entire Newsletter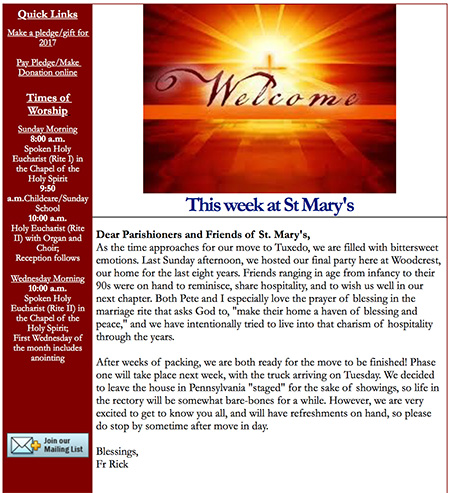 Outdoor Movie Night - EYF Presents THE GODS MUST BE CRAZY Saturday August 5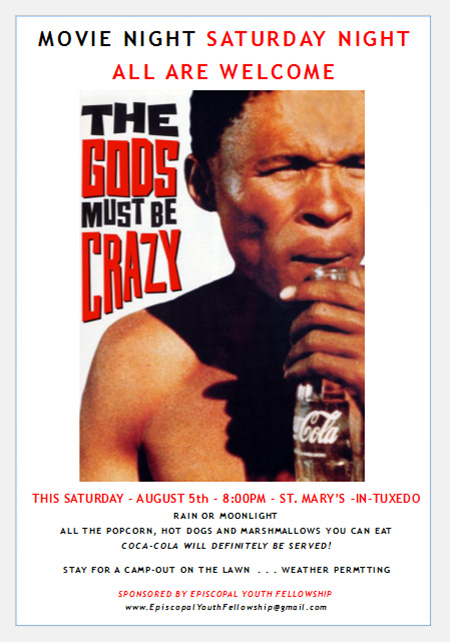 This Week At St. Mary's - July 26th, 2017
Click Below to View Entire Newsletter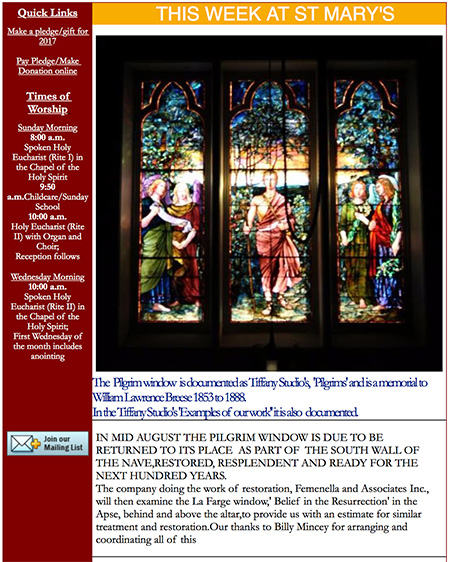 St. Mary's Offers Free VBS Program for Kids Second Week of August! Sign Up Today!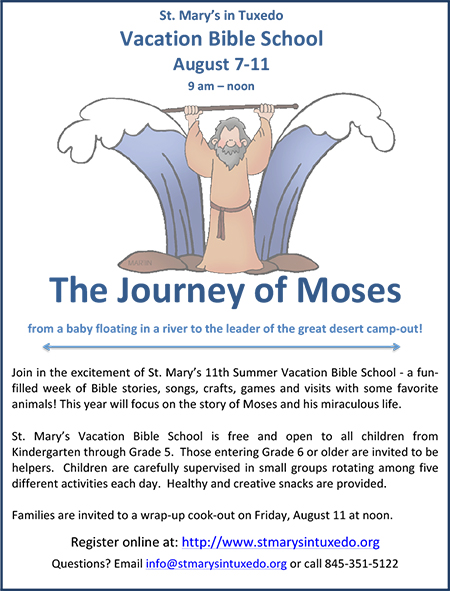 This Week At St. Mary's - July 12th, 2017
Click Below to View Entire Newsletter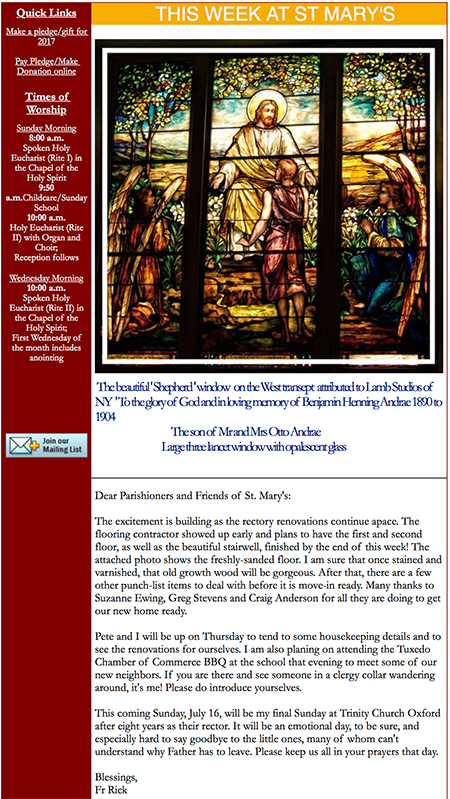 This Week At St. Mary's - July 5th, 2017
Click Below to View Entire Newsletter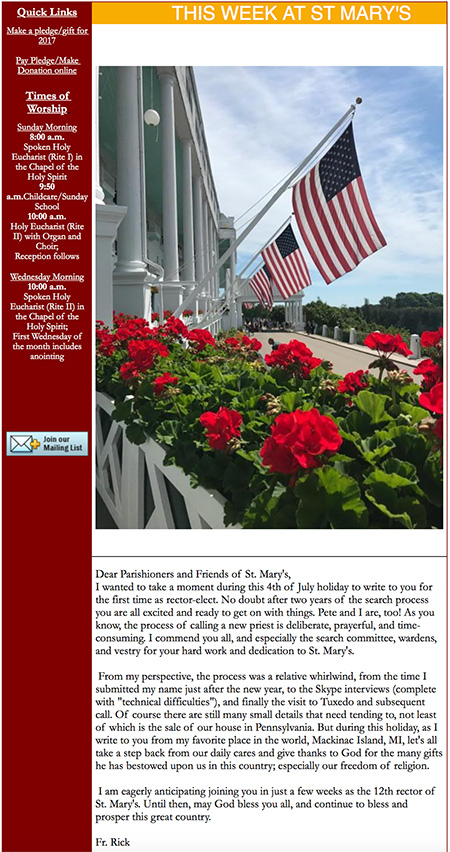 Rev. Richard Robyn Is New St. Mary's Rector - 7/5/17

This Week At St. Mary's - June 28th, 2017
Click Below to View Entire Newsletter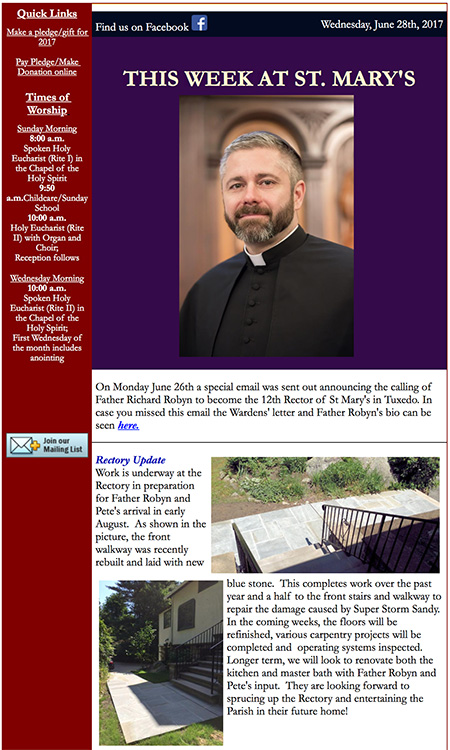 A NEW RECTOR FOR ST MARY'S- IN- TUXEDO
Click Below to View Entire Newsletter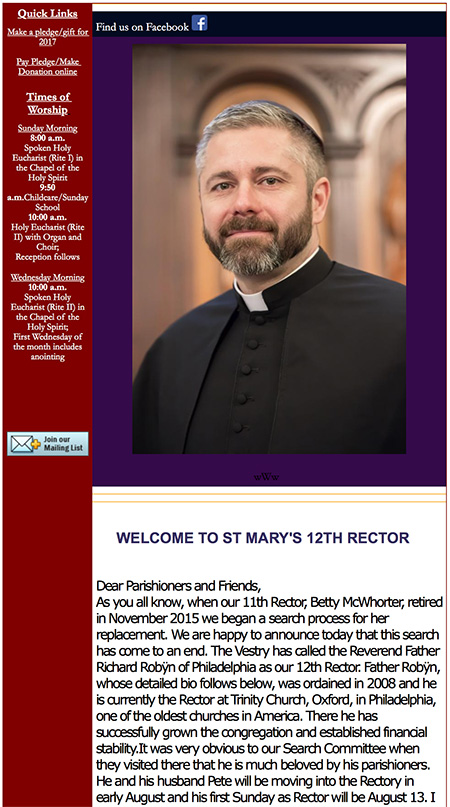 St. Mary's Community Yard Sale Saturday June 24th at Tuxedo Train Station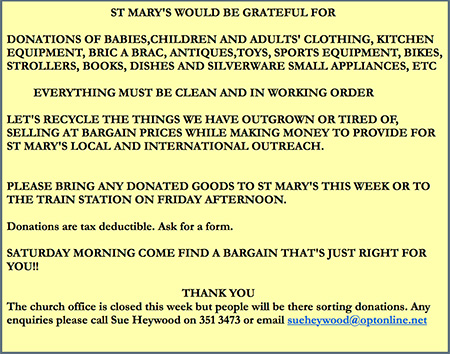 St. Mary's Trifecta June 17, 2017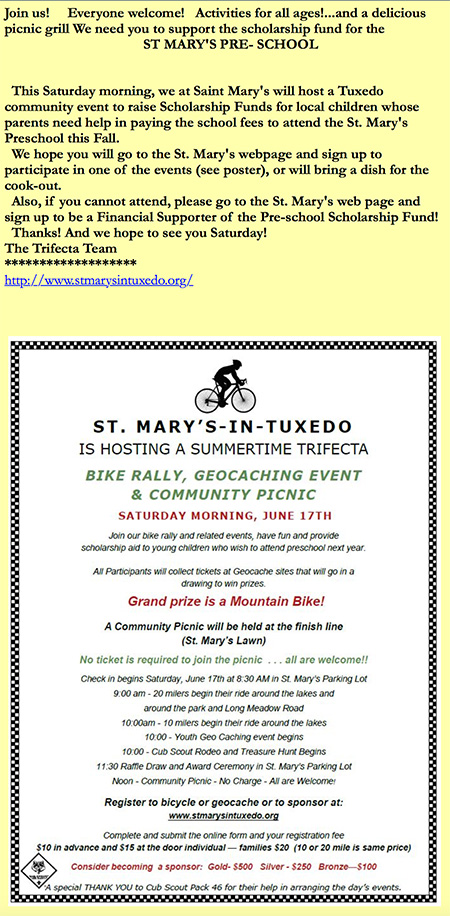 This Week at St. Mary's - June 14, 2017
Click Below to View Entire Newsletter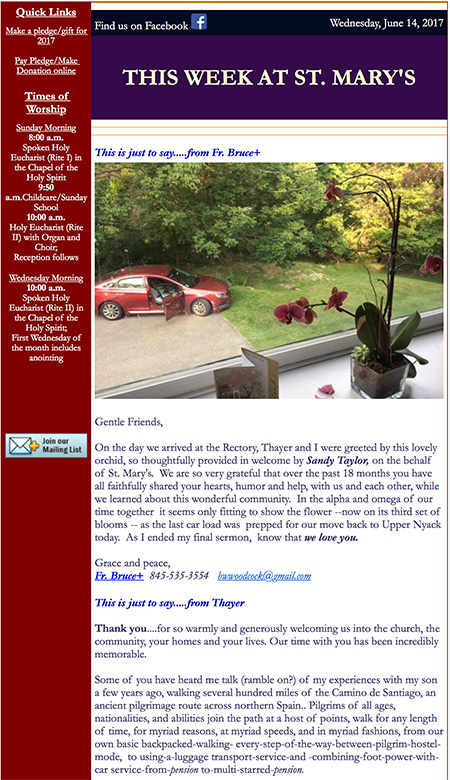 This Week at St. Mary's - June 8, 2017
Click Below to View Entire Newsletter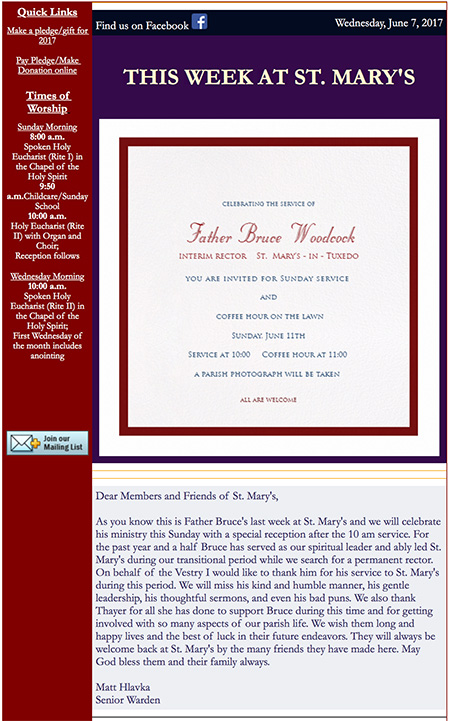 This Week at St. Mary's - May 31, 2017
Click Below to View Entire Newsletter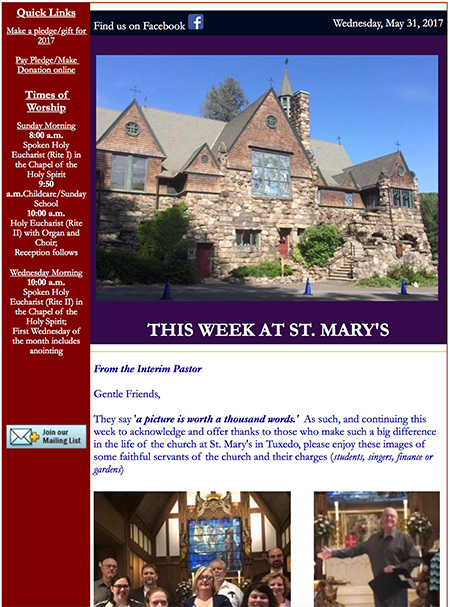 St. Mary's Bike Rally - June 17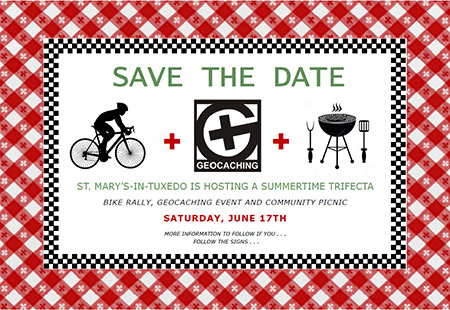 St. Mary's Youth Group and Tuxedo Bark Club Join Forces to Raise Money for the Warwick Animal Shelter June 3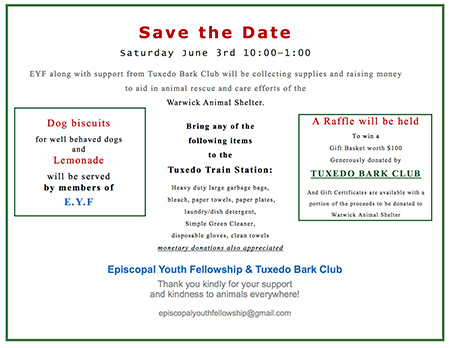 St. Mary's Youth Group and Tuxedo Bark Club Help Aid Animal Rescue and Care Efforts This Saturday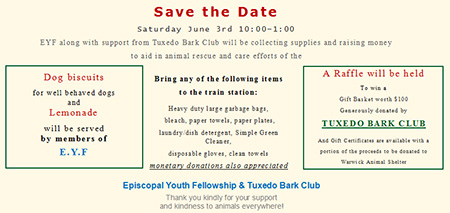 This Week at St. Mary's - May 17, 2017
Click Below to View Entire Newsletter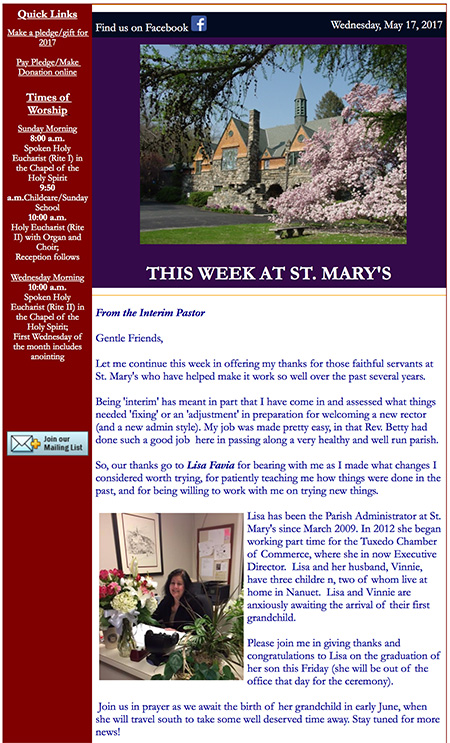 This Week at St. Mary's - May 24, 2017
Click Below to View Entire Newsletter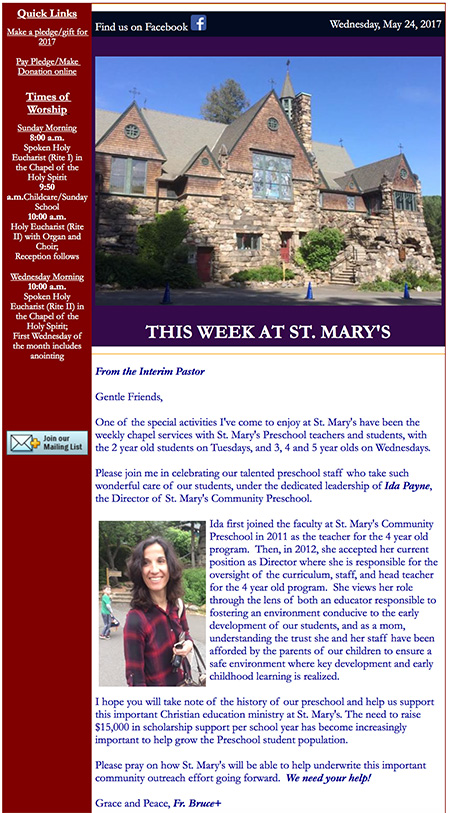 This Week at St. Mary's - May 17, 2017
Click Below to View Entire Newsletter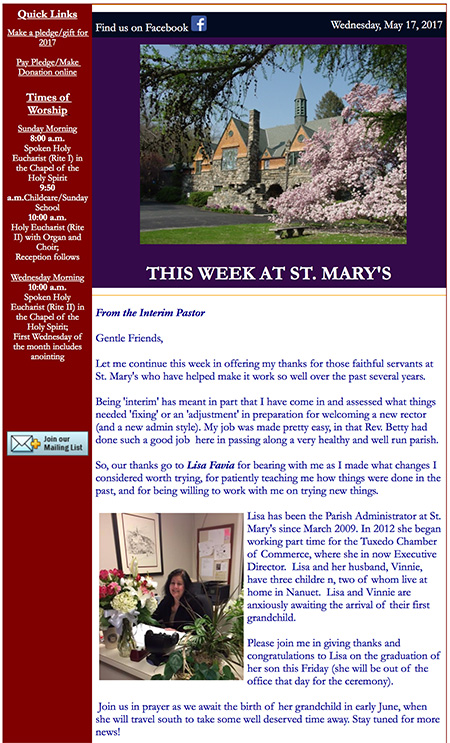 This Week at St. Mary's - May 10, 2017
Click Below to View Entire Newsletter

St. Mary's in Tuxedo