VILLAGE GOVERNMENT



Village Launches New Website (Posted 7/29/2021)
On July 29, the Village of Tuxedo Park officially launched its' new website. The site features a new design and easy to natigate format. New additions include a "Find it Fast" drop down menue and dedicated pages for Announcements & News, Applications & Forms, Meeting Agendas and official noties. Residents can also pay their Village bills (property taxes, water & sewer, tickets & fines etc.) via the site. Mayor McFadden sent out the following announcement to Village residents:
Dear Neighbors,
Welcome to the new website!

The website serves as a powerful communications tool for the entire community and potential buyers searching for a great place to call home. The site has information about our government operations, safety and security, village codes, news and announcements, services, and upcoming events. During the BETA phase, we are adding to the content and navigation.

Having a website matching the quality of living in Tuxedo Park is our goal.

If you note a typo or grammatical error, do not hesitate to contact us at edoherty@tuxedopark-ny.gov.


Be safe.


Thanks,

Mayor Mac
Click here to visit the new Village website!

Village Election Results (Posted 6/15/2021)
There were a record number of write-in votes in this year's Village election (32 for Mayor, 8 for Trustee and 1 for Judge) See below:
VILLAGE ELECTION RESULTS:
David McFadden - 152
Claudio Guazzoni - 31
Alan McHugh - 10
Michael Bruno - 2
Carson Honor - 1
David McSober - 1
Houston Stebbins - 1
Paul Gluck - 1
Elizabeth Contoir - 1
Josh Scherer
Josh Scherer - 179
Paul Brooke - 158
Mike Coleman - 89
Alan McHugh -3
Paul Gluck - 2
Maureen Coen - 2
Elizabeth Reid - 2
Rob McQuilken - 1
Robyn McFadden - 1
Claudio Guazzoni - 1
Judge:
David Hasin -153
Patrick Conklin - 1
Congratulations to the winners!

June 15 is Village Election Day (Posted 6/13/2021)
Village Elections will take place on Tuesday June, 15 from 7am-9pm at the Village Hall.
CANDIDATES
?Mayor
David McFadden (Un-opposed)

Candidates for Trustee Address Village Infrastructure (Posted 6/11/2021)
TPFYI asked the candidates the following question pertaining to Village Infrastructure:
Infrastructure is an important issue on the minds of all Village residents. Antiquated sewer and water systems along with roads, bridges and dams that require maintenance and repair, limited communications infrastructure and environmental preservation are all on the priority list. If elected, how will you work to move these critical infrastructure projects forward in the short-term without significantly raising property taxes?
Here are there unedited responses in the order they were received:
Mike Coleman
My goal is to make Mayor McFadden the best mayor Tuxedo Park has ever had. He cannot do this on his own; he will need help from Trustees like me.
If Mayor McFadden succeeds, the whole Village of Tuxedo Park will succeed.
Infrastructure is an important issue on the minds of all Village residents. To a large number of Residents, it's frustrating when things languish and are not given the proper attention by the Mayor.
To wit: the Security Booth at the Main Gates - Four years ago, when he first took office as Mayor, David McFadden was handed a file with architectural drawings, blueprints, and 5 contractor's bids. The cost for the Booth then was $125,000 for labor + materials, and 6 weeks to install.
Four years later, a Booth as big as my kitchen table is now costing $295,000, was given to a local contractor on a "no-bid basis" and is having a bit of trouble getting assembled and installed.
Mayor McFadden has a lot of skills, but unfortunately Project Management is not in his current skill set.
Project Management of the Village's infrastructure projects is a critical discipline that no one seems to enjoy doing.
Mayor McFadden needs the professional abilities, proven track record, and energy from Trustees like me for the whole Village of Tuxedo Park to succeed.
As the Global Head of business development for a fully funded startup, I am the Project Manager in over 30+ states, and 7 foreign countries.
I have not just raised money for private companies including my own fully funded startup, but also raised funds in the Public Sector.
With my outreach to the NYS Senate Office, I've successfully lobbied and raised money for public projects, such as the $10,000,000 funded to pave the Village portion of Route 17, outside our gates.
I have name recognition with the three surrounding counties as well as the NYS Senate and NYS Assembly. It is very important for our Village to have a Trustee that can ensure that real State and County funds go towards the cost of each and every Village based Project, so they not be the full burden of the Village taxpayer.
Having worked locally for the Village as a Police Officer, I am also someone who is not afraid to roll up his sleeves and lend a helping hand. I am able to effectively communicate with local contractors, I know how to be encouraging to individuals so they will perform their job more efficiently, and I am not afraid to question the Mayor when he starts talking down to our Village DPW workers and personnel.
I think that there are many pressing issues in the Village, and Mayor McFadden seems a bit scattered. With Trustees like me, Mayor McFadden will be able to effectively focus on Village infrastructure priorities in their proper order of importance, such as our leaking water distribution system or getting complete cell coverage in the Village in a manner that is both aesthetic and safe for all Residents.
In order to keep taxes steady and to correctly address our infrastructure system, I can help the Mayor address and execute the top infrastructure priorities.
I am the only Candidate, out of the three candidates running for Village Trustee, who can truthfully say that they attended Village Meetings this past year. I will hit the ground running. I live in the Park full-time, I talk to Residents & Employees so I know what's important to them historically and right now.
Josh Scherer
The key to efficient capital allocation with respect to infrastructure spending is to have a long term, multi-year or even multi-decade plan. Without a long-term maintenance, replacement and upgrade infrastructure plan the Village will inevitably be reacting to short term emergency fixes that are expensive and normally outside the budget. With a long-term plan in place raising bonds or applying for grants from the State become a possibility. Ideally, with a long-term plan, we avoid the one-off emergencies that are so costly, and are better able to meet our budget goals. As a Village Trustee I will lean on my background in finance to ensure the validity of our existing long-term plan and actively pursue financing alternatives. As a Governor of The Tuxedo Club I have directly relevant experience as we have been actively discussing the dealing with these very same issues over the last several years.
Paul Brooke
TPFYI has asked how we might move forward on infrastructure projects without raising property taxes.

Since I have not been privy to all the work that has been on these critical infrastructure projects, my strategy is quite simple.
1. Develop a more profound knowledge of different issues where work has been undertaken.
2. Establish projected costs.
3. Develop a consensus on priorities as a board.
And 4. determine what we can afford and how it might be financed. This will be a multiple-year project that must be sequenced.

We must think broadly about solutions. Tuxedo Farms, I have been told, has constructed and has unused water and sewer facilities in place with significant capacity. Can something be structured with them? Can something be done involving the town?

These issues will be budget-driven. Strategies must be developed that will be a mix of increasing revenues, decreasing costs, or increasing cost absorption.


Village Candidates Talk about the Future of the Wee Wah Beach Club (Posted 6/3/2021)
TPFYI asked the Trustee candidates the following question pertaining to the Wee Wah Beach Club:
Management of the of the Wee Wah Beach Club became a hot button issue this past spring when Mayor MdFadden proposed major changes to the 87-year-old agreement between the Club and the Village. Many residents came forward on both sides of the proposed plan, which called for the Village to take over the primary management of the Club, controlling all fiduciary aspects of its operation, and further outlined plans for significant upgrades to the Village-owned property, which would occur only if the Village assumed control of the Beach Club/swimming swimming season. After weeks of discussion and debate, the changes were not adopted due to the time constraints surrounding the 2021 swimming season however, Mayor McFadden announced that a committee would be formed to formally discuss and explore options for the future of the Club's management.

What is your view on the management of the Wee Wah Beach Club? Should the current agreement be honored moving forward or do you feel the Village should assume primary management? What kind of impact might all of this have on Town/Village relations?
Below are their unedited responses in the order they were received:
**Although he is running unopposed and we did not officially reach out out to him with the question, Mayor McFadden has requested that his response be published. His response can also be found below.**
Mike Coleman
My goal is to make Mayor McFadden the best mayor Tuxedo Park has ever had.
He cannot do this on his own; he will need help from Trustees like me.
If Mayor McFadden succeeds, the whole Village of Tuxedo Park will succeed.

To be a great Mayor, management of the Wee-Wah Beach Club is one of those issues where Mayor McFadden could use a small bit of coaching from Trustees like me.
A great number of Village Residents and Town-folk alike felt that at the Village Trustees meeting, Mayor McFadden badly mistreated those folks who work and volunteer for the Town as EMT's, Firefighters, and Police Officers, I just re-watched a video of the Meeting, and sadly I cannot disagree.
After all, these are the folks who, with great enthusiasm, use the Wee-Wah Beach Club each weekend. Why not create a bit of neighborly outreach to them.
Even the most hardened-heart can realize that when a house is burning, or a loved one is having a heart attack, these are the folks who will promptly and enthusiastically respond to our needs.
Why jeopardize this relationship?
I think that there are many more Village priorities that are a lot more pressing than this one.
With Trustees like me at his side, Mayor McFadden will be able to correctly focus on Village priorities, in their proper order of importance, like our aging infrastructure.
Paul Brooke
I have read about the issues and discussed them with several people, both Trustees, and residents. At this time, I do not know enough. TPFYI's narrative indicates that the Wee Wah Beach Club management was left unchanged for this year in a Trustee vote. A committee of residents and WWBC executives is forming to examine the issues of improvements and property management. From my perspective, when I agreed to run, I identified three short-term topics: water quality in the big late, water leakage from old infrastructure, and the Wee Wah Beach Club.

In terms of focus, the first two items are the priority — water quality and leakage. To my knowledge, there was a working arrangement approved for this summer by the Board of Trustees.

From a larger perspective, the relationship between the Town and Village are significant with significant historical precedent. There are town/village issues that will need and benefit from mutual concordance, including Tuxedo Farms and the school. I think the WWBC property and facility need improvement and are secondary to the more significant issues.
Josh Scherer
I understand that the Wee Wah Beach Club (WWBC) and the Village Board agreed to create an exploratory committee to research this issue and present a proposal to the Village Board, the WWBC and the Public. I am independent and will consider their recommendation, along with feedback from Village residents, before I make a decision on this important issue. One consideration I will be focused on is how it affects the relationship between the Town and Village, as there is a longstanding tradition of opening up the facility to hamlet members.
David McFadden
While I am running unopposed on the ballot, I respectfully request that TPFYI publish my answer to the question and the proposal I made for the village to partner with the WWBC for the 2021 season.
The idea of the village running the financial aspects of the WWBC came about when a village resident said they would oversee a $100,000 donation to the village to make physical improvements to the facility & park property if the village ran the finances.
Over time, the likelihood of a donation diminished, but the idea of the village running the finances and the WWBC running the day-to-day operations gained a foothold among many village residents. Many residents expressed their willingness to make donations to improve the physical property if the village controlled the finances. I believe the second and third-hand descriptions of what was proposed are overplayed but effective in turning some members and others against the proposal.
First and foremost, a rumor that the plan eliminated the WWBC when the proposal is a partnership with the village running the finances and the WWBC running the day-to-day operations.
Second, the proposal called for guaranteed Hamlet membership for the next 5 to 10 years, but this did not make it into the public domain.
All said and done, the village board and WWBC agreed to hear the recommendations of a committee to form to discuss a partnership for the 2022 season. I look forward to the discussion and will keep an open mind.

Trustee Candidates Weigh in on Lakes Management (Posted 5/27/2021)
TPFYI asked the Trustee candidates the following question with regard to protecting the Village Lakes:
Over the course of the last decade the Village has invested hundreds of thousands of dollars into a myriad of studies aimed at understanding and improving the condition of all three Village lakes with a focus on controlling the spread of Eurasian Water Milfoil. At this point, how do you think the Village can and should move forward in actively protecting what is arguably its largest asset in reasonably cost effective way?
Here are their unedited responses in the order they were received:
Significant resources and management time have been spent over a number of years on understanding and improving the three lakes in the Park. This is not a new issue. For analytical framework, the large lake is a reservoir while Pond 3 and the Wee Wah are not. That is why swimming in the Wee Way and Pond 3 is permitted.
With respect to choices for Tuxedo Lake, there are essentially three: Do nothing, Undertake a chemical treatment, Engage in laborious process of harvesting or hand pulling the milfoil.
Doing nothing is not acceptable because unmanaged EWM negatively effects water quality.
Last year, Pond #3 was chemically treated as a test. In part this was possible because it is not a reservoir. From what I have read and heard, the treatment has been successful and safe.The chemical used is EPA approved for use in reservoirs. Additionally, there are a number of choices.
If one looks at a cost effective analysis, doing nothing is prohibitive in its long term negative effect, hand pulling or mechanical harvesting is very expensive and I think unlikely to be effective long term, and chemical treatment seems safe, effective, and economic.
Hence I support chemical remediation. The issues are which chemical and over what time frame.
Eurasian Milfoil grows up to depths of 12 feet. So the literal parts of the Lakes (coast-line) are most affected.

We have attempted a matting process for the elimination of milfoil sort of like the garden mat you put down for weeds. The mats provide limitations by area, and are effective in controlling any plants that are underneath it. The longer the mats are in place, the more effective they will be. If a rotation is done on a 6 week basis, within that time frame the plants that were originally killed off will begin to re-grow after the mat has been moved. It is an effective small scale solution. Unfortunately, we have a large scale problem.

We have tried hand pulling the Milfoil. However, milfoil is spread by fragmentation. Any kind of physical or mechanical management practice runs the risk of spreading the problem. As careful as they might be, if pullers are cutting with a harvester and collecting it, there is still going to be fragmentation. "I know nobody wants to hear it but, milfoil is typically managed with herbicides because that is the best method for that particular plant." said Glenn Sullivan, expert on Milfoil.

Using a herbicide could be a less expensive way for a village than the time consuming hand harvesting conducted by drivers. We just need to find the right one that is not harmful to both lake and residents.

At the end of June 2020, Pond #3 had been treated with herbicide ProcellaCOR, and although there has not yet been an official survey done, both the Lakes manager and the residents who live around Pond #3 have indicated that the results have been astonishingly good.

In the short term this has seemed to be solution because the milfoil appears to be gone, and there has been no apparent impact on the other native plant species there.

As one long-time resident said "for the future, it is important to openly communicate with the Residents so that they were aware that plans were being made and that the Village intended to promulgate them."
Josh Scherer
As your question references, multiple studies over several years have been conducted along with public hearings. Not surprisingly, this issue generates strong views among our residents as potential solutions may detrimentally affect the health of the local environment, the fish and wildlife, as well as our own bodies since Tuxedo Lake is of course our source of water. The cost of any fix is also of paramount importance as we already have a constrained budget.

On a preliminary basis I have researched this issue, in part by talking with current and former Village Trustees, as well as reading perspectives of previous Village Trustee candidates on TPFYI.com and the transcript of the April 2018 public hearing about the water quality of the three lakes.
While I remain open minded and would like to discuss the situation with subject matter experts, it appears that the most effective solution is a herbicide treatment similar to that applied on Pond 3 over the last two years. I understand that the treatment is USEPA and NYS DEC approved, and that these herbicides (or similar ones) have been used nationwide since the mid 1980s with no long term negative effects recorded. I also understand that there has been no negative impact recorded to the aquatic ecosystem in Pond 3 during the test period and that our lake managers have concluded after a decade of research that this is the best path forward.

Meet The Candidates for Village Trustee (Posted 5/21/2021)
On Tuesday, June 15, Tuxedo Park residents will head to the polls to elect two new Village Trustees to fill the seats currently occupied by Trustees Alan McHugh and Paul Gluck. Three candidates ary vying for the open seats. In an effort to help residents get a better idea of who the candidates are, why they have chosen to run and what their priorities will be if elected, TPFYI presented each Candidate with a brief questionnaire. Their unedited responses are posted bellow in the order they were received.
There are many important issues currently facing the Village of Tuxedo Park and residents should know where the Trustee Candidates stand before casting their votes. In the weeks leading up to the election, TPFYI will pose one issue-based question per week to the candidates. The responses to these questions will then be posted ( unedited and in the order they are received) each Friday, for residents to consider.
Name:
Immediate Family:
I have raised four children in Tuxedo Park: Anna, Joseph, Maxwell, and Nicholas.
Education/Degrees:
AB, Columbia College; MA, Columbia University
Vocation/Employer:
Chairman, Caelum Biosciences. Former Founder and Managing Partner of venBio, a venture capital and public equity investment firm. Former Managing Directior, Morgan Stanley, Global Head of Health Care Research and Strategy.
Years of residency in the Village:
Government Experience:
Board of Directors Pure Earth; former Board and Director of Development of the Council on Economic Priorities.
Volunteer Work in the Village or Town of Tuxedo:
Former Chairman, Planning Board and Board of Architectural Review of Tuxedo Park. Various projects with St Mary's Church.
Briefly, why are you running for Village Trustee?
Tuxedo Park is at an unusual juncture. Post Covid-19, there has been an influx of new residents and a number of long time residents spending more time here. I myself have become full time. Issues before us need to be addressed and be done so with a coherent Board.
What skills and attributes will you bring to the Village Government?
I am practical, straigntforward, clear, and my long residence and historic knowledge of the Village issues and government provide an ability to address complex problems, create solutions and achieve concensus.
What are the three most important issues currently facing the Village?
1.Short term: Lake and water quality 2.Intermediagte term: Aging infrastructure 3.Long Term: Taxes and Tuxedo Farms.
Are you willing to answer 1 issue- driven question a week leading up to the election with answers to be posted on TPFYI.COM? Yes
Name:
Joshua S. Scherer
Immediate Family:
Rowena Scherer (spouse) and two children, Justin (17) and Ashley (14)
Education/Degrees:
BA in Economics from Middlebury College
Vocation/Employer:
Career investment banker. Partner at Ducera Partners LLC. Lead Director at Arcimoto Inc., a publicly traded Electric Vehicle manufacturer (NASDAQ: FUV).
Years of residency in the Village:
11 years
Government Experience:
Currently a member of the Village Planning Board. Member of the New York State mandated Police Reform Committee.
Volunteer Work in the Village or Town of Tuxedo:
In addition to the Planning Board and the Police Reform Committee, I am currently a Governor at The Tuxedo Club.
Briefly, why are you running for Village Trustee?
The Village is facing a number of issues that will require discussion, coordination and consensus among the Board of Trustees, BAR, PB, BZA, residents, and other stakeholders of the community: the Tuxedo Park School, the Church, The Tuxedo Club and the Police. Given my professional and volunteer services I believe I am well positioned to help the Village tackle many of these issues.
What skills and attributes will you bring to the Village Government?
Leadership and Governance experience
Transparent, ethical and straightforward
Focused on solving problems
Deep Finance & Budget experience
What are the three most important issues currently facing the Village?
Short and Long-term analysis of bonds and debt consolidation
Conservation and Environment
Community Policing and Village Employees
Are you willing to answer 1 issue- driven question a week leading up to the election with answers to be posted on TPFYI.COM? Yes
Name:
Immediate Family:
Father: Robert Wilkin Coleman Mother: Joanne Mayol Coleman
Brothers: Paul Robert Coleman, MAJ Carl Robert Coleman, Chistopher Robert Coleman
Education/Degrees:
SUNY Orange A.S Degree - Business Marketing Marist College:
B.S Degree - Psychology/Criminology/Liberal Studies
Vocation/Employer:
60 Fuel Ltd. (Fully Funded Startup) Vice-President - Global Business Development
Years of residency in the Village:
Government Experience:
Town of Tuxedo:
-Advised Economic Development Council
-Forged closer ties with the Orange County Executive Office
Volunteer Work in the Village or Town of Tuxedo:
Town of Tuxedo:
-Worked with elected officals on economic growth
-Helped secure $10 million dollars from NYS Senate & NYS DOT to repave our portion of Route 17. -During COVID, worked with Town and Village to secure much needed PPE.
Briefly, why are you running for Village Trustee?
It is very important to me that Tuxedo Park is taken care of in the long run, as it will be the home to, not only myself, but more importantly to my children as well.
What skills and attributes will you bring to the Village Government?
Very strong Orange County & New York State government connections that can bring revenue and grants for the Village. I am reliable, friendly and always willing to lend a helping hand.
I am moderate in my views, respectful of everyone.
I am committed to diversity and inclusion, welcoming to all Residents.
I have ablitiy to tap into the energy and creativity of everyone who lives in the Park today.
What are the three most important issues currently facing the Village?
1. Balancing the budget for the Village, capping taxes for the Village, and working with the Orange County Government to bring in revenue and grants.
2. Creating a environmentally sustainable lake & water plan.
3.Ensuring Village government decisions are transparent to all residents and are not marred in backroom dealings.
Are you willing to answer 1 issue- driven question a week leading up to the election with answers to be posted on TPFYI.COM? Yes

3 Candidates Vie for 2 Seats on the Village Board of Trustees (Posted 5/14/2021)
The 2021 Village Election will take place on Tuesday, June 15. The following residents have submitted nominating petitions for the positions of Mayor, Village Trustee and Village Justice:
Mayor
David McFadden, Lower Taxes Party (Un-opposed)
Trustee
Paul Brooke - Preserve Party
Michael R. Coleman - Checks+Balances Party
Joshua Scherer - Joshua Scherer Party
Justice
David V. Hasin, Tuxedo First Party (Un-opposed)
The election will fill the positions of Mayor and Jusice as well as two Trustee seats, which are currently held by Alan McHugh and Paul Gluck.
Voting will take place in person from 7am-9pm at the Village Hall or by absentee ballot.

REGISTER TO VOTE IN TUXEDO PARK (FORM)
genda for Village Planning Bo
back to top

Coming in June: A New Traffic Booth for Tuxedo Park (Posted 5/6/2021)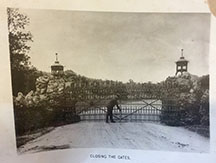 When a drunk driver collided with the traffic booth at the entrance of Tuxedo Park back in the fall of 2015, destroying the structure entirely, nobody could have guessed that it would take almost 6 years to replace. But, following 5 and 1/2 long years of community surveys, open forums and Trustee debate, a new booth will finally be installed next month. Village Mayor David McFadden is largely to thank for the project, having worked diligently to encourage private fundraising efforts, draft plans, procure contractors and cut through a seemingly unending litany of red tape in an effort to move things forward. A dedicated page on the Village's website has tracked the construction process through photos over the past several months , depicting everything from the welding of the steel undergirding, to the additional of wood framing, cedar shake roofing and Bullet proof glass. The new steel and concrete foundation has been framed and poured. Over the course of the new few weeks the finished booth will be delivered and set on the new foundation where granite columns will be installed and utilities hooked up. Once complete the new booth will offer almost double the square footage of the old one and will be able to safely and comfortably house two officers at a time.
You can check out the Design Drawings, construction progress photos, and even a video showing the inside of the completed structure by clicking here!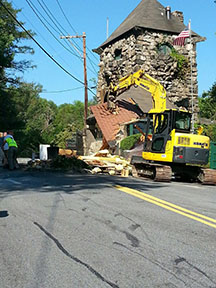 The Booth is demolished in fall of 2015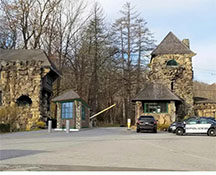 Rendering of New Booth

Combatting The Emerald Ash Borer (Posted 4/20/2021)
Residents may have noticed a number of trees in the Park that are losing their bark. These are Ash trees and the ones shedding their bark are infested with an invasive insect called the Emerald Ash Borer. This insect kills the trees they infest and have killed tens of millions of Ash trees in 30 or more states. There are many ash trees in the Park and residents may have some on their property. The insect can be treated with an insecticide but it should be administered by a professional. If residents have ash trees on your property or suspect they do, and want to save them, they should consult their arborist and act soon.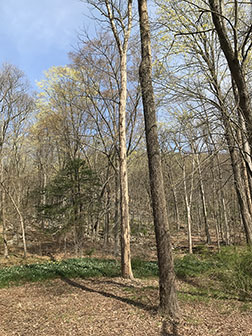 April 22 is "Shredding Day" in The Village (Posted 4/5/21)
On Thursday, April 22nd the Village will be hosting a document shredding day. They have hired a company called Legal Shred to bring a shredding truck that will be parked at the Village Office between 12pm and 3pm. This event is open to all residents of Tuxedo Park and it is free. If that time is not convenient for you, you may leave your papers in the locked storage room and the company that has been hired will do the rest. If you prefer to come the day of the event and drop off the papers yourself, you may do so. No appointment is necessary.

From The mayor's Desk (Posted 3/18/2021)
3/18/2021

Dear Neighbors,

I want to thank Denise Spalthoff, John Ledwith, John Bellow, and Jeff Voss for addressing the recent significant water main breaks in the Village and the Town. We recognize these occurrences are very inconvenient, and we apologize. Our aging infrastructure has been and continues to be a concern to us, the taxpayers, and is currently my top priority as Mayor.

We will continue to engage qualified vendors and professionals to assist with our immediate and long-term repairs, maintenance, and capital planning to achieve solid results and savings to the bottom line. Before the end of this term, with Board approval, I will commission a brief-targeted status report and public scrutiny recommendations.

I also want to thank the remainder of the Village staff and Deputy Mayor Tinka Shaw for their management acumen during my recent absences. From March second through March eleventh Robin and I attended a family bereavement retreat with four other families who have lost children. As the Board and Village employees were aware, I had no access to email, texts, or telephone calls. The retreat was moving and beneficial, and I am happy to share the experience with you privately if you or someone you know might benefit.

Second, the day after returning home, I ruptured my right quadriceps tendon by placing a heavy load on my partially bent knee. Fortunately, timing-wise, I had surgery yesterday, and my prognosis is excellent for a full recovery. As a result, the March regular meeting and continuation of the public hearing is next Wednesday, the twenty-forth.

In addition to infrastructure, my next priority is the 2021-2022 Village budget. I am dedicated to the same hardline approach to reduce unnecessary expenses and minimal tax increases. I anticipate a more efficient and less stressful process this year due to increased home sales credits and new efficiencies in department-wide spending in the current fiscal year.

With Board approval, this includes my current efforts to cancel and replace a previously approved $194,000.00 truck and snowplow equipment with a less expensive, more efficient model matching our current fleet's needs.

Over the next several days into my recovery from surgery, I still will not be as readily available as usual. Please direct any day-to-day Mayoral concerns to Elizabeth. She will distribute your message to Tinka and me.

Stay safe.

Thank you,

Mayor Mac

Village Seeks Community Input on Police Reform Plan (Updated 3/2/21)
On June 12, 2020, Governor Cuomo signed Executive Order 203 entitled New York State Police Reform and Reinvention Collaborative. Established shortly after the death of George Floyd and the resulting nation-wide protests, the order requires every local government that maintains a police department in the State of New York to conduct a comprehensive review of that department's use of force, strategies, policies, procedures and practices and to develop a plan that reinvents and modernizes these things based on community input. The purpose of the plan is to foster trust, fairness, and legitimacy, through community engagement as well as to address any racial bias and disproportionate policing of communities of color where it may exist. The plan must be adopted by the governing board no later than April 1, 2021 and order authorizes the Director of the Division of the Budget to condition State aid on the adoption of such a plan.
The Governor issued formal guidelines for the process in August.
Many local towns and villages have responded to the order by putting together advisory committees inclusive of government officials, the police, the clergy and various representatives of the community considered to have a stake in policing. Several municipalities have also distributed surveys to their residents in an effort to gauge how they feel about their interactions with the police and where improvements might be needed. In January, the Village of Tuxedo Park chose to do both. The committee reviewing police practices consisted of Police Chief David Conklin; Mayor David McFadden; Trustee Chris Kasker; Serena Mueller, Associate Head Tuxedo Park School; Rev. Rick Robyn, St. Mary's-in-Tuxedo Church; Joshua Scherer from the Tuxedo Club, attorney Stewart Rosenwasser and TPFYI Reporter/life-long Village resident, Meg Vaught.
The executive order required that certain topics be reviewed and discussed and that a number of evidence-based policing strategies such as use of force policies, implicit bias awareness training, community-based outreach and conflict resolution, de-escalation training and practices, problem-oriented policing and ttudies addressing systemic racial bias or racial justice in policing be considered. The Village committee touched on all of these and more also taking the time to consider the desired roll of police in the community and various methods of improving community engagement, how the department is staffed and a variety of methods for employing smart and effective policing standards and strategies moving forward.
These discussions were aided by the distribution of a community survey, which was completed by 80 some-odd residents.
The final result of this work is a solid Reform and Reinvention Plan, which was posted to the Village website on February 17.. The Village is asking residents to review the plan and come forward with comments and suggestions prior to the March 17 Board of Trustees meeting. After careful consideration of any and all public comments, the Board will move to adopt the plan at that meeting.

The Town of Tuxedo has approached the process in a slightly different way, forming a larger committee, which is open to any and all interested residents. At a recent meeting on Wednesday, February 24, the group formed a number of subcommittees each of which will spend the next several weeks focusing on key ares such as Responding to Injustice Issues & Inequities, Community, Department Policies, Practices, Staffing, Recruitment & Training and Menral Health Interactions with Youth and Schools. The next joint meeting (all subcomittees) is scheduled to take place on Wednesday, March 24 from 6:30-8:30pm via WebEx and is open to the general prublic. At that time the committees are expected to present their findings and recommendations. No information has been provided to date as to who will be drafting the final report for the State or when a copy will be made available to the general public for comment.

Village Tax Grievance Day Information (Posted 2/6/2021)
Dear Neighbors,
TENTATIVE TAX ROLL 2021-2022
Click to access 2021-2022-VTP-Tentative-Assessment-Roll-Landscape.pdf
GRIEVANCE DAY OFFICIAL NOTICE
Did you know you have the right to grieve your taxes every year?
Click to access Grievance-Day-Official-Notice_2.3.2021.pdf
GRIEVANCE DAY APPOINTMENT SIGNUP PROCEDURE
If you plan to grieve your assessment on February 16th we ask you to sign up for a time slot. We intend to schedule three (3) applicants per Group – first come first served. The choices are:
BEGINS AT 4:00 pm
Group One – 4:00 pm to 4:29 pm
Group Two – 4:30 pm to 4:59 pm
Group Three – 5:00 pm to 5:29 pm
Group Four – 6:00 pm to 6:29 pm
Group Five – 6:30 pm to 6:59 pm
Group Six – 7:00 pm to 7:29 pm
Group Seven – 7:30 pm to 8:00 pm
ENDS AT 8:00 pm
Applicants will be kept in the ZOOM Private Waiting Room (Optional) until it is their turn. To Schedule please contact Elizabeth at the Village Office by phone at 845-351-4745 Ext 1, or by email to edoherty@tuxedopark-ny.gov
FORM RP-524
Click to access rp524_fill_in_form.pdf
FORM RP-524 INSTRUCTIONS
Click to access rp524_instructions.pdf
ZOOM INSTRUCTIONS
By Computer
https://us02web.zoom.us/j/86798441736?pwd=RjAyUG9NdUVTcFpOVEtsM2pXNHNSdz09
Meeting ID: 867 9844 1736
Passcode: 010669

By Smartphone
+16465588656,,86798441736#,,,,*010669# US (New York)

By Phone
+1 646 558 8656 US (New York)
Meeting ID: 867 9844 1736
Passcode: 010669

Stay safe.
Thank you,
Mayor Mac

Village Police Reform Planning (Posted 1/12/21)
Dear Neighbors,

Established by Governor's Executive Order in June; Localities Must Adopt a Plan by April 1, 2021, to Be Eligible for Future State Funding.

The recent guidance from the NYSPRRC builds on the Governor's actions following the death of George Floyd. Earlier this year, Governor Cuomo signed into law a series of reform policy items - called the "Say Their Name" agenda - including allowing for transparency of prior disciplinary records of law enforcement officers by reforming 50-a of the civil rights law; banning chokeholds by law enforcement officers; prohibiting false race-based 911 reports and making them a crime; and designating the Attorney General as an independent prosecutor for matters relating to the deaths of unarmed civilians caused by law enforcement.

With more than 500 law enforcement agencies in our large and diverse state, there is no "one size fits all" solution. To rebuild the police-community relationship, each local government must convene stakeholders for a fact-based and honest dialogue about their community's public safety needs. Each district must envision for itself the appropriate role of the police. Policies must be developed to allow the police to do their jobs to protect the public, and these policies must meet with the local communities' acceptance.

Village of Tuxedo Park Police Reform Plan – The Chief and I have put together a committee of community stakeholders (the Police Reform Committee) to develop the plan. The plan will focus on community policing. The committee members are Village Police Chief Dave Conklin, Village Mayor David McFadden, US ARMY Ret Col & Village Trustee Chris Kasker, Serena Mueller, Associate Head of School at Tuxedo Park School, Joshua Scherer, Governor of the Tuxedo Club, and Richard "Father Rick" James Robÿn, St. Mary's-in-Tuxedo Episcopal Church. Our collaborative process will:
Review the needs of the community served by its police agency, and evaluate the department's current policies and practices;
Establish policies that allow police to effectively and safely perform their duties;
Involve the entire community in the discussion;
Develop policy recommendations resulting from this review;
Offer a plan for public comment;
Present the plan to the local legislative body to ratify or adopt it, and;
Certify adoption of the plan to the State Budget Director on or before April 1, 2021.
If you have constructive suggestions you would like to share with the Committee, please send an email to VTPpoliceReform@tuxedopark-ny.gov.

Stay safe.

Thank you,
Mayor Mac

Longtme Village Clerk Debbie Matthews Retires (Posted 12/4/2020)
On December 4 the Village says goodbye to longtime Village Clerk/Treasurer Debbie Matthews, who is retiring after nearly 30 years of service to the Village. Debbie's extensive knowledge, expertise, patience and professionalism has helped to keep the Village running smoothly through multiple administrations over the last 3 decades. She will be sorely missed by everyone, especially the Team at TPfyi.
"Today was bittersweet as we cherish the moments together today thanking Debbie for her service," said Mayor McFadden. "We took the opportunity to present Debbie with a gift, and I read the following proclamation. "By the power vested in me as the Mayor of the Village of Tuxedo Park I name the Date of December 4th as Village Clerk-Treasurer Debbie Matthews Day in honor of her three decades of service to the Village of Tuxedo Park and that every future December 4th the Village Board will post a statement of recognition on the Village Website in honor of this day."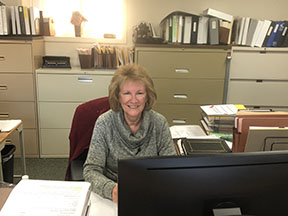 (Photo Credit - Meg Vaught 12/3/2020)
Thank You Debbie Matthews (First posted 11/30/2020)
Dear Neighbors,

Debbie Matthews, the Clerk-Treasurer for the Village of Tuxedo Park, is retiring from her daily activities Friday. Thanks to Debbie these last two months of training, Elizabeth Doherty, former Deputy Clerk-Treasurer of Monroe Village, is well prepared to take over as Village Clerk-Treasurer.

Debbie has served the Village and its residents tirelessly and with dedication and integrity for almost three decades. A testament to Debbie's success is the compliments she received consistently from her coworkers, members of every elected and appointed board, and, most importantly, from Village residents. To a person, we have relied on her professionalism, even under the most stringent deadlines. Debbie has contributed significantly to the Village and is now part of the long and rich history of Tuxedo Park.

Debbie, thank you for your friendship and service to the Village and enjoy your well-deserved retirement.


Stay safe.

Thank you,

Mayor Mac

Work on the Village Traffic Booth Continues! (Posted 12/2/2020)
Click here to check out the latest images and follow the booth contruction process!

Village Booth Project Finally Moves Forward (Posted 11/12/2020)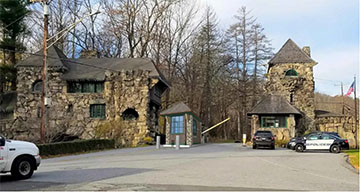 After years of delays and debate, The Booth project is finally underway! Mayor McFadden sent a village-wide update on Thursday, November 12 announcing progress and directing residents to a new section of the Village website where the construction will be chronicled. CHECK IT OUT!
Dear Neighbors,

After a number of project meetings with the various vendors, the booth construction is underway. I set up a village website page to loosely chronicle its construction. 95% of the booth is being fabricated off-site in a warehouse in town to lower construction costs, avoid weather delays, and to minimize traffic delays and detours at the front gate. Please join me in thanking the private donors whose generous donations made this possible, and 100% tax-free.

Village Web Page
http://tuxedopark-ny.gov/booth-construction-progress

Stay safe.


Thank you,

Mayor Mac

Boil Water Notice (Posted 11/3/2020)
Dear Neighbors,

Loss of pressure in some areas in Tuxedo Park

RESIDENTS LIVING ON TOWER HILL ROAD & CLUBHOUSE ROAD

BOIL YOUR WATER BEFORE USING

Bring tap water to a rolling boil, boil for one minute, and cool before using, or use bottled water. Boiled or bottled water should be used for drinking, making ice, washing dishes, brushing teeth, and preparing food until further notice.

This Boil Water Notice applies to Tower Hill Road & Clubhouse Road. If you do not live on these roads but believe you have had a drastic change in water pressure on Sunday evening please contact Denise Spalthoff at the Village Police Department 845-351-4741 or dspalthoff@tuxedopark-ny.gov and we will send a DPW employee to check your system or provide you with updated information.

What Happened?

At about 6:00 pm on Sunday, November 1st, the water system lost pressure due to a water main break at Tower Hill Road and Tuxedo Road. When water mains lose pressure it increases the chance that untreated water and harmful microbes can enter your water.

Harmful microbes in drinking water can cause diarrhea, cramps, nausea, headaches, or other symptoms and may pose a special health risk for infants, some elderly, and people with severely compromised immune systems.

What is being done?

The major repair work is complete. The OCDOH requires two consecutive days of positive water sample testing before we return to normal. Therefore, it is likely that you will need to boil water for the next 3-days until the OCDOH gives us the all-clear. You will be informed when tests show that you no longer need to boil your water.

For more information, please contact:

Denise Spalthoff at the Village Police Department 845 351 4741 or dspaltoff@tuxedopark-ny.gov, or the Orange County Department of Health at 845-291-2331.

Please share this information with other people who drink this water, especially anyone who may not get this notice directly


Stay safe.


Thank you,

Mayor Mac

ELECTION RESULTS (Posted 9/15/2020)
Chris Kasker - 227
Tinka Shaw - 215
Mike Coleman - 78
JJ Watson – 57
5 write-ins:
Richard Bartlett
Michael Bruno
Martha Hakmat
Christopher Gow
Houston Stebbins S
Congratulations to Trustee Elects Kasker and Shaw!

VILLAGE TRUSTEE ELECTION - TUESDAY, SEPTEMBER 15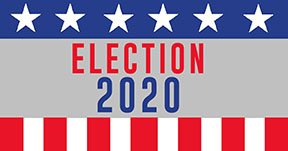 Poll hours 7:00 a.m. to 9:00 p.m. in the Village Hall. Voting will be done in person or by absentee ballot.
*If you wish to vote by absentee ballot, please complete the attached application and mail to the Office of the Village Clerk, P.O. Box 31, Tuxedo Park, NY 10987 or drop off in person. As per NYS election guidelines, electronic applications are NOT allowed. Applications are available for download on thw Village Webite

Making Long-Term Improvements While Keeping Taxes at Bay: The Trustee Candidates Talk About Taxes (posted 9/12/2020)
TPFYI presented the Candidates with the following question:
If elected, how will you work to balance the need for significant infrastructure work and the Village's long-term fiscal viability without significantly raising property taxes?
Here are their answers in the order they were received:
JOHN JAMES WATSON:
This is the most important challenge we will face as a community and as a Board of Trustees.
If elected, I will work hard to balance the need for significant infrastructure work and the Villages' long-term fiscal viability without significantly raising property taxes by implementing intelligent and creative public/private investment offerings and breakthrough alternative sources of revenue for key infrastructure.
Whereas the current taxes are already too high and municipal infrastructure is deteriorating rapidly. I want to put a Cap on Tax. Whereas we don't have the cash to pay for the necessary upgrades and basic maintenance. Whereas it seems as if we're kicking the can down the road and at some point in the not so distant future the infrastructure will catastrophically fail and force us into a state of emergency. Therefore, we must take bold and strategic actions to solve these issues, now, and expect to work hard over the next ten years to get us on our next hundred year path.
Infrastructure investment is very much a long-term play and will cost tens of millions of dollars; therefore, it's necessary to involve private industry and the spirit of innovation so that residents don't experience massive tax assessments. We must create public-private partnerships, alternative revenue streams and explore private investment opportunities to solve these key challenges.
Public-private Partnerships:
In the case of our crumbling water treatment and water supply infrastructure, I would propose that we create a public-private partnership with a water services company which will shift the investment burden off of tax payers and into the hands of a private company who's focused on efficiently returning capital back to its shareholders while maintaining fair rates for customers and meeting our goals to make Tuxedo Lake the cleanest water in the world. Private companies are incentivized to make their investments profitable, and with the right oversight, we can make sure they're delivering on what we value most.
In the example of Electrical Utility infrastructure, I would propose a similar concept in cooperation with Orange & Rockland to build underground electrical and communications distribution systems; or alternatively, a private investment company can be formed for the purpose of owning and operating the underground distribution system.
Breakthrough Alternative Sources of Revenue:
I've stated before, which can be read on
www.preservethepark.org
, that I want to create a council of all ages to develop ideas and pilot programs for alternative sources of revenue. One example that's come out of this so far is a
Gate Toll for Commercial Traffic
that could generate $30,000+ per month in additional revenue. It's easy to imagine many other examples of alternative sources of revenue that would open up our ability to invest in infrastructure and amenities never before possible with taxpayer-only funding.
These are some of the ideas I have to put a Cap on Tax and at the same time, increase public safety, convenience and appeal of living in Tuxedo Park by upgrading our infrastructure.
We have the brightest and most talented residents in the world, especially in the investment, corporate and creative arenas, and I know we can solve these issues with ease if we come together and work as a team.
Vote John Watson for Trustee on September 15 and I will lead the way.
ANNA "TINKA" SHAW:
Infrastructure and taxes are linked at the hip. A significant portion of the Village's budgetary expenses is recurring, embedded costs. Much of the remainder of the budget is used for short-term and long-term infrastructure priorities – water lines, sewer lines, roads, bridges, stone walls, and village buildings. Some infrastructure projects are scheduled, some are unexpected. As Board members, we need to be flexible and efficient managing crises as well as long-term projects.
During my term as Trustee 2007-2009, under Mayor Houston Stebbins, I proposed establishing a Capital Fund for the water department. It was approved unanimously by the Board and brings in approximately $50,000/year in much-needed funds to repair/maintain water lines. If elected, I would like to propose a sewer Capital Fund, as we need reliable sources of funds for long-term projects.
We have one primary source of revenue – property taxes. The only way to lower taxes is to add to the tax base – that means new homes. We cannot allow our spending to outpace the long-term financial viability of our community.
Trustees are fiduciaries of the Village. As candidates, we should not make promises that we cannot keep when elected.
CHARGING COMMERCIAL VEHICLES
Other candidates' proposal to raise $30,000/year by charging commercial vehicles to enter the Park sounds good initially. However, the unintended consequence is that this tax will be passed onto you, the customer.
HISTORIC HOMEOWNER TAX CREDIT
The proposal by another candidate that Park residents apply for a Historic Homeowner Rehabilitation Tax Credit also sounds good initially. Alas, we are not eligible for this credit https://www.tax.ny.gov/pit/credits/historic_rehab_credit.htm
The home must be located in a national historic district, which Tuxedo Park is. However, the home must also be in:
a federally qualified census tract or area of chronic economic distress, or
a census tract that is at 100% or below the state family median income level, or
a city with a population of less than one million with a poverty rate greater than 15%.
Historic homeowner tax credits were put to bed decades ago by prior boards and unfortunately are not something we could benefit from.
MAINTAINING THE LAKES, MILFOIL COSTS
Removing the Milfoil from our lake and drinking water infrastructure is a significant and expensive problem that I addressed last week for TPFYI. The Village is following the recommendations of the Northeast Aquatic Research Lake Management Company (NEAR)
A few candidates proposed laying water safe matting/opaque fabrics on the Milfoil to solve the problem. It sounds like a good idea. However, this option has been rejected by Village Boards and the Resident Lakes Committee. While mats have some success in killing Milfoil, they have the unintended consequence of destroying the native, beneficial plants and disturbing the fish habitat and spawning grounds. On top of that, according to the Lakes Manager, A.J. Reyes, "I can't even imagine how much it would cost to line all three lakes with benthic mats. And yes, it would harm the entire plant community."
Page 22-27 of NEAR's report details the recommendations for our lakes
If elected, I will explore state and federal grants. Receiving a grant is a tangible way to reduce costs: https://www.dec.ny.gov/animals/115742.html.
CHOOSING CAPITAL PROJECTS
The Board has developed a Capital Projects Report (available by FOIL). In the report, they have listed the ongoing, short, and long term infrastructure projects we face. One of the top priorities is improving cell and wifi reception. The resident Communications Committee is looking into options and submitting recommendations in October. If we could write an extensive check, we could fix all our infrastructures, but we would be insolvent at the same time. Every project must be considered by safety, impact, and finance.
Balancing infrastructure projects against taxes and safety is what I will do if I am elected again.
MICHAEL COLEMAN:
Dear Neighbors,

If elected, I will work to balance the need for significant infrastructure work and the Villages' long-term fiscal viability without significantly raising property taxes by partnering with private industry, increasing alternative revenues and creating special tax rebate programs as a sweetener.

Firstly, let's admit that we need new infrastructure in every category; Electric, Water, Firefighting, Roads, Telecommunications and Security. This will easily cost tens of millions of dollars over the next 5 - 10 years to do it right and put us on a positive growth trajectory for the future. I can imagine all property in the park finally increasing in value after we're done with the infrastructure overhaul.

In order to achieve this with zero tax assessments, we need to think creatively about financing methods, competitiveness and fairness. We have some of the smartest people in the world living in Tuxedo Park and I know we can figure this out when we involve the community and work together.

Some of the immediate ways I want to solve these issues by is creating public-private partnerships, considering attractive investment offerings and creating special tax programs.

Water Management (PPP):
Fire Main: As a volunteer NYS Fireman and Fire Company Executive, I've taken a special interest in water management of this Village. We have horrible water pressure— dry hydrants— this is a disaster waiting to happen where I can imagine someones property burning down because no firefighting water is available. Let's make smart deals with a water company to include fire main upgrades as part of a much larger program.

Municipal Water: we treat and pump tens of millions of gallons of water and only bill for a fraction of that. This is a wasted expense and a cost-saving opportunity. This is where a public-private partnership could give the Village massive relief, working on transferring water management to a reputable private company that's already maintaining water systems in neighboring towns.

It's easy to see how public-private partnerships would free up cash from not only our municipal water investments but also other infrastructure like electric and telecomm distribution. I will explore this my first week in office.

Strategic Finance:
By having this goal in mind, we will manifest ways to offer attractive long term investment opportunities to pay for infrastructure projects. Let's look into this in a smart, risk-adjusted and conservative way.

Special Programs:
You pay too much in property taxes. I want to put a cap on property tax right away. I will lower the tax burden by introducing an historical tax credits that homeowners in Historical Districts can apply for. The Village of the Tuxedo Park, as a whole, is in an historical district which allows for the Village Board of Trustees to apply some relief to its residents on property taxes. With my network and historical appreciation, I would start working on this in my first week in office.

I am the only Trustee candidate with a vast network of County and State agencies that will offer to give Tuxedo Park the relief it needs for materials and services that could help stabilize our crumbling infrastructure at a low cost to the taxpayers. I proved this when the Village Government couldn't get the right PPE equipment to its Village Employees, and I was able to get them what they needed; and when I was able to help secure $10 million dollars alongside Senator Skoufis and Michael Bruno to get Route 17 paved in the Sloatsburg - Tuxedo Corridor.

In my first week in office, I will work to create public-private partnerships, explore strategic finance and open up special programs for the Village that will add value without risking what we care about most; safety, security and fiscal responsibility.
CHRIS KASKER:
In my first contribution to this TPFYI.com series, I included 'Balancing Infrastructure and Tax Structure' as one of my three priorities. I said the following, "Balancing infrastructure maintenance and repair expenses cannot continue to outpace revenues for long-term solvency. It is my understanding that the current capital projects plan requires bond offerings and a significant increase in taxes. As a board member, I will support projects only after knowing the priority, but also the tax implications and sharing in advance its impact with the residents."
For those who were able to make either of my three Meet and Greets, you heard me talk about "looking over the horizon" and taking a strategic view in terms of taking care of the smaller things now that will have a more extensive and more costly impact later. You would have heard me answer questions that I backed up with facts - facts I learned by doing my homework. Much research needs to be done to fund the maintenance and upgrading of our aging infrastructure. Being methodical, staying on task, and focusing on research are characteristics I will bring to the table to develop holistic and sensible solutions to the Villages' infrastructure and funding issues.
Not only must we responsibly select and prioritize the projects to fund, but we must also increase our revenue without raising taxes. We must create an atmosphere that is more inviting for responsible new home construction. That means identifying the hurdles that take applicants many months or years to gain approval to build or improve their properties. Once formally identified, the Board of Trustees must remove the obstacles.
With more revenue and thoughtful planning, we will be capable of developing a strategic capital plan tied to available funding and affordable bonds.
None of us welcome the disruption of electric services, almost consistently occurring after a storm. It has been a way of life for many years for the Village and an infrastructure improvement worthy of attention here. Another candidate has addressed this as well, stating power lines could be buried for $1 million a mile. We have approximately 30 miles. Because power disruption is a health and safety issue and I have heard from many residents about it, I "dug" into it.
Here are some unavoidable obstacles that we will likely never overcome:
Every homeowner must agree to run underground lines from the street to their house, at their own expense of $15,000-20,000.
The O&R cost, on average, is $3-5 million per mile, but more for Tuxedo Park due to the rock in our area. They would charge a significant tariff to all service recipients for up to 30 years to pay for it.
New easements required for underground transformers and switches, which would need years of legal hurdles
Telephone and cable companies must agree to go underground as well.
The lines must be buried under the road. The Village must pay for the road repair, approximately 30 miles worth.
However, there is light at the end of the tunnel. As you are aware, O&R is spending millions of dollars upgrading our electrical system now. The good news- the hurricane impacted none of the new systems.
Of course, we will have to wait to see how the new utility lines stand-up to storms when O&R completes the upgrade in a few years, but it is off to a promising start and less expensive solution.
I also considered the state money raised by one of my PTP opponents for the Rt. 17 corridor using political connections, and frankly it is impressive. However, the Village cannot accept state or federal tax dollars for our roads because the result would be the removal of our gates and means of security. The roads would be open to the public 24/7/365. This is a well-known fact.
The O&R analysis and my observations regarding our gates and roads are just two examples of how I examine problems. As a Trustee, I will be practical, focused, and decisive for what is best for the Village.

Trustee Candidates Weigh in on Preserving Village Lakes (posted 9/5/2020)
TPFYI presented the Candidates with the following question about the Village Lakes:
Over the course of the last decade, the Village lakes have been consistently suffering from excessive algae, milfoil, siltation, turbidity and other intrusions. The BOT has employed a Lake's Manager and various solutions including both Dash Harvesting (hand pulling) and chemical treatment have been proposed and utilized in the different bodies of water.
Recognizing the importance of these 3 resources for recreation, scenic beauty and drinking water, what would you recommend be done, if anything, to help reduce and control infestation and further protect these fragile lakes/ponds?
Here are their answers in the order they were received:
JOHN JAMES WATSON:
This is a very challenging topic which takes a lot of experience, knowledge and skill to tackle properly.
For some background on me: as a Marine Engineer and Naval Officer on ships, I was partly responsible for the ballast water treatment and ballast water exchange programs which aimed to eliminate invasive species transfer from one body of water (on the other side of the world) to another body of water, close to home, where it could harm the local ecosystem— everyone knows about ZEBRA MUSCLES!
I also developed a company to run automated Hull Cleaning Robots for ships in the United States which would reduce the spread of invasive species via barnacles on the hull. In addition, my early tenure spent in the utilities sector had me operating water treatment plants and oily water separators as an engineer which ensured clean water was input and discharged into conventional power generation facilities.
My current role as COO in a renewable energy company has wetlands, the ecosystem and various regulatory agencies like NYSDEC and the Army Corps of Engineers front-and-center as part of the standard project development process as I continue to build our portfolio of renewable energy projects throughout New York State.
Conservation and Nature is a passion of mine, so, not surprisingly, this is a subject that's in my wheelhouse, which I'm well capable of handling from a technical, managerial and philosophical standpoint.
Let's dive right in to the question.
The Problem: it's important to identify and understand the problem and it's root cause. The problem at hand is that the lakes have developed excessive algae, milfoil, siltation, turbidity and other intrusions which affect the these resources from a recreation, aesthetics and a municipal water standpoint.
The Cause: while I have significant experience working in environmental and engineering realms over the past ten years, I'm not yet an expert on lake water management specifically. Therefore, I would rely on experts and trust in them to share what the exact probable causes are. I have already spoken with an expert who's familiar with Tuxedo Park's unique environmental challenges and I've learned the following:
The cause is suggested to be that one hundred years ago, when the park was an outdoor sporting paradise, an exotic fish called the German Carp was introduced to the lakes which, while probably a fun fish to catch for sport, was an invasive species in and of itself and which caused a chain reaction called Trophic Collapse or an Ecological Cascade. Furthering the Ecological Cascade, the exotic fish, the Alewife, was introduced in the mid-1960's as a bait fish for the Lake's trout.
Without getting into extreme technical detail like nutrient recycling, feeding processes, zooplankton, etc., and the known history and various studies, the basic cause of the current problem is an imbalance in the ecosystem due to the forced introduction of exotic fish, accelerated by the discontinuation of stocking the lakes with fish that would have helped keep the balance, coupled with a lack of lake management plan for an extended period of time.
1. Introduction of Exotic Fish (invasive species)
2. Discontinuation of Stocking the Lake
3. Lack of Management Plan for Extended Period
The Solution: I will spare the novella because there's a lot of detail involved to convey via email, but the solution is a function of Administrative, Mechanical and Engineering Controls. It first starts with evaluating and monitoring where we currently stand in a quantitative and qualitative way. Then we can take corrective/restorative action. Possible corrective/restorative actions include re-stocking the lakes with certain fish on a seasonal basis, using opaque fabrics and localized aeration and aeration of the water column. I would not recommend hand-harvesting the milfoil due to it increasing the spread exponentially in a ratio of 1:250,000.
Conclusion: the lake is a very delicate eco-system and an integrated approach will allow us to reduce the milfoil and other invasive species gradually over several years while continuing to remove some of the nutrient laden biomass, preserving threatened or endangered species to grow back and maintaining oxygen levels to support the fish population.
If elected to the Board of Trustees: I will utilize my experience to ensure that we're working with leading experts to execute the best practices to solve this challenge, while maintaining an efficient use of capital by using good judgement, strict management oversight and applying my distinct domain knowledge. Finally, I will explore creative financing methods via public and private investment offerings to achieve an even greater restoration effort never before available through taxpayer only funding options.
Thank you for your time.
MICHAEL COLEMAN:
Dear Neighbors,

Tuxedo Lake is one of the greatest assets of the Village, providing the necessity of drinking water, a tranquil recreational environment, a thriving fishery, and a serene enclave of natural beauty. Some of my most peaceful times are kayaking in the Lake, identifying the fish swimming up to the boat, studying the hatcheries near the Mayor's boathouse, and watching birds, even the American bald eagle feeding from our amazing Lake. But the Milfoil continues grow while also facing other lake intrusions like excessive algae, siltation, and turbidity.
One of the first issues I would remedy as serving the Village as Trustee, is halting the dumping of cancer causing chemicals in targeting the continued growth of Milfoil. Sonar is critically poisonous when swallowed, absorbed through skin, or inhaled. As well, ProcellaCOR which is also harmful to humans, animals, and depending on application, could cause the potential suffocation of fish. There are better solutions for halting Milfoil growth without risking the health of Village residents.
In understanding more about Milfoil, the plant spreads more rapidly when fragmented, by cutting it, harvesting it, hand pulling it out, and as a result of other mechanical control methods.
To control the Milfoil population, I would lay out water safe matting like you do in the garden to stop growth in hot areas. With lack of sun the milfoil will die, and not spread like it does with hand harvesting that the village has been promoting.
As Trustee, I will continue to maintaining close relationships with members of the New York State DEC and Wetland Specialists, to seek their guidance on the best and most effective methods of managing our lakes to secure the cleanest water in the state of New York. Aeration can be another very effective method of Milfoil control and elimination, providing other advantages of algae bloom control and other invasive lake impediments, while realizing new benefits of improved water purity and clarity.
Being a certified diver through the West Point Fire Department, I personally will donate time towards hand laying these foundations to help save one of our greatest assets, the Lakes of Tuxedo Park.
Sincerely,
Michael R. Coleman
Candidate for Trustee
CHRIS KASKER:
Eurasian Milfoil is one of the worst aquatic weeds in the United States, according to a University of Florida report. It affects drinking water quality, fish and wildlife habitat, other plants, boating, swimming and more. The Village must determine a decisive path forward to reduce milfoil and other harmful infestations in Tuxedo Lake, Pond 3, and Wee Wah Lake.
In my first TPFYI post as a candidate for Trustee I described myself as a deliberate decision maker. That means I do my homework. This week I had discussions with numerous Village residents about their views on our lakes. Of course, everyone agrees we have a problem. Obviously, there is not a consensus on how to solve the problem.
My homework also included reading months of TPFYI write-ups about the Lakes Committee reports at Village Board meetings. Additionally, I read Northeast Aquatic Research's report titled, Tuxedo Lake, Wee Wah and Little Wee Wah Aquatic Plant Sampling Report. Here is the link to the report.
http://www.tpfyi.com/docs/NEAR%20Aquatic%20Plant%20SamplingReport%201-24-2020.pdf
NEAR is our certified lake manager. If you have strong feeling about the health of our lakes, this is a must-read report. They recommend a multi-pronged approach, which does include using an herbicide in Tuxedo Lake. But their recommendation also includes a "small-scale field trial," first.
HOWEVER, while I was doing my "homework" I did not read any mention of our certified lake manager presenting the findings and recommendations to the entire Board of Trustees, let alone the public. We must give the public an opportunity to ask questions of the lake manager and we must give the public time to analyze our lake manager's responses and come back with questions.
The current Board of Trustees, and of course the volunteers of the Lakes Committee, have put a lot of time and effort into addressing the intrusions and infestations of our lakes. As a Trustee I will push for an open and honest dialogue with the experts and community.
I recognize this is a complex problem that will not be solved with simple answer. In our approach we must consider the health of the lake plant life and wildlife, the health people, and the health of the budget, not just for next year, but for the next 10, 20, 30 years.
ANNA "TINKA" SHAW:
More residents need to understand this issue, and with the advent and accessibility of zoom meetings, the public will have more opportunities to participate and become well- informed.
For over a decade, the village government and committees have gone without a long-term mitigation plan for our three bodies of water. Since around 2009 the boards have solicited expertise from several Lake Management professionals, without fully implementing their recommendations.
One result is that the invasive Eurasian Watermilfoil (Myriophyllum spicatum) is flourishing – to some of us it seems almost out of control! This species of aquatic plant is harmful to our ecosystem by reducing dissolved oxygen levels, and crowding out native plants. It also causes algae blooms which requires additional herbicidal treatments (Copper Sulfate). Milfoil growth at the surface makes enjoyment of the lake, i.e., boating and fishing, difficult, and can be dangerous to swimmers getting entangled with the plant – this happened in Pond 3.
Unfortunately, most Lake Managers agree that milfoil presents a problem that may never be totally eradicated. There are many options available to eradicate Milfoil, but the choices presented for our lakes have been narrowed down to three:
· ProcellaCOR herbicidal treatments (made for drinking water, with government approvals) https://sepro.com/aquatics/procellacor/
· DASH harvesting
· a combination of ProcellaCOR and DASH harvesting
The next Board will again be tasked with solving this problem. The Board, the Lake Committee headed by resident Jim Hays, and our lake Manager have gathered a plethora of information allowing the new Trustees to make an informed decision. My decision will be based on the science and cost effectiveness of each treatment option.
P.S. I think what is happening at the Croton Watershed is worth studying. They have been using herbicides to eradicate the invasive species Hydrilla. I recommend linking to the DEC website for more detail about the Croton River Hydrilla Control Project: https://www.dec.ny.gov/animals/106386.html

Candidates for Village Trustee Talk about Infrastructure (Posted 8/28/2020)
TPFYI presented the Candidates with the following question about Village Infrastructure:
What do you see as the most important infrastructure challenges currently facing the Village and how would you work to address them if elected?"
Here are their answers in the order they were received:
JOHN JAMES WATSON:
Thank you for the opportunity to answer this important question.
The most vital infrastructure challenge currently faced in the Village is by far the unreliability of the electrical power and communications distribution system, via the overhead "telephone" poles.
To be clear, it is unacceptable that when the Village experiences a severe weather event that, with 100% certainty, we experience outages that are sometimes days or weeks long.
What does this mean? It means spoiled food in the fridge, electronics and data system losses, smart-home features failing, medical support systems failing and electrical fires which could lead to loss of life and property. This unreliability is also a huge 'ding' against home values when prospective buyers have plenty of neighborhoods to choose from. **Realtor: "oh, by the way, expect a minimum of two power outages per year . . ."
The root cause of the problem is our beautiful yet aging variety of trees that fall over due to high winds. It's easy to imagine this problem continuing to happen with the current overhead infrastructure.
This is an opportunity for us to look at this challenge with a long-term lens; let's look at the park over the next hundred years. Do we want our decedents to face the same issue?
The obvious and most sensible solution is to go underground with this infrastructure. Not only will this remove the ugly overhead poles from our beautiful landscapes but it'll also prevent outages almost entirely. Yet, this new infrastructure will cost an estimated $1,000,000 per mile of feeder line.
If elected Trustee, I would propose that by 2030 we will be completely underground with this infrastructure. What that takes is not only the cooperation of Orange & Rockland and our DPW, but also intelligent and risk adjusted financial planning and investment offerings to fund this capital project without taxpayer dollars. The most important thing is to start planning NOW.
With my technical and operations experience in the power generation and utility sectors, and as an alumnus of Con Edison/ O&R, I'm well equipped with the unique and valuable skillset to execute on that vision both technically and politically.
We have many brilliant and talented residents in Tuxedo Park and I call on you for your help making our community the best place to live in the world.
Vote to 'Preserve the Park' on September 15. John Watson for Trustee.
MICHAEL COLEMAN:
Dear Neighbors,

While there are obvious infrastructure challenges like the cons
tant power outages, decaying roads, lake milfoil and wasteful water management, I want to talk about two issues that, right away, need to be addressed in my first week in office.
Spotty cellular service: From personal experience, when I drive through the gates and around Tuxedo Road, I always tell my friends and family, while talking to them on my car phone, that "I'm going to 'lose you' and I'll call you back." Cell service is spotty and the inconsistencies throughout the village are extremely egregious.
The Telecoms have a physical presence in the Park and the problem is there is no liaison between the Village Board and the Telecom companies to work out these difficulties that residents face on a daily basis.
I will get that dialogue going right out of the gate when elected. I have spoken to most of the telephone crews in the Park and have strong relationships with top level managers at various telecom companies to get the results that so many of us have been waiting for. These relationships that I have are key to start troubleshooting solutions for the village so that residents are able to call their loved ones, friends and colleagues anywhere in the Park without worrying about losing signal like we're experiencing now. The Roads: While driving to find that magic signal that seems illusive within the Village, I'm always swerving to avoid potholes and decaying roads throughout the Park. This is something that needs to be addressed right away. I took care of this issue outside Tuxedo Park when I worked with NYS Senator Skoufis advocating on behalf of Tuxedo Park to get the major potholes and decaying road on Route 17 fixed. With Senator Skoufis's help, I was able to obtain $10 Million dollars moved over to NYS DOT to help with repaving and repairing Route 17 so you could have a much smoother and safer drive into the park.
"This includes $6.1 million to pave and repair 28 miles (round trip) of Route 17 from approximately Arden Road in southern Woodbury through Tuxedo to the Rockland County line.
Earlier this year, Skoufis scoped Route 17 in Tuxedo with local residents Michael Bruno and Michael Coleman in order to share his insights on work that needed to be done. Bruno is redeveloping and revitalizing much of the Route 17 corridor in Tuxedo as well as Sloatsburg." Click here
Just like many of you, I embody the Acta-non-verba attitude, showing you results with real action. I'm willing to work harder for you than anyone else to deliver the results you deserve.
Support your community by Voting to 'Preserve the Park' on September 15.
Michael Coleman for Trustee.
ANNA "TINKA" SHAW:
Fortunately for all of us, we have a very experienced and well organized Village Office and DPW that have been dealing with infrastructure issues for decades. These employees lend continuity to the Board of Trustees, and if elected, I will work hard with them to solve problems as they arise. The following are what I perceive to be the most important infrastructure challenges:
Long term -
Continue the SSES (sewer system evaluation system) program and the Inflow & Infiltration remaining phases (repairing and /or updating the water lines), which is monitored by the DEC (mandatory). This is a long-term maintenance requirement to observe and fix the most crucial sewer lines that need updating and overflow management at our sewer plant. While these projects are not sexy they are necessary, and they are not cheap!
Well kempt Village properties and properly trimmed vegetation along the roads makes a big difference. We all saw what happens during a storm when so many trees are next to the wires! The DPW continuously works to clear the roads and drains of
Cell service, cable and internet, and a life free of monthly brownouts or blackouts are a high on the infrastructure list. As you may know, O&R is halfway through the first of four years dedicated to rebuilding our critical electrical infrastructure. This is welcome and long overdue. This should diminish brown outs and blackouts significantly.
Short term -
Pond 3 bridge needs replacement, and I hope it can be done in the same creative way as the Warwick Brook bridge repair a few years ago. A prior board, John Ledwith and the DPW worked with our Village engineers to design the bridge, then the bridge and guard rails were assembled off site. When all the parts were complete, they were brought in and the DPW completed the job onsite. This saved the Village a huge expense!
The DPW building needs repair. I understand that John Ledwith has coordinated for the Village engineers to assess the amount of repair needed.
CHRIS KASKER:
Earlier this month for TPFYI's introduction of the candidates, I wrote a little about my top three issues. I included this paragraph about balancing infrastructure and tax structure:
Balancing infrastructure maintenance and repair expenses cannot continue to outpace revenues for long-term solvency. It is my understanding that the current capital projects plan requires bond offerings and significant increase in taxes. As a board member, I will support projects only after knowing the priority, but also the tax implications and sharing, in advance, its impact with the residents.
It is not a surprise to anyone that our historic village faces an aging sewer and water infrastructure along with the roads, bridges and dams that require maintenance and repair. Thankfully, our current Board has been working on a Capital Plan to address the needs of the Village. They are off to solid start. I reviewed this plan and I am pleased to see the Board has ongoing projects addressing some of our problem areas. But funding certainly needs to be addressed.
What should be planned for now is the repair of the bridge between Pond 3 and Wee Wah Lake. Structures around our lakes must be properly maintained and in good condition for the safety of all who use them.
Telecommunications is also significant concern. Orange and Rockland, our electric utility, is in the first year of a four-year plan to bring our grid into the 21st century. That is good news and the Board should be commended for getting it started. However, our communication infrastructure consists of one internet provider and poor cellular service. We need a more robust communications infrastructure to accommodate remote work and education. The COVID-19 pandemic, combined with a significant storm, has brought this issue to the forefront.
As a member of the Town's planning board I voted to approve a site plan for a cell tower on Tuxedo Ridge. The applicant's subject matter expert presented the town planning board with analysis depicting the signal strength of their proposed tower. Although, when completed, it will greatly enhance reception in the north part of Tuxedo, it will do very little for Tuxedo Park. We must find alternatives for stronger cell coverage. I consider this a health and safety requirement.
We must prioritize repairs, maintenance, and enhancements to infrastructure in the Village and consider tackling some of these projects simultaneously. By doing so, we can make progress while ensuring we do not exceed our budget and the 2% state mandated property tax cap.

Meet The Candidates for Village Trustee (posted 8/14/2020)
In an effort to help residents get a better idea of who the candidates for Village Trustee are, why they have chosen to run and what their priorities will be if elected, TPFYI presented each Candidate with the following questionnaire. Their unedited responses have been posted in the order they were received.
JOHN JAMES WATSON:
Name:
John James Watson
Immediate Family:
Lt.Col. Ronald and Elizabeth Watson, USMC (retired)
Education/Degrees:
B.S., Marine Engineering
United States Merchant Marine Academy
Vocation/Employer: Vocations:
Engineer, Entrepreneur, Project Developer, Military Officer
Chief Operating Officer, ATLAS Renewables LLC
Board of Directors, 360 Fuel Corp.
Chairmain of the Board, Orange County Technology Innovation Village
Co-founder, Watson Action Labs, LLC
Lieutenant, United States Navy Reserve
Years of residency in the Village:
2.5 Years
Government Experience:
Marine Engineer for New York City Department of Transportation, Division of Ferries
Marine Engineer for United States Department
Volunteer Work in the Village or Town of Tuxedo:
1. Town of Tuxedo, Economic Development Committee
2. Emergency N95 Mask Procurement and Deployment due to COVID-19 for Police Department and Municipal Employees
Briefly, why are you running for Village Trustee?:
Briefly, I am running for Village Trustee because I have been called upon by the residents of Tuxedo Park to usher in an energetic change of leadership and to provide a renewed vision for the preservation of our beautiful community for generations to come.
As a current renter, and a future home owner, I am well insulated from any conflict of interest, political and personal agendas. It is as if I were an independent Director on a corporate Board.
My desire to buy a home and raise a family within the next few years gives me a vested interest in the successful transformation and governance of the Village as we transition into a new age of social, professional, familial and community norms while maintaining our legacy, tradition and the essence of the Parks founding principles.
I am a servent of the people and I will do a prudent job carrying out the residents wishes while maintaining proper governance, management and oversite of the Village operations.
Read more at www.preservethepark.org and follow on instagram @preservethepark
What skills and attributes will you bring to the Village Government?:
The skills and attribrutes I will bring to the Village Government are as follows:
Skills: Corporate Governance, Project Management, Development, Leadership, Business Management, Technical, Engineering and Design
Attributes: Honorable, Courageous, Committed, Discipline, Diligent, Driven, Dependable, Decisive, Self-starter, Tactful, Unselfish, Knowledgable, Loyal, Transparent, Enthusiastic, Integrity, Stamina, Acta-Non-Verba
What are the three most important issues currently facing the Village?:
Lower Taxes and Create Alternative Sources of Revenue
Build Gatehouse and fortify Electrical Utility and Communications Infrastructure to Secure the Village and Reduce Outages
Water Infrastructure Reform – reduce wasted treated water and make Tuxedo Lake the cleanest in the world
MICHAEL COLEMAN:
Name:
Michael Robert Coleman
Immediate Family:
Parents: Robert Wilkin Coleman, Joanne Mayol Coleman
Brothers: Paul Robert Coleman, Maj. Carl Robert Coleman, Christopher Robert Coleman
Education/Degrees:
A.S SUNY Orange
B.S Marist College
M.A Norwich University (Finishing last semster)
Vocation/Employer:
VP of Business Devlopment of 360 Fuel & Gas Pump TV
Advsior to Orange County Technology Innovation Village
U.S Army Reserve, Flight Operations Specialist
Former Assistant-Teacher at Tuxedo Park School
Former Part Time Police Officer /Field Training Officer/ Public Affairs Officer for Tuxedo Park Police Department
Years of residency in the Village:
2.5 Years
Government Experience:
Elected Orange County Committeeman, respresenting over 3,000 people in a electoral district.
Successfully advised two Mayoral administrations of Tuxedo Park on police affairs, government affairs, economic development, County, State and Federal outreach.
Elected Vice-President of New Windsor Fire Company where I served as liaison of both the fire district and fire company.
Volunteer Work in the Village or Town of Tuxedo:
Town of Tuxedo, Economic Development Committee, liaison between county and town to help push growth projects into area.
Emergency N95 Mask Procurement and Deployment of 500 masks due to COVID-19 for Police Department and Municipal Employees when the Village couldn't secure much needed supplies.
Worked with and advocated successfully with NYS Senator Skoufis to allocate over $10 million dollars for the NYS DOT to repair and re-pave Route 17 outside the village.
Worked with the Orange County Historian to spotlight Tuxedo Park as an Orange County treasure an helped build awarness on the county level for preservation support.
Briefly, why are you running for Village Trustee?:
I am the only person in the Park at this time who has the experience, the know how, and the ability to excute the vision of Tuxedo Park that our founders have entrusted to us.
Currently, we don't have a vision, we are running out of money, the employees are unhappy with the current board, and our security is constantly being challenged everyday with the board trying to whittle down more services.
This has got to stop, and that is why under pressure from local elected leaders, village employees and residents of Tuxedo Park, I have decied to run and save what's left of our decaying infastruture.
I swore an oath to protect and serve this village as a village police officer, and I take that oath very seriously. With that said, I will be the leader that Tuxedo Park has always wanted, but never had.
What skills and attributes will you bring to the Village Government?:
A strong vision of growth which we have lacked for the last 50 years, looking for ways to expand the budget with alterntive sources of revenue.
A strong voice and advocate on the County and State level, which we don't have.
A security manager that understands both security and what resources are needed to be put in place to help keep our village safe and secure.
A cap on taxes, install a historical home tax program for residents to gain relief.
A strong conservationalist with a track record of working with local land trusts by helping preserve areas of Orange County.
A deep appreciation for the legecy and historical attributes that Tuxedo Park has to offer.
What are the three most important issues currently facing the Village?:
Someone to be a strong voice for the Orange County services that Village Residents pay a bulk of their taxes for.
A Security Booth built ASAP, that is safe for the employees, matches the Tuxedo Park Theme, and serves the residents with the white glove treatment that is excepted.
Proper mangment of the lakes, maitaining their beauty and purity so the village residents can enjoy them the way they should be able too.
Read more at www.preservethepark.org and Follow us on Instagram @preservethepark
CHRIS KASKER
Name:
Christopher Kasker
Immediate Family:
My wife of 17 years, Jennifer, and our daughters, Karasten and Kamaren.
Education/Degrees:
BS in Criminal Justice; MA in Business and Organizational Security Management; MA in Communication Sciences
Vocation/Employer:
Senior Vice President and Chief Operating Officer at HEPCO, Inc. As the chief operating officer, I run the day-to-day operations of the firm. I also manage and foster new relationships while enhancing existing ones to grow the business. I accomplish this by overseeing operational and administrative programs and services ensuring our recruiters and sales leaders provide efficient and top-rated support to our employees, candidates, and clients.
Years of residency in the Village:
My wife and I will be property owners and residents for two years and ten months as of election day, September 15, 2020.
Government Experience:
Twenty years of active duty service in the U.S. Army provided me a myriad of government experiences in local, national and international situations. In Germany, I provided supervision and training to military police in military and civilian communities. In Kosovo, I oversaw a jail, a police station, was involved with the local court system and worked closely with the United Nations. In Iraq, I led a police training team for 3000 local Iraqi police and later oversaw seven police stations in Baghdad.
In Washington, D.C., I provided advice and counsel to the Secretary of the Army as a member of his personal staff. I planned and executed public affairs missions with national security implications on four continents, and supported the secretary's testimony in numerous Congressional hearings.
On the local level, I have been a member of the Town of Tuxedo Planning Board since April 2019.
Volunteer Work in the Village or Town of Tuxedo:
I have been a volunteer firefighter with the Tuxedo Park Fire Department since May 2018. I'm currently the department's engineer.
I have been a trustee with the Tuxedo Chamber of Commerce since 2018.
Last year I served as the resident member of the Tuxedo Park Police Chief Search Committee and participated in over 20 interviews with candidates for chief. I am thrilled the Board selected Chief Conklin and I am looking forward to working with the chief and the mayor.
Briefly, why are you running for Village Trustee?:
After 20 years of service to the Nation as an Army officer, I'm dedicated to being a valued and committed member of our community. I have had some incredible experiences over the last two plus decades interacting with communities and leaders all over the world and I am confident I am prepared to bring a thoughtful and appropriate level of scrutiny to decision making in the Village on behalf of our stakeholders.
What skills and attributes will you bring to the Village Government?:
I am an award-winning leader and communicator. I have a disciplined and a deliberate decision-making process and an appreciation for how to deliver those decisions because of my community relations experience. As an Army leader, and now as a chief operating officer, my focus has been on taking care of people. In my organizations, my approach was to analyze the situation, determine the desired outcome, improve processes, increase efficiency, and raise job satisfaction, ultimately leading to satisfied clients. I will work hard to take care of the Board's clients-the Village residents, visitors, and workers.
What are the three most important issues currently facing the Village?:
FAMILY SAFETY & SECURITY - My number one priority is safety and security. As a father, firefighter, and former military police leader, I am dedicated to ensuring that all residents and family members live in a safe and secure environment. I will work to assist both the mayor and police chief in developing a police department that is trained and equipped to provide the community policing services that add value to Tuxedo Park.
VILLAGE BUDGET & TAXES - Through open communication with village residents, I will enter budget discussions with an understanding of the services our community requires, and I will work on assisting the board in approving a budget that meets those needs. In my career, I have developed innovative solutions that saved time, money, or increased efficiency, and I will explore options to do the same for our Village.
BALANCING INFRASTRUCTURE & TAX STRUCTURE - Balancing infrastructure maintenance and repair expenses cannot continue to outpace revenues for long-term solvency. It is my understanding that the current capital projects plan requires bond offerings and significant increase in taxes. As a board member, I will support projects only after knowing the priority, but also the tax implications and sharing in advance its impact with the residents.
--
Thank you for your time and consideration.
Please feel free to email me at chriskasker2020@gmail.com

All the best,
Christopher Kasker
ANNA "TINKA" SHAW
Name:
Anna "Tinka" Shaw
Immediate Family:
Husband Scott Shaw, children Nicholas (26), Jack (24), Erik (22) Stina (19)
Education/Degrees:
BA Duke University, double major History and Economics, 1980;
MBA Coulumnia University, Finance and Marketing, 1986
Vocation/Employer:
Real Estate - Tuxedo Park Fine Homes
I love my job! Meeting people and talking about what a fabulous, friendly and efficient community Tuxedo Park is.
Years of residency in the Village:
21 years as owners, 19 as full time residents. We closed on our home Dec. 31, 1998 and renovated it before moving in full time in June 2001.
Government Experience:
2 years as Village of Tuxedo Park Trustee: 2007-2009.
I loved it – especially getting to know all the people who make the Village run! DPW, Police Officers, Village Office employees.
What I learned as Trustee is that the more time you put in, the more you learn and the more you enjoy what you are doing.
Volunteer Work in the Village or Town of Tuxedo:
Organized trash pickup along route 17 S, from Take a Break to the apartments, with support from Town Supervisor.
Volunteered in the next clean up with my Dad, on route 17S, south of the "Welcome to Town of Tuxedo" sign.
Member of the Committee of Fiscally Prudent Residents, which advocated to stay below the 2% state-mandated tax cap.
Founded the Committee to Rebuild the Booth in 2018 and raised 100% of the construction costs from private donations.
Briefly, why are you running for Village Trustee?:
I love Tuxedo Park! To keep this community viable, we need to keep taxes in line.
To keep Tuxedo Park a great place to live, sending a welcoming message to people considering moving out of the city to a safe and secure community.
After the COVID-19 pandemic and storm damage crisis, support the Mayor's leadership and plan to develop a crisis management response plan.
What skills and attributes will you bring to the Village Government?:
People skills, analytical skills, and common sense.
Support and confidence in all Village employees and concern about their well-being.
As Trustee –
I developed great relationships at the State level, which led to implementing a dedicated capital fund for the water/sewage department.
I reviewed all infrastructure needs/updates and prioritized projects.
What are the three most important issues currently facing the Village?:
1. Staying within the budget and the 2% max increase.
2. Security - Rebuild the booth! I would like to know the police officers, and for them to know who I am. I miss the direct relationships.
3. Smart approach to infrastructure projects and long-term financial viability.

Four Candidates Vie for Two Open Seats on the Village Board of Trustees (Posted August 1, 2020)
The 2020 Village Election will take place on Tuesday, September 15. The following residents have submitted nominating petitions for the position of Village Trustee:
Anna (Tinka) Shaw - Thinka Tinka Party
Christopher Kasker - Silver Oak Leaf Party
Michael Coleman - Preserve the Park Party
John Watson - Preserve the Park Party
The election will fill two Trustee seats, which are currently held by Allen Barnett and Maureen Coen.
Voting will take place in person from 7am-9pm at the Village Hall or by absentee ballot. Those wishing to vote by absentee ballot, must complete the an application and mail to the Village Office of the Village Clerk or drop off in person. Click here for an application.
As per NYS election guidelines, electronic applications are NOT allowed. All applications must be an original. Anyone who previously e-mailed an application will be sent a new form to complete and mail in.

From The Mayor's Desk - Covid 19 Update - Mid July Recreation Guidelines (posted July 12, 2020)
Dear Neighbors,

With summer recreational activities in full swing on our lakes and other village properties, it is an excellent time to refocus on mitigating the risk of community spread. The residents have been stellar in following the guidelines to date and we should continue to do so. Recent national news and 1-newly reported case of COVID-19 in the Park (not community spread) has motivated me to reach out.

While it is a challenge at this point to continue social distancing and wearing a mask, we should resist the temptation not to.

The virus is still here.

As I mentioned, during the first three months of the stay-at-home order we did a stellar job as a community resulting in no cases of community spread. While confidence in our safety within the gates is justifiable, because we are in Phase 4, and New York City is in Phase 3, we have to be careful not to be overconfident or complacent. Residents are going back to work in New York City, there are more outside delivery vehicles and service vendors here more than ever before, guests are visiting on a much more regular basis, and we are venturing out to reopened stores and restaurants.

Across the nation, areas that are complacent and have relaxed restrictions are seeing a surge of cases. If someone contracts the virus in Tuxedo Park and we continue to gather in large, non-family groups, without following the guidelines, the number of cases will spread at an exceedingly fast pace in our tight-knit community and could have serious implications for the most vulnerable.

The Village of Tuxedo Park is affirming the Coronavirus guidelines issued by the New York State Department of Health here.

These guidelines naturally are in effect for all Village property, including Tuxedo Lake, the Little Wee Wah (Pond No. 3), Wee Wah Lake, the Race Track, the hiking trails, the Village Office, and all of our roads.

In my opinion, there is no better place than Tuxedo Park to weather this pandemic. Let's continue to act responsibly and do our part so that new cases are kept to a minimum.


Thanks,

Mayor Mac

From The Mayor's Desk (posted May 9, 2020)
Dear Neighbors,

Lately, the topics discussed among members of the Federal Government Coronavirus Task Force and by New York State Governor Andrew Cuomo have shifted from one hundred percent fighting the coronavirus to states and regions reopening.

According to available data, more people have begun to leave their homes for shopping and recreational activities, including from states with tighter lockdown regulations. Many experts conclude that the increase in traffic and new polling data indicates that there is a desire to get back to work and pent-up demand among consumers. The staged reopening of Orange County before the end of the quarter will be welcome news if it happens

There is an urgency expressed by local businesses and consumers to move on. According to the Governor, the timetable of what may open on or about May 15 will be construction and manufacturing upstate. Still, downstate would have to "change dramatically enough to make a difference" by comparison. The stages of reopening are determined by which region meets the following guidelines sooner. According to CBS News reporting on New York State for a region to reopen it must:
The Orange County NY COVID-19 Cases by Town webpage latest update lists Tuxedo at 61 cases. By my calculation, Tuxedo Town has had 49 cases, and Tuxedo Park has had 12 cases placing us last. The City of Newburgh has the most cases at 1,314.

Of the Tuxedo Park cases that I have full knowledge, Person-to-Person Transmission accounts for 10 cases (not transmitted here outside of a single-family home, fortunately) and Community Spread for 2 cases. Community spread is when someone gets the virus without any known contact with a sick person.

To honor those sick or lost, our community will continue to do its part in remaining diligent. At the same time, we are thankful for leading the County with the lowest number of cases and thankful for owning a home in Tuxedo Park.

Be safe, and stay ready.


Thanks,
Mayor MAC

Village Elections Postponed (posted May 3, 2020)
Dear Neighbors,
Gov. Andrew Cuomo signed an executive order Friday changing the dates of elections due to the coronavirus pandemic. Votes on school budgets and for board members will be held June 9 by mail-in vote, and elections for village and town seats will be held Sept. 15. For village elections, all party nominations can be done remotely by Aug, 20. The orders end uncertainty over when the elections would be held, particularly for schools that need to prepare budgets for the fiscal year that starts July 1. On Friday, Cuomo also canceled school for the remainder of the academic year. [Excerpts from the THR.]
Thanks,
Mayor MAC

Final Village Budget Approved Village Elections Postponed (posted May 1, 2020)
Dear Neighbors,

I am thrilled to inform you that the Board has successfully reduced the residents' tax burden this year by cutting expenses to below the 2% mandatory property tax cap. However, the Board was unable to reach last year's tax rate. Even so, any decrease in Village taxes is a success.

The Board often disagreed on cuts and fee increases. Nevertheless, together, we lowered taxes, and that is what matters most.

Because the primary source of our new revenue is taxes generated by new homes, large spending increases year-over-year without new dwellings is not sustainable. We need to pace our investments accordingly next year.

The final budget and tax rate will be posted on the Village Website.

Thanks,

Mayor MAC

Tuxedo Park Getting Electrical Overhaul
(Posted February 27, 2020)

From The Mayor's Desk
Posted February 2, 2020
Dear Neighbors,

We have moved the start date for Chief Dave Conklin while we wait for the completed paperwork from the Orange County Civil Service Department. This is expected to be a short delay.

Next week is our final kickoff meeting with Orange & Rockland for upgrading our electrical infrastructure with the latest technology. This is a major upgrade that will require temporary road closures and detours, but it is paid for by O&R and well worth it.

Please do not hesitate to contact members of the Board for further information.

Thanks,

Mayor MAC

Vacancy on the Village Zoning Bord of Appeals
Posted December 16, 2019
Dear Neighbors,
Do you love living in Tuxedo Park as I do? If the answer is yes please consider what you can do personally to preserve our way of life for future generations.

There is an opportunity to consider. We have one vacancy on our Board of Zoning Appeals. This board plays a key role in applicant compliance to our zoning codes, granting variances, and safeguarding our designation of the entire Village as an historic site and its listing on the National Register of Historic Places by the United States Department of the Interior.

Thanks,

Mayor MAC

Please send your resume to Village Clerk Debbie Matthews at dmatthews@tuxedopark-ny.gov

Front Gate Survey Results are In
Posted August 1, 2019
Dear Neighbors,
Today's meeting to review the results of the survey choice was rescheduled for Tuesday.
Just under half the Village responded to the survey, with approximately 188 voting for replacing the manned booth, 53 voting for the current configuration with improvements and 37 voting for a kiosk configuration. At Tuesday's meeting the Board will consider how to move forward. Thank you for your participation.

Best,
Board of Trustees

Village Surveys Its Residents on Front Gate Configuration
Posted July 18, 2019
From the Board of Trustees to all Village of Tuxedo Park Residents:
RE: Front Gate Security Configuration Survey
Dear Neighbors,

Click on the link below to take the Survey (or cut & paste in your browser).
https://www.surveymonkey.com/r/HLBKHR7
Due July 31, 2019

Background Information

The majestic, architecturally significant main entrance is the center piece of Tuxedo Park, welcoming our residents and providing all visitors with their first impression of our unique community. The Village of Tuxedo Park Board of Trustees (the "Board") firmly believes that any physical alteration to our main entrance should be done thoughtfully with careful consideration to all potential consequences, and with the input of the residents.

A well-attended open public informational session was held on Saturday morning, June 29, to provide residents an opportunity to learn about and discuss the possible alternatives being considered for the front entrance. The Board is issuing this survey to provide another means for residents to voice their opinions on the three possibilities under consideration. In addition to this Email, the survey (we used surveymonkey.com) will be mailed in hard copy along with your water bills through US mail, and separately to residents with wells through US mail. Every adult resident has one survey vote. The survey response time will close on July 31.

Options

The following is a description of the three Options you will see on the survey:

1. No Change from Today; with Gate Arm, Intercom and Landscaping Improvements

Description: Police officers will continue to work from the Keep. The listed improvements will be made in and around the former booth location.
Estimated Cost: ~ $5,000. Fully funded from a prior donation preceding this Board.
Estimated Duration of Project: 1 week
Disruption to Traffic: Minimal and will involve a detour of entrance lane to share the exit lane.
Renderings: None currently available

2. Center Island "Manned" Booth; with Gate Arm, Intercom and Landscaping Improvements

Description: Reintroduce manned booth to replace the destroyed, "old" booth. The new booth design is larger with an added structural steel frame and bulletproofing for safety. Drivers would have face-to-face contact with booth operators.
Estimated Cost: ~ $128,000 with $110,000, raised or pledged from private donations. An additional amount is available from a prior donation preceding this Board. Contingencies/cost overruns would need to be funded by the Village or by additional fundraising if they occur. The estimated cost is based on confirmed bids received.
Estimated Duration of Project: 3-months off-site and 2-weeks on-site.
Disruption to Traffic: The 2-weeks on-site are scattered during delivery, installation, and stone and HVAC work and will involve a detour of entrance lane to share the exit lane.
Renderings: http://www.tuxedopark-ny.gov/new-booth (or cut & paste in your browser)

3. Kiosk with Two-Way Audio & Visual to Replace Current Intercom System; with Gate Arm & Landscaping Improvements

Description: Install a Two-Way Audio & Visual System in a Kiosk to replace current intercom system. This would allow drivers and the police officers (who would be in the Keep) to see each other and communicate more effectively.
Estimated Cost: ~ $35,000, with some funding available from a prior donation preceding this Board. Contingencies/cost overruns would need to be funded by the Village or fundraising if they should occur. The estimated cost is not based on bespoke pricing.
Estimated Duration of Project: 1 week.
Disruption to Traffic: Minimal and may involve a detour of entrance lane to share the exit lane.
Renderings: For examples of the system in use in other locations. https://www.meridiankiosks.com/resources/success-stories/ (or cut & paste in your browser)
https://www.meridiankiosks.com/kiosks/outdoor-kiosks/ (or cut & paste in your browser)

All Options may require Police Overtime to direct traffic during detours.

Please note, the Board considered but dismissed an option to install a "manned" booth with Resident and Non-Resident Lanes as being too costly and complicated to execute.


Click on the link below to take the Survey (or cut & paste in your browser).
https://www.surveymonkey.com/r/HLBKHR7
Due July 31, 2019


Thanks,

Debbie Matthews, Village Clerk
On behalf of the Board of Trustees.

Village Election Results
Posted 6/18/19
MAYOR:
David McFadden - 85
WRITE-INS FOR MAYOR:
Alan McHugh - 23
Greg Libby - 1
Christopher Gow - 1
Sally Sonne -1
Michael Bruno -1
Maryjo Guinchard -1
TRUSTEE:
Alan McHugH - 92
Paul Gluck - 87
WRITE-INS FOR TRUSTEE:
Maryjo Guinchard -3
Peter Regna -1
Elizabeth Coitnoir - 1
C.Y. Hempel -1
Rob McQuilken - 1
Jim Hays -1
David duPont - 1
Congratulations to Mayor McFadden and Trustees McHugh & Gluck

Village Elections To Take Place on Tuesday, June 18
Village Elections will take place on Tuesday, June 18, 2019 from 7am-9pm in the Village Hall. Offices to be filled, terms thereof, and the names of the candidates are as follows:

ONE MAYOR – TWO YEAR TERM
Candidate: David C. McFadden

TWO TRUSTEES – TWO YEAR TERM
Candidate: Alan N. McHugh
Candidate: Paul Gluck

Although the election is uncontested, residents are still encouraged to come out and cast their votes.

Booth Or No Booth?
The front entrance to The Park has been a hot topic of discussion for the Board of Trustees this month, with Mayor McFadden having submitted a shovel ready, almost entirely privately funded proposal for replacing the Traffic Booth at the May 15 meeting. (Click here and here to view the proposal, which can also be viewed on the Village website or by request in the Village Office) Since that time there have been two lengthy special meetings at which the Trustees have discussed and debated various options for the entranceway while working to put together a community survey on the topic.
A Town Hall meeting, at which the various options will be presented to the public followed by a Q & A session with the Board has been scheduled for Saturday, June 29 at 9:30am. This meeting will precede distribution of the survey.
In the meantime, please take some time to review the information contained in the following BOT meeting reports:
Village Board of Trustees Meeting, May 15, 2019
Special Village Board of Trustees Meeting, May 20, 2019
Special Village Board of Trustees Meeting, May 28, 2019
(*all reports posted to BOT page in chronological Order)
As well as the report of the Village Board of Architectural Review Meeting on May 21, at which the BAR reviewed the Mayor's booth proposal.
An important decision about the Gateway to the Village lies ahead for Park residents. TPFYI encourages everyone to educate themselves and to participate in the survey when distributed.

Village & School Budget/Election Season is Here!
The Village's preliminary budget for the 2019/2020 year has been completed and posted online. A public hearing was held on April 15 and it is anticipated that the budget will be unanimously adopted at a special meeting on Tuesday, April 30 at 8am.
Residents will be pleased to learn that the budget will not exceed the tax cap.
"We are very pleased to not exceed the cap. It took a lot of hard work," Mayor McFadden commented at the April 15 BOT meeting. "Unfortunately we didn't get everything we wanted, but we'll make do."
The 2019/2020 budget can be viewed here.
Village Elections will take place on June 18 from 7am-9pm. Three seats will be opening on July 1, those of Mayor McFadden, Trustee McHugh and Trustee Gluck.
The Board of Education has also completed their preliminary budget and are expected to adopt it on Thursday, April 25. The tax-cap handed down to the District from the State this year is 4.97% but the proposed levy is well under cap at 2.8%. The budget will be made available to the public on May 7.
BOE elections will take place on May 21. Four seats will be opening on July 1 and 7 candidates will vie for them:
Mike Arone – incumbent
Dorothy Ziegelbuaer – incumbent
Dan Castricone
Lucy Scully
Joe Rickard
Sue Heywood
Alyssa Horneff

Double Duty?
At their meeting on January 15, the Village of Monroe Board of Trustees voted unanimously in favor of hiring current Village of Tuxedo Park Police Chief, Alex Melchiore, as their full-time interim Chief of Police.
(Meeting minutes can be found here)
Additionally, the Village of Monroe Police Department website is now listing Alex Melchiore as their Chief.
When asked for comment, Mayor McFadden stated via email "We are aware that the Chief is working for the Village of Monroe. The Board recognizes the potential issues of working two full-time positions and is closely monitoring and reviewing the situation."

Village of Tuxedo Park Board of Assessors Meeting Notice - Janaury 29, 2019 - 9am
Click here to view the meeting notice.

A Report on Tuxedo's Lakes
In the fall of 2011, Eurasian Water Milfoil (EWM), an invasive aquatic plant, was discovered in the northern portion of Tuxedo Lake, with highest concentrations in front of the Tuxedo Club. Susan Goodfellow and the Village Board of Trustees (BOT) quickly organized the mapping of its distribution and initiated an annual program of divers to uproot the EWM plants. In spite of these efforts, EWM has spread around Tuxedo Lake, into Pond Three and the Wee Wah. EWM spreads primarily through stem fragmentation, is difficult to control and very difficult to eradicate. Because Pond Three and Wee Wah are shallow, EWM could clog most if not all the waters of both lakes. In the deeper Tuxedo Lake, the infestation is currently spreading to waters less than 12 feet deep, around the margins of the lake and an extensive area at the lake's southern end. Thick stands of EWM pose a serious threat to the ecological health of our lakes, to their beauty and to their use for recreation. Consequently, its spread can negatively affect our property values.
In 2008, through the efforts of Susan Goodfellow, our Village joined the Citizens Statewide Lake Assessment Program (CSLAP), a New York Department of Environmental Conservation (DEC) managed program, through which measurements and observations of lake properties are taken by Village residents during the summer months and reported to DEC. DEC then processes and analyzes these data and prepares reports on the ecological health of our lakes.
The CSLAP data indicate that in recent years our lake's phosphorous and nitrogen concentrations have risen, probably contributing to blue green algae blooms, which when severe, can become toxic. Phosphorous is an essential nutrient for plant growth but has very low concentrations in natural freshwater lakes. Plant and algal growth are therefore limited by these low phosphorous concentrations. So, small increases in phosphorous can lead to exponential increases in algal growth. Soils have relatively high concentrations of phosphorous but terrestrial plants, especially trees and shrubs, use it for their growth. If trees and shrubs are removed from the lakes' margins and the banks of streams feeding the lakes, rain will wash the soil into the lakes and increase their phosphorous concentration. As a consequence of the increased concentration of algae, the water clarity of our lakes is declining. The alkalinity (pH) of our lakes' waters is generally rising as is their electrical conductivity, trends which are often due to soil erosion and road salt contamination.
To address these conditions, the BOT asked Solitude Lake Management, the Village's current lake management firm, to recommend control procedures for both EWM and algal blooms. Solitude recommended the use of a variety of chemicals to control both in all three lakes. The BOT is currently seeking a second opinion from another lake management firm, Princeton Hydro LLC. The BOT also reactivated the Village of Tuxedo Park Lakes Committee (VTPLC), which is charged with advising the Village Board on lake issues and helping them, with the assistance of a professional lake management firm, develop a long term plan to improve the ecological health of our lakes. Such a plan will establish a set of objectives, procedures to achieve those objectives and estimated costs. The success of the procedures will be evaluated and the plan reviewed and possibly revised annually by the committee and the BOT. This planning will be aided by a previous Lakes Management Plan prepared by Princeton Hydro in 2009. Unfortunately, few of the recommendations of that plan have been implemented by subsequent boards.
Although reluctant to follow Solitude's recommendations this year for Tuxedo Lake and Wee Wah, the BOT did consider the use of herbicides to control the EWM infestation in Pond 3. This recommendation was supported by a number of Pond 3 residents. The Tuxedo Park Lakes Committee was also asked for their recommendation. After considering this option, the committee recommended against it, (click here to read the committee report) not because, in their judgment, there were substantial risks to residents or the ecology of the lake but rather because there are always uncertainties as to the long-term impact of chemicals. Any use of chemicals should only be as part of a long-term strategy for the control of EWM and such a strategy has not yet been developed. As an alternative, the committee recommended an aggressive diver assisted pulling program. Nevertheless, Pond 3 was treated with an herbicide in mid-July to reduce the growth of EWM.
The Village of Tuxedo Park Lakes Committee is currently exploring ways to help the BOT increase the efficiency of the mechanical removal by pulling of EWM plants from our lakes and will explore methods to reduce the input to our lakes of nutrients (phosphorous and nitrogen) and road salt.
In the meantime, boaters should retrieve all floating plant fragments with pool skimmers that can be purchased at any swimming pool supply store. The fragments can be placed in a plastic bag and deposited in the garbage or composted. The natural fragmentation of EWM is beginning now and will reach a maximum this month. The fragments float for about two weeks then sink and will form new EWM plants if the water depth and bottom conditions are appropriate.
Any effort to substantially improve the ecological health of our lakes and reverse current trends will require a multiyear program, using procedures specifically designed for our system of lakes. This work will require a close working relationship between the TPLC and the BOT, it will involve Village employees, professionals to administer the control procedures, numerous volunteers and the cooperation of all those who use the lakes or have residences along their shores. In other words, it must be a concerted community effort.
James Hays
Chair Tuxedo Park Lakes Committee

The 5th is The New 4th in Tuxedo Park
Fireworks lit up the Tuxedo Park Sky on Thursday, July 5 in a beautiful display put on by the Tuxedo Club!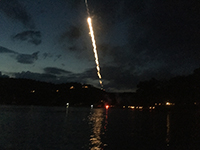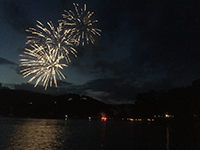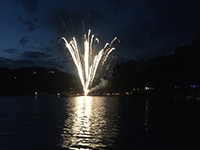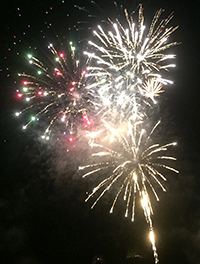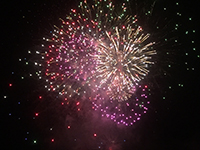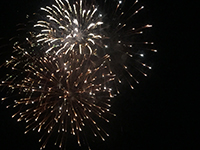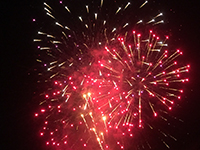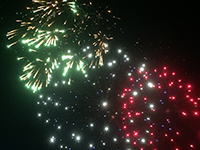 Meet the Village Trustee Candidates
Village elections will take place next Tuesday, June 19, from 7am-9pm in the Village Hall. This year there are two candidates running for two open Trustee seats. They are Allen Barnett, (Prudent Planning Party) and Maureen Coen (Namaste Party). In an effort to help the community get to know the candidates a bit better and understand where they sit on key issues, TPFYI asked both to submit brief statements. Here are there unedited responses in the order they were received:
ALLEN BARNETT:
Dear Neighbors,

It has been an honor to serve as a Village Trustee for the last year and I am pleased now to be running for a two-year term. I would like to first acknowledge the leadership of Mayor David McFadden and the dedication of my fellow Trustees McHugh, Gluck and Moon. Together we have formed an effective and cohesive Board with whom it has been a pleasure to work. Personally, I have tried to apply my experience as a former Chief Financial Officer to the governance of the Village. There are serious long term issues facing the Village. My primary focus has been and will continue to be on three areas, which I believe if addressed could improve significantly the long-term health and wellbeing of Tuxedo Park
Creating understandable and transparent Village financial statements;
Developing a long-term plan for the maintenance of Village infrastructure;
Instituting professional human resource policies.
First, the Village's financials need to be transparent and easily understood by the public. This year the Trustees' focus was ensuring that the operating budget was under control. I am pleased to report that when all of the final bills are accrued, the FY 2018 general fund will be approximately $150,000 (or 3.6%) under budget.
However, to improve the financial management of the Village as well as public oversight, our financials need to be formatted to make them easier to understand. The required New York State financial reporting for Towns and Villages produces reports that are difficult for the general public to understand, interpret, or compare on a year to year basis. This year I intend to develop summary reports that will clearly show the financial condition of the Village and propose, beginning in September, to do consistent quarterly reporting at the Board Meetings.
Second, a key issue facing the Village is the maintenance of its aging infrastructure. This year our efforts have been on addressing deferred maintenance issues in the Water Department. Deputy Mayor McHugh and I identified two areas where proper maintenance had not been performed for a number of years: the Ridge Road water tanks and the two processing filters in the Water Plant. Among other problems, we discovered that one of the plant filters had been off line for well over a year, leaving nothing in reserve. In an emergency that could have left the Village without its water supply. By the end of June, the necessary repairs will have been completed so that we have back-up systems.

I believe that the problem is that there is lack of consistent reporting on how the Village is maintaining its infrastructure. Prior efforts have been made to do long- term planning but, with two-year administrations, these efforts have too often been inconsistent.

This year I propose that we "inventory our infrastructure" and develop a comprehensive long- term plan with priorities and estimated costs for maintenance. This plan would then be reviewed at least semi-annually at public meetings. Appropriate and consistent preventative maintenance is critical to avoid expensive future fixes. I believe having an informed public is also critical; the residents of the Village need to clearly understand the problems and hold future Boards accountable in addressing them.
Third, we need to develop proper human resources practices for the management of Village employees. We have excellent and dedicated employees. However, we are lacking the basics of good human resource management. At the present time, other than the sterile Civil Service descriptions, there are no private sector style job descriptions, performance reviews, or statements of responsibility and authority. Without these, Village employees have faced inconsistent and changing expectations with the continual turn over in the Village Trustees. In the worst case, this can lead to a situation such as the recent action taken against one employee on the basis of allegations, which upon examination by the Board of Trustees, the Village's auditors, and the New York State Controller's Office were found to be unsupported.

I propose to enlist some of the Village residents who have experience in human resources to put in place for the non-union employees of the Village appropriate procedures and structure. I believe this will improve the efficiency and productivity of our employees and ensure that we can attract the best employees going forward.
While Maureen Coen and I are running unopposed, it is still important that you vote on June 19th to establish a base of support for our efforts. I sincerely request your support in person or by absentee ballot.

Please let me know if you have any questions or concerns. Thank you.


Sincerely,
Allen Barnett
Name:Maureen Coen
Education/Degrees: Juris Doctorate, MBA in Management and BA in Political Science.
Vocation/Employer: I am currently working as a Managing Director for Credit Suisse, a Swiss banking institution, with responsibility for capital and liquidity management in Credit Suisse's Asia Division. Over my 18 years at the bank, I have held numerous roles, including Treasurer of the Fixed Income Department.
Prior to my current employment, I worked as a Managing Director at Moody's Investors Service rating various types of structured transactions, and, prior to that position, I was a lawyer in a NYC law firm practicing corporate law.
I am very happy to report that I am retiring from my career on Wall Street in just a few weeks.
Years of residency in Tuxedo: I have lived in Tuxedo since 1998.
Volunteer Work in the Village of Tuxedo Park: For the past 5+ years I have served as a member of the Board of Zoning Appeals (BZA) and I am currently a Governor for The Tuxedo Club. I have also served as a member of the vestry at St. Mary's for six years and as a trustee for the Tuxedo Park School for eight years. I am currently a Director on a local development corporation for the Town of Tuxedo.
Briefly, why are you running for Village Trustee?
Having lived in Tuxedo Park for twenty years and having served on the boards of many of the institutions in this community, I know and love our special and unique Village—and there are many things to love. What I have learned over the years is that for our community to thrive we have to support and celebrate each other and build upon the great work that has been done to date in making Tuxedo Park an easy, friendly and desired place to live.

Working closely with the Town of Tuxedo to preserve, enhance and enrich our Village today and in the future is a key goal of mine.

I would be honored to serve you as your trustee with these goals at the forefront.
In addition to bringing my legal background and business experience to the Board, I am willing to listen, analyze, work hard and get things done. I strive to be a rational and open-minded advocate for the community.
What are the most important issues currently facing the Village and if elected how would you propose to address them?
Like many municipalities in our area, there are a number of serious issues that continuously have to be addressed. In our case, amongst the most pressing issues are our aging infrastructure, which is well past its useful life, and invasive plants that are rapidly spreading in our lakes and reservoir. We have to address these issues, which could be expensive, while trying to avoid increases in real estate taxes. This means we need to look for opportunities to be more efficient in our current expense base—which is where I would like to focus my attention if I were elected your trustee. Over the last several years, most people that work in banks have become very skilled at expense reduction and optimization.
Among other things, I would focus on looking for opportunities to partner on shared services and explore receiving additional State grants.

The current administration is thoughtful, works well together and is working hard to address these issues. I would be honored to serve with them.

Many thanks to the hard working people behind TPFYI that are dedicated to keeping all of us informed by providing us with unbiased information.
I hope to have your support at the election on June 19th.

Please feel free to email me at mrcoen@optonline.net with any questions you may have.

School District Seeks Community Input With Educational Consultant
The Tuxedo Union Free School District recently engaged a National educational consulting firm for the purpose of developing a long-term plan for the education of its students, with particular focus on the High School. As part of this process, the firm will be conducting community focus groups on the evenings of June 4 and June 5 at 7pm. All community members are invited and encouraged to attend and vice their opinions as collecting feedback from all stake holders is a critical part of the process.
R.S.V.P. is necessary
Click here to view the open invitation from the School District.

Two Candidates Run for Two Open Seats in Uncontested Village Election
It's election time in the Village again and this year looks to be a somewhat tame one with two candidates running uncontested for 2 open Trustee seats.
Allen Barnett, (Prudent Planning Party) and Maureen Coen (Namaste Party) have both submitted nominating petitions. One of the seats is to be vacated by Trustee John Moon while the other is currently held by Mr. Barnett, who is seeking re-election after having been appointed to serve out David McFadden's Trustee term when he was elected Mayor last June.
The Village election will take place on Tuesday, June 19 from 7am-9pm in the Village Office.

Tuxedo Park Public Safety Day
Village of Tuxedo Park Community Members,

We look forward to welcoming our residents and visitors of all ages to honor the Village of Tuxedo Park Police Department, along with the Tuxedo Park Fire Department, and the Tuxedo Volunteer Ambulance Corps. There will be police as well as fire and EMS rescue vehicles and equipment plus staff and volunteers on-hand.

The event will take place Saturday, May 26, 2018 from 11:00 AM to 2:00 PM at the St. Mary's-In-Tuxedo Episcopal Church parking lot.

The Village of Tuxedo Park Police Department has proudly served the residents of Tuxedo Park since 1886, as have the Tuxedo Park Fire Department since 1901, and the Ambulance Corps for more than 50 years. All these organizations strive to provide emergency services in partnership with the community to contribute to a safe environment with the highest quality of life for all of us. There will be limited beverages and light fare.

Mayor David McFadden

For questions pertaining to Public Safety Day please contact David McFadden at trusteedavid10987@gmail.com or (917) 576-2484.

Weather permitting.

Solitude Lake Management (SLM) presentation, By Glenn Sullivan, Certified Lake Manager "Tuxedo Lakes; Village of Tuxedo Park, April 11, 2018
Mayor David McFadden introduced Mr. Sullivan who began that he was there "to talk about lakes… about what he saw as problems". Using a powerpoint presentation, Mr. Sullivan started with a brief description of the three Village lakes' watershed covering 8.24 square miles. 2/3rds of the 8.24 square miles is feeding the Wee Wah so greater impacts from watershed are felt in that lake.
Mr. Sullivan described the SLM process:
· - Identify problem, he noted as a lake manager, he focuses "in lake" and not on the watershed. He sees the lakes' major problems are algae and Eurasian Water Milfoil (EWM). Tuxedo Park needs to address EWM and algae
· - Review data/info-CSLAP, SLM, Phydro
· - Discuss options focusing on plant and algae situation
· - Review recommendation.
In answer to Dena Steele's question of how he defined "a real blue-green algae problem" Mr. Sullivan responded that blue-green algae blooming in summer at the height of warmest weather was problematic; an every year algae bloom in the fall was normal in a deep lake like Tuxedo Lake.
A Wee Wah Lake Bathymetry map was presented. Bathymetry maps for Tuxedo Lake and Pond No. 3 are needed .
Wishing to avoid a political discussion, Mr. Sullivan noted that a warming trend encourages algae growth, and that more algae can be expected in the future. Also contributing to favorable conditions for algae growth in Tuxedo Lake is the nutrient load, "whatever that is," permanently at bottom of Tuxedo Lake .
Claudio Guazzoni asked why nearby Sterling Lake does not have blue-green algae blooms or EWM. Mr. Sullivan was not familiar with situation in Sterling Lake, noting simply that EWM has to be introduced. Many factors contribute to algae blooms.
Mr. Guazzoni questioned the impact of salt from roads on the Village lakes. Mr. Sullivan acknowledged that road salt does change lakes' chemistry and can have an impact.
He felt there might be some lawn fertilizer runoff contributing to Tuxedo Lake nutrient load, however, he suspects that most of the nutrient is "internally loaded".
Jeff Marchand asked about the impact of fish population. Mr. Sullivan described the fish as part of the food chain and explained how the fish imbalance contributes to non effective grazing of photoplankton. Photoplankton is eaten by zooplankton which in turn is eaten by small fish which in turn are eaten by larger fish. Inadequate or inappropriate fish populations contribute to algae bloom.
Susan Goodfellow asked about the impact of accumulating levels of CuSu (Copper Sulfate) on fish populations. CuSu is a heavy metal and does not biodegrade, leeching into soil. Mr. Sullivan's impression is that the little amount of CuSu used in Tuxedo Lake would not increase soil levels. CuSu could be impacting oxygen levels through the decay of biomass though he does not suspect that is happening in Tuxedo Lake.
Mr. Sullivan outlined the "problems that the Village wants to address:
· - Tuxedo Lake
- Algae blooms (the mid summer ones)
- EWM
- Phragmites
- Fishing
· - Little Wee Wah Lake (Pond No.3)
- Algae blooms (plankton and mat algae)
- EWM
· - Wee Wah Lake
- Algae blooms?
- EWM
- Swimming conditions
Mr. Sullivan repeatedly stressed "unmanaged EWM negatively affects water quality." When EWM grows to surface and is allowed to develop into mats, water movement stops, resulting in warming water, creating attractive substrata for algae growth and worsening water conditions.
Turning to a review of Citizens Statewide Lake Assessment Program (CSLAP) data, Mr. Sullivan was not aware that all three lakes were part of Tuxedo Park's CSLAP program and not just Tuxedo Lake. Presenting 2016 and some 2017 CSLAP sampling results (full 2017 results are not yet available) for Tuxedo Lake SLM's concerns are:
- Clarity—below average, particularly in July
- Total phosphorus—above average, up in July, increasing productivity
- Total nitrogen—above average, up in July
- Chlorophyll A—above average up in summer, spiking in July.
Ms. Steele pointed out that the CSLAP Results for 2016 started in July after one of the worst algae blooms that she had seen in almost thirty years of observing Tuxedo Lake had occurred the month prior. The bloom looked like blue latex paint. Both nitrogen and Chlorophyll A were above average in July, probably reflecting the earlier significant algae bloom.
None of the results addressed salinity, observed Ms. Steele, an increasing concern for promoting blue-green algae blooms. She wondered if the Village was monitoring salinity levels as research is showing alarming increases in freshwater lakes. Mr. Sullivan responded that they were not directly ,monitoring other things not included in his summary of results. Questioned about trends in salinity levels, SLM will look at 2017 CSLAP results for salinity level trends and comment later.
Mr. Guazzoni questioned the dramatic increase in phosphorus. Mr. Sullivan noted that algae growth will increase phosphorus levels. When algae dies, phosphorus levels should go down.
Presenting charts on Tuxedo Lake: secchi depth, plants perception, and temperature, years 2008-2016., Mr. Sullivan explained that trends are all going in the wrong direction: decreasing clarity, rising water temperature, and greater impairment from below and at surface plants. Bottom lake temperatures experienced a sharp increase and this could be a real concern.
Carlyn Cappella asked about when the monitoring the lakes had first begun, which Mr. Sullivan suspected started with the CSLAP effort.
Next, Mr. Sullivan presented maps of plants in Tuxedo Lake and the maps from 2011 and 2017 showing the spread of EWM. He described the methodology using a weed rake at 140 sites to understanding lake plant communities. Tuxedo Lake has native water celery, excellent for wildlife, southern naiad, and bass weed, best fish habitat. Tuxedo Lake does not have a lot of native plant coverage in littoral zone (where sunlight still reaches lake bottom). The continued spread of EWM could crowd out what modest native plant distribution is existing in Tuxedo Lake.
Mr. Guazzoni asked about planting native plants and Mr. Sullivan responded that only eelweed has been successful.
Highest density of EWM is at the dam and south end of lake, David McFadden asked why. The flow of lake water towards dam and high organic material at south end of lake might explain high densities. Mr. McFadden asked if other lakes were infested with Tuxedo Lake EWM fragments, flowing into Pond No. 3 and Wee Wah. Mr. Sullivan answered, "Sure."
He warned of the continued spread of EWM around the whole lake through annual natural ragmentation, but not knowing exactly the littoral zone of Tuxedo Lake he could not be sure of how bad it could be.
Length of EWM plants depends on clarity so in Tuxedo Lake could grow to 15-20', creating its own advantage by clarifying the water
Mr. Sullivan did not elucidate about the impact of road salt. Chiu Yin Hempel asked the impact of erosion along shoreline and why some areas were more receptive to EWM. Mr. Sullivan felt organic material accumulating at the south end of the lake and littoral zone would contribute to a favorable EWM habitat. He has not looked at the shoreline.
Mr. Sullivan reviewed three methods of plant control:
· - Physical
- Mechanical Harvesting
- Hydro-raking
- Suction/hand harvesting
- Benthic barriers, low tech approach, cost prohibitive $20,000 to cover an acre, will "sediment" over if not maintain properly, nothing grows underneath, best for personal dock area.
Mr. Sullivan explained that "harvesting" spreads Milfoil through creation of fragments, so most physical methods were not recommended especially if the infested area is greater then five acres. Mr. Sullivan dismissed the DASH methodology of harvesting which focuses on capturing fragments through not hand feeding the plant into the vacuum and triple filtering the water.
Ms. Steele questioned the SLM's opinion of harvesting reading from a Paul Smith College study, "Cost and Effectiveness of Hand Harvesting to Control the EWM Population in Upper Saranac Lake, NY:
"Results indicate that hand harvesting is a viable management technique for achieving whole-lake control of Eurasion watermilfoil; …" "…Hand harvesting has been used successfully in Lake George…"
Ms. Steele pointed out that the people working on Upper Saranac Lake had found hand harvesting to be so effective in getting on top of the EWM that they are using it now in Fish Creek. She did not understand Mr. Sullivan's opinion. He suggested she ask how much of Lake George was being managed and who was paying for it. He further suggested that the government was paying for it and not homeowners in most cases. He estimated a cost of $5,000 to $10,000 an acre and looking at Tuxedo Lake's map, he did not think hand/suction harvesting was an acceptable management tool. Tuxedo Park has already spent $184,000 on EWM removal which "did not get us anywhere". Ms. Steele suggested that perhaps the Village had not been aggressive and dedicated in its harvesting approach. Upper Saranac Lake had an aggressive three year plan, raising money through a foundation to achieve an acceptable level of EWM that could be maintained by continued hand harvesting at a reasonable cost (now at $90 an acre). Upper Saranac Lake recognized that the best that could be hoped for was achieving an acceptable maintenance level since EWM could never be fully eliminated once introduced, maintaining for perpetuity unless chemicals are applied every year. Mr. Sullivan said Ms. Steele should look into the details to see what he was talking about to which she responded she had already looked into the details.
Mrs. Goodfellow questioned how the Village had applied the funds used in the harvesting effort, whether there had been a consistent program in place and how effectively was it implemented. Mr. Sullivan did not respond.
· - Biological
- Grass carp, eat milfoil after eating natives and not easily approved by NYS DEC except for small ponds
- Herbivores, insects which feed on EWM, sometimes suppress EWM, not a reliable management tool
- Chemical
- Herbicides
- Algaecides
When asked about intentionally drawing down the lake to dry and freeze plants, Mr. Sullivan responded that to have any success of delaying growth and suppressing EWM six weeks of contentious freezing temperatures are needed. Unfortunately, there is no guarantee of the necessary prolonged cold to freeze the lake bottom and kill the plants. EWM roots are in the top two- three inches of lake bottom.
Jim Hays asked how one could tell if EWM had been killed and Mr. Sullivan thought that one could dig up and check, but he was not sure. He has seen delays in EWM sprouting in spring after an intentional drawdown but never an elimination. Shoreline ecology is negatively impacted by drawdown.
Asked about torching exposed weeds, Mr. Sullivan did not know results and guessed the NYS DEC would not approve burning . Ellen Gluck asked about weeding EWM out of lake after a drawdown. Mr. Sullivan thought this could be done with a huge effort because of the thousands of individual plants. Mr. Libby asked whether the Village was going to monitor the Wee Wah after the recent drawdown. Mr. Sullivan agreed that the current level of the Wee Wah provides a test case and should be surveyed.
Mr. Sullivan queried cost of hand harvesting but gave no comparison of alternative methods costs for five-ten years of management.
Greg Libby asked about growth cycle and wondered whether EWM was growing now. Mr. Sullivan responded that it was and that one could see the EWM plant dormant but not dead even under ice.
Mr. Sullivan reviewed timing and negatives of using herbicides for plant control:
· Timing
- best in Spring, early summer
- Uptake highest during growth
- Less biomass decay
- More available dissolved oxygen, colder water temperatures hold more oxygen
· - Negatives—ecological and lake use
- Plant decay uses oxygen—SLM test first
- Less plants = more algae-sometimes in eutrophic lakes (Tuxedo Lake is trending to a eutrophic state though not enough of a nutrient load to shift)
- Plant removal changes where the fish can be found
- Herbicides have irrigation restrictions
- NYSDEC Region 3 restricts swimming for a day
- NYSDEC has obstructive permit requirements
- NYSDEC requires notices based on dilution (downstream impacts)
Mr. Hays asked whether these herbicides biodegrade and what is their lifetime. They do biodegrade and their half lives vary from a week to three months. Mrs. Goodfellow asked if the herbicides can sink to bottom or get flushed out.The answer was that some flows out, but a majority stays in lake and is absorbed by plants. Some will fall to bottom and decompose. Herbicides have different breakdowns.
Mr. Sullivan was confident of the efforts of the NYS DEC to review all herbicides after EPA approval, and while not prepared to guarantee the water quality after treatment felt the Village should rely on the expertise and diligence of the NYS DEC.
Mr. Sullivan presented herbicides for plant control:
· - Sonar, can use in drinking water reservoir, says so on label, a common product for EWM, last for two to three years, breaks down plants ability to protect itself from sunlight, slow process
· - Aquathol K, needs to be 1200' from drinking water intake
· - Navigate
· - Rodeo
· - Renovate, and Navigate make plant "outgrow its food", selective to broadleaf plants
· - Komeen/Nautique, Cu based, good for six weeks
· - ProcellaCOR EC, newest, registered in most states, not NY, lowest toxicity , very selective in killing plants, will stay where you put it.
"All of the above are used in NY lakes with permits. All of the above can be used in potable water reservoirs."
Asked about spraying plants after a drawdown of lake, Mr. Sullivan said this would not be effective as plants would not be active and absorbing the herbicides when they were not under water.
Christopher Gow asked what Croton Reservoir was using for hydrilla infestation. SONAR was expected to be used.
Dolores Marchand asked about Rodeo and Renovate and the troubling discoveries after years of related Roundup use. How long have these products been studied? SONAR has been used since 1983 and application rates have been decreased. All these herbicides have to have an Environmental Impact Statement (EIS) which the public can read. Mr. Sullivan indicated that Rodeo does not have the hard surfactants that make Roundup dangerous in water.
Mr. Guazzoni asked about water filters removing chemicals and application of herbicide. Activated carbon filters are usually needed to remove for most chemicals. Liquid herbicides are sprayed on surfaces or injected into water through drop hoses. Granular herbicides are distributed by a spreader. He does not recommend night application or application on a windy day.
Mr. Libby asked about tenting which Mr. Sullivan felt was effective in small areas.
Mrs. Hempel asked about effectiveness of herbicides: will the EWM come back?
Mr. Sullivan rhetorically asked if herbicides were a silver bullet. "No," he said, " too many variables for a silver bullet to exist." Most lakes who manage EWM do so over time:
· - Year one-apply SONAR, EWM gone
· - Year two-still gone
· - Year three-starts to come back
· - Year fourth-retreat with SONAR
Mr. Hays asked if maintenance can be done by pulling. Areas with circulation will experience faster regrowth. Some clients do try to reach a level where hand harvest is adequate. Herbicide treatment does require follow-up.
Mr. Sullivan does believe that herbicide use had better control days results then other methods, i.e., one day of application "have control of invasive".
Mr. Sullivan reviewed algae control methods:
· - Algaecides
- Copper sulfate (no permit)
- Earthtec (no permit) more expensive then Cu based algaecides
- Other copper algaecide
- SeClear algaecide, binds with phosphorus and sinks to bottom, probable ALUM sulfate and does not release
- Greenclean algaecide, peroxide based, preventative proactive algaecide, weekly application suggested, need permit, 10x more expensive then CuSu
- Sonic solutions
· - Aeration, both below surface for deeper bodies of water and above for small shallow ponds (3 to 6'), lack of oxygen at bottom of lake encourages release of nutrients promoting algae growth
· - Nutrient Inactivation, use of Alumium sulfate
· - Biomanipulation
Mrs. Goodfellow asked about the NYS DEC rationale for requiring CuSu sediment sampling. Mr. Sullivan said NYS DEC responded to one employee expressing concerns about the build up of Cu in sediment. Plus research ,though not in NY , is showing higher Cu in sediment which can effect microvertebrates and zooplankton.
Mrs. Goodfellow asked about SeClear, which has not been forthcoming about their formulations and also about other herbicides. Mr. Sullivan responded that one would always know the active ingredient but EIS is based only on formulation.
Mrs. Hempel asked about the EIS (Environmental Impact Statement) process after Mr. Sullivan suggested reading for comfort on impact of different herbicides. He said an EIS was a large body of evidence, a lot of EIS are done by Washington University.
Mr. Sullivan, without a bathmthymetry map showing the exact contours of Tuxedo Lake, was unsure of EWM infestation (15 acres or not) or size of littoral zone (could be 50 acres).
Mr. Libby asked about cost per acre of herbicide application. SONAR (and all herbicides) pricings can range from $250 to $1500 an acre depending on the individual project.
SONAR does not have drinking water restrictions. Navigate has a weeklong restriction.
Mr. Hays asked about the relationship of development around lakes and algae blooms. Vacationing in the Adirondacks for a lifetime he has not seen an algae blooms in the Adirondacks. He acknowledged that trees are everywhere, no lawns, and forested shorefronts are required by the Adirondack Park Agency. Doesn't algae have to be related to development? Mr. Sullivan acknowledged development is a factor. At the recent Governor Cuomo launch of the Harmful Algae Bloom initiative, episodic events (an example is rain water funneled into a storm water system that picks up chemicals from roads, yards, roofs and empties into waterbodies instead of being absorbed into a forest floor or slowed down and absorbed by long grasses) were recognized as becoming more common and having a greater impact. Development increases those episodic events. Speaking only to the low density of housing in Tuxedo Park but not how the handling of stormwater was changed, Mr. Sullivan suggested that the Park's low housing density is a big plus.
Ms. Steele said if the Park were to be created today, Tuxedo Lake would not have houses around it with increasingly more lawns running down to the lake but rather a chain link fence with a large vegetative buffer surrounding it. Tuxedo Park's accessible reservoir is unusual and is one reason why the Village is so protective of its lakes. "We, the residents of Tuxedo Park, are protecting the lakes, not the NYS DEC."
Ms. Steele also asked about the cost of the Wee Wah aeration, initial and maintenance. (See below for answer.)
Nutrient inactivatio is the addition of aluminum sulfate to bind with phosphorus,stopping release into water body.
Ms. Steele asked about the chemistry of the Village lakes, existing and with the addition of more chemicals through herbicides. How do they know what is going on chemically in the lakes now (road salt, goose poop, etc), how do they know how these new chemicals (herbicides) will impact the chemistry and how do they monitor? Mr. Sullivan stated that the Village water department is watching now, testing, He has seen reports that show a process to take the harmful things out of the water before they reach the residents. CSLAP is looking as well. Ms. Steele expressed her concerns that a lot was going on chemically in the lakes and that perhaps they are not fully aware of: studies showing increasing salinity in freshwater bodies, Princeton Hydro at a recent PRISM workshop noting that CuSu treatments could actually be encouraging blue-green algae. She continued that the Village's drinking water reservoir does not have the normal protections (vegetative buffers, chain link fences, etc) so the community has to be more protective. Mr. Sullivan responded that he could only make recommendations but he could not make the Village manage the lake. If the Village decides to let the lake go… Ms. Steele said she was not proposing that at all. She does not want to see decisions made without a full understanding of the nature of the lake. Mr. Sullivan feels that the Village has a pretty good picture. He thinks that the (2009) Princeton-Hydro report was pretty thorough and provided a good overview of the situation. One of his recommendations is to continue CSLAP, which he feels is a very valuable tool.
Mr. Libby reviewed the usually budget driven fish stocking, which has been occurring since the Park's creation, and wondered whether the Village had been doing it wrong. He asked if the Village should be directly harvesting the herring. Mr. Sullivan acknowledged that he is not a fishery biologist and believes stocking trout makes sense in keeping herring population down. He did not know if harvesting would be beneficial, not having a fishery survey to go on. In years past, fishery studies had been recommended. The Village could hire SLM to do a fish study or the Village could just monitor and consciously document what the fishing community is catching. The information would be valuable. He could not say whether harvesting herring or stocking trout was better. Nevertheless, he is suggesting that the Village stock trout for another year.
Ms. Steele pointed out that when asked about biomanipulation (specifically stocking of Tuxedo Lake and the effects ) in April of 2014, Chris Doyle of Allied Biological (a predecessor company of SLM) recommended that before undertaking any sort of biomanipulation, the Village should conduct more studies, especially a fish study. Also, at the same time, the NYS DEC wrote in reference to blue-green algae blooms in Tuxedo Lake " Theoretically, it is possible that an ecological link between the fish populations in the lake and the algae blooms MAY exist". Ms. Steele queried about the benefit of a fish study before more money was spent on stocking the lake. Mrs. Goodfellow also felt a better understanding of the fish population would make subsequent actions of the Village more effective.
2018 Plans/ Mr. Sullivan's recommendation:
Tuxedo Lake
· - Make suction harvesting very targeted, to save money for a better method next year.
· - Continued use of Algaecide CuSu of control algae- based on low cost, no permit needed in drinking water reservoir,. Would rather the Village use SeClear but more expensive
· Regularly monitor phytoplankton June to September at least every other week, not waiting until DPW becomes concerned and sends sample to SLM, samples would cost $150 and would evaluate the likelihood of an algae bloom.
· - Survey/map plants at end of season and be prepared for action in 2019
Mrs. Gluck asked about managing phragmites, sooner as opposed to later. Mr. Sullivan stated that phragmites would only increase 10-20% in a year and he did not want to overwhelm the community with another herbicide application. Mrs. Gluck suggested plastic tarp covering phragmites. Mr. Sullivan said cutting down, removing biomass and covering would treat for a season but he would not promise eradication.
Mr. Guazzoni asked what experience SLM had with artificial lakes. 95% of SLM clients are manmade.
Pond No, 3
· - Herbicide with Navigate (granular 2, 4-D) to control EWM in half of the surface area (5-6 acres) as a "test case" so the community could become comfortable with use of herbicides. Navigate will not harm native plant. From what he saw last year a couple of times , the pond needs EWM control.
· - Apply Algaecid eCutrine Plus (liquid chelated copper to control filamentous algae)
· - Permits from DEC before an application (permit has been applied for. NYS DEC contacting residents on or near Pond No. 3) to allow flexibility in proceeding.
· - Survey lake before and after EWM treatment. Expect results in 6 to 8 weeks.
Mr. Sullivan feels that the Village should have a "no surprise" herbicide experience. No better way to manage EWM.
There will be no need to notify folks downstream as the area to be treated is less then 7 acres. 7 acres or more of treatment would require downstream notification. Mr. Sullivan deliberately structured his recommendation to avoid additional notifications. Tuxedo Park lakes are part of the Ramapo River watershed.
When asked by Ms. Steele about EWM fragments continuing to enter and re-infesting Pond No. 3, Mr. Sullivan suggested incoming water from Tuxedo Lake should be filtered to catch fragments.
Audrey Perry asked about the absence of pine trees along Tuxedo Lake which in former years dropped a carpet of pine needles in lake not leaves, wondering whether the Village should take down deciduous trees. Mr. Sullivan said it would be worse as the trees provide cooling shade in the shallowest part of the lake. He is not sure if the Village needs more trees.
Wee Wah Lake
· - Survey lake to assess plant growth and impact of drawdown
· - Village should monitor algae growth by observations and pass on to SLM
· - Install aeration a beach area, one compressor and 3 diffusers, $7,000 to install $500 to 1,000 annual maintenance and plus electricity
· - Plan to control for 2019
Long-term Strategy for EWM & HABs (harmful algae blooms)
EWM control
· - Use systemic herbicides purposefully for 2 years. Mr. Sullivan emphasized the need to be more aggressive upfront and suggested three years of herbicide treatmentfor best results.
· - Encourage native plants—bass weed, eelgrass
· - DO NOT harvest plants or lower lake annually (creates a different lake eco system and weather unreliable)
HAB control
· - Nutrient reduction actions
· - Increase community education/awareness
· - Increase plankton monitoring
· - Treat pro-actively (Earthtec, SeClear)
· - Maintain water treatment facility
· - Manage fisheries
Referencing the use of suction and hand harvesting in the Adirondacks, Mr. Sullivan suggested that the lake associations were not spending their own money and physical harvesting created jobs in the Adirondacks. He mentioned the use of herbicides as opposed to hand harvesting in Minerva Lake.
Mrs. Goodfellow asked why Adirondacks continues to use harvesting methods and relevant current research. Mr. Sullivan responded that he is not a research person but has years of experience on which to base his decision. Mr. Sullivan is confident that the herbicides are well tested by EPA providing a level of confidence. Nancy Hays asked, "if this was the old EPA or the new EPA?"
He feels there is not enough financial incentive for herbicide companies to cheat with aquatic plant herbicides.
.Mrs. Hempel recommended SLM walk around lake to see shoreline vegetation and stressed the need for a plan, specifically a three year plan addressing preventative measures not just treating symptoms. Mr. Sullivan responded that prevention is too late for EWM, but there are prevention methods for algae.
Ms. Steele who recently spoke to a town council person, David Labar, in Minerva, read from her notes of the conversation,
" starting in 2016, Minerva hired Aqualogic to DASH harvest (EWM) and it was a 'game changer'…tackling the most dense areas, feeder beds…By 2020 they hope to be in a maintenance mode.." Mr. Sullivan asked about cost which was a $1,000 a day.
SLM highlights steps in Princeton Hydro 2009 Lakes Management Plan
Tuxedo Lake
· - Phytoplankton/Zooplankton monitoring
· - Fishery survey
· - Educational information for residents
Pond No. 3
· - Bathymetric survey
· - Stormwater retrofits, Mr. Sullivan observed that the Village should annually clean retrofits for maximum protection of lakes, otherwise a waste of original investment
Wee Wah Lake
· - Treat with Greenclean Pro, as needed
· -InsItall beach aeration
· - Conduct bathymetric survey-done
· - Address stormwater mgmt. at DPW yard
· - Install salt storage facility
Watershed
· - Streambank buffers Mr. Sullivan's opinion of the good condition of the buffers was corrected; according to audience, the buffers are actually in poor condition
· - Phosphorus free fertilizer ordinance -already done by Village
· - Education on Canada geese
Mr. Hays asked about vegetative buffers along lake which Mr. Sullivan thought was a good idea. Lawns to the water are generally bad. Some type of buffer is an absolute benefit.
Diane Larsen asked about application of lime on lawns to deter geese. Mr. Sullivan did not know about lime. He is familiar with a grape based substance which if consistently applied discourages geese who do not like taste.
Comparables
Mr. Sullivan presented summaries of three comparables, two residential communities and one corporate headquarter. None of the lakes were drinking water reservoirs, but all were manmade. At the corporate headquarters, a 6-10 foot shoreline aquascaping has proved effective in deterring geese. He will provide photographs.
Comparable: Borough of Scenic Lakes and Distinctive homes" (Borough Mountain Lakes) has weekly monitoring April through September of multiple lakes, ranging in size from half an acre to 80 acres and three dates in summer to test water quality and phytoplankton. The other residential comp, "Community of Forested Lakes" had monthly lake surveys and summer biweekly phytoplankton testing in all five lakes and have been controlling EWM, other weeds and algae for 25 years. Both residential comps had storm-water management activities including redirecting storm-water away from main lake.
There were no reservoir comparables as any SLM reservoir clients are only treating algae not EWM.
Mr. Libby asked if SONAR were to be used on Tuxedo Lake should the Village recommend bypassing the lake for water during application process. Mr. Sullivan responded that If SONAR were to be used, he would be completely comfortable using the water supply. If the Village were using Aquathol K there would have to be drinking water restrictions. Mrs. Goodfellow asked if he was so comfortable with SONAR, would SLM guarantee our reservoir water quality and resident health?
Mr. Gow asked about preventing new invasives from coming in lakes. Mr. Sullivan felt that not having a public boat launch and the Park steam cleaning were effective preventative methods. No other private lake requires steam cleaning. Perhaps signage at the boat launch would be helpful. The Village could also inspect once a year for invasives. SLM would charge $4,000 for this service, or the Village could do it themselves. Educating residents on identity of invasives is also very important.
Post treatment of chemical requires vigilance of root crowns and further treatments.
Mr. Sullivan is more concerned about unpredictable biologicals then well studied herbicides.
Boaters pulling out fragments found in lakes will be helpful in reducing infestation.
Village has been reactionary in treating algae and EWM is not part of a managed plan.
Ms. Steele asked what is the benefit of only doing half of Pond No. 3? Mr. Sullivan wants to see impact before treating the whole lake.
Mrs. Hempel asked for a three year strategic plan with variables, likely commitments, the preventative and so on, so far. Mr.Sullivan suggested that the Village start following Princeton Hydro plan. Mrs. Hempel highly recommends that Mr. Sullivan walk around the lakes to understand impact of topography. SLM is working on a longer-term plan but still has variable the Village does not understand. She stressed the need for a better vision. Mrs. Goodfellow feels the long-term plan should acknowledge current research especially as there is no guarantee being given by any one about the long term health of the lakes.
When asked about filtering water flowing into the lakes, Mr. Sullivan suggested an ordinance maintaining a six-foot buffer. Members of the audience suggested much wider.
Mr. Hays noted that the method Mr. Sullivan was recommending of multiple years of herbicide applications has not been done very often. Mr. Sullivan agreed but feels that his proposed method is likely to have better results.

Join The Wee Wah Fishing Club!
The Wee Wah Fishing Club is now accepting applications for new members. Members use club boats to fish for trout, smallmouth and largemouth bass, yellow perch, walleye, catfish, and more on the quiet, stocked waters of beautiful Wee Wah Lake in Tuxedo Park.
Applicants must be residents of the Hamlet of Tuxedo or the Village of Tuxedo Park. Village employees and active members of the Tuxedo Ambulance Corp. and volunteer fire departments are also eligible. To apply, send a letter to Wee Wah Fishing Club; PO Box 158; Tuxedo, NY 10987. For more information, contact Jack Haubert at 915-3089 or jackhaubert@hotmail.com.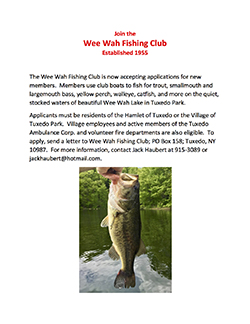 Village Board of Assessment To Meet March 15 For Executive Session
Click here to view the meeting notice.

2018 Tentative Village Assessment Roll Posted to the Village Website
The 2018 Tentative Village Assessment Roll has been posted on the Village Website. Click here to view.

Tuxedo Park To Be Featured on PBS in January 2018

Important Drinking Water Notice December 27,2017
Posted 12-27-17
BOIL YOUR WATER BEFORE USING
Bring tap water to a rolling boil, boil for one minute, and cool before using. Or use bottled water certified for sale by the New York State Department of Health. Boiled or bottled water should be used for drinking, making ice, washing dishes, brushing teeth, and preparing food until further notice.
This Boil Water Notice applies to Town of Tuxedo (Hamlet) North to Hickory Hollow Nursery
What Happened?
At about 10:00-PM on Wednesday, December 27, 2017 work will begin to replace a water valve in the system. This work may cause disruption in water service and/or a loss of water pressure. When water mains lose pressure it increases the chance that untreated water and harm l microbes can enter your water.
Harmful microbes in drinking water can cause diarrhea, cramps, nausea, headaches, or other symptoms and may pose a special health risk for infants, some elderly, and people with severely compromised immune systems. But these symptoms are not just caused by microbes in drinking water. you experience any of these symptoms and they persist, you should seek medical advice.
What is being done?
Replacement of the valve is necessary maintenance we must per on the system. We will work to replace the valve as quickly as possible. Beginning on 12/27/17 at 10:00 PM you must boil the water until further notice.
It is likely that you will need to boil water for the next few days until the problem is fixed and confirmation samples are collected to con the absence of bacteria. You will be informed when tests show that you no longer need to boil your water.
For more information, please contact:
Tuxedo Park Water Department at 845-351-2777 or the Orange County Department of Health at 845-291-2331.


Please share this information with other people who drink this water, especially anyone who may not get this notice directly or example, people in apartments, nursing homes, schools, and businesses.

IMPORTANT INFO ATION ABOUT BOUT YOUR DRINKING WATER.
The Village of Tuxedo Park Did Not Meet Treatment Requirements
Our water system recently violated a drinking water requirement. Although this situation is not an emergency, and does not require that you take immediate action, as our customers, you have a right to know what happened, what you should do, and what we are doing to correct this situation.
As part of our Disinfection By-Products Rule, we routinely monitor for removal of Total Organic Carbon (TOC) in our filters. The running annual average of test results ending in the month of September 2017 showed removal levels of TOC at .97 (a removal of 1.0 is required).
What does this mean?
This is not an emergency. If it had been an emergency, you would have been notified immediately. Total Organic Carbon OC) has no health effects. However TOC provides a medium for the formation of
disinfection byproducts. ese byproducts include Total Trihalomethanes (TTHMs) and Haloacetic acids ( 5s). Drin ng water containing these byproducts in excess of the Maximum Contaminant Level (MCL) m lead to adverse health effects, liver or kidney problems or nervous system effects, or m lead to an increased risk of getting cancer
Our water system also monitors for TTHMs and HAA5s. Our testing for TTHMs and HAA5s did not show the presence TTHMs and HAA5s that approached the standards for maximum Contaminant Levels.
What should I do?
There is nothing you need to do. You do not need to boil your water or take other corrective actions.
However, if you have specific health concerns, consult your doctor. .
If you have a severely compromised immune system, have an infant, are pregnant, or are elderly, you may be at increased risk and should seek advice om your health care providers.
What happened? What was done?
Compliance is based on a Running Annual Average. Although the average is below what is allowed, history has shown adequate TOC removal. We are reviewing our sampling procedures and evaluating our Filtration system for efficiency. We are continuing to monitor TTHMss and HAA5s.
For more information, please contact the Village of Tuxedo Park at 845-351-4745 or by mail at PO Box31, 80 Lorillard Road,,Tuxedo Park, NY 10987.

Please share this information with other people who drink this water, especially anyone who may not get this notice directly or example, people in apartments, nursing homes, schools, and businesses.

TPFYI Community Survey
Posted 12-28-17
De

ar Neighbor,

TPFYI has reached an important crossroads and we are looking to chart our course for the future, both in terms of economic viability as well as overall value within the community. If you would kindly take a moment to complete the following, short survey, we would greatly appreciate it.




Click HERE to take the Survey




Thank you in advance for your time.




Sincerely,

The Team at TPFYI
Please help me spread this news!

Important Water Notice
Posted 12/15/17
Click here to view notice

Village BZA Seeks Two New Members
The Village has two immediate openings on the BZA due to members both moving outside the Village and exceeding their term limits. Terms are 5-years. If you or anyone you know would like to give back to the community by serving on the BZA please contact Debbie Matthews at

(845) 351- 4745, Ext. 4

Thank you.

Board of Trustees

Tuxedo Park To Be Featured on PBS in January 2018

Wee Wah Dam Progress Depicted in Photo logs on Village Website
Posted 11-29-17
The Village has posted photo-logs depicting the progress on the Wee Wah Dam to their website.
Click here to check it out!

From The Mayor's Desk - Halloween In The Village
Posted 10-23-17
From the Mayor's Desk
Halloween in Tuxedo Park is one of our best traditions. The residents on Clubhouse Road, Tower Hill Road, and the surrounding area have hosted our trick or treaters for years. Halloween would not be possible without their generosity and commitment to the community.
This year, Halloween falls on a weekday which means that many of the children who have weekend homes will not experience our great tradition. Therefore, this year the Village will oversee two Halloweens – Saturday and Tuesday. Of course, some of our usual hosts will not be able to provide tricks or treats on both evenings. However, we have been told that there will be enough hosts participating each evening to make it fun for all.
The Village Police block off traffic to Clubhouse Road and keep our trick or treaters safe. They will do so Saturday and Tuesday. We have commitments from parents to kindly and gratefully cover 100% of the cost if there is overtime associated with adding this extra shift. If this experiment is successful it may become a tradition. We will leave that decision up to you and future Village Boards. There are several other fun Halloween events taking place Saturday in the Park and Town. Why not attend as many possible. I don't think your kids will mind filling up their candy bags to the brim! Thank you and have a great Tuxedo Park Halloween experience this year.
Mac
Please help me spread this news!

Tuxedo Lake Update
Posted 8-4-17
Based on Solitude Lake Management's Algae Bloom Analysis the Village will be treating the lake as soon as they receive DEC approval.

Tuxedo Lake Algae Bloom
Posted 8-2-17
From the Village website 8/1/17:
There is an algae bloom in the main lake. Samples taken yesterday have been sent to our lake manager Solitude Lake Management for analysis. We expect a report shortly detailing the steps necessary to remediate the algae bloom. This is typically done with copper sulfate disbursement into the lake. The algae bloom does not threaten the quality of drinking water now.

Wee Wah Dam Rehabilitation Project Report July 2017
Posted 8-2-17
Click Below to Read Full Report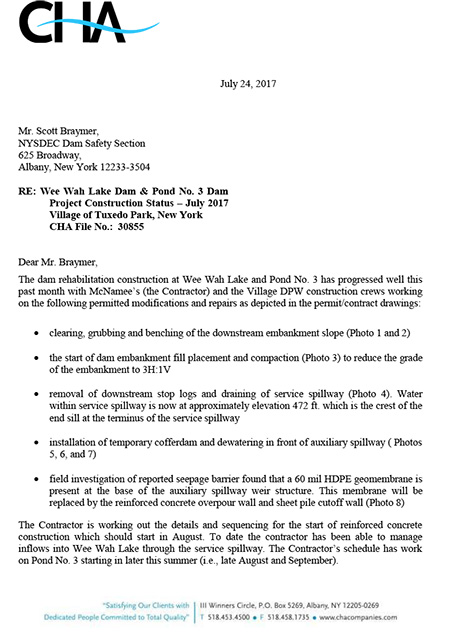 SENATOR BONACIC VISITS TUXEDO PARK NATURE PRESERVE
Posted 10-26-16
(Middletown, NY)- State Senator John J. Bonacic (R/C/I) visited the Tuxedo Park Nature Preserve yesterday, where he received a tour and update on the progress being made. Restoration of nature preserve was a multi-year project funded entirely by private donations and government grants. When fully complete, the preserve will be an expansive meadow of colorful native flowers and grasses, surrounded by a healthy forest and featuring meandering footpaths that will offer all-season enjoyment and educational opportunities, and will be greatly beneficial to the ecological health of the Village.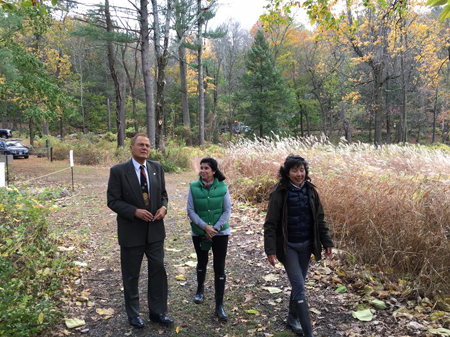 Senator Bonacic tours the Tuxedo Park Nature Preserve with (L-R), Tuxedo Park Mayor Mary Jo Guinchard, and Tuxedo Park resident Chiu-Yin Hempel.

Race Track Nature Preserve Dedication Ceremony October 23, 2016
Posted 10-24-16
Sunday's Race Track Nature Preserve dedication ceremony was a lovely event, enjoyed by all who attended. Thank you to the Tree Advisory Board, the Deviners, the Tuxedo Park Garden Club, and the DPW for all of your hard work!
To learn more about this exciting, multi-year project, be sure to visit the Tree Advisory Board's website: http://www.tptreeboard.org/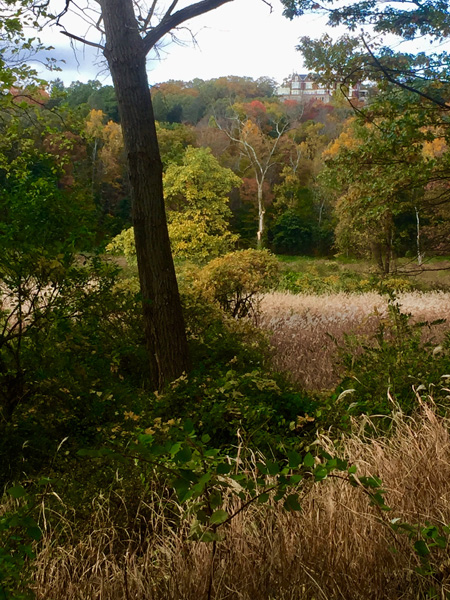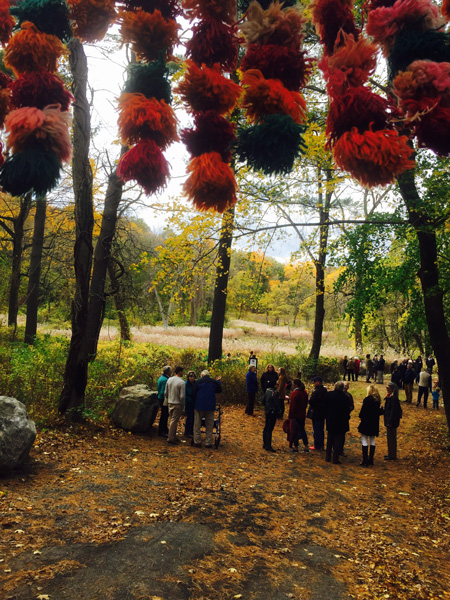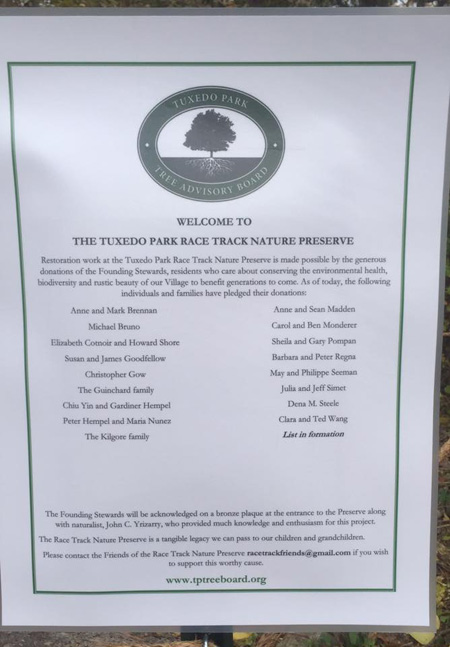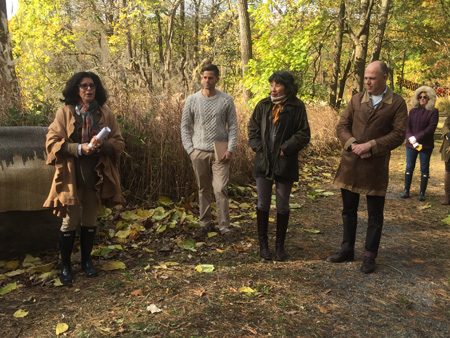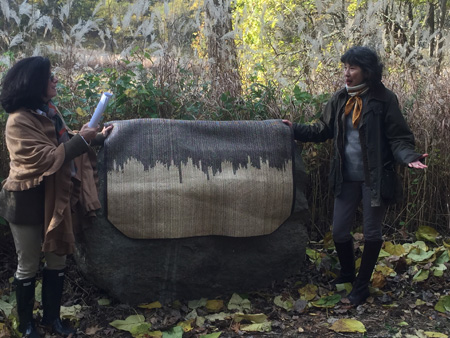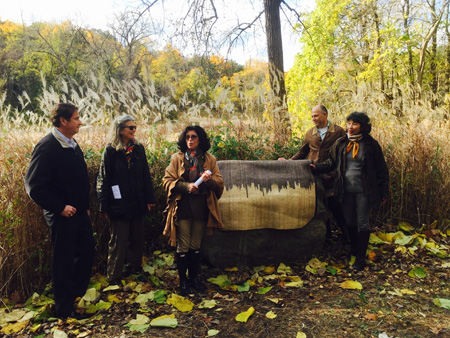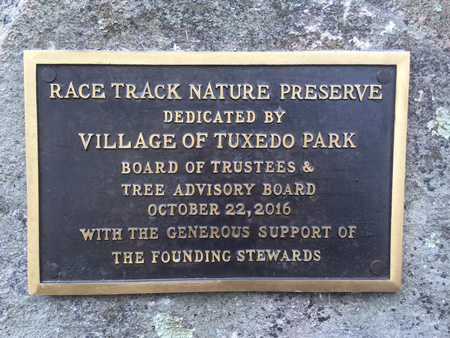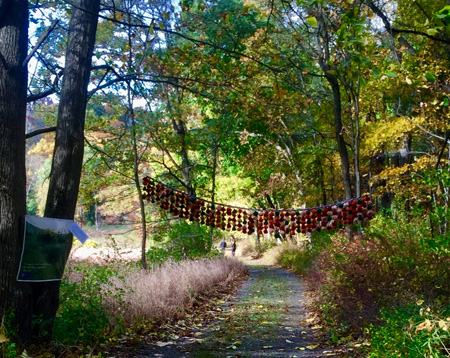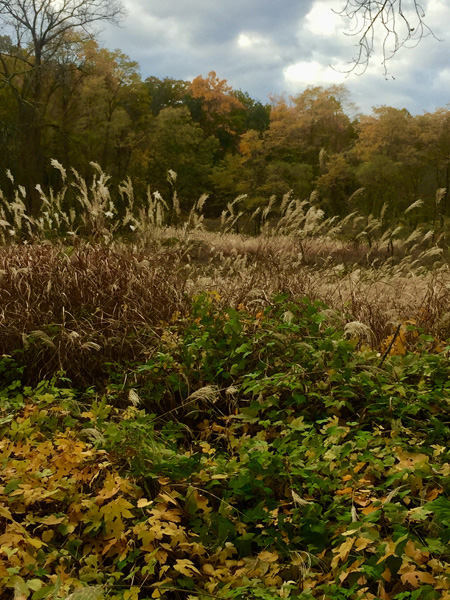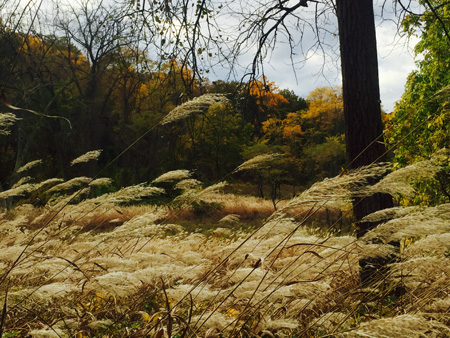 Thank You To The Tuxedo Park Garden Club
Posted 10/11/16
THANK YOU to the Tuxedo Park Garden Club for all of your efforts in making the community look beautiful this fall!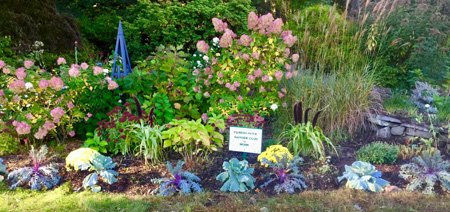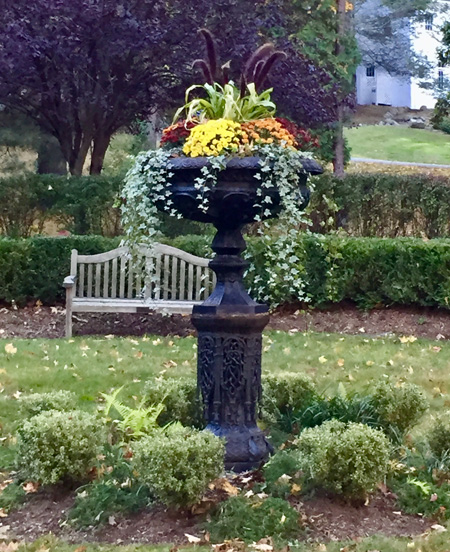 Boating Restrictions Tuxedo Reservoir
Posted 6-10-16
Click Here to view.

What's Happening At The Gate
Posted 6-3-16
On April 26, 2016 the Village Board of Trustees voted in favor of changing the qualifications of the gate guards so that the positions would be filled by armed law enforcement officers while simultaneously abolishing the position of Traffic Guard "as the Village has always known it" effective May 31.
Safety concerns seem to be the motivating factor behind this decision however, the Village also stands to save some money in salary and health insurance costs by making the change over to part-time officers.
On May 26 the Trustees held a special meeting for the purpose of considering extending the effective date for the abolition of Village Traffic Guard positions by up to 60 days. At the conclusion of this meeting, no such resolution was made.
As of June 1, the Village has not hired any new part-time officers to replace the Traffic Guards that they dismissed last month.
So who is manning the Gate you might ask???
The answer is……the one officer on duty.
Because this job requires the officer to remain in The Keep, there have been limited police patrols throughout the Village since June 1. Calls are either being forwarded to the Town of Tuxedo Police or response is delayed while the patrolling officer waits for reinforcement at The Gate.
Stay tuned to TPFYI for more information on this situation as it becomes available.

Village Surveys Residents Regarding Front Entrance
Posted 4-12-16
In your most recent mailing from the Village (this week) along with your water bill, you will find the survey pictured below, which concerns the future of the Front Gate. It is not easy to find….it is on top of the back-side of the Mayor's Newsletter and the print is small. It is CRUCIAL that as many residents as possible complete this survey and submit it to the Village. Currently, the thinking is that they will not be replacing the booth with a manned booth, but rather an empty one…while the guards will remain in the Keep as they are now. The reasoning behind this is safety and security. It is feared that if there were to be a shooting incident, a guard in the booth would not be able to adequately protect themselves from imminent danger.
Regardless of your view, please take the time to seek out this survey and complete it. The Board needs to have an accurate idea as to how the majority of residents feel before making these important decisions which truly go to the heart of this community.


WHAT'S UP WITH ALL THE ACORNS THIS YEAR?
Posted 10-19-15
Click here to read article

PILGRIM PIPELINE REP TO SPEAK AT MONDAY'S VILLAGE BOARD MEETING
Posted 9-28-15
At this Monday's Village meeting a consultant for Pilgrim Pipeline, John Cassellini , will be making a presentation during Public Comments.
It will be our first opportunity to hear from a representative of Pilgrim as to their plans for the pipeline and the potential impact to our Village and the Town.
We need to demonstrate our community resolve to not have the pipeline directly in our Village and Town. Please encourage everyone you know to attend.
The Mayor has scheduled the public comment section of the meeting at approximately 8pm.
The general meeting starts at 7pm.

Village Resident Michele Lindsay Announces Her Candidacy For Town Board
Posted 7-16-15
Michele Lindsay
2 Eagle Mountain Road
Tuxedo Park, New York 10987
July 13, 2015
Dear Tuxedo Neighbors,
I am announcing my candidacy for Councilman of the Town of Tuxedo. Important decisions will be made by the Town Board that will have great impact on our community for years to come. I am motivated to ensure that those decisions will benefit all residents.

Since moving to Tuxedo Park in 1995, I have been actively involved in the community and have been in the forefront of efforts to protect our way of life from overdevelopment. I strongly believe that we can find a better solution for economic growth that is sustainable for the long-term.
Now, more than ever, is the time to move forward to promote economic growth that will benefit the Town. To that end, I am working on A Better Tuxedo, a community-wide committee that is collaborating with our Chamber of Commerce and the Orange County Citizens Foundation to establish Tuxedo as the Gateway to Orange County and our State Parks. We will encourage implementation of key components of the Update of the Comprehensive Plan that was adopted by the Town Board in 2011. I will work to secure County and State funding for projects and to ensure that the Local Development Corporation, funded by Tuxedo Farms, operates smoothly.
Mismanagement by the prior Town Board resulted in a $1 million deficit in our $10 million budget for Fiscal Year 2015. Supervisor Rost inherited this problem and secured monies from the casino applicant to temporarily bridge this shortfall. But we still need to restructure the budget to make up any ongoing deficits.
I will dedicate my education in Mathematics at Smith College and my experience as Vice President at JP Morgan to solving our fiscal problems. My years in the Municipal Bond Department are directly applicable to the needs of the Town Board: I evaluated the creditworthiness of municipal bond issuers as an analyst; and I worked with public finance bankers in my positions as a bond trader and salesperson. Previously I worked as a research analyst in Money Markets. My work on various non-profit boards over twenty-five years is also relevant to crisis management and problem-solving.
Tuxedo continues to be threatened by projects such as the Pilgrim Pipeline. I am actively involved in Target Tuxedo, an organization dedicated to informing residents about issues that will impact our environment. As a Board Member of Sterling Forest Partnership, I will be able to effectively use the resources that SFP has developed and to help coordinate the Town's response. To further protect Tuxedo from unwanted development, I believe that our zoning code needs to be reviewed and strengthened.
I support Tuxedo Farms as necessary for growth in Tuxedo but oversight of the development is critical. With tonight's appointment, two Town Board Members seeking reelection this November have spouses on the Town Planning Board. I feel that the appointee is well qualified. However, despite all good intentions, I do not believe that this situation encourages the best independent decision-making, when the Town needs it the most.
Development of a united Community is my passion. Connections among the neighborhoods of Tuxedo are challenged by distances, topography and two different school districts. I believe that the efforts of A Better Tuxedo will help build a community we can be proud of.
Please support my candidacy so that I may serve all residents on the Town Board. I will need your vote to win based on merit. I vow to pledge my time, skills and energy to work for you. Thank you for your time.
Sincerely,
Michele Lindsay

Pilgrim Pipeline Presentation July 9, 2015
Posted 7-14-15
This past Thursday, July 9, Audrey Friedrichsen Esq., Land Use and Environmental Advocate at Scenic Hudson, gave a presentation regarding the proposed Pilgrim Pipeline to the residents of Tuxedo at the invitation of the community-based action group Target Tuxedo. The proposed pipeline will carry highly volatile North Dakota Bakken oil from Albany to Linden, NJ and a part of the proposed route goes right through Tuxedo and Tuxedo Park. This was the first in a series of presentations that will be sponsored by Target Tuxedo.
Following a brief introduction, Ms. Friedrichsen provided an over view of the project as it currently stands.
Click here to view this presentation.
There followed a Question & Answer session. As it stands, details for the project have yet to be finalized, so the majority of these questions could not be answered definitively. Issues that were touched upon include:
Construction oversight and lack of Federal Involvement
Route concerns
Involved State Agencies
Type and volatility of the material to be transported
Probability of Intermediate pumping stations
General operating concerns, regulations and oversight
Opportunities for Municipal Oversight
Possibility of changing Zoning Codes
Types of potential disasters
Private Property concerns, Property Owners rights and eminent domain concerns
Possible legal resources
Recommended Next Steps

Target Tuxedo Presents "Introduction to the Proposed Pilgrim Pipeline" Thursday, July 9 at 7pm
Posted 6-29-15
Thursday - July 9th - 7PM
Introduction to the Proposed Pilgrim Pipeline
Audrey Friedrichsen Esq., Land Use and Environmental Advocate at Scenic Hudson, will present information about the Pilgrim Pipeline to the residents of Tuxedo and Tuxedo Park. The proposed pipeline will carry highly volatile North Dakota Bakken oil from Albany to Linden, NJ. Part of the proposed route goes through Tuxedo and Tuxedo Park. Target Tuxedo sponsors this speaker. *
St Mary's Episcopal Church
Fox Hill Road, Tuxedo Park
Thursday - July 9th - 7PM

Archived Village News
2012-2014
Click Here to View