VILLAGE GOVERNMENT



Important Lake News
Posted 10/9/14
Some of you may have received an email today with a request to help pay for the stocking of Tuxedo Lake.
This is not a course of action that the Village has approved, as all such actions need to be. We have retained Chris Doyle of Allied Biological, who has come before the BOT and the residents last February, to explain the facts of why we are seeing changes. These are caused by the environment, issues that were not nearly as prevalent just a few years ago. Chris will be joining us at the October 28 BOT meeting (7 p.m. at the Village Office) to update us on all manner of lake issues. Please keep in mind that Chris has been retained so that we have scientific evidence and can react to them appropriately. The Lakes Committee meet with him on a regular basis, collecting data, access conditions and advise the hard working volunteers who do this important work. Under the leadership of Susan Goodfellow, who oversees regular testing, we have made great strides and we will continue to do so. Let's hear from Chris and see what he recommends.
Please join us on the 28th to further understand the issues at hand from a scientific standpoint.

Important Recycling Reminders
Posted 10/1/14

Town Response to Village Requests to Modify Scoping
Posted 9/2/14
GENTING CASINO
SEQRA ENVIRONMENTAL IMPACT STATEMENT SCOPE DOCUMENT
SUMMARY OF VILLAGE REQUESTS TO MODIFY SCOPE AND
TOWN BOARD'S RESPONSE IN THE FINAL ADOPTED DOCUMENT
Following is a summary of the modifications to the SEQRA Draft Scope that were requested by the Village -- a SEQRA Interested Agency – and the Town Board's response as reflected in their adopted Final Scope:
CHAPTER III:
EXISTING CONDITIONS, ANTICIPATED IMPACTS AND PROPOSED MITIGATION
1. LAND USE, ZONING AND PUBLIC POLICY
• Village Request: Under "Potential Impacts," include in the comprehensive impact analysis the Project's effect on the community character of the Village of Tuxedo Park, including the Project's impact on the Village's listing on the National Register of Historic Places.
• Town Response: Agreed in part. Scope modified to include the following under "Potential Impacts" (p. 10):
A discussion of the Project's impact on Town (including Village of Tuxedo Park, East Village and other representative areas) community character will also be discussed, to the extent that it is documented in other sections of this DEIS that there will be a change in property values, traffic, noise, lighting, air quality, security or visibility due to the Project.
2. GEOLOGY, SOILS, AND TOPOGRAPHY
• Village Request: Under "Potential Impacts," include the potential impact of any dredging of the Ramapo River, and quantify the amount of material that might be removed.
• Town Response: Not adopted.
3. VEGETATION AND WILDLIFE
• Village Request: Under "Potential Impacts," include "Bald Eagle" as an additional listed species to receive a field survey study.
• Town Response: Agreed and adopted. (See pp. 12-13)
4. WETLANDS AND SURFACE WATERS
• Village Request: Under "Potential Impacts," include impacts related to the flooding of the waterways in and around the Project site, including the Warwick Brook, Ramapo River & Route 17 area, which are prone to flooding.
• Town Response: Agreed in part. Scope modified to include the following under "Potential Impacts" (p. 14):
The watersheds, and water bodies, to which the project will drain will be identified. The evaluation will specifically consider the Indian Kill, Warwick Brook, and Ramapo River.
• Village Request: Under "Potential Impacts," include impacts related to any dredging of the Ramapo River as a specific impact to be evaluated.
• Town Response: Not adopted.
6. GROUNDWATER RESOURCES
• Village Request: Under "Existing Condition,s" include groundwater mapping as a method to determine the depth to groundwater and aquifer characteristics.
• Town Response: Not adopted.
Note: the following was added under "Potential Impacts" (p. 16):
The results of the geotechnical report, which shall be included as an Appendix to the DEIS, shall include data regarding depth to groundwater and aquifer characteristics.
7. WATER SUPPLY
• Village Request: Under "Potential Impacts," evaluate the impact of the Project's withdrawal of water on the Tuxedo Lake Reservoir, the Warwick Brook, and Ramapo River.
• Town Response: Agreed in part. Scope modified to include the following under "Potential Impacts" (p. 17):
The DEIS will address the potential impact on Tuxedo Lake and Wee Wah Lake, which is a drinking water supply for the Village of Tuxedo Park. The DEIS will evaluate whether Tuxedo Lake, and any contributing stream such as Warwick Brook, are located within the watershed to which the Project Site will drain, and the DEIS will fully evaluate the potential impacts to that water supply system.
3
• Village Request: Under "Potential Impacts," require all correspondence, including electronic correspondence, between the Applicant (including its consultants) and United Water to be immediately forwarded to the Lead Agency.
• Town Response: Not adopted.
9. ENERGY USE AND INFRASTRUCTURE CAPACITY
• Village Request: Under "Potential Impacts," include the following:
A discussion and study of any potential adverse impacts upon Orange and Rockland Utilities customers will be provided, including customers in the Village of Tuxedo Park, owing to any priority of service commitments to the Applicant or practices that might result in a detriment to other Orange and Rockland Utilities customers.
• Town Response: Not adopted.
• Village Request: Under "Mitigation," include discussion of measures related to the feasibility of purchasing renewable energy credits, carbon credits, or other financial or economic climate mitigations for green house gas (GHG) emissions and carbon generated by the Project.
• Town Response: Agreed in part. Scope modified to include the following under "Mitigation" (p. 19):
Mitigation of greenhouse gases will be discussed, including use of renewable power for the facilities' power needs and plans to mitigate carbon emissions from increased traffic.
10. VISUAL CHARACTER AND AESTHETIC RESOURCES
• Village Request: Under "Potential Impacts," in which the Village is listed as a designated point of view shed analysis, require that the view sheds studied include viewpoint locations that are designated by the Village.
• Town Response: Not adopted.
• Village Request: Under "Proposed Project," add the following language:
The totality of the lighting systems on the Project Site shall be assessed to determine the impact of the Project Site lighting on the night sky as viewed from the Village of Tuxedo Park, at such locations reasonably designated by the Village of Tuxedo Park, which designation shall be accomplished within 10 days of the Applicant's written request to the Mayor for such designated locations.
• Town Response: Not adopted.
11. TRAFFIC, TRANSPORTATION AND PARKING
• Village Request: In the introductory paragraph, clarify that the traffic impact study must be in such detail to be able to support the needs of air and noise analyses.
• Town Response: Not adopted.
• Village Request: Include in the introductory paragraph that all traffic studies must analyze both the presence and absence of a toll payment at the proposed Thruway Exit 15B.
• Town Response: Agreed in part. Scope modified to include the following under "Potential Impacts" (p. 25):
An evaluation of traffic impacts associated with and without tolling Interchange 15B on the primary and secondary study areas shall be conducted. Tolling could divert traffic through NYS Route 17 thereby creating traffic impact at intersections within the Town and Village of Tuxedo and Village of Sloatsburg. The traffic analysis and supporting documentation shall evaluate both options (tolled and non-tolled) and summarize the anticipated traffic impacts under each condition.
• Village Request: Under "Existing Conditions," add as an additional Primary Intersection Study Area, the intersection of Route 17 and Tuxedo Road, the primary entrance to Tuxedo Park.
• Town Response: Agreed in part. Scope modified to add the Tuxedo Road and Route 17 intersection, but as a "Secondary Study Area" (p. 22)
• Village Request: Add Sunday peak hours, as determined by the Town's traffic consultant.
• Town Response: Agreed in part. Scope modified to include the following under Projected Traffic and Analysis Hours (p. 23):
The DEIS shall include an evaluation of Sunday traffic on the primary and secondary study areas, as well as I-87. High volumes of traffic have been observed, especially southbound on I-87, during certain seasons. Sunday traffic conditions shall be discussed in the DEIS, Depending on the outcome of the evaluation, additional detailed analysis on Sunday may be warranted. An explanation shall be provided as to why such conditions do not warrant a detailed analysis if none is provided.
• Village Request: Under "Potential Impacts," provide a detailed discussion of the noted increased use of rail and bus traffic that will be generated by the Project, and its impact on (i) the existing quantity and flow of commuter traffic, and (ii) the associated rail station and bus stop capacity/availability for commuters.
• Town Response: Agreed in part. Scope modified to include the following under "Potential Impacts" (p. 24):
Anticipated increase in rail and bus ridership will be evaluated and method to pick-up and drop off transit riders will be described, anticipated routing of jitney and bus vehicles identified, and potential impacts evaluated. Alternative bus stop and rail station locations in the vicinity of interchange 15B will be considered for mitigation purposes. The impact analysis will consider the Tuxedo hamlet area as well as other areas that may be affected, and where visitors and employees may be anticipated to arrive by rail and travel to the casino via jitney or bus if a bus or rail stop is not provided outside the hamlet.
12. NOISE
• Village Request: Under "Existing Conditions" include the Village as a noise sensitive area that could be impacted during casino construction and/or operation, and monitor noise levels at locations designated by the Village, because this area may experience increased traffic noise from I-87.
• Town Response: Agreed in part. Scope modified to include the following under "Existing Conditions" (p. 26):
Up to three locations in the Village of Tuxedo Park will be approved by the Village and monitored.
• Village Request: Under "Potential Impacts," include casino generators in the category of stationary sources that will have its noise impacts assessed quantitatively.
• Town Response: Agreed in part. Scope modified to include the following under "Potential Impacts" (p. 27):
The noise impact analysis will consider operations including but not limited to chillers, air handlers, substations, generators (including emergency generators), entertainment, and special events, including events at the amphitheater.
• Village Request: Under "Potential Impacts," require the noise impact analysis to include all entertainment operations and special events to be conducted at the Project Site,
including events at the amphitheater. Entertainment operations not studied shall not be permitted unless and until the impacts are studied by an SEIS or otherwise. The noise impact analysis shall include the potential impact on Village residents, including the potential impact at such locations designated by the Village.
• Town Response: Not adopted.
• Village Request: Under "Potential Impacts" include the following:
If, and to the extent, air traffic to the Project Site is not studied in the DEIS, then no such air traffic shall be permitted, unless and until such activity is studied by the Lead Agency by an SEIS or otherwise.
• Town Response: Agreed in part. Scope modified to add the following under "Existing Conditions" (p. 26):
The Project does not propose air travel to or from the proposed Project Site. In addition, the Project Sponsor has committed not to own, lease, operate, pay for or contract for helicopter services to or from, any helicopter landing pad within the Town or within a 5-mile radius of the Town. Thus, helicopter noise associated with the Project will only be considered to extent aircraft paths are anticipated to result in increased air traffic within a 5-mile radius of the Town.
CHAPTER IV: CONSTRUCTION IMPACTS
• Village Request: Add the intersection of Route 17 at Tuxedo Road, the primary entrance to the Village, to those intersections that must be analyzed quantitatively in the construction traffic analysis.
• Town Response: Adopted (p. 33).
CHAPTER X: CUMULATIVE IMPACTS
• Village Request: add the following:
If a full Interchange 15B is not constructed (including a north and south entrance/exit), the project may not proceed without a detailed study of the traffic impacts resulting from a less than full Interchange 15B, by an SEIS or otherwise.
• Town Response: Agreed in part. Scope modified to include the following under "Project Purpose, Need and Benefits" (p. 9):
The Interchange 15B design is specifically incorporating a full interchange design, e.g., on- and off-ramps from/to northbound and southbound I-87.

Village Lakes Update
Posted 8/7/14
Summer is here!
On Monday, we completed Round #5 of 8 sampling sessions on all 3 lakes. Emily, from Allied Biological, was here to draw phytoplankton and zooplankton samples and supervise our use of the new oxygen meter. Oxygen levels are good. Water clarity, as measured using a Secchi disk, has decreased or remained stable. Algae is giving the water a greenish cast .
Blue/Green Algae (Cyanobacteria) levels have increased to a level where Chris Doyle, our lakes biologist, is recommending that we treat Tuxedo Lake with copper sulfate. This will happen on Friday. The treatment will enable the water filtration system to continue to work efficiently in providing us with safe drinking water. We in no way have the troubles recently experienced by Toledo that you may have read about.
A number of residents have reported an algae growing up to the lake's surface, ultimately forming mats. This is filamentous algae, a single celled algae that connects to form strands and attaches to rocks or plants or pilings and grows up to the surface to form unattractive mats. Some is growing around the docks at the boathouse in the shallow water and near the shoreline at the Wee Wah.. Fortunately, it is not potentially toxic as cyanobacteria or "blue green" algae can be. It just looks ugly.
As the summer progresses and if the temperatures stay high and there is little rain, we may experience blue green algae surface blooms. For those of you living on the Wee Wah or Little Wee Wah, who are permitted to swim at your own risk, the best rule of thumb is to stay out of the water if it looks yucky. Not scientific, but a good guideline to follow.
As you know, we are battling to control Eurasian Water Milfoil. The first hand pulling took place in June. The AIM team returned this past Monday for a second week. The increased water clarity, earlier this season, created wonderful growing conditions for this noxious plant.
Chris Doyle reports that other nasty invasive water plants are in the area: Water Chestnut has been found in Greenwood Lake and Hydrilla on the Hudson. It is imperative that everyone have boats and trailers steam cleaned before entering our lakes. Very small fragments can cling on and grow. EWM has been shown to survive outside of water for days. Any of these plants could spread from Tuxedo Lake to the Wee Wah or Little Wee Wah where they can overtake the lakes. Early detection is key to creating a management plan.
"Googling" leads to good photos of these plants and algae.
Please call and report anything that looks unusual to you. (Susan Goodfellow 351-4374) or email me at sgoodfellow@optonline.net.

Robert Steele Educates Tuxedo on Big Gambling in a Small Town
Posted 7/2/14
Robert Steele, former US Congressman from Connecticut, spoke on the financial and social impacts of gambling at St. Mary's on June 26. His experience representing the district in which the Foxwoods and Mohegan Sun casinos are located gave him first hand knowledge of the costs and broken promises of gambling that will impact our community if Genting is granted a license for the Sterling Forest Casino.
Casinos are a $ 63 billion industry. Mr. Steele emphasized the importance of educating communities that casinos bring more harm than good. What lessons can be drawn from the recent history of gambling?
Impact of Increased Competition
The Federal Government approved gaming in 1988 on Indian reservations to raise money for tribal governments; they had no idea of the Pandora'a box that would open as state after state rushed in to legalize non-Indian casinos. In 1988, Nevada and New Jersey were the only states that had legalized casinos. Today there are 39 states with 1000 casinos.
When Foxwoods and Mohegan Sun opened, the nearest competition was in Atlantic City and the new casinos attracted mostly out of state gamblers. Now, there are 57 casinos in New England alone and that number could go to 77. Increased competition has led to Foxwoods' default on debt of $500 million and the Connecticut casinos are forced to attract local customers as they are losing their out of state clientele. To attract a younger audience, both Foxwoods and Mohegan Sun are pushing for online gambling, a highly addictive form of gambling with 24 hour availability.
Competition has led to recent bankruptcies in Atlantic City including The Atlantic Club and Revel, and Caesars has closed the Showboat casino. The State of Delaware is considering a bailout of failing gambling operations.
Mr. Steele said that new casinos poach business from existing casinos until the new casinos themselves lose business to even newer casinos.
Taxpayers ultimately bear the costs of failed casinos.
Economic Impacts of Casinos
Studies by economist Earl Grinnols of Baylor University show that the costs outweigh the benefits of casinos by a 3:1 ratio. (Gambling in America: Costs and Benefits)
Casinos do not create spinoff businesses in nearby communities, but rather cannibalize local businesses as the casinos are self-contained destinations.
There is little evidence that casinos strengthen local and state finances. In Connecticut, the state receives 25% of gaming revenues which has totaled $6.5 billion over 20 years, yet the state is in dire financial straits.
Casinos skew a local economy to low-paying jobs.
Key points in a recent study by the Institute for American Values are:
Gambling has moved from the margins of society to the mainstream.
Today's casinos rely more on slots than table games.
Slots have transformed from the 1-arm bandit machines of yesterday to today's sophisticated computers that accept your credit card and are specially designed to keep people gambling for hours. A book "Addiction by Design" by MIT associate professor of anthropology Natasha Dow Schüll discusses this.
Casinos are not benign mainstream businesses but rather are predatory businesses that derive 40 – 50% of revenues from gambling addicts.
Living within 10 miles of a casino doubles the chance of developing a gambling addiction.
Casino income is a regressive tax on low wage earners, minorities and seniors.
State governments have partnered with casinos by inviting them in and encouraging their citizens to gamble for state revenue.
Casinos drain wealth from nearby communities.
Economic costs of Gambling Addiction
The New London Day (CT) newspaper called Connecticut the Embezzlement Capital of America. Mr. Steele said that in Connecticut the arrests for embezzlement have increased by 400 percent since the casinos were established.
Gambling addiction leads to increased debt, bankruptcies, broken families and crime.
Impact on Property Values and Schools
The Institute for American Values showed a typical decrease of 20% in property values.
Low-paying jobs create pressure for low-income housing and social programs.
In Norwich, Ct near Mohegan Sun, the ESOL programs for non-English speaking students increased from 40 students with one teacher to 400 students speaking over 30 languages.
Quality of Life Impact
The Connecticut casinos caused a spike in traffic, drunk driving and police calls as well as a sharp increase in residents seeking treatment for gambling addiction.
A Lesson from Palmer, Massachusetts
Citizens in Palmer staged a strong education campaign ("The More you Know, the Less You'll Like Casinos") when Mohegan Sun attempted to build a $ 1 billion casino. Although Mohegan Sun outspent the residents by a 100: 1 margin, the citizens groups prevailed with a door to door campaign, letters to the editor and 30-second spots on the radio station. Ultimately, Palmer voted down the project in a binding referendum.
Takeaway for Tuxedo
The Gaming Commission will take into consideration the support or opposition of our community that goes beyond the 4:1 Town Board vote. We need to have our voices heard through letters and attendance at the public hearings that the Gaming Commission will hold in each region.
To view an edited version of the lecture, click here

Robert Steele To Speak About "Big Time Gambling in a Small Town"
Posted 6/24/14
ob Steele is Chairman of Connecticut-based NLC Insurance Company and has been a director of numerous other companies, including the American Stock Exchange.
A graduate of Amherst College and Columbia University, he served in the CIA and Congress, and was a nominee for Governor of Connecticut. He comes to us this evening, however, as an author to speak about casinos and the background to his book, The Curse: Big-Time Gambling's Seduction of a Small New England Town
. WBZ Boston's Dan Rea calls the novel "powerful," and Connecticut author Martin Shapiro has described it as "compelling and timely…an epic story of history, money and politics that will make you wonder where America is headed."
Bob would be happy to stay and answer questions as well as sign copies of his book following his presentation.

There's a New Real Estate Agent In Town - 5/24/14
Tuxedo Park Fine Homes
http://tuxedoparkfinehomes.com
We love our community – it's hard to imagine any place more beautiful and serene than Tuxedo Park…and as residents, we see responsibility. Responsibility to care and protect it in a way that the founders intended, so that future generations may enjoy this lovely village.
To this end, with every sale — Tuxedo Park Fine Homes (TPFH) will give back ten percent of our commission received to the community. Beneficiaries will include:
The Tuxedo Park School

Saint Mary's in Tuxedo Historical Preservation Fund

The Tuxedo Volunteer Ambulance Corps

The Tuxedo Park Fire Department

The Tuxedo Historical Society

The Tuxedo Park Library

The Tuxedo Park Garden Club
TPFH will also work with the other real estate firms and brokers serving Tuxedo Park by:
Placing all of our listings on the regional MLS systems, meaning that the properties that we represent will be on every other broker's website that subscribes (which includes almost every firm in the tri-state area).

Participating with MLS to ensure that when potential buyers are looking in neighboring communities, Tuxedo Park listings will appear with extended area searches.

Showcasing other firm's Tuxedo Park listings (when these firms provide agreement), rather than only showing our exclusives.
Tuxedo Park Fine Homes will be honored to work with all the other brokers in Tuxedo Park, each of whom we respect and admire. All brokers will:
Be given our listings on an immediate basis, and will be welcome to add them to their websites.

Receive our listings without restrictions or qualifications.

Be entitled to commissions from TPFH on a 50%-50% basis.
In other marketing news, TPFH has:
Signed up with the MLS Hudson Gateway Realtors.

Become a member of The Real Estate Board of New York.

Procured (845) 351-0001 as our phone number.

Scouted for a new and exciting office location on Route 17.

Sponsored two Tuxedo Park School events.

Will be joining an exciting new national realtor Network.
We hope that you will consider TPFH when thinking about a real estate opportunity in Tuxedo Park, and welcome your suggestions, listings and referrals.
Our best,
Walter Deane, licensed Real Estate Broker
Michael J. O'Neal, licensed Real Estate Salesperson
Robert Silvay, licensed Real Estate Salesperson
Phone: (845) 351-0001
Email: Info@Tuxedoparkfinehomes.com
wdeane@tuxedoparkfinehomes.com
moneal@tuxedoparkfinehomes.com
rsilvay@tuxedoparkfinehomes.com
Disclaimer: As is always the policy of TPFH, this email is not a solicitation for existing contractual obligations.

Important Village Recycling Notice - 4/7/14
It has recently been brought to the attention of the Village, by Sterling Carting, that we
are not being very thoughtful with our recycling. We currently separate the paper
recycling (newspaper, cardboard boxes and magazines) from the container recycling
(glass, plastic and cans). The goal is a clean product, as it is known, so that it can go
from Sterling to another facility to be recycled into other products. This is the primary
purpose behind a recycling effort, so that these are not put into a landfill.
We are not doing our part. Billy, our Sterling driver, estimates 80% of households are
not bundling newspapers and cardboard, and are not rinsing the cans, bottles and
plastics. Also, and most detrimental to the recycling effort, is that regular trash is being
included with the recyclables. When this happens, Billy must sift through each load he
picks up, and separate the trash from the other items, or treat it all as trash.
Newspapers and magazines should be bundled, tied with string or twine or contained in
another closed paper container, not plastic bags. Boxes need to be broken down and
tied together. The bottles, cans and plastics should be rinsed free of residual liquids,
etc. None of these recyclable items are to be put into plastic bags. Please note that
Styrofoam, of any kind, is not an acceptable recyclable item. It must be put in with the
non-recyclable trash.
If trash is mixed in with the recyclables, they will be left behind for the resident to sort
through.
We will have a 2 week grace period, ending April 23rd, when it is our sincere hope that
we can make significant strides towards compliance. If during this grace period we are
not successful with the recycling rules, we will be forced to go to a bi-weekly pick up
format to try and mitigate the problem -- paper recycling one week, and
bottles/cans/plastics the next.
Please go to the Village website for more information: www.tuxedopark-ny.gov. We will
also have written recycling guidance sheets available at the front gate and at the Village
Office.
I am also asking that those who are not on the Village mailing list, or the water list, to
please contact Debbie Matthews at the Village Office, 845-351-4745 X 4, to give us an
address for mailings, to ensure we reach all residents.
Let's all make an effort to comply with these simple recycling rules to ensure a
successful once-a-week recycling effort. The alternative alternate week recycling plan
to mitigate the present problems may be a tough change.

Important Environmental Meetings in the Month of February - 1/8/14
Saturday, FEBRUARY 1, 2014 at 3:00 p.m. - Dr. Richard S. Ostfeld
The Tuxedo Park Garden Club, Tuxedo Park Library, and the Village will co-host a presentation by Dr. Richard S. Ostfeld, Senior Scientist at the Cary Institute (located in Millbrook NY). Dr. Ostfeld is recognized as a leader in the study of the ecology of Lyme Disease. He has written an excellent book describing the relationship of this disease to biodiversity in the environment. Fortunately, he is a scientist who can present scientific jargon in plain English. He will talk about environmental factors that impact Lyme Disease risk, how it makes us sick, and why it is spreading. He will also present his thesis that this is a model for the relationship between infectious disease and the environment. I encourage everyone to attend this presentation on February 1st. I expect that many of the principles he espouses will be incorporated into our approach to the watershed. I will post the venue when it is confirmed.
Thank you in advance to the Garden Club and Library for partnering with us in arranging Dr. Ostfeld's presentation.
Thursday, FEBRUARY 6, 2014, at 7:00 p.m. – Presentation on Lakes Management and Watershed
Back in 2007, two Mayors and two administrations ago, the first comprehensive lakes' study was contemplated. Portions of the recommended study were approved and undertaken in 2008 under Mayor Stebbins, and a lakes management plan for our three lake system was presented in 2009.
Since that time: changes in administrations, Tuxedo Park's ongoing participation in lakes' studies, the potential Town "Mulch Pile" impact on our watershed and water quality, the appearance of invasive aquatic species in our lakes and in the landscape, two years' worth of significant weather events, significant construction activities around the lakes, growing concern about invasive plant species in our landscape and impact of deer browse on the forest understory, reappearance of many geese -- it is time to sit back and review where we stand vis-à-vis our lakes and the watershed.
The previous Board, under Mayor Wilson, directed TP's lake consultants, Allied Biological, to review all of the previous studies and data, evaluate the work on lakes management to date, and make a presentation to the BOT. This meeting will take place on Thursday, February 6th as a special meeting of the BOT. I encourage everyone to attend. This should be a wonderful education for us all, and serve as the basis for our lakes and watershed planning going forward.

Village Causeway Open to One Way Traffic - 9/23/13

One Lane Of Causeway To Open Shortly - 9/17/13
As of Friday September 13, the Village has set into motion the construction of a bin-block barricade on the centerline of the Causeway Road (Tuxedo Road) to allow the safe travel of one-way traffic. The Police, DPW, along with Village Engineers, Weston and Sampson are working on this now.
Furthermore, there will be a public meeting at a date and time to be determined, to further discuss future decisions regarding the wall.
The TRO has not been lifted and a further hearing is set October 8th.

Greenfield Ice Cream is Now In Tuxedo - 9/6/13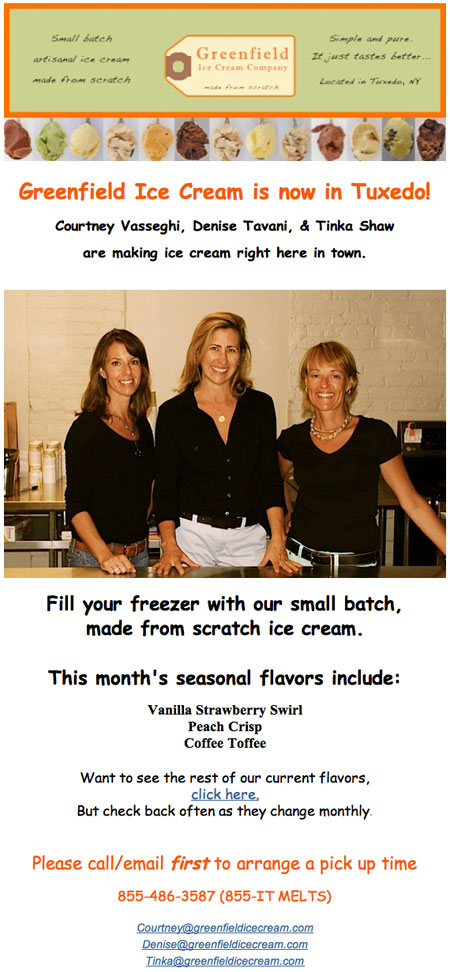 Village Issues Statement on Causeway Closure - 8/20/13
Mayor Neuhauser issued the following statement regarding the Causeway closure via the CodeRED alert system at 3pm on Monday, August 19.
"I want to address briefly the Village's plans to open The Causeway. First, I fully understand and appreciate the inconvenience that this closure has caused many Village residents and their guests. We want to assure you that over the last several months the Village has been exploring many options to resolve this matter and open The Causeway. We have now commissioned our Village engineers to design a project, with several options, to dismantle the problem section of the wall from the roadside, install the necessary drainage facilities to ensure the long term integrity of the wall and then to restore the wall. After the engineering plans are finalized, we will obtain quotes for the various options and make a final decision to proceed forward with the work. It is expected that this selection process will be concluded in the next few weeks. We will make every effort to plan and conduct the work to allow the Causeway to be opened as quickly as possible during this process, even while the restoration work continues. Thank you very much."

Village Election Results - 6/19/13
Village elections took place on Tuesday, June 18, 2013.
Following are the results.
Mayor:
Lili Neuhauser – 179 Votes
Trustee:
Mary Jo Guinchard – 153 Votes
Susan Goodfellow – 152 Votes
David du Pont – 140 Votes
Additionally, the following write-in votes were received:
Mayor:
David McFadded – 7 Votes
Justin Nealis – 3 Votes
Trustee:
Jake McFadden – 1 Vote
Chris Hansen – 1 Vote
Alan McHue – 1 Vote
Mickey Mouse – 1 Vote
Congratulations to winners!

The Candidates Sound Off On Tuxedo Reserve
TPFYI presented the candidates with the following question:
What is your position, and why, regarding Tuxedo Reserve and the addition of 1200 new housing and attached-units on land abutting the Village?
Here are their answers in the order they were received:
As you may be aware, this project has been approved by the Town and is governed by a Special Permit that The Related Companies regularly seek to have amended by the Town Board. The implementation of this Special Permit is governed, in part, by review of the Town Planning Board.
Accordingly, Tuxedo Reserve needs to be "watched" carefully by the Village Board as it moves through the Town Planning Board process because of the development's potential negative impact on Tuxedo Lake. There are risks to our water quality that need to be assessed. Tuxedo Lake and the streams entering it need ongoing monitoring so that baseline water quality parameters can be established and defended if necessary. The Village's interest in protecting our lakes is critical. The evaluation of the threat and its mitigation should be part of the strategic plan for the Village. At this point, reliance upon vigilant volunteers, as has been the case in the past, may not give the Village enough protection. There is but a slim physical buffer between the Village and the huge project that surrounds us.
In addition, significant impacts like increased traffic will impact everyone in the Village and in Town. Of course, individual residents and groups should be interested in the project because of impacts on Town wide services, taxes, and the school.
The issue of Tuxedo Reserve has been a long fought-over one. It is a sad fact that it is going forward, and I am not so convinced as some others are that this will be tax positive for Tuxedo. The primary concern now is that we be vigilant with how responsible Related Cos. and the town board are as the project moves forward.
Sadly, Related Co. has not always shown good judgment with the treatment of historically significant areas such as the Corduroy Road, used by George Washington during the Revolutionary War, or the burial grounds of the Lenape Indians. There are endangered animals that have been found on these lands that are to be developed. We as an entire community need to feel secure in the quality of our drinking water, and also that we can afford to provide adequate services for the additional residents: fire, police, DPW, etc. These all come a huge cost to taxpayers.
Once again we get back to Tuxedo Lake. Yes, there is a pattern emerging: a healthy lake is vital. What happens above Tuxedo Lake will directly impact the quality of our water. Fissures have been found that run vertically from ground level and feed into the lake, and what happens above the lake at Tuxedo Reserve will also happen to the lake, just as it does here in the Village. I cannot stress enough the great responsibility that we all bear to elect those in whom we can put our trust to keep our health and safety as their first and foremost concern.
*Trustee Candidates David du Pont and Mary Jo Guinchard have declined our invitation to participate. Regardless of participation, TPFYI is not endorsing any of the candidates at this time.

Candidate Letters to The Community
Over the course of the last few weeks, many of you have received letters either in the mail from the 4 candidates who are seeking office in the Village elections. Please find these letters below.
Susan Goodfellow (Trustee Candidate)
David du Pont (Trustee Candidate)
Mary Jo Guinchard (Trustee Candidate)
Lili Neuhauser (Mayoral Candidate)

The Candidates Talk about Precarious Walls, Trees, Poles and Embankments in the Village and The Possible Need For Future Legislation
TPFYI presented the candidates with the following question:
In addition to the Causeway detour situation, there are other precarious retaining walls, branches, trees, phone poles and embankments existent
in the Park. Do you feel, and why, that there should be Village legislation drafted to clearly and legally define whose responsibility it is for maintenance of these potential hazards
Here are their answers in the order they were received:
The breadth of this question is best answered one "precarious" item at a time.
Retaining Walls: Obviously, it would be to everyone's benefit if ownership of walls immediately joining Village streets was clarified. When we moved into the Park, I just assumed the 150 foot section of wall that abuts Lookout Road from our property was ours and we have maintained it accordingly. I now understand this is not universally accepted by all property owners with walls abutting streets. Therefore I would be in favor of careful legal research into this issue with the intent of clarifying ownership.
Branches and Trees: These items are already adequately covered by Village Code, although Code enforcement here has admittedly been lax at times.
Phone Poles: This is clearly and Orange & Rockland responsibility.
Embankments: To the extent that embankments exist in the Park to either support Village roads or contain Village water, they are a Village responsibility.
With the events of the storms, Irene and Sandy, the need for vigilence toward the maintenance of trees and power lines is obvious, the power lines and poles fall under the authority of Orange and Rockland, our power company. The good news is that many of these have had to be replaced in the past 2 years. But, we do photograph those that look less that sturdy for O&R to replace. The issue of buring the power lines does come up from time to time, sadly, the expense is huge.
Many of our trees are reaching the end of their life cycle here in the Park. It is a fact that many are well over 100 years old and need to be assesed by an arborist as to viability. Homeowners are encouraged to get trees checked by a professional and if they are dead, dying or hollow they ought to come down. Being a gardener, I am often sadden by a tree that needs to come down, only to be suprised that the void is in fact one that allows a better view or more sun for a spot that didn't have it before!
The village sends letters regularly to residents whose walls, trees, lawns, etc. are in need of attention and in almost every case, these are dealt with quickly and without any issue by the homeowner. The Village Code is clear about maintenence, however, we will be drafting new codes regarding the maintenence of properties and the health and care of the lakes. The run-off from each property in Tuxedo Park flows down in the gutter system and eventually ends up in one of the 3 lakes. Land that has been stripped of vegitation allows run off that adversly effects the health of our lake water. Luckily we are now putting many more volunteer man hours and resources to insure that we have potable water for all of us. Future legislation will help us maintain our most valuable resources.
Defining responsibility becomes challenging when Village infrastructure and privately owned property are intertwined in some way, as, for example, is the case with some of our roads and walls and many of our water/sewer mains. Those instances are individual and require specialized investigation and mutual cooperation to work out effective solutions.
Defining responsibility and then working cooperatively – "ay, there's the rub" …
As residents, we have individual responsibility to be good stewards of property and homes in this Village, doing our part to conserve the environment and preserve our historic heritage.
As a Village, we need a Mayor/Trustee led effort to create and then implement a comprehensive strategic plan that prioritizes infrastructure repairs and maintenance of Village resources. It is time for the Village to move beyond "reactive" mode, taking action when a resource is dilapidated or close to collapse. Part of the risk management planning will include a review of the Codes that define responsibility, a Code that is fair to individuals and the community as a whole.
A strategic plan will identify shared responsibilities in taking care of Village resources because we own Tuxedo Park's resources collectively. We are all responsible for the condition of the infrastructure that influences our daily lives and ultimately, our property values.
At the end of the day, it is up to us as individuals to act responsibly, cooperate with one another as good neighbors and do our part to improve the Village. A dynamic plan will help set the agenda for those responsibilities.
*Trustee Candidate Mary Jo Guinchard has declined our invitation to participate. Regardless of participation, TPFYI is not endorsing any of the candidates at this time.

Causeway Work to Begin Tuesday, June 11
Work on the Village Causeway is set to begin on Tuesday, June 11. Click here to read the official notice posted to the Village of Tuxedo Park Website on Friday, June 7:

Candidates Sound Off on Code Enforcement
June 4th, 2013
There are many important issues currently facing the Village of Tuxedo Park and residents should know where the Mayoral and Trustee Candidates stand before casting their votes. In the weeks leading up to the election, TPFYI will pose one issue-based question per week to the candidates. The responses to these questions will then be posted (in the order they are received) to our site, for residents to consider.
*Candidate Mary Jo Guinchard has declined our invitation to participate. Regardless of participation, TPFYI is not endorsing any of the candidates at this time.
TPFYI presented the candidates with the following question regarding the Village Code:
Do you feel there are adequate provisions within the Village Code to govern those residents who chose to undertake unauthorized construction or property altering projects? In your view, does the Village Code need to have more stringent enforcement mechanisms built into it for these situations? Why or why not?
Living here gives each of us special privileges and, at the same time, special responsibilities in addition to the usual need to treat each other with respect and consideration. It is important to be committed to upholding the architectural standards that enabled our entire community to be placed on the Historic Register. Our physical environment is beautiful but sensitive and challenging. We are more aware than ever that the landscaping and construction work we do on our properties can impact the lakes because of our thin soils and steep slopes. Rainwater can carry pesticide residues, fertilizers and soil from our properties into the lakes, impacting drinking water quality as well as aesthetic enjoyment. Narrow roads originally built as carriage roads create challenges as drivers of cars, trucks and buses share the space with walkers and runners, children on bicycles, and mothers pushing strollers.
We are governed by all sorts of laws: federal, state and those that the Village creates. I am no longer fully familiar with our Village Code, but suspect, that a full review of the Code is needed, particularly those rules related to maintaining the health of our lakes and water quality. As a general proposition, I believe that less is more when it comes to code provisions. None of us should have to be "Philadelphia lawyers" to understand the rules, and those rules should be clear, fair and transparent.
I am also sure that the "Welcome New Neighbor" letter needs to be revised and that the Village can do more to inform residents re environmental issues that require thoughtful consideration of our neighbors.
At this point, as a non-Trustee, I am not privy to the details of enforcement actions, issues and the enforcement process that takes place in the Village. Those are core issues that all Trustees need to be aware of and review regularly.
I have spent alot of time reading and revuing the Village code and have spent many hours with John Ledwith learning what he does in his capacity as Building Inspector. He is on top of a myriad of projects, the residential ones are just the beginning, it is a
multi faceted job and quite thankless. The code is to protect us all and should be followed by us all. We all have access to the code, therefore far more of this responsibility rests on the shoulders of those taking on projects, big or small.
Most people who need to do major work or undertake house construction will hire people who will follow the process from permits through to a completed residence or renovation. It surprises me how selfish some can be and have little or no regard for the environment and the natural surroundings of the Park. We have already clamped down on fill entering, having the gate be clearer with restrictions and insuring fill is certified clean and has the appropriate permits for entry. Better communication between the building inspector and the police booth will be implemented as well. We must also keep in mind that we are historically recognised. The Board of Architectural Review has the recent new Design Guidelines, that make most projects easier to understand in laymans terms.
Perhaps what makes sense, is to work on a better website to inform residents of the process, invite a visit to the Village Office to chat with John about procedures, speak to Paola Tocci, head of the Board of Architectural review. It really is quite simple and if the rules and regulations are followed the process can be smooth and quick, depending on the scope of the work to be done, of course.
I think we need to be bettter about being equitable with penalties and fines. Impacts can be far reaching, the area of primary concern is the lake. We will be taking a close look at the codes, in the near future, tightening up current codes that are not strict enough regarding the lake. These waters are not just for the residents of the Park but are relied upon for approximately 1100 town residents as well. We all share in the responsibility of following the code.
Clearly, the current Village Code needs to be modified and updated to address unauthorized property alteration and construction, since both have and are occurring. Enforcement efforts need to be more uniform, while the fines for violations currently called for date back over thirty years and need to be updated. Having said that, it is a fine line every Village Board walks between enforcement, common sense, and communication as it relates to the Village Code and our residents. The current Board has already started a formal process for updating specific parts of the Village Code.

Meet The Candidates for Mayor and Village Trustee
In an effort to help residents get a better idea of who the candidates for Mayor and Village Trustee are, why they have chosen to run and what their priorities will be if elected, TPFYI presented each Candidate with the following questionnaire. We will post their unedited responses in the order they are received.
* Candidate Mary Jo Guinchard has declined to participate. Regardless of participation in this survey, TPFYI is not endorsing any of the candidates at this time.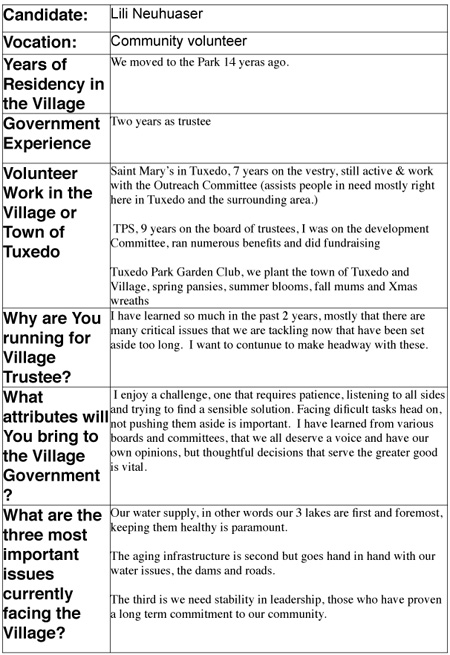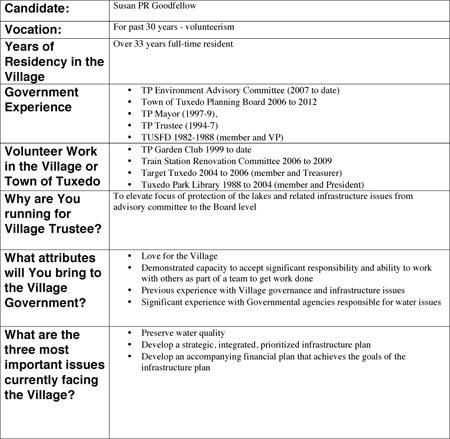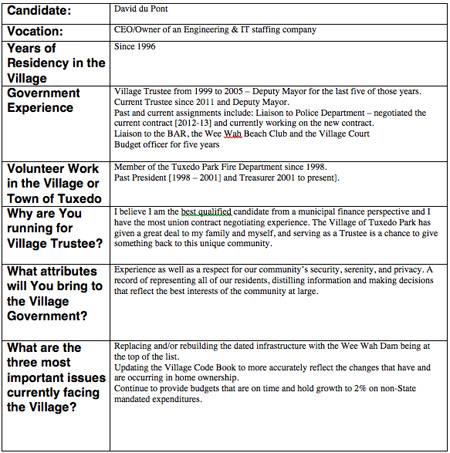 Candidates File Petitions for 2013 Village Election
May 21st, 2013
The following Village residents have submitted nominating petitions for the positions of Trustee and Mayor:
New Leaf Party:
Liane (Lili) Neuhauser - Mayor
Susan Goodfellow - Trustee
David du Pont - Trustee
Mary Jo Guinchard - Trustee
The Village election will take place on Tuesday, June 18 at the Village Office from 7am untill 9pm. The election will fill the position of Mayor, currently held by Tom Wilson as well as two Trustee seats currently held by David du Pont and Alan Heywood.

Hearing On Causeway Wall Set For Monday April 29 at 6pm
April 26th, 2013
On Monday April 29 at 6pm the Village Board of Trustees will conduct a hearing as with regard to the Causeway Wall as requested by property owner Cindy Booth. While the public is welcome to attend these proceedings, public comment will not be allowed.
Below, please find the latest round of correspondence between the Village and Ms. Booth's Attorney.
(Click any of the follow thumbnails to open .pdf)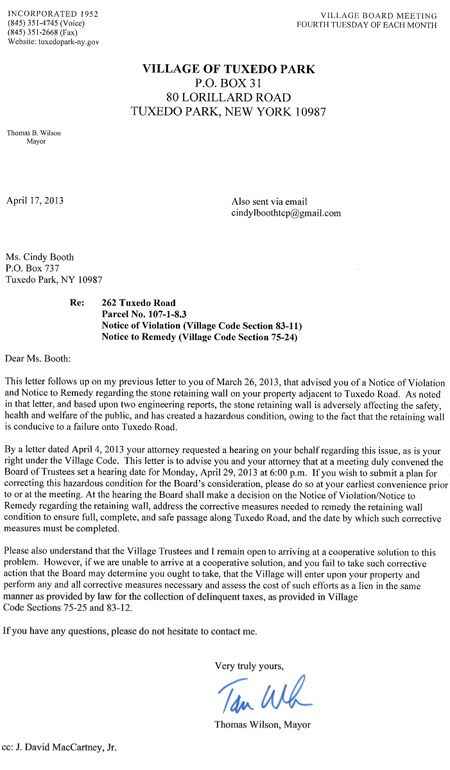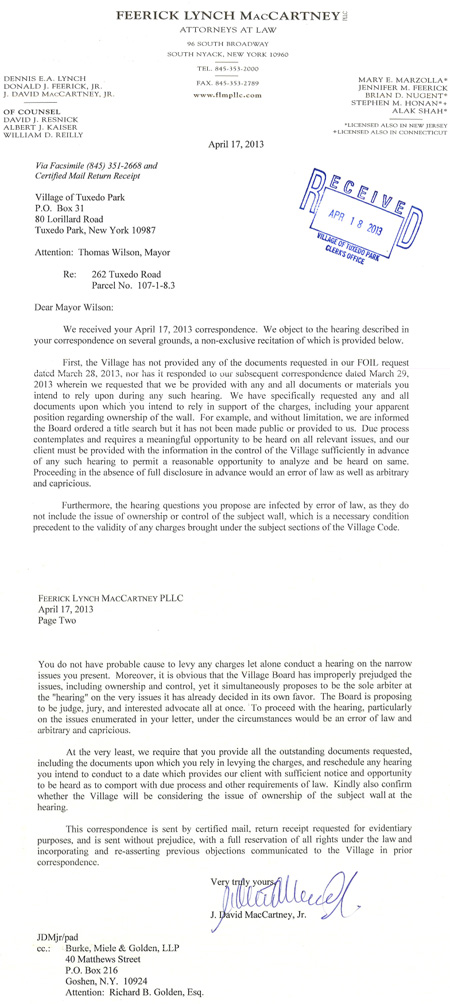 What's Going On With The Causeway????
April 15th, 2013
As everyone is undoubtedly aware, Tuxedo Road as it runs along the south side of Tuxedo Lake, otherwise known as "The Causeway" has been closed to traffic for over a month. TPFYI has received countless e-mails and Facebook Inquiries about the situation and it seems that everyone is wondering exactly what is going on and how quickly the situation will be rectified. Below please find a series of letters between The Village Building Inspector, Mayor Wilson, Property Owner and Attorney for the Property Owner, which should clarify the issue and provide residents with an idea of what is happening.
(Click any of the follow thumbnails to open .pdf)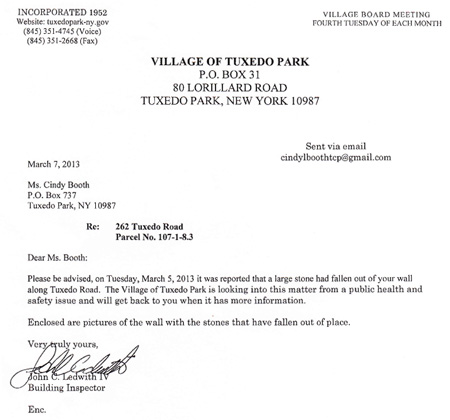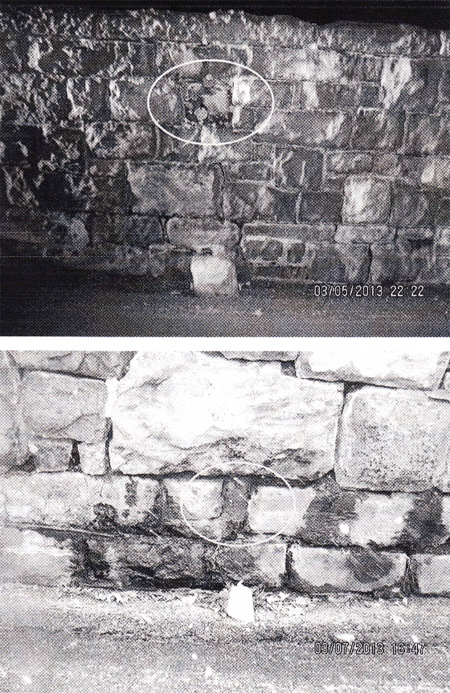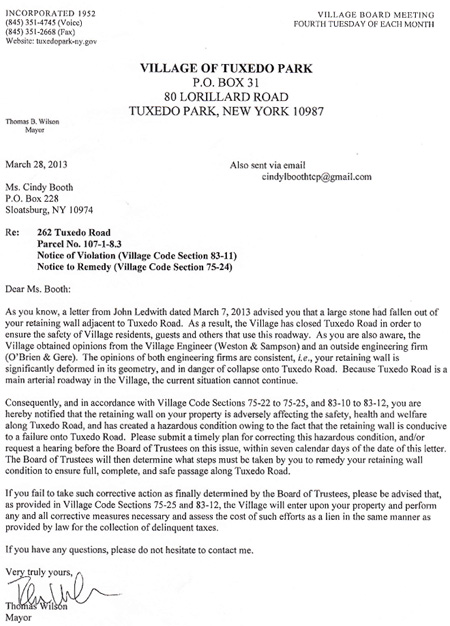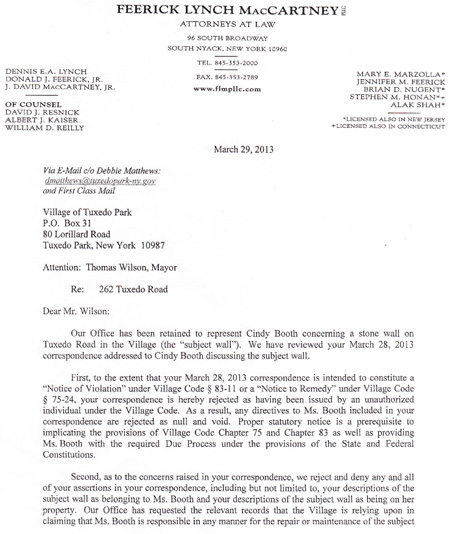 Why Has The Village Causeway Been Closed Indefinitely?
March 15th, 2013
The Village Causeway will be closed until further notice due to the structural instability of the wall that runs along the north end. Village engineers O'Brien & Gere report that the wall rotation and horizontal displacement clearly indicates that it has failed. They have advised that there is no reasonable way to predict when the wall or a section thereof will fail entirely. They are recommending that the failed section of the wall be demolished and replaced and that the Village do whatever it deems necessary to protect the public in the vicinity of the wall.

2013 Village Election Position Notice
February 19th, 2013
PLEASE take notice that the annual election for the Village of Tuxedo Park will be held
in the Village Hall, 80 Lorillard Road, Tuxedo Park, NY, on Tuesday, the 18th day of June
2013 with polls open between the hours of seven o'clock in the morning and nine o'clock in
the evening and at such election the following officers are to be elected for terms opposite
their positions respectfully.
Officers
MAYOR
TRUSTEE
TRUSTEE
Terms
TWO YEARS
TWO YEARS
TWO YEARS

Tuxedo Union Free School District to Host Q & A Session Regarding the Future of the High Shool for Park Residents December 17
December 2012
Mrs. Carol Lomascolo, Superintendent of Schools
Mrs. Joanne Vernon, Board President
Mrs. Diana Petrosky, Board Vice President
Dr. Ray Barone, Board Member
Ms. Dawn Cupano, Business Administrator
Ms. Nancy Teed, Director of Student Services/Human Resources
Cordially invite the residents of the Village of Tuxedo Park to a question and answer session regarding the George F. Baker High School and the Tuxedo Union Free School District.
Date: Monday, December 17th
Time: 7:00 pm
Place: St. Mary's Church Community Room

Hurricane Sandy Emergency Information
October 2012
Please stop blowing and raking leaves to the curb. This will only aggravate clogged drains during the storm. Leaf pick up will continue after storm clean up. Bags and a pile of Sand have been delivered to the Italian American Club parking lot for resident use. Some pre-filled bags will be dropped off by Saturday afternoon.
Tuxedo Police Phone Number: 845-351-5111

BE ALERT - INCREASED BEAR ACTIVITY
October 2012
The Village of Tuxedo Park is advising residents to be alert as there as been an increase in reported bear activity. Please do not leave trash outside and make sure that trash bins are secured.

Environmental Scientist Presents Mulch Pollution Report
October 2012
The Sterling Forest Partnership has published the results of extensive water testing in the wetlands downstream of the Town of Tuxedo mulch operation.
The study indicates that the marsh nearest the mulch site, called "Caretaker's Marsh," has unnaturally high levels of total organic carbon(TOC), too high to attribute to any cause other than an external source ofmassive amounts of organic carbon.
The study, by Professor Emeritus James Hays of Columbia University Faculty of Earth and Environmental Science, and by the engineering firm of Weston and Sampson, concludes that the mulch operations of the Town of Tuxedo are introducing pollutants into the adjacent wetlands of Sterling Forest State Park. Prof. Hays points out that the total organic carbon in the adjacent marsh reaches a measurable level of 139 milligrams per liter, while "a highly polluted river such as the European Zenne river near Brussels, Belgium, which receives untreated sewage from a basin with a population density of 300 people per square kilometer, has TOC of 74.8 mg/l," far below the levels of Tuxedo's mulch-infused wetlands.
The study also goes into extensive detail about other substances and testing
parameters, such as oxygen depletion, dissolved organic carbons, and concentrations of calcium, iron, potassium, magnesium, arsenic, and phosphorous.
The report suggests that "the data presented here are consistent with massive amounts of organic carbon being released to Caretaker Marsh from the adjacent mulching facility. Such carbon pollutants have a negative environmental effect because as microorganisms oxidize carbon, oxygen levels in the water are reduced limiting and probably exterminating all oxygen breathing life within the marsh. ."
A link to the study's summary, written by Prof. Hays, has been published on the Sterling Forest Partnership Partnership's Facebook page
In mid March 2012, the fish in waters downstream of the Tuxedo mulch facility on Long Meadow Road died. The cause of the massive kill was not immediately knowable, but popular suspicion fell on the mulch pile, and on the percolated runoff that pours off it into the adjacent wetlands and on downstream. An estimated 275 acres of wetlands are affected, most of it in Sterling Forest State Park.
Speaking for the Tuxedo Town Board, Supervisor Peter Dolan suggested that the waters had been poisoned not by the mulch plant, but by weather conditions combined with the supposed removal of a beaver dam by Sterling Forest State Park custodians (State Park officials deny such an action).
Clearly, more information was needed in order to properly address the issue. Preliminary tests conducted by the New York Department of Environmental Conservation (DEC) concluded that "evidence in the case clearly demonstrates that operations at the facility has resulted in numerous water quality impairments that has caused the fish kill" (DEC letter to Supervisor Dolan,13 April 2012).
While contesting the DEC's analysis, the Town of Tuxedo hired an environmental consulting firm to produce an analysis of the water system and determine to what extent the presence of the mulch facility contributed to the fish kill. The Town's studies commenced in May, and results have not yet been presented. The Supervisor and members of theTown Board have stated on several occasions that if the mulch operation is found to have contributed to fouling the wetlands, they will eliminate it.
Click here to read Prof. Hays' summary.

Village Power Outage Notice
October 2012
POWER OUTAGE: In the event of a power outage, O&R requests that each customer notify them of the specific street address and the account number, or the 10 digit pole number on the yellow tags (there are 5 numbers on top of 5 other numbers). This greatly enables them to access the severity of the outage and the crews they need to deploy. The customer service number is: 877-434-4100.
Remember - be very careful of downed wires. Do not go near them. Please call the Police and notify them of any dangerous situations.

Pond No. 3 Temporarily Closed to Swimming & Fishing
July/August 2012
It appears there is an algae bloom on Pond No. 3 that may contain cyanobacteria. Water samples are being taken and sent for testing. Results are expected within 7-14 days. If anyone observes anything unusual in the lakes, please call Susan Goodfellow, Head of the Environmental Committee, at 351-4374.