Public Hearing

October 26, 2009
Tuxedo Reserve SEIS
Tuxedo, NY Town Board
Susan Scher
Tuxedo resident
845-351-2883
Sscher5@optonline.net
Good evening. I am Susan Scher, a resident of the Hamlet section of Tuxedo, NY. There is several short points that I would like to make tonight. I am not an expert in development. I am though an expert in being a citizen in a community that has been facing major development issues in the twenty-three years during which I have been a resident. Many of the issues that people will present to you tonight are similar to the issues that have been raised by community members in the past and found to be extremely important. So please listen to us well.
I have presented you with photographic material of some scenes around our town that exemplify some of my concerns. The first group of pictures is of the pile of rocks that were put in by the Sterling Mine Estates development on Route 72, Sterling Mine Road, but were never completed. I keep waiting for that pile of rock to be landscaped. Haven't we turned bond money back to the developer? Are the houses not landscaped? How does this relate to Tuxedo Reserve? Well, if we as a town cannot hold small scale developers responsible, when they tear down hillsides to make them look worse than when they began, then how are we going be able to oversee the Related Companies, and who knows how many other construction companies to whom they will turn the project? We have no business allowing changes if we can't assure that they are going make our town look worse instead of better.
The second set of pictures is of a development that went bankrupt, also on Sterling Mine Road. No wonder people who live in New Jersey feel they should have a say in what happens in Tuxedo. They have to pass it every day. I don't. After the trees were torn down, the land leveled and left that way for several years, building finally began. It looks like they got half to three quarters of the way through and then they ran out of money. They stopped and didn't even pick up behind themselves. Look what we got. How does this relate to Tuxedo Reserve? Well, I have been wondering about why we are in such a hurry to give the Related Companies a second round of approvals. Didn't the town approve the Northridge section a year ago? They have not begun doing any building on it. Why? They have no money to begin building. Doesn't it make sense for us to see if they ever get money to begin and complete building, and see what they can sell in the first phase? Do we want them to begin building and run out of money leaving blight just off the center of town? I am not a fiscal expert. Tuxedo Reserve's fiscal experts are NOT OUR fiscal experts. It has been several years and major changes have happened in the real estate and financial market since the town HIRED ITS OWN FISCAL EXPERTS. It is not the responsibility for Target Tuxedo to foot the bill for a fiscal review, or any other expert review that should be conducted directly by the lead agency to advocate for the town residents. The SEQRA law is written to allow the lead agency to gather its own information with it costing the town citizens. We should be doing our own studies before we rush to approval.
The third issue, the one about which I am most concerned, is the plan for development at the Mountain Lake area. Just because the town approved a certain number of units several years, does not mean the number has to be a given. When Tuxedo Reserve began to implement the approved plan for the North Ridge section, they found that their experts were not so expert. They found that they could not build the number of units they had expected. The land could not hold those numbers. Rather than decreasing the number of planned units they looked around to find a place to put the superfluous. They put them in land that had previously and appropriately been left as open space. It was open space because:
It is on land between Mountain Lake and a bog that serves as a very important wildlife connection between the two water bodies. The SEIS states that a different area, the Western boundary, would become the wildlife corridor, but the area they discuss, where they will not build, has steep ridges which will make it useless for such a wildlife corridor.
The houses to be built between Mountain Lake and Bog Meadow are in an area with underlying bedrock. Usually rain water and housing effluent flows though land with sand and silt that allows the water to cleanse. Bedrock has fractures through which water flows, quickly, like through a pipe, with not enough barriers to allow it to be cleansed.
The bedrock in this the Mountain Lake area has fractures which run into the Ramapo River.
When I searched the Tuxedo Reserve web site, looking for a picture of Mountain Lake to show you, I found an interesting description of their plans for that site. It includes a club, THE MOUNTAIN CLUB, LOCATED IN A RESIDENTIAL ENCLAVE AT THE EDGE OF MOUNTAIN LAKE, IS HOME TO AN OUTDOOR ICE RINK, PLATFORM TENNIS COURTS, A SUMMER LAWN, AND A ROCK BEACH AT THE EDGE OF THE LAKE. Is that in the SEIS?
http://www.tuxedoreserve.com/Tux2.swf (click "more" on the home page and then "amenities)
Granted Tuxedo is surrounded by state park and beautiful lakes. But where in the town of Tuxedo do we have a pristine lake without any houses on it? Do you think we can have one body of water in this town that is not surrounded by homes?
I would like to remind you of the role of the SEQRA process and the responsibility of being lead agency. In this process it is considered important to pay attention to the impact not only of the town in which something is to happen but also the regional impact. We ask the developers to look at that in the environmental impact statement. This project, although it exists primarily in Tuxedo, has impacts for more than Tuxedo. Issues such as air quality, transportation and traffic, flooding potential, storm water runoff and adequacy of water are such type issues. The plan must be considered along with the development plans and other issues of surrounding communities. Additionally, we exist on the boarder of another state. It is therefore as important to pay attention to issues raised by residents of those other communities as it is for us to understand the impact on our town of the changes being planned for theirs.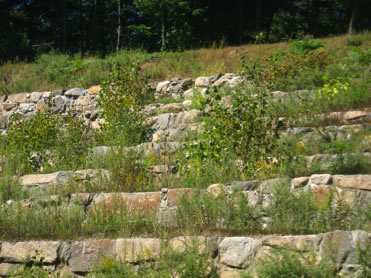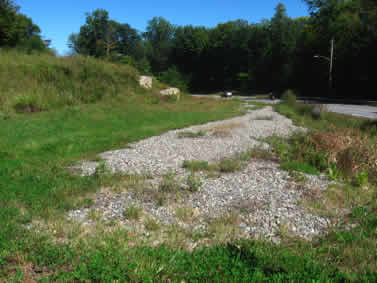 How can we expect to control what large scale developers do if we can't make sure that a small development project adequately completes a project? Sterling Mine Road Route 72 Sept, 2009
They didn't have enough money to finish the project – this is what we got
Tuxedo Reserve doesn't have any money to begin the project. What will we get?
Why don't we wait until they have money for the first phase and see what they give us before we give them permission for more?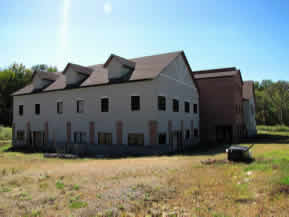 Sterling Mine Road, Route 72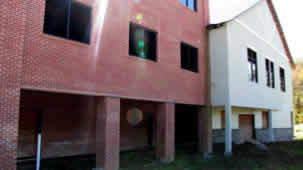 September, 2009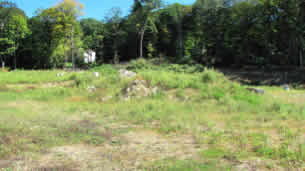 Once there were trees here, now there is garbage
Is there any lake left in Tuxedo, outside of Harriman or Sterling Forest State Parks that does not have houses on them?
Lake Sebago, Harriman State Park
Can we keep one undisturbed? Mountain Lake